Twins may be closing in on next move
Source says club has offer out to free-agent right-hander Santana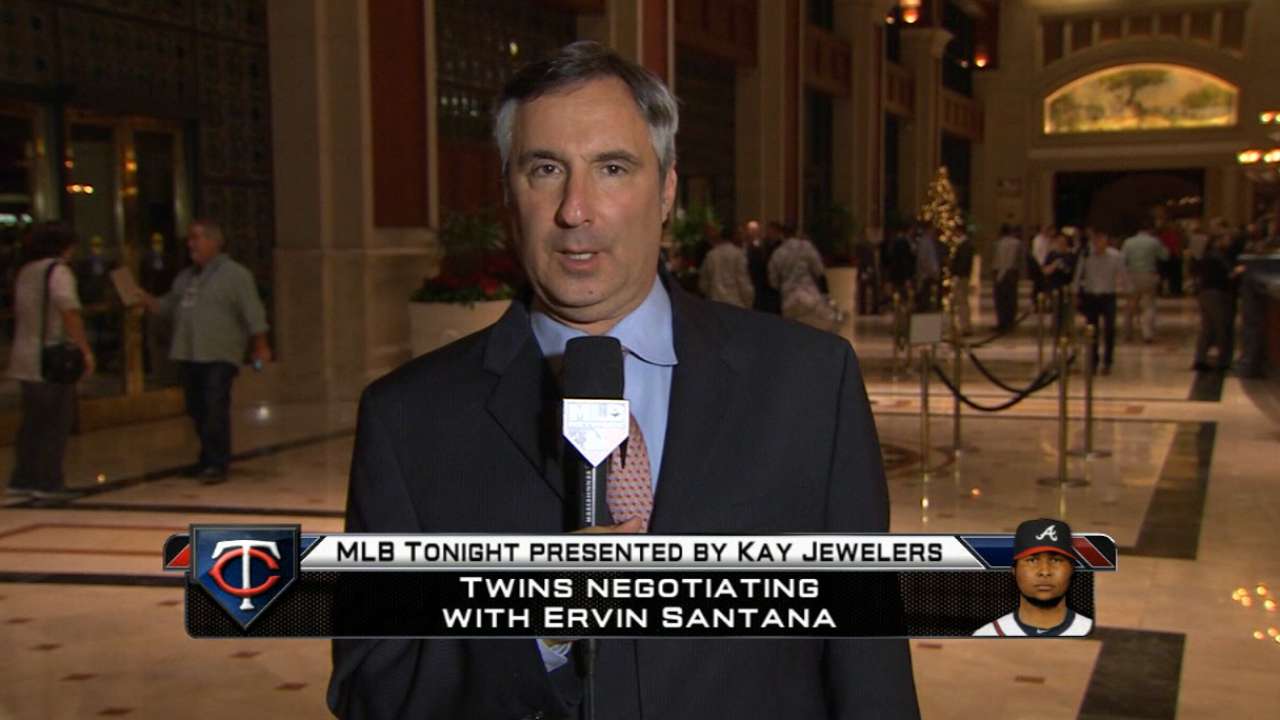 SAN DIEGO -- It appeared the Twins found their starting-pitching target on Wednesday night at the Winter Meetings, but it turned out a national report involving free-agent right-hander Ervin Santana was premature.
Just moments after the New York Post reported that Santana was going to Minnesota, it was announced by the Twins that general manager Terry Ryan wanted to move up his scheduled media time and meet immediately. But Ryan was caught by surprise when asked about the reported deal with Santana, saying it was news to him, and that his media session was only moved up because he had to go on the Twins' Hot Stove radio show.
---
Winter Meetings action
Day 4: Dec. 11
Transaction
Official?
OF Matt Kemp
C Tim Federowicz
Traded to Padres
No
C Yasmani Grandal
RHP Joe Wieland
RHP Zach Eflin
Traded to Dodgers
No
OF Yoenis Cespedes
RHP Alex Wilson
Traded to Tigers
Yes
RHP Rick Porcello
Traded to Red Sox
Yes
RHP Ervin Santana
Four-year deal with Twins
No
LHP Mat Latos
Traded to Marlins
No
RHP Anthony DeSclafani
C Chad Wallach
Traded to Reds
No
RHP Justin Masterson
One-year deal with Red Sox
No
RHP Alfredo Simon
Traded to Tigers
Yes
RHP Jonathon Crawford
IF Eugenio Suarez
Traded to Reds
Yes
LHP Ross Detwiler
Traded to Rangers
No
OF John Mayberry Jr.
One-year deal with Mets
No
RHP Andre Rienzo
Traded to Marlins
Yes
LHP Dan Jennings
Traded to White Sox
Yes
"That's good to know," Ryan said when told there was a national report about Santana heading to Minnesota. "I'm not going to respond to that. We're looking for pitching. But it's good to know. I'm not even ready to respond that we have any interest in Ervin Santana, first off. We're looking for pitching."
So while Ryan wouldn't publicly confirm interest in Santana, a source told MLB.com that the Twins do have interest in the right-hander and met with his agents on Wednesday. Minnesota also has an offer on the table to Santana, according to various reports. The New York Post later clarified the Twins are making a strong push for Santana, but that no deal was close. The Giants also reportedly have interest in the former All-Star.
But the interest in Santana is nothing new for the Twins, who offered the right-hander a three-year, $33 million deal last offseason. But Santana ultimately spurned the Twins, opting to sign with the Braves on a one-year, $14.1 million deal to re-establish his value on the market.
Santana is reportedly looking for a four-year deal worth roughly $60-65 million this offseason, and also is tied to Draft-pick compensation after rejecting a qualifying offer for a second straight year. But Ryan is willing to lose a Draft pick, as it would be a second-rounder because the Twins' first-round pick is protected.
"It's not going to scare off, depending on the years and the dollars," Ryan said. "Qualifying-offer guys don't scare us."
Ryan also said he's not afraid of handing out multi-year deals to free-agent starting pitchers. They made two sizable signings last year, inking Ricky Nolasco to a four-year, $49 million deal with an option and signing Phil Hughes to a three-year, $21 million deal.
While Hughes anchored the rotation as staff ace, Nolasco's first year was a forgettable one, with a 5.38 ERA in 159 innings. But Ryan said it doesn't scare him away from making similar offers this offseason.
"It's all dependent on the pitcher and his age and his history and his productivity plus the competition you're going against," Ryan said. "It doesn't scare us. As for the [Nolasco], we're still hoping for three years out of Ricky because that's what we have him for. We want to get him on track and get 200-plus innings out of him."
Ryan, though, said despite the reports about Santana, the Twins have strong interest in several starting pitchers and aren't focusing on just one. Minnesota has also been linked to pitchers such as Brett Anderson and Edinson Volquez.
"There are a number of pitchers out there in the free-agent market and the trade market so it's not like we're zeroing in on one guy," Ryan said. "You have to have alternatives. Because for every guy who pinpoint and you'd like to get, it doesn't come to the finality you were hoping, so you have to move on to the next guy."
Outside of Nolasco and Hughes, the Twins do have options in their rotation, including Kyle Gibson, Tommy Milone and Mike Pelfrey. Trevor May also got his first taste of the Majors last year, and top prospects Alex Meyer and Jose Berrios are close to cracking the Majors.
But Ryan said he's looking for at least one more quality piece to add to the rotation, as Twins starters combined to post the highest ERA in the Majors last season.
"We have quantity, but we want to win baseball games and we can't keep relying on going to the well when we've really struggled on that mound," Ryan said. "But that's not the only thing we've struggled with. I don't want to pass that buck. As an organization, we haven't won the games we need to. We don't want to be a non-factor. We want to be playing for things beyond the halfway mark. We want to get better and it goes through the rotation and the pitching staff."
Rhett Bollinger is a reporter for MLB.com. Read his blog, Bollinger Beat, and follow him on Twitter @RhettBollinger. This story was not subject to the approval of Major League Baseball or its clubs.