Bottom line adds twist to Reds' search for trade partner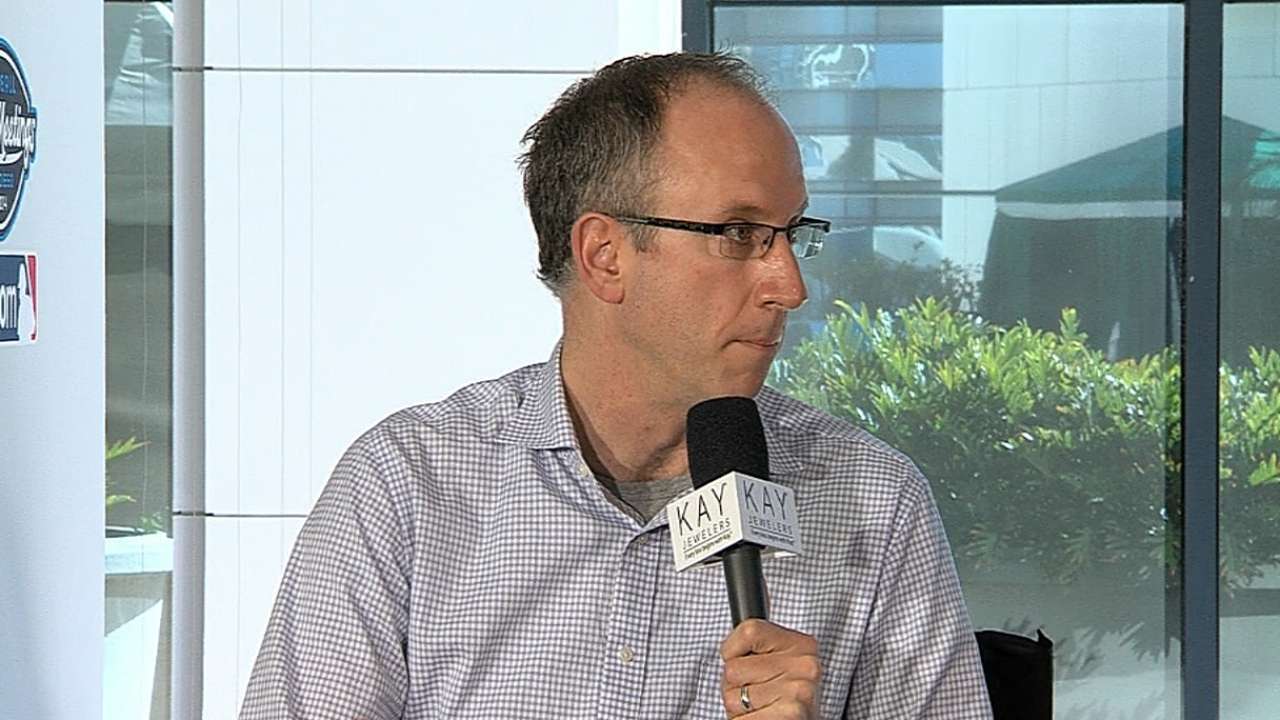 SAN DIEGO -- Trade talks occupied most of Wednesday in the Reds' suite at the Winter Meetings. But the team remains enigmatic as the situation requires it to be sellers before it can be buyers to contend.
That's because Cincinnati has been painted into a corner by its own payroll. Money remains a fundamental issue in preventing this club from finding a suitable trade partner.
---
Winter Meetings action
Day 4: Dec. 11
Transaction
Official?
OF Matt Kemp
C Tim Federowicz
Traded to Padres
No
C Yasmani Grandal
RHP Joe Wieland
RHP Zach Eflin
Traded to Dodgers
No
OF Yoenis Cespedes
RHP Alex Wilson
Traded to Tigers
Yes
RHP Rick Porcello
Traded to Red Sox
Yes
RHP Ervin Santana
Four-year deal with Twins
No
LHP Mat Latos
Traded to Marlins
No
RHP Anthony DeSclafani
C Chad Wallach
Traded to Reds
No
RHP Justin Masterson
One-year deal with Red Sox
No
RHP Alfredo Simon
Traded to Tigers
Yes
RHP Jonathon Crawford
IF Eugenio Suarez
Traded to Reds
Yes
LHP Ross Detwiler
Traded to Rangers
No
OF John Mayberry Jr.
One-year deal with Mets
No
RHP Andre Rienzo
Traded to Marlins
Yes
LHP Dan Jennings
Traded to White Sox
Yes
"We had numerous discussions with clubs today but nothing yet. We're still waiting to hear back from several," Reds general manager Walt Jocketty said during his Day 3 media session.
The Reds are searching for a left fielder to boost the offense, and inexpensive help for the bench and bullpen.
An obstacle for Jocketty, he acknowledged, is that any trade requires whomever the Reds bring in to make less than the player going out. For a hypothetical example, dealing either starting pitcher Mat Latos or Mike Leake to the Red Sox for left fielder Yoenis Cespedes in a 1-for-1 trade wouldn't work because Cespedes will make $10.5 million next season while Latos and Leake, both in their third year of arbitration, likely will both land below that figure.
Clearing space financially is also holding up Reds' activity on the free-agent market.
"We need to move a little bit of payroll -- not all of it, but some," Jocketty said. "I would say we're talking to free agents but we're not committing until we do some other things."
Jocketty remains interested in free-agent outfielders like Nori Aoki and Michael Morse but said there has been no serious movement.
Meanwhile, some of the Reds' National League Central rivals have been frisky with transactions during the Meetings. The Cubs, which have been the most stunning, landed prized free-agent pitcher Jon Lester with a six-year, $155 million deal late Tuesday.
"It's a lot of money for a lot of years, but they probably had to do that to get him. It will certainly make them a better club," Jocketty said.
Chicago also signed pitcher Jason Hammel and traded for catcher Miguel Montero.
"They're certainly going to be a lot better than they were last year because of some of the key moves they've made," Jocketty said of the Cubs.
The Pirates brought back starting pitcher A.J. Burnett recently, re-signed lefty starting pitcher Francisco Liriano on Tuesday and traded for reliever Antonio Bastardo on Wednesday.
The Cardinals made improvement by trading for right fielder Jason Heyward earlier in the offseason.
Add to all that a talented Brewers club, and it all points to one challenging division for 2015.
"I think all five teams in our division will be competitive and will probably be in contention most of the year," Jocketty said. "We'll probably be knocking each other off all year. I don't see the winner of our division winning a lot of games. It will be tough to win 100 games in our division. Somebody might step up.
"I don't think the division gets a lot of notoriety for whatever reason. It's the middle of the country, I guess."
The Winter Meetings will wrap on Thursday morning with the Rule 5 Draft. The Reds have 38 players on their 40-man roster, which leaves room to pluck a player. Don't expect them to, though.
"We're not sure. Probably not," Jocketty said.
Mark Sheldon is a reporter for MLB.com. Read his blog, Mark My Word, and follow him on Twitter @m_sheldon. This story was not subject to the approval of Major League Baseball or its clubs.