MLB.com Columnist
Hal Bodley
Veteran exec Hart still has the knack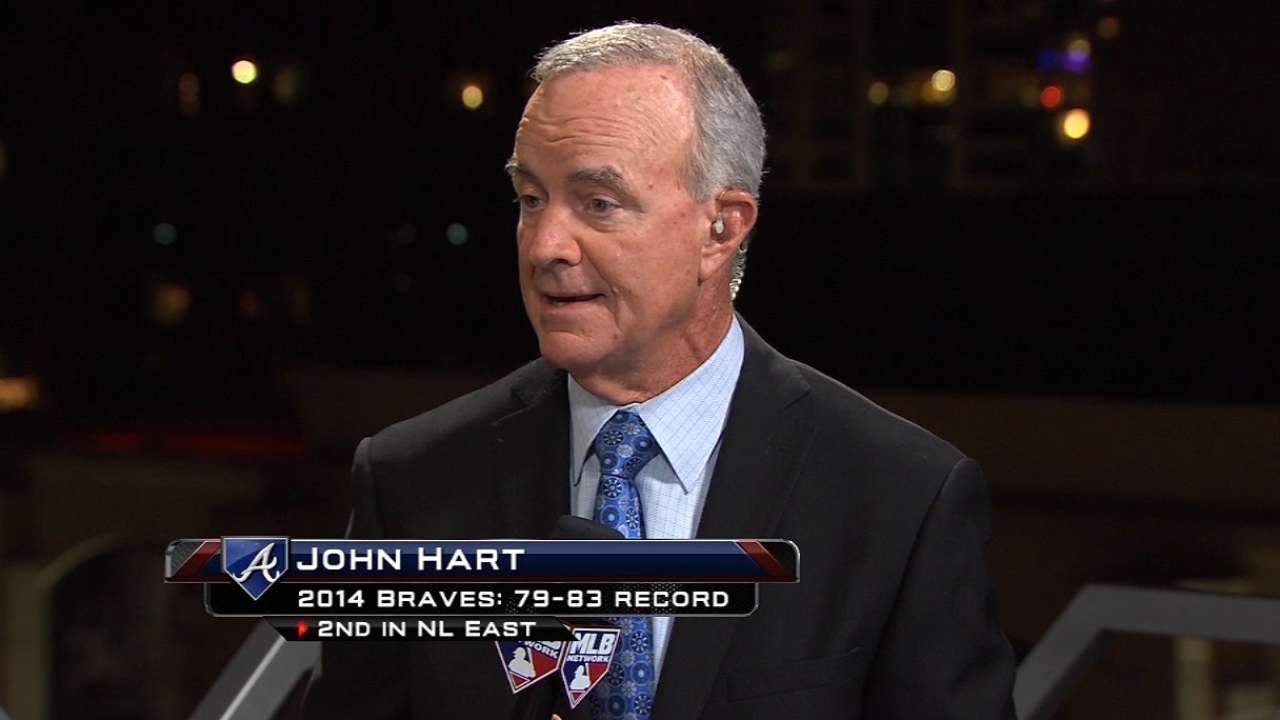 SAN DIEGO -- The thing about John Hart is he's really good at what he does. Make that very good.
Hart is 66 years old, was great as an analyst on MLB Network, his golf game is close to scratch and he's probably forgotten more baseball than most of today's executives know.
Yet why would Hart leave his comfy life to return to the trenches of a game that has dramatically changed since he became the Cleveland Indians general manager in 1991?
When Atlanta Braves president John Schuerholz, Hart's best baseball buddy, twisted his arm and convinced him to take over the Braves' baseball operation, it was a coup of sorts.
For years, John has been turning down GM offers.
He's been virtually closeted in the Braves' sixth-floor suite at the Grand Hyatt during this week's Winter Meetings. The phone was ringing non-stop and executives from other teams were in and out Wednesday afternoon, trying to make deals.
As Hart sat in the corner of a plush sofa, with baseball data strewn about, I could sense the adrenaline flow as he attempts to return the Braves to the gold standard the organization has long been known for. They were 79-83 last season, stayed home in October and that doesn't cut it in Atlanta with a new stadium coming.
My purpose for the visit was to chat about how baseball and the role of the general manager has changed, but watching Hart, this easily could have been the 1990s when he was building championship caliber teams in Cleveland.
What really changed is no change at all.
"It still is about the players," Hart said. "That is the real key. The good organizations, the good teams, the good baseball people still have an instinct and a knack for identifying and finding players."
But certainly the role and even the job description of the general manager has changed.
"Yes, for sure some of the tools used now have changed since I broke in," Hart said. "Agreed, with the analytics scouting reports are better defined and sharper. You have more of this information at your fingertips."
He adds when he was a young GM, "there were things I always looked for statistically, but this is much deeper."
Numbers are great, but they cannot tell you everything about a player.
He quickly agreed and there was enthusiasm in his voice.
"You still want a player to be able to pass the eye test," Hart said. "What does the scout who saw him and knew him know about him? How does he handle adversity? There are a lot of things about a player you cannot measure. What happens when he fails -- those intangibles you cannot put in any statistical model."
The first time I met Hart was in 1988 when he was the Baltimore Orioles third-base coach. He'd managed six summers in their Minor Leagues and the promotion to the big club was logical.
But even then I felt Hart was more-suited for the executive wing. He had unbelievable insight for the game. Maybe it was because he learned so much in college and playing in the Minors as a catcher in the Montreal Expos system.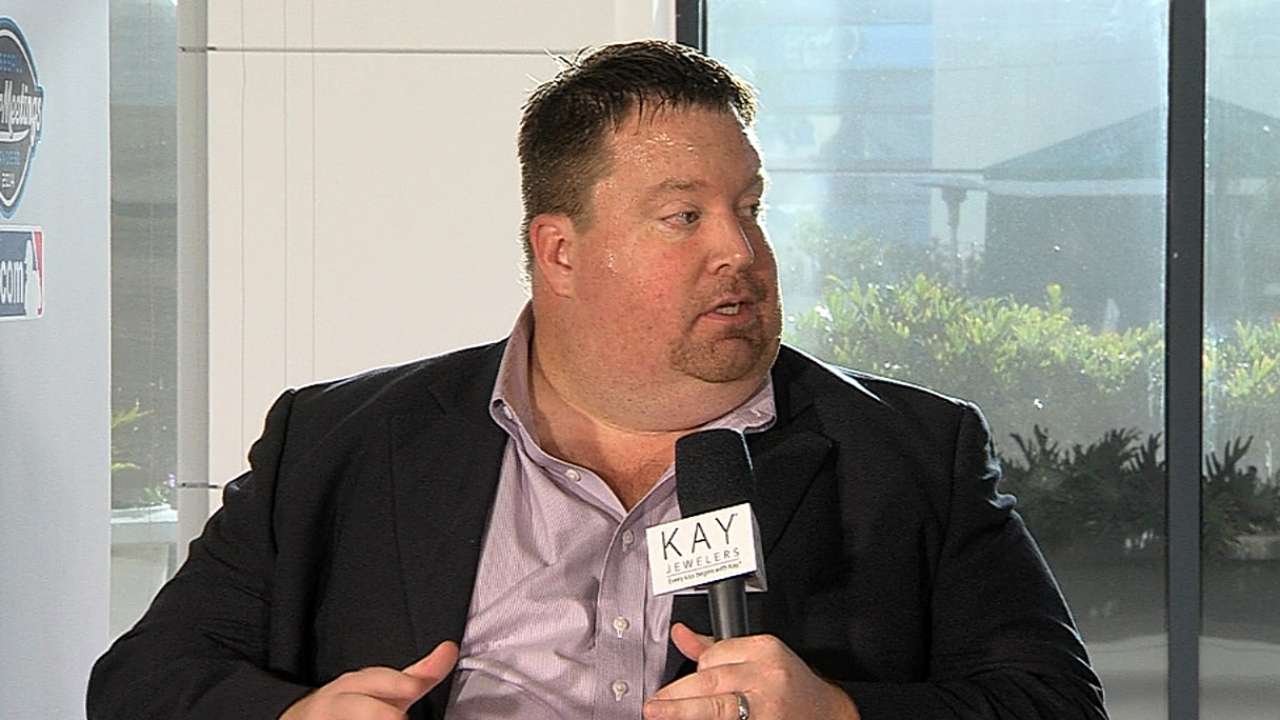 Former Orioles executive Hank Peters had an eye on the young Hart, and when Hank became the Indians GM he took John with him.
"When I went into the front office, a big part of my success was having guys around me who had a much different skill set," Hart said. "I always wanted people working with me who were smarter than I was."
Once, during a lull in Spring Training in the 1990s, Hart explained his philosophy to build a winner for the perennially dreadful Indians. His enthusiasm almost overshadowed his detailed plan.
Hart's blueprint was this: Build the team's nucleus through the Draft, emphasize smart scouting and, yes, make wise trades.
Even more important was Hart's theory to sign young players to multi-year contracts before they were eligible for arbitration. Knowing the young turks would be around for a while was comforting for the veterans who then preferred to remain with the Indians. It also helped attract the likes of Eddie Murray, Orel Hershiser, Dennis Martinez and Tony Pena.
"We were building with youngsters from our own system and at some point wanted to stop the revolving door," Hart said. "We tied up players such as Jim Thome, Sandy Alomar, Paul Sorrento, Manny Ramirez, Omar Vizquel, Albert Belle, Charles Nagy, Kenny Lofton, Bartolo Colon. These were really good players."
The Indians went on to win six AL Central titles and played in the World Series in 1995 and 1997.
Hart moved onto the Texas Rangers in 2002, turning the Cleveland reins over to protégé Mark Shapiro. John stepped down from the Rangers' job in '05 and became senior advisor, and was a natural for MLB Network when it launched in '09.
"That gave me a new perspective on the game, and an enormously valuable stop on my career," Hart said.
After his Rangers contract expired in 2013 he became an advisor for the Braves, an unplanned stepping stone to his current gig as president of baseball operations.
Says Schuerholz: "John has demonstrated a great ability in constructing winning baseball organizations, winning baseball teams, creating staffs of very capable people empowered to do great jobs in the organizations he has run."
Many of those men who learned under him have gone on to be general managers for other teams -- Shapiro, Jon Daniels, Josh Byrnes, Dan O'Dowd, Chris Antonetti.
Even though the game has changed so much, no one has a better knack at building a team -- on and off the field.
John firmly believes, yes, many of the Major League teams rely heavily on analytics, "but there are some wise old owls there too. We, the Atlanta Braves, want to be an organization that leans a lot more toward veteran baseball guys. John Schuerholz is that guy, I've been that guy, Bobby Cox is that guy, but at the same time have access to cutting edge statistics."
Finally, there was this fastball down the middle: Can John Hart do his job today as he did with the Indians and Rangers?
"Absolutely," he said without hesitation. "If you keep it simple and remember the game's about the players there's a lot of ways to get there.
"And we will."
Hal Bodley is the senior correspondent for MLB.com. Follow him @halbodley on Twitter. This story was not subject to the approval of Major League Baseball or its clubs.