O's keeping lines of communication open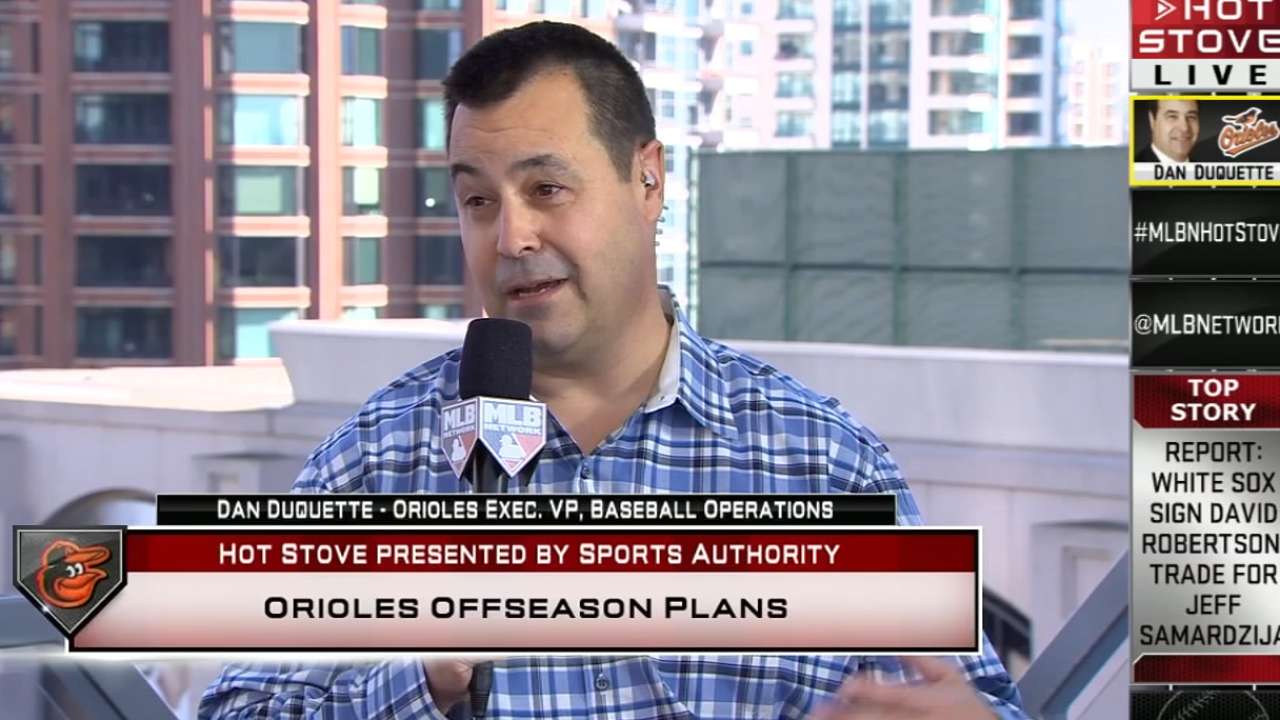 SAN DIEGO -- Dan Duquette's media session was pushed back 30 minutes on Wednesday afternoon, causing speculation about the club potentially working on a move, but when he did meet with the media in his room -- the team suite mysteriously occupied -- the only move he spoke of was an anticipated trade earlier in the day that would have netted some pitching had it gone through.
"We thought we were going to close a deal with a club, but it just didn't come together," Duquette, the club's executive vice president of baseball operations, said. "But we tried."
The O's engaged in some more trade talks on Wednesday, renewing old conversations and starting new ones as some of the moves around baseball have caused new players to be made available. But nothing is hot, and right now it seems the focus has shifted to preparing for Thursday's Rule 5 Draft, with Baltimore whittling the list from 60 candidates to a few finalists in anticipation of the event.
"Keep in mind who the Orioles are," Duquette said when asked if the spending spree around the Winter Meetings had changed Baltimore's plans. "We've got an established pitching staff. We've got a strong everyday lineup. We've got to fill a few holes. We're going to look at some options in the Major League free-agent market and sign a couple of players. We'll probably be active in the Rule 5 Draft, like we have been the last couple of years. And we continue to build our team piece by piece. How we build our team is, we build it looking at all the options in the market, and we do it year-round.
"Very rarely do we sign a high-priced free agent. Last year we signed [Nelson] Cruz and [Ubaldo] Jimenez. One of them really worked out well, to the club's benefit. The other one ... We haven't gotten the kind of return on the Jimenez investment that we'd like. But there's a lot of other acquisitions we made where the player did well. But we are not about signing high-profile free agents. We are about bringing good players through the farm system, we are about making trades, we are about being active in the Rule 5 Draft, signing international players, and that's who we are."
The Orioles continue to meet with free agents, including Delmon Young, though Duquette wouldn't say if that deal was any closer to being done. He also reiterated that he's hesitant to trade starting pitching.
Asked about an extension for lefty Wei-Yin Chen, Duquette reminded reporters that they had picked up Chen's option. Pressed further, he asked how often Chen's agent, Scott Boras, negotiates extensions when his client is one year away from free agency. The answer? Almost never.
Brittany Ghiroli is a reporter for MLB.com. Read her blog, Britt's Bird Watch, and follow her on Facebook and Twitter @britt_ghiroli. This story was not subject to the approval of Major League Baseball or its clubs.