Moss reunion creates boon, challenge for Francona
Depth at first, corner outfield spots could lead to other moves for Tribe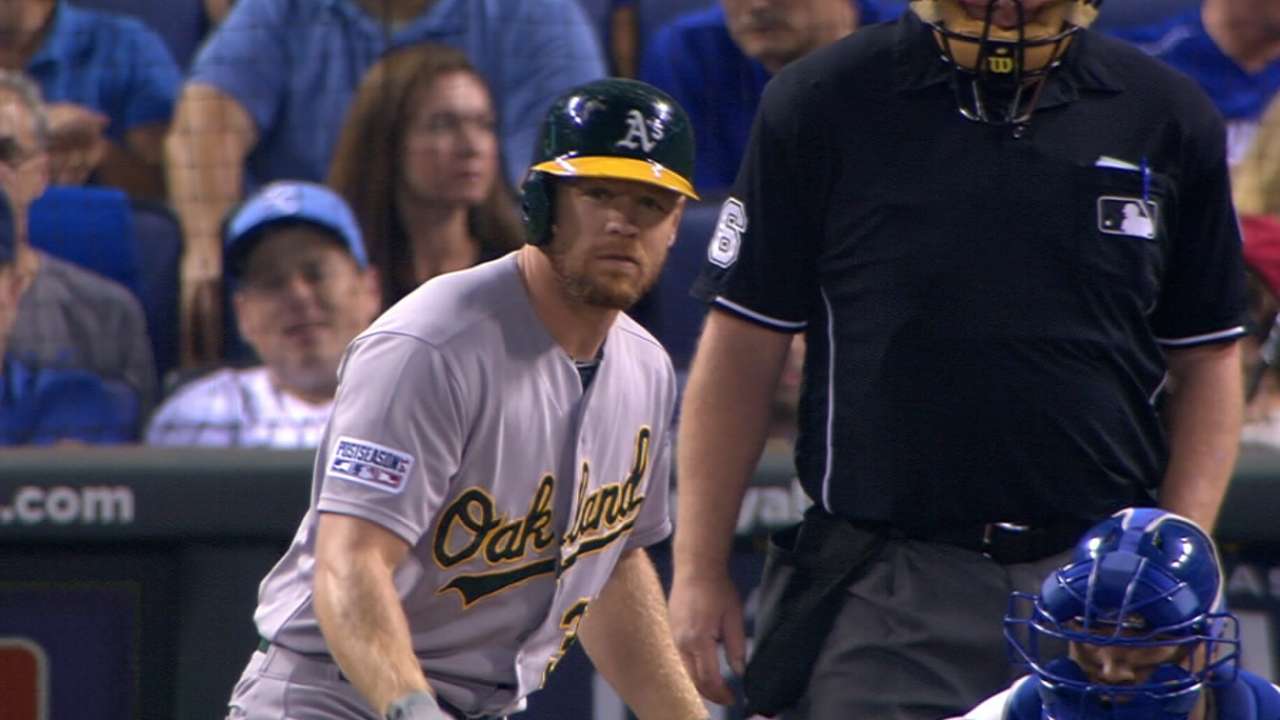 SAN DIEGO -- Indians manager Terry Francona made a point to deliver a message to Brandon Moss while they were both at the All-Star Game last summer. Francona had managed Moss in Boston when the outfielder was first breaking into the big leagues, long before he developed into one of the game's top sluggers.
"I said, 'Man, I'm so proud of you,'" Francona said on Wednesday at the Winter Meetings. "He had turned into this man."
Now, Moss will be back in Francona's lineup.
Cleveland kicked off these Meetings by acquiring Moss from the A's in exchange for Minor Leaguer Joe Wendle on Monday morning. Francona is thrilled to be reunited with Moss, who will have a home in the heart of the order and has the ability to be an option for both left and right field, as well as first base and designated hitter.
Moss also presents a challenge for Francona, though. Cleveland has a pile of players who can cycle through the DH role and provide depth at either first base or the corner outfield spots. Carlos Santana projects as the Tribe's first baseman, but Moss and Nick Swisher can play there, too. Moss, Swisher, David Murphy and Ryan Raburn can all handle right.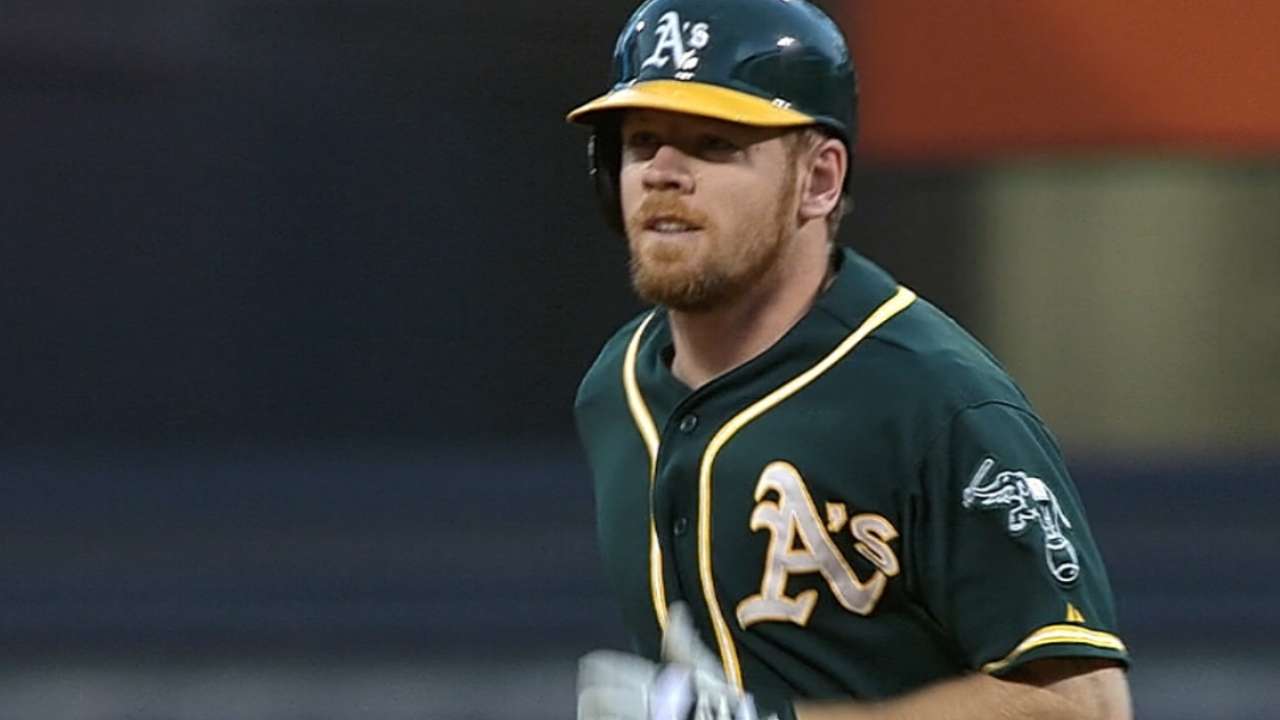 Francona sees the situation as a good problem.
"I hope it is [a challenge]," Francona said, "because then that means we've got guys that are healthy and producing. That would be the best situation, if we have to try to feel like we've got to get guys in there, because that meant guys came, they're healthy and they're hitting. That would be wonderful. I hope that happens."
That said, it is also possible that the Indians try to use the surplus to address another offseason goal via trade.
Murphy -- under contract for $6 million in 2015 -- appears to stand to lose the most at-bats, considering he plays right, hits left-handed like Moss and is coming off a down year. Cleveland has spent time this winter gauging the interest in Swisher, who is coming off surgery on both knees, a down season offensively, and he is owed $30 million through 2016 with a vesting option for '17.
"It's December," Francona said. "We still have a couple months before we go to Spring Training when you have your full team in place."
At the moment, the club's concern is getting both Moss and Swisher back to full strength in time for Opening Day. Moss is coming off hip surgery in October and is expected to be ready to start the regular season, barring a setback in his rehab. Swisher's knee surgeries took place in August and the Indians will need to monitor his progress come spring as well.
Asked if Swisher is currently being viewed as a DH until he can show he is healthy enough to handle first base, Francona indicated that right field might be more realistic. Francona said Swisher has told the team that he feels playing the outfield might actually be better for his legs.
In that scenario, Swisher could potentially play right field, while Santana handled first base and Moss slots in as the DH. All three players could rotate in and out of DH duties -- an approach that the Indians like to use for that role.
"We'll have to be very cognizant of the fact that he had knee surgery," Francona said of Swisher. "We want to give him a chance to be healthy so he can be productive. We'll certainly keep an eye on him."
The same goes for Moss during the spring.
"We'll completely go off of him," Francona said. "From all accounts, he's doing very well. ... I think he thinks he's going to be full-go. But, again, if he's not, that's not the end of the world."
With Moss added to the mix -- addressing Cleveland's wish to acquire an impact bat this winter -- general manager Chris Antonetti said the focus is on pitching. Specifically, the Tribe wants to find a way to improve its Major League rotation depth, which is only seven arms deep at the moment.
Francona agreed that the club could use more help along those lines.
"I think it's fair to say that we'd like to add pitching," Francona said. "I think Chris is trying very hard to add depth to, not only our bullpen, but to our starting pitching. I don't think we quite have a name yet, but I think it's safe to say he wants to add depth."
Francona was asked if adding a veteran pitcher to the starting staff was a priority.
"I don't think it hurts," the manager said. "Our staff, they were young last year at the end of the year and they did just fine. I think [Corey] Kluber is understanding his importance and his responsibilities to the staff, a lot like [Michael] Brantley is to our lineup. ... I didn't see any of our youth really getting in the way last year down the stretch."
Jordan Bastian is a reporter for MLB.com. Read his blog, Major League Bastian, and follow him on Twitter @MLBastian. This story was not subject to the approval of Major League Baseball or its clubs.