Meetings talk links Rockies to Mets' Gee
Lefty reliever Brothers reportedly named as possible trade candidate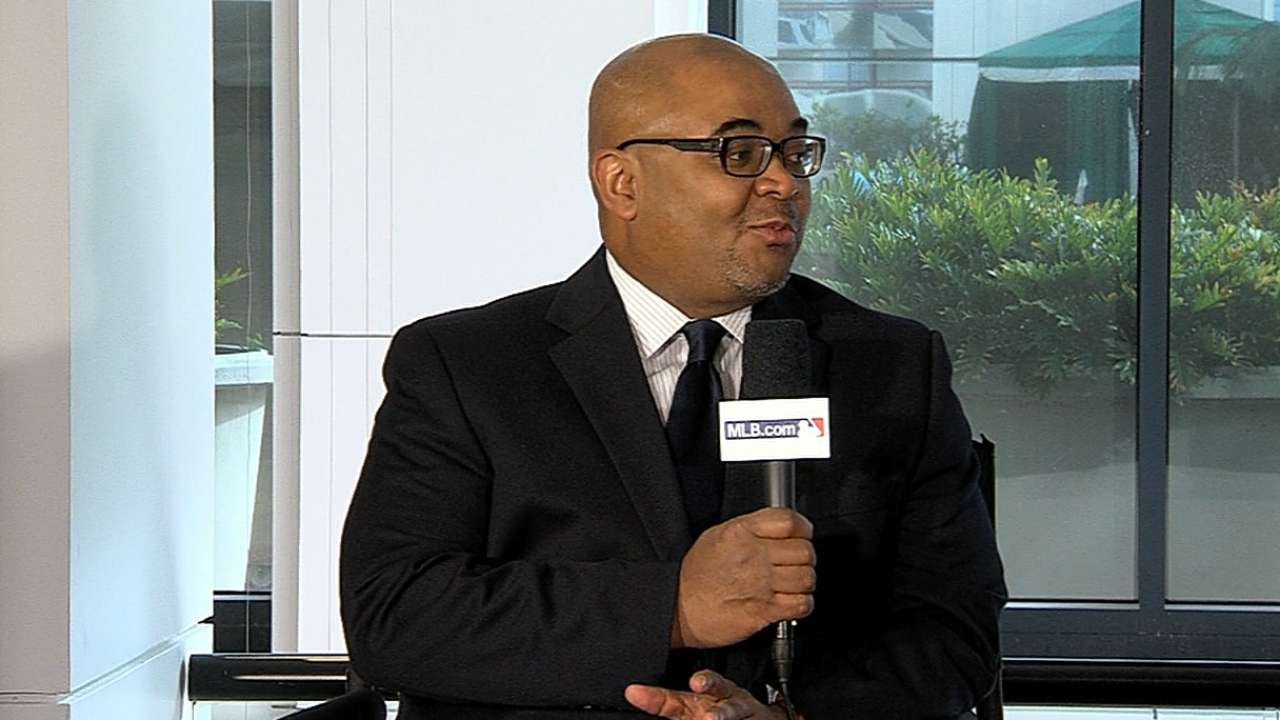 SAN DIEGO -- The Rockies' effort to improve their starting pitching and the Mets' effort to move right-hander Dillon Gee sparked reports of a possible deal on Wednesday at the annual Winter Meetings.
Throughout the offseason, the Rockies have said they want to bolster the starting pitching, with the theory being that their strong (when healthy) offense is at the level of a contender. The Mets, with an abundance of Major Leaguers and prospects, have mentioned to the Rockies that Gee could be available. According to reports, the Rangers and Twins also are interested in Gee.
---
Winter Meetings action
Day 4: Dec. 11
Transaction
Official?
OF Matt Kemp
C Tim Federowicz
Traded to Padres
No
C Yasmani Grandal
RHP Joe Wieland
RHP Zach Eflin
Traded to Dodgers
No
OF Yoenis Cespedes
RHP Alex Wilson
Traded to Tigers
Yes
RHP Rick Porcello
Traded to Red Sox
Yes
RHP Ervin Santana
Four-year deal with Twins
No
LHP Mat Latos
Traded to Marlins
No
RHP Anthony DeSclafani
C Chad Wallach
Traded to Reds
No
RHP Justin Masterson
One-year deal with Red Sox
No
RHP Alfredo Simon
Traded to Tigers
Yes
RHP Jonathon Crawford
IF Eugenio Suarez
Traded to Reds
Yes
LHP Ross Detwiler
Traded to Rangers
No
OF John Mayberry Jr.
One-year deal with Mets
No
RHP Andre Rienzo
Traded to Marlins
Yes
LHP Dan Jennings
Traded to White Sox
Yes
"We did meet with the Mets, so at least there's truth to that," Rockies general manager Jeff Bridich said. "It wasn't just Gee. It was us sitting down for the first time face to face with that ballclub and talking through some things. Gee came up as one of the pitchers they were willing to move. We listened."
The rumors heated Wednesday afternoon, when ESPN reported that the Mets are interested in Rockies lefty reliever Rex Brothers. However, the clubs had not talked anywhere near that extensively at the time of that report. Bridich did not discuss Brothers or any player who could be dealt if a trade materializes.
If a deal were to be made, both teams would be looking for the pitchers they receive to resemble their 2013 selves.
Gee, 28, went 12-11 with a 3.62 ERA, 142 strikeouts and 47 walks in 2013. As important as those numbers were his 199 innings pitched. However, last season Gee missed two months with a right lat injury. He finished 7-8 with a 4.00 ERA, 94 strikeouts and 43 walks in 137 1/3 innings.
The Rockies need a durable right-hander. Their No. 1 starter, lefty Jorge De La Rosa, went 14-11 with a 4.10 ERA in 32 starts, a team high, by far. Rookie callup Tyler Matzek -- another southpaw -- went 6-11 with a 4.05 ERA and finished strong, making 19 starts. Beyond that, injury and poor performance marred the rotation.
Brothers, 26, bordered on dominant in 2013 -- going 2-1 with a 1.74 ERA and 19 saves in 72 appearances. He became the closer when righty Rafael Betancourt suffered a season-ending elbow injury. But Brothers had trouble with pitch location in 2014 and went 4-6 with a 5.59 ERA in 74 appearances. Part of his issues may have been due to fatigue. With Boone Logan struggling through left elbow injuries and a bout with diverticulitis (an intestinal illness), Brothers at times was the only lefty in the Rockies' bullpen.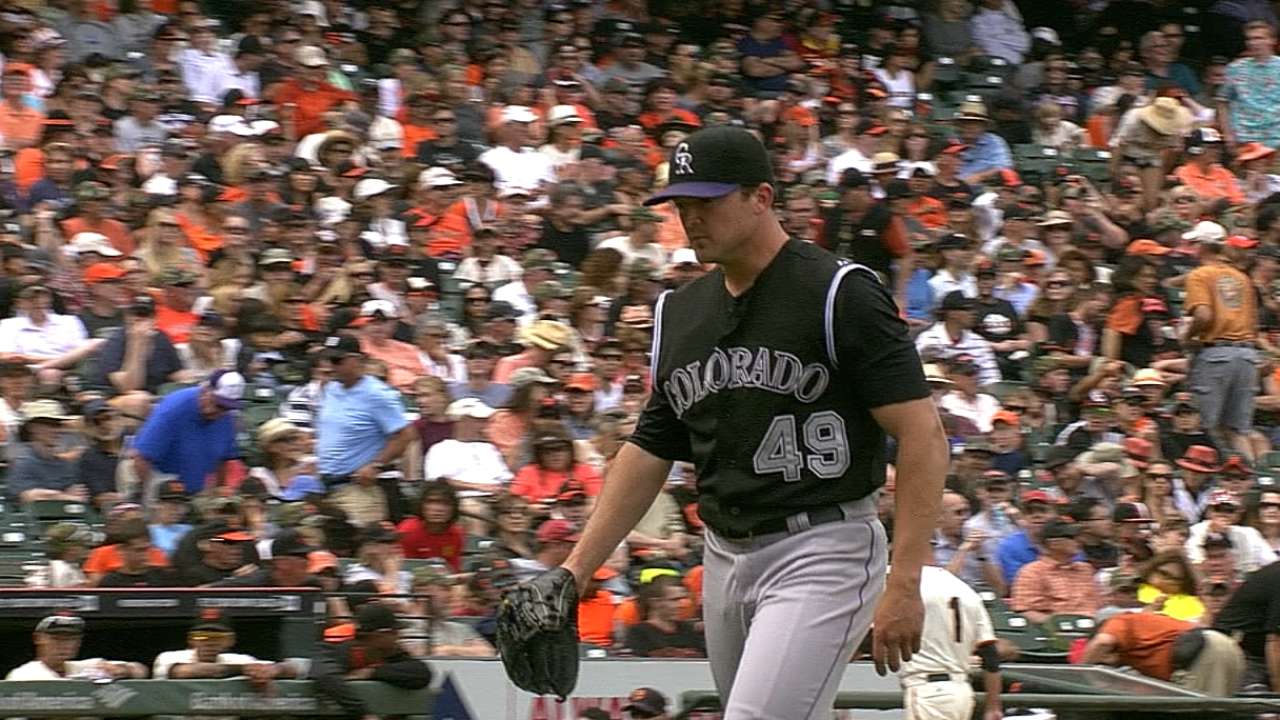 If the teams agree on the names, the salaries do not appear to be a roadblock. Both are eligible for arbitration. Gee, in his second year of arbitration, is projected to make $5.1 million, with two years of club control remaining for an experienced pitcher (40-34, 3.91 ERA in 106 career appearances, including 103 starts). Brothers, in his first arbitration year, is projected to make $1.3 million. The Rockies have room to expand their payroll while the Mets have acknowledged that they are being careful with theirs.
In other developments:
• Bettis' new role: Bridich said righty Chad Bettis, who flamed out in the bullpen after a promising Spring Training, will compete as a starter next season.
A starter when he broke into the Majors in 2013, Bettis made half of his 16 Major League appearances out of the bullpen. He made the Opening Day roster last season but went 0-2 with a 9.12 ERA in 21 relief appearances and bounced between the Majors and Triple-A. Bettis ended the year in the starting rotation at Triple-A Colorado Springs, where he was 3-4 with a 3.09 ERA overall. On Aug. 17, Bettis threw eight innings in a 10-0 victory over Fresno.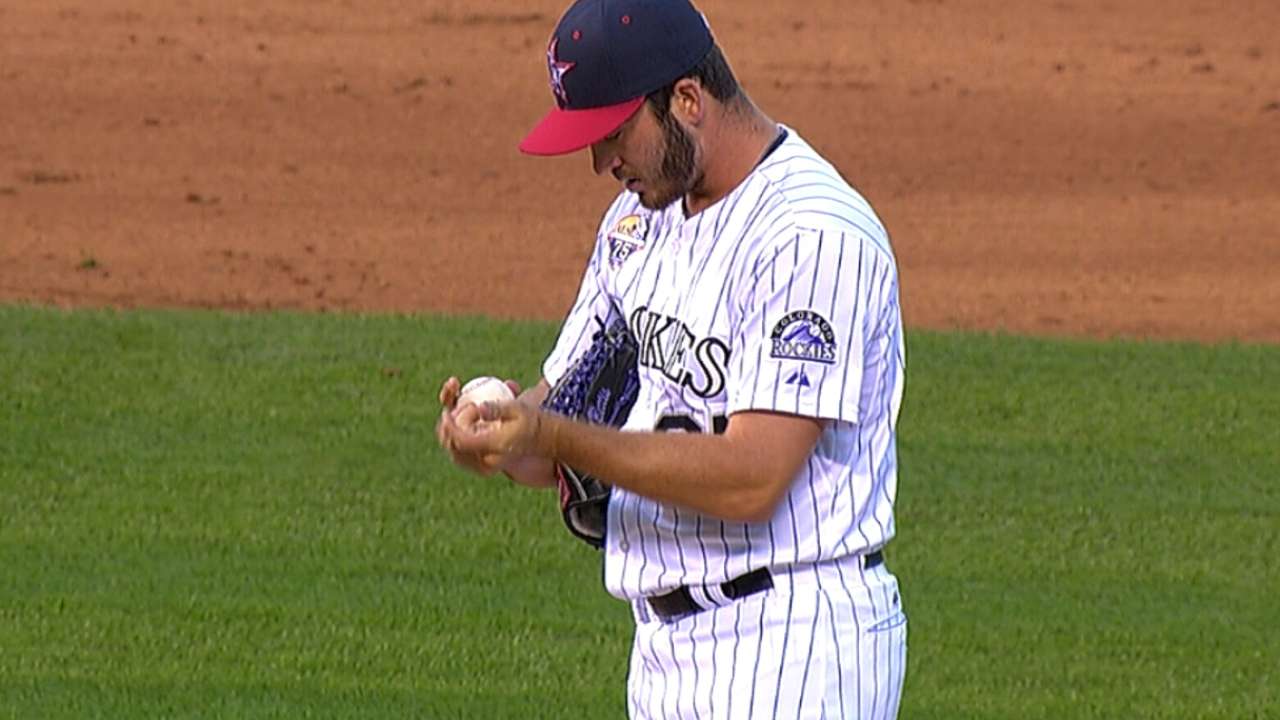 "It fits what he wants to do and what he feels most comfortable with," Bridich said. "We started stretching him out at the very end of the year last year. Whether that was fair to him or not, or right or wrong to do that to him at the end of the year, it was welcomed by him. He feels and lives inside of a starter's skin. Certainly with our needs and with our depth needs, to make that happen and for him to make that happen, it's good for everybody."
Bridich said righties Eddie Butler and Jon Gray, highly touted prospects who are rehabbing after dealing with shoulder issues last season, are not forgotten men as the Rockies retool their pitching. Bridich added that both pitchers learned valuable lessons about high expectations and the wear and tear of a long season.
"When you add to the equation of them being high-profile guys and you read about their names all the time, and the attention that comes with that, that kind of stuff can get magnified," Bridich said. "That's why it's important for those guys to learn those lessons.
• Holding pattern: The Rockies are known to have fielded interest from the Rangers and several other teams, mostly in the American League, on catcher Wilin Rosario, and from the Marlins on first baseman Justin Morneau. Bridich said he has no idea if any trade talks will come to fruition. The Rockies are more likely to deal Rosario and seek a free-agent catcher than they are to deal Morneau. But Bridich said Wednesday evening there hadn't been movement in terms of trade talks.
"It's fair to say there hasn't really been one of our position players that hasn't been asked about," Bridich said. "Some of them are easy noes. Others, it at least creates some work to do while we sit in a room and stare at each other."
Bridich said trades are possible before Thursday's Winter Meetings conclusion but free-agent signings are likely to occur later.
• Parker on radar: Kyle Parker, the Rockies' top 2010 Draft pick, didn't have the easiest entry to the Majors. His first Major League start was in Dodgers lefty Clayton Kershaw's no-hitter on June 18. He played sparingly by season's end because few at-bats were available in the outfield and Morneau played regularly at first base as he headed toward a batting title.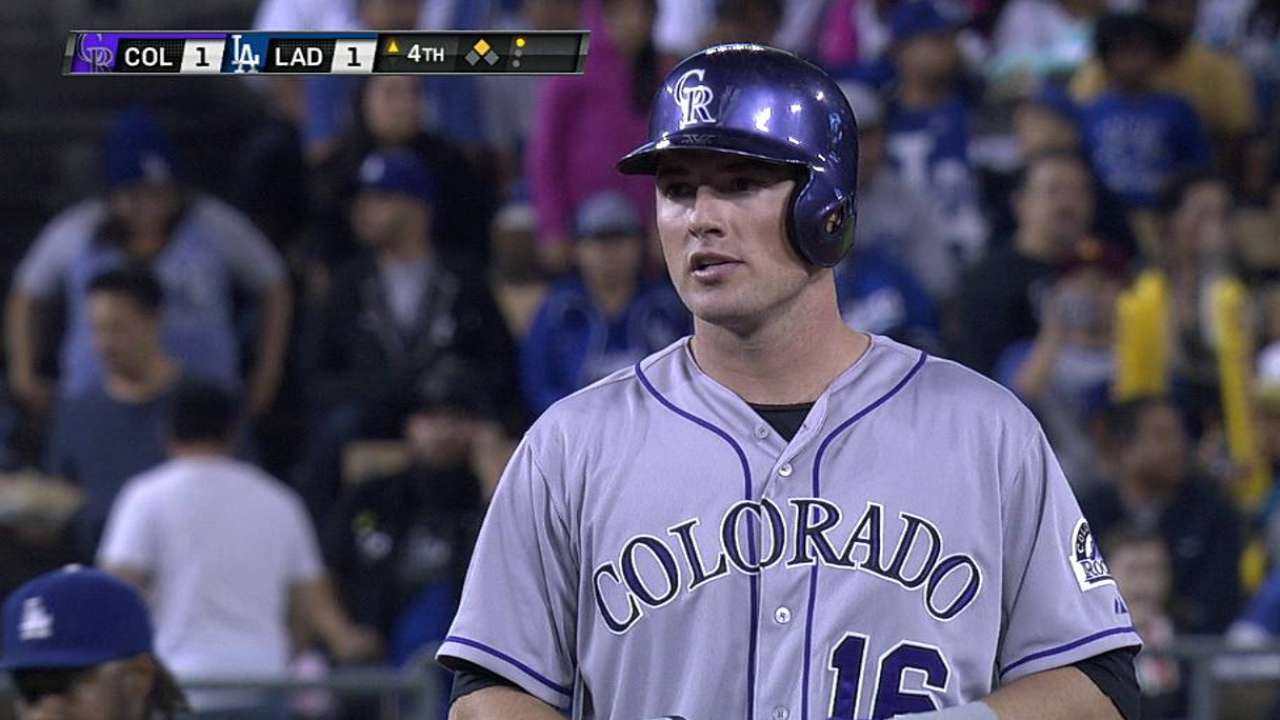 "Everybody knows the tool set and the ability that allowed him to be drafted where he was drafted and put up pretty consistent Minor League numbers," Bridich said of Parker, who hit .192 in 26 Major League at-bats but .289 with 15 home runs and 72 RBIs in 128 games at Colorado Springs in 2014. "It was an uneven introduction to the big leagues, and almost no time in September.
"I'm sure that was hard and frustrating for him, that kind of entry into the big leagues. But he was there for a reason -- an extremely powerful right-handed bat who has worked his butt off to become more versatile in the corners."
Thomas Harding is a reporter for MLB.com. Read his blog, Hardball in the Rockies, follow him on Twitter @harding_at_mlb, and like his Facebook page, Thomas Harding and Friends at www.Rockies.com. This story was not subject to the approval of Major League Baseball or its clubs.