Dodgers adding Kendrick, Rollins in trades
Gordon, Haren, Rojas sent to Miami on busy Day 3 of Winter Meetings; Kemp goes to SD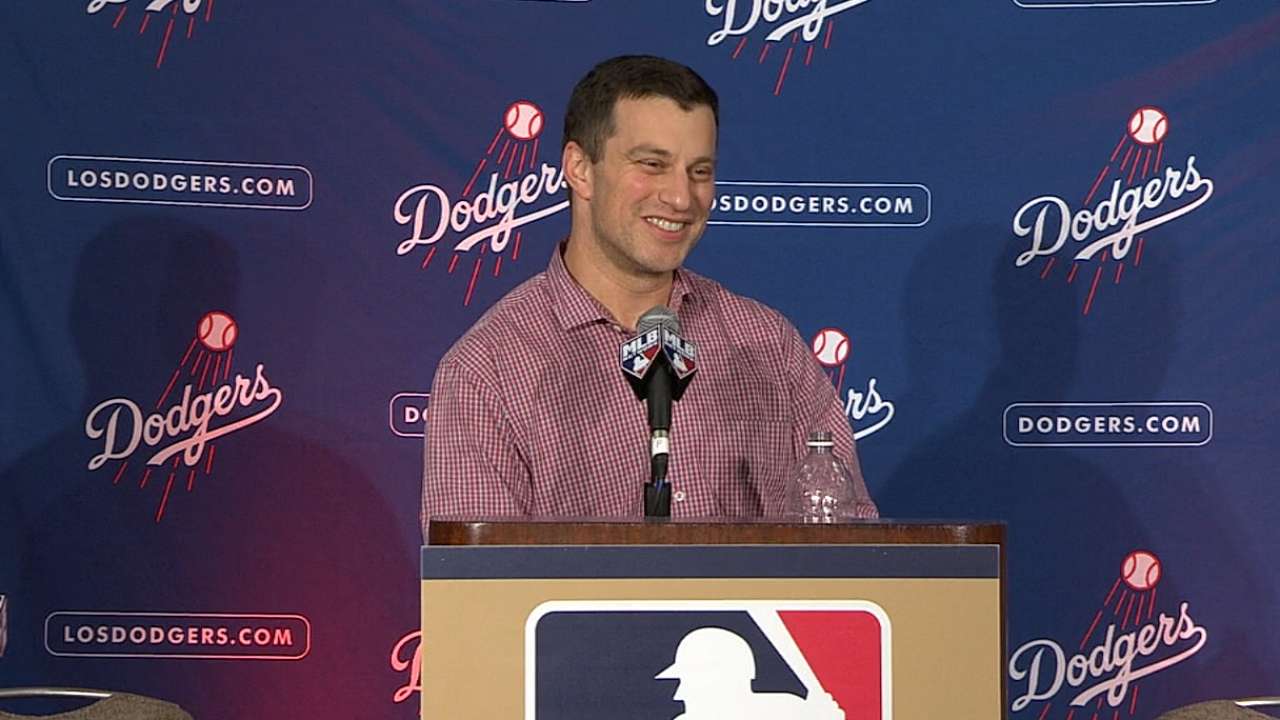 SAN DIEGO -- The Dodgers' didn't restructure the front office just to keep the status quo on the field, proving it Wednesday with a dizzying flurry of transactions that rocked the Winter Meetings.
They made separate trades with the Marlins and Angels, sending second baseman Dee Gordon, starting pitcher Dan Haren, cash considerations and infielder Miguel Rojas to Miami, receiving four young players in return and flipping the key piece, left-handed starter Andrew Heaney, to the Angels for second baseman Howie Kendrick.
The Dodgers kept reliever Chris Hatcher, catcher/infielder Austin Barnes and utility man Enrique Hernandez from the Marlins deal, which came on the heels of an unconfirmed trade for shortstop Jimmy Rollins and cash considerations from the Phillies for two unidentified young pitchers, reportedly pending Commissioner's approval.
---
Winter Meetings action
Day 4: Dec. 11
Transaction
Official?
OF Matt Kemp
C Tim Federowicz
Traded to Padres
No
C Yasmani Grandal
RHP Joe Wieland
RHP Zach Eflin
Traded to Dodgers
No
OF Yoenis Cespedes
RHP Alex Wilson
Traded to Tigers
Yes
RHP Rick Porcello
Traded to Red Sox
Yes
RHP Ervin Santana
Four-year deal with Twins
No
LHP Mat Latos
Traded to Marlins
No
RHP Anthony DeSclafani
C Chad Wallach
Traded to Reds
No
RHP Justin Masterson
One-year deal with Red Sox
No
RHP Alfredo Simon
Traded to Tigers
Yes
RHP Jonathon Crawford
IF Eugenio Suarez
Traded to Reds
Yes
LHP Ross Detwiler
Traded to Rangers
No
OF John Mayberry Jr.
One-year deal with Mets
No
RHP Andre Rienzo
Traded to Marlins
Yes
LHP Dan Jennings
Traded to White Sox
Yes
And the club reportedly was close to a four-year, $48 million deal with free-agent right-hander
Brandon McCarthy
.
The club also agreed early Thursday to trade outfielder Matt Kemp to San Diego (where he has a new home) for catcher Yasmani Grandal and pitching prospects, according to a source, that could be part of a package for a difference-making pitcher like Cole Hamels of the Phillies, who are shopping the lefty.
USA Today reported that the clubs will need the approval of the Commissioner's Office because of the amount of money involved, as the Dodgers would send $31 million of the remaining $107 million owed Kemp to the Padres. The move could put the Dodgers in better position to land Hamels, who is to receive $100 million over the next four years.
All this for a team that won 94 games and a second straight NL West title last season.
"As we looked to improve the club we felt there were areas to target and certain guys would fit within the scope of what we're trying to do," Andrew Friedman, president of baseball operations, explained after officially announcing the Marlins and Angels trades, while the Phillies deal and McCarthy agreement remain unconfirmed but expected to be finalized soon.
"Howie fits us extremely well and we added three young players to augment our depth. We feel, within the totality of the moves, we've made ourselves a better team."
Friedman said it was "safe to assume" he will add two starting pitchers (with McCarthy presumably one of them) either by trade or free agency.
The four deals provide the Dodgers with an experienced middle infield, a needed right-handed bat in Kendrick, a younger version of Haren as fourth starter in McCarthy, middle relief help from Hatcher, and needed depth in the thin farm system with the two Marlins prospects. Rollins, Kendrick and third baseman Juan Uribe will be free agents after the 2015 season.
The club also designated for assignment catcher Ryan Lavarnway, who was claimed off waivers from Boston.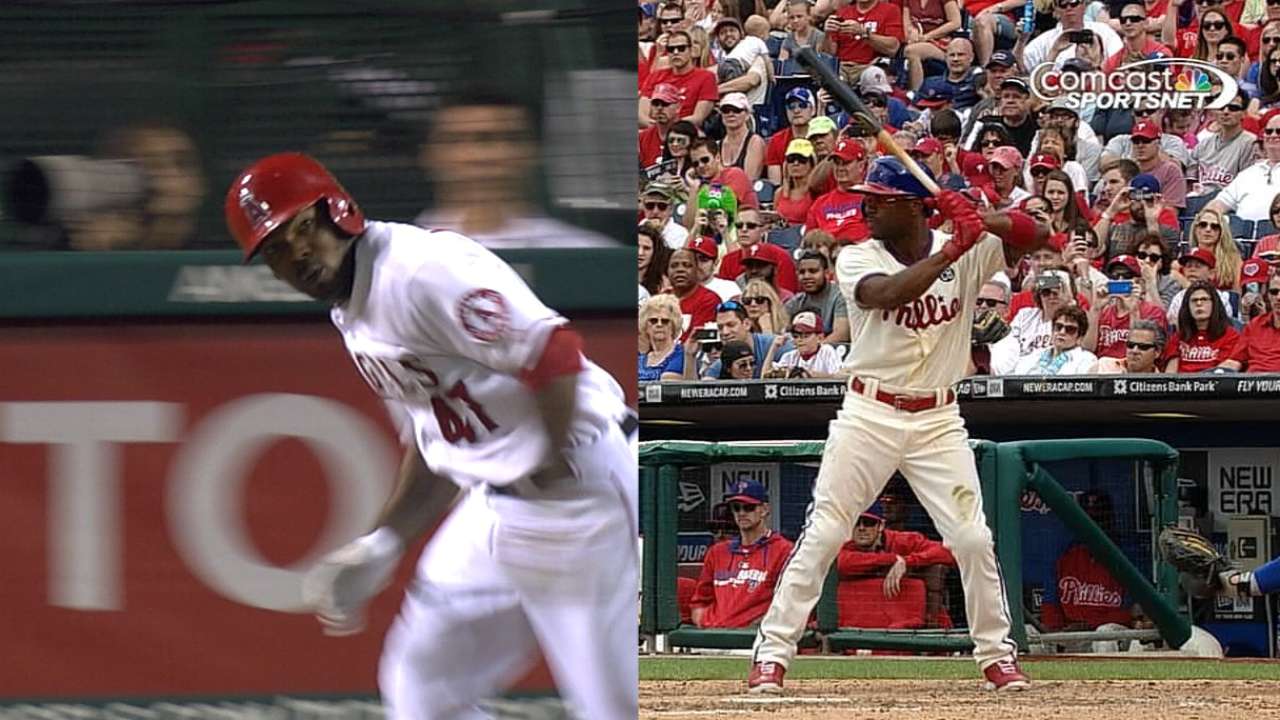 Dodgers manager Don Mattingly, declining to confirm or comment directly on any specific roster moves, said: "I think we'll be a better ballclub in the long run. I'm comfortable with everything we're doing."
Kendrick, 31, was an All-Star in 2011 and hit .293 this year with a career-high 85 runs scored and 75 RBIs. He takes Gordon's place, joining Rollins in a new middle infield combination. He earns $9.5 million this year.
"We feel he fits incredibly well," Friedman said of Kendrick, who the Dodgers tried to acquire the past two seasons. "He's good on both sides of the ball. He's a really good defender. Bat to ball, his right-center approach fits well at Dodger Stadium. We got a great makeup report. He just fits really well."
Gordon, 26, is a native Floridian who broke through last year as a surprise winner of the starting second base job out of Spring Training after losing his starting shortstop job to Hanley Ramirez two seasons earlier. He hit .289 and led the league with 64 stolen bases and 12 triples. He scored 92 runs and played 148 games. The Marlins tried to acquire him last year.
The 34-year-old Haren -- who exercised a $10 million option to return in 2014 but has said he didn't want to play outside California - was the presumed fourth starting pitcher for 2015 after going 13-11 with a 4.02 ERA. Through his agent, Haren said he was considering his options before making a decision. The unknown cash considerations are a fixed amount and won't change regardless of Haren's decision.
Rollins, 36, has one year left on a contract at $11 million and will replace Hanley Ramirez, who signed with the Red Sox as a free agent. As a "10-and-5" veteran, Rollins would have had to approve the trade.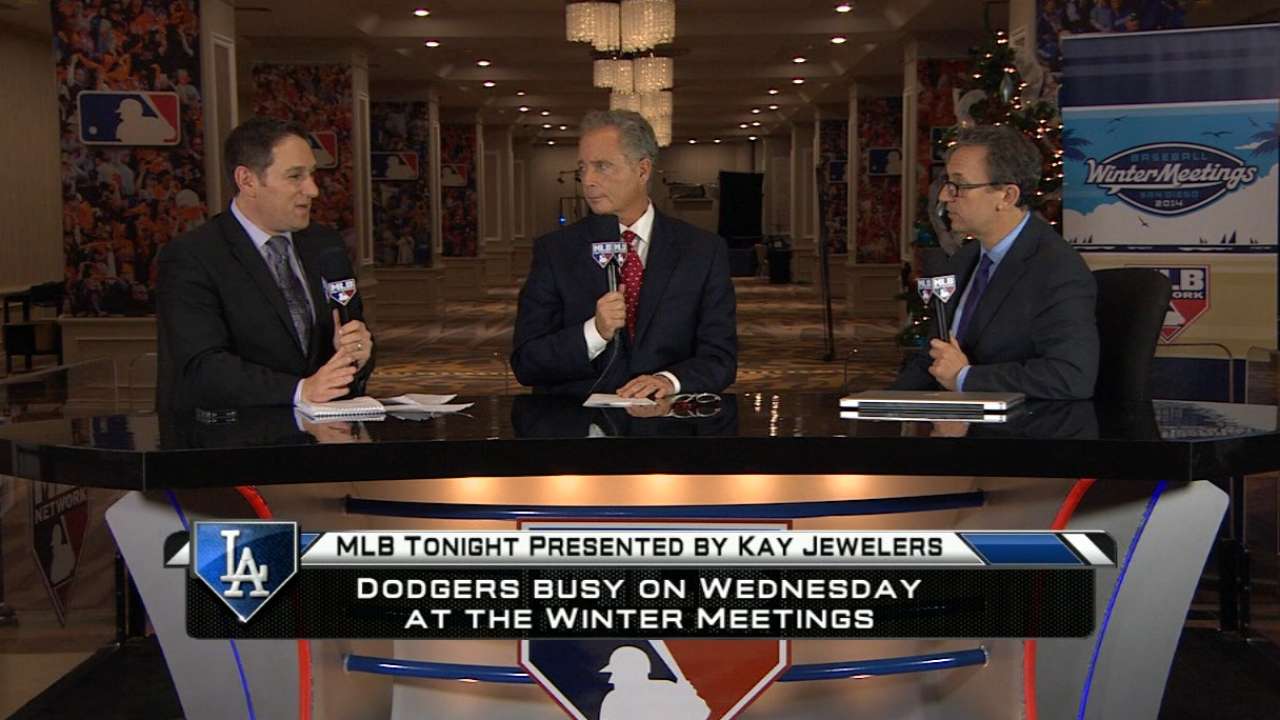 Rollins is a three-time All-Star, four-time Gold Glove Award winner and has a Silver Slugger Award. His best year was 2007, when he was also the National League Most Valuable Player. Despite his age, his defensive metrics remain solid and would be a significant upgrade from Ramirez.
Rollins also retains enough running speed to have stolen 28 bases in 2014, although his OPS of .717 was well below his career-high .875.
The Dodgers had been seeking a short-term veteran solution for the position, rather than using a combination of Justin Turner and Erisbel Arruebarrena.
The deal is designed to buy seasoning time for 20-year-old top prospect Corey Seager, currently a shortstop in a third baseman's body. Uribe's contract also runs out after the 2015 season, so the left side of the infield could be open for Seager in 2016.
The deal reunites Rollins with former Phillies and current Dodgers first-base coach Davey Lopes and brings a leader and solid citizen into the clubhouse, as Rollins won this year's Roberto Clemente Award.
Ken Gurnick is a reporter for MLB.com. This story was not subject to the approval of Major League Baseball or its clubs.