Scioscia considering Trout in No. 3 spot in lineup
Finding two consistent bats for top of order key for moving best hitter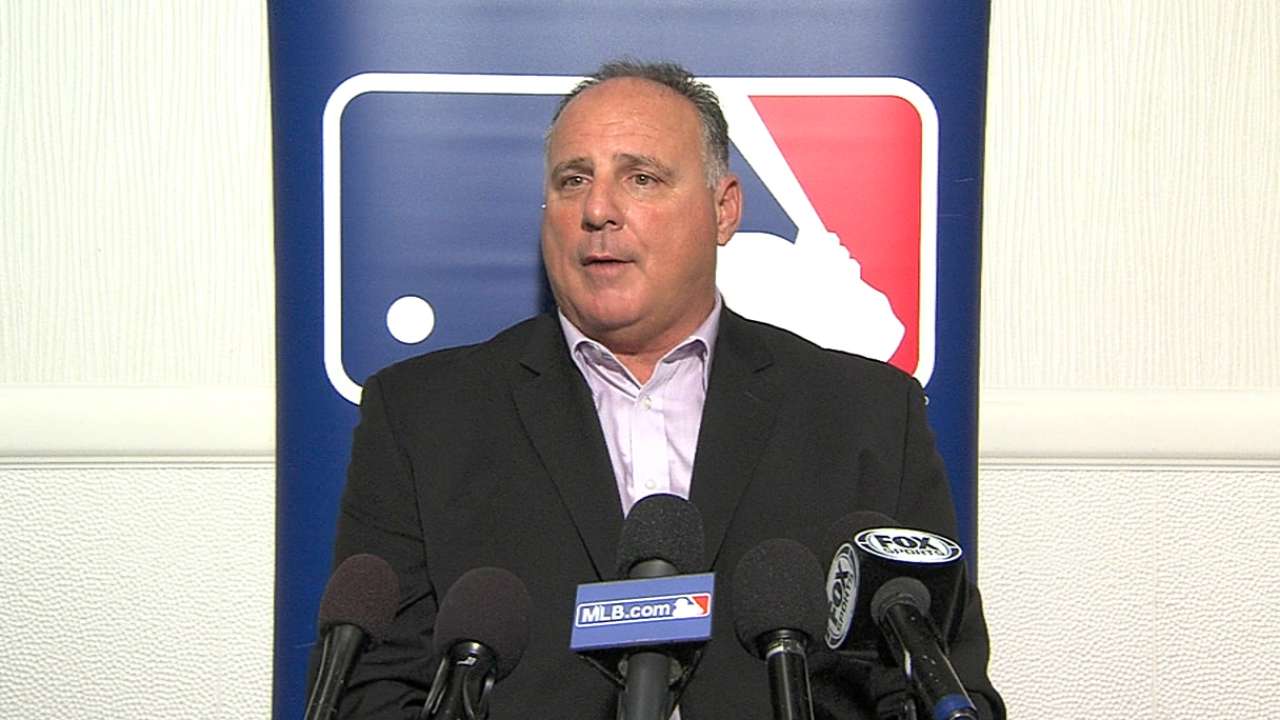 SAN DIEGO -- Will 2015 be the year Mike Trout moves into the prominent No. 3 spot of the Angels' lineup on a full-time basis?
Mike Scioscia is thinking about it.
"Depending on what happens," Scioscia said Wednesday, "you might see Mike hitting third."
The Angels manager, holding court on Day 3 of the Winter Meetings, said that if the season opened tomorrow, Trout would return to the No. 2 spot, with Albert Pujols batting third and Josh Hamilton serving as the cleanup hitter.
But that was before the Angels essentially replaced Howie Kendrick with Josh Rutledge at second base, adding a talented starter in Andrew Heaney and saving about $9 million but also losing some punch in their lineup.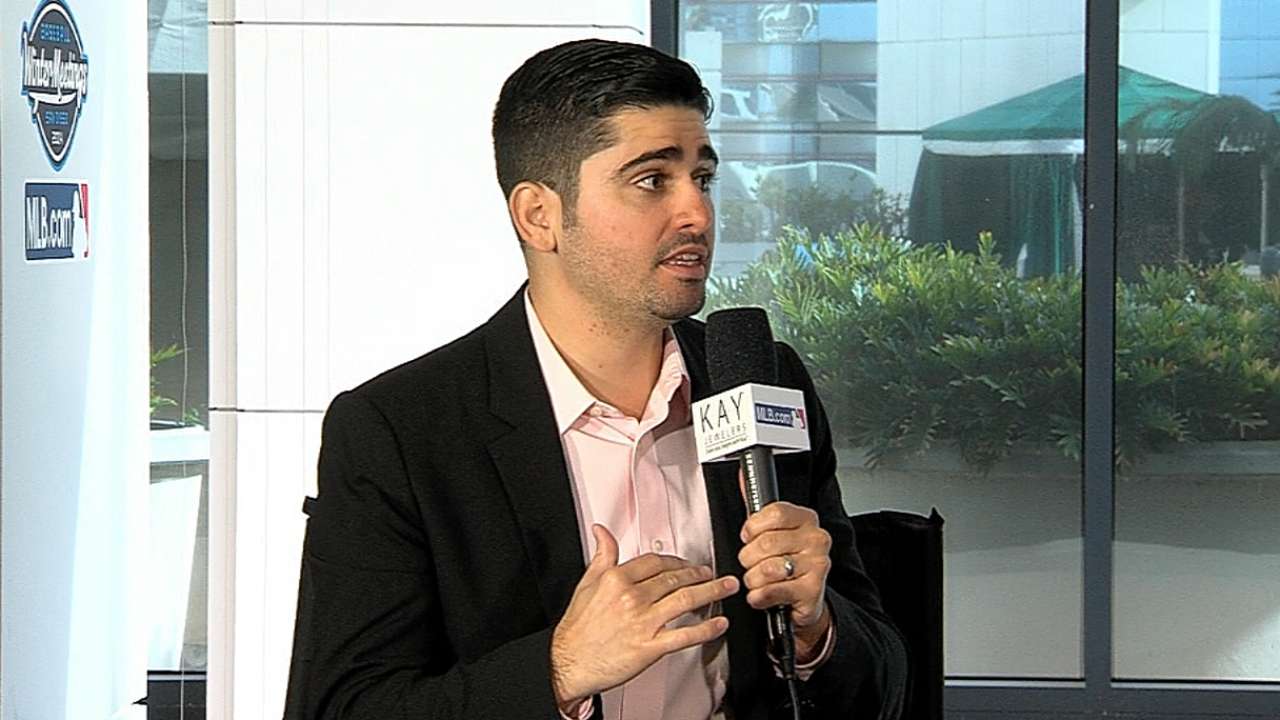 Kendrick no longer being an option in the middle of the order could push Scioscia toward hitting Trout third, which would move his power hitters down a spot and perhaps make his lineup deeper.
The move could also revolve around whether Hamilton -- .255/.316/.426 slash line the last two years -- still warrants batting fourth, though Scioscia didn't want to single him out.
"You're not looking at just Josh," he said. "You're looking at the whole lineup."
Scioscia opted to move Trout from the leadoff spot to the No. 2 spot early in the 2013 season, believing Trout would get a lot more opportunities to drive in runs and thinking it would benefit him to be connected with Pujols. But Scioscia has always said Trout's ultimate future is as a No. 3 hitter -- where Babe Ruth, Willie Mays, Hank Aaron and Mickey Mantle hit.
The argument against hitting Trout third is that it would lead to fewer plate appearances for the game's best player. But Scioscia's concern lies mainly in finding two hitters who can consistently get on base in front of him.
He has one in Kole Calhoun, who had a 122 OPS-plus as a leadoff hitter last season.
He needs one more, with Erick Aybar seemingly the logical candidate -- unless Scioscia can find a way to clone Trout.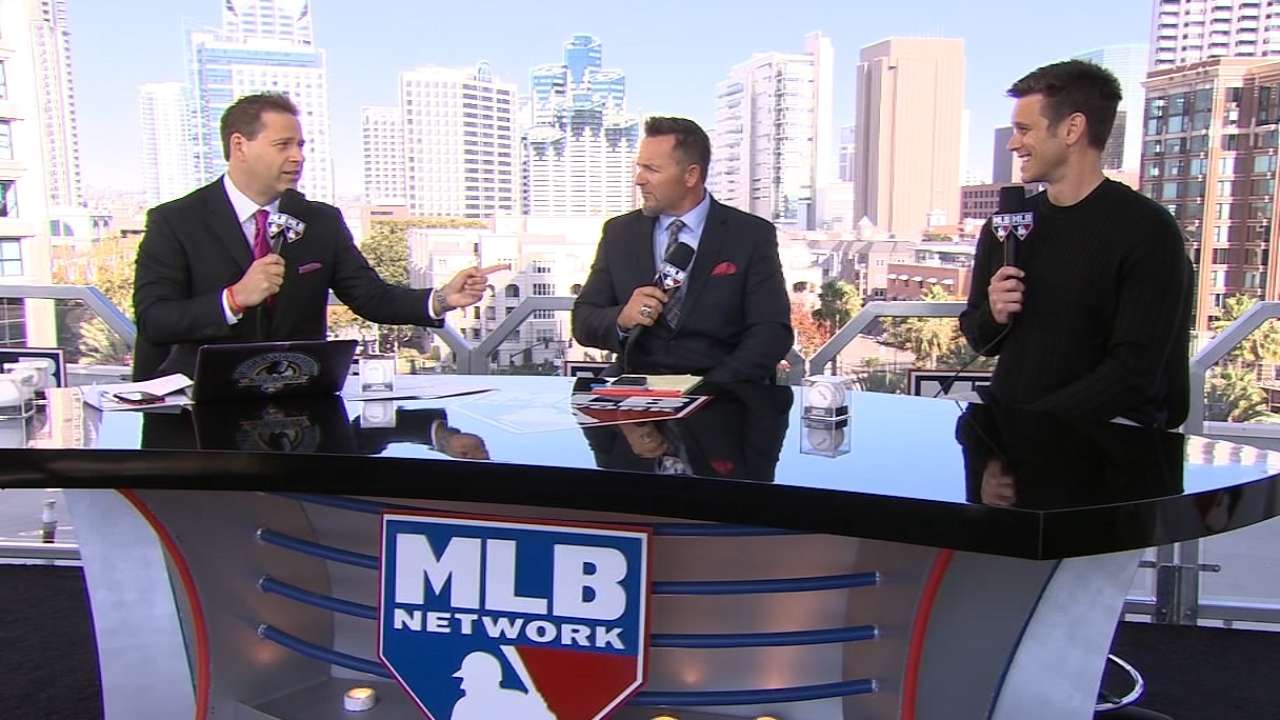 "You certainly want to put men on base in front of Mike," Scioscia said. "If we had a guy like Mike that would hit in front of Mike, I think you'd really see some opportunities. I guess I'm sounding greedy."
Below are other Angels notes from the final full day of the Winter Meetings:
• Scioscia updated the status of Garrett Richards (left knee surgery), saying: "I don't think we're going to see Garrett Opening Day, but I think the prognosis of having him back somewhere in the first month to maybe the first six weeks of the season look very good."
Those around Richards and those in the Angels' front office believe he can be ready by Opening Day, though. General manager Jerry Dipoto said Scioscia is simply "preparing for the worst-case scenario, which is just his nature." The initial prognosis after his surgery on Aug. 22 was that he would be ready in six months, even though the Angels announced it as six to nine months to be safe.
• Scioscia believes "there is no doubt" Gordon Beckham can play shortstop regularly at the Major League level. The Angels recently non-tendered Beckham, but they would like to bring him back even after trading for Rutledge. Beckham has proven he can play above-average defense at second and third, but he hasn't played much shortstop since his college days.
• Dipoto signed veteran left-hander Scott Snodgress to a Minor League contract with an invitation to Spring Training, and now the GM believes he's set with regard to left-handed-reliever depth. Snodgress will probably join Atahualpa Severino and Edgar Ibarra as lefty options in Triple-A, with Cesar Ramos the lefty in the Major League bullpen. Dipoto mentioned lefty starter Hector Santiago also being used in the bullpen if he doesn't beat out Heaney and Nick Tropeano for the fifth spot of the rotation.
• Asked how he sees designated hitter, Scioscia said, "A lot of guys are going to be fighting for at-bats, and I think our depth will be there." C.J. Cron expects to get the bulk of those at-bats, but a left-handed hitter -- currently Marc Krauss or Efren Navarro -- could platoon with him, and Pujols and Hamilton will hit there when they need a day off their feet.
• Dipoto said the Angels are "very likely to be" involved in the Rule 5 Draft on Thursday morning, though they'll be the last team to pick and there aren't many utility-infield options available. The Angels' 40-man roster is at 39.
• On his good friend, Joe Maddon, getting the job as Cubs manager, Scioscia said: "He's in a great spot. I know he's very excited. You know Joe. He's got to find his niche in Chicago, whether it's riding a bike to the park or doing something. He'll be comfortable."
• As for being a sage for all the young managers in the game these days? "If you're saying I've been around for a long time, you're probably right," Scioscia said. "But I don't know about that sage -- or even rosemary or thyme or whatever."
• Believe it or not, Dipoto has never received a call from another team asking for Trout. If he did? "I will just wait till they're done and say, 'No," Dipoto said. "I will opt not to be rude."
Alden Gonzalez is a reporter for MLB.com. Read his blog, Gonzo and "The Show", and follow him on Twitter @Alden_Gonzalez. This story was not subject to the approval of Major League Baseball or its clubs.