Quick thinking: Miami adds speedy Gordon in 7-player deal
Marlins also get Haren -- who might retire -- and Rojas for Heaney, Hernandez, Hatcher, Barnes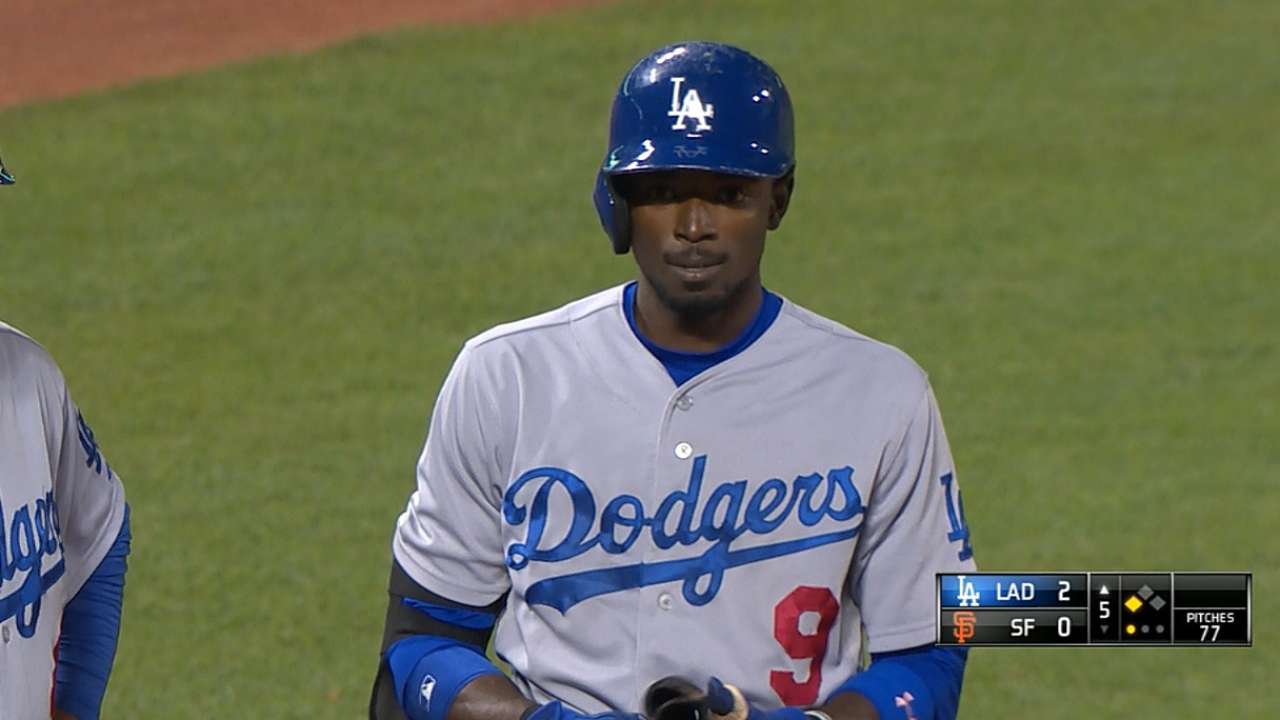 SAN DIEGO -- The Marlins are hopeful of being in the playoff race, and they've enhanced their chances by acquiring one of the fastest players in the game.
As part of a blockbuster trade on Wednesday, Miami acquired stolen-base champion Dee Gordon, right-hander Dan Haren, infielder Miguel Rojas and cash considerations from the Dodgers for four players, including top prospect Andrew Heaney.
The Marlins announced the deal late Wednesday night, solidifying their second base and leadoff spots for the foreseeable future.
"As we got into the offseason, we just wanted ways to improve our lineup," president of baseball operations Michael Hill said. "As we got into conversations with Los Angeles, we saw we had an opportunity to access Dee, and he just made a lot of sense for our team and our ballpark. We couldn't be happier to have him as well as the other pieces coming back."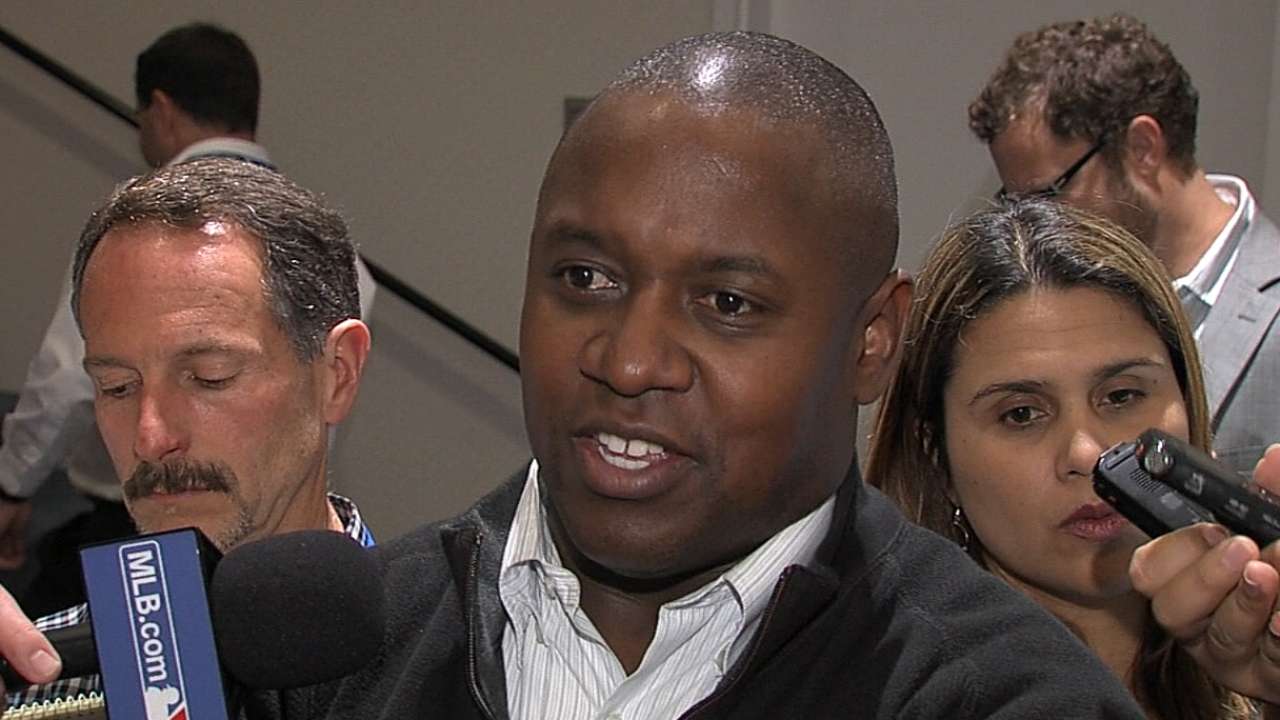 To complete the deal, Miami paid a hefty price, parting with Heaney, reliever Chris Hatcher, second baseman Enrique Hernandez and catching prospect Austin Barnes.
"It's sort of a change in philosophy as we've approached this offseason," Hill said. "We've drafted well. We've developed well. Now we're using that inventory to help us win at the Major League level. In this game, you have to give to get. We knew we were accessing talented players. We had to give up talent in return. We gave up a good young pitcher in Andrew Heaney."
Haren, 34, has a $10 million player option for 2015. There is a question as to whether he will actually pitch for Miami or retire. A California native who attended Pepperdine University, Haren has previously said he might retire if he was traded. The Marlins are still working through that situation, which isn't believed to be a deal-breaker. The Dodgers will cover Haren's salary if he plays in '15, with the Marlins receiving financial compensation if he retires.
Haren released a statement Wednesday night, saying, "I have been notified of the trade to Miami. My strong desire to remain in southern California has been well-documented. I will have to evaluate my options carefully before making any decisions."
Hill had a cordial conversation with Haren, expressing hope the veteran agrees to play in Miami.
"I talked to him about the talent we've assembled down in Miami, and how we thought he would be a great fit for what we're trying to do," Hill said.
Gordon immediately bolsters what was previously a slow-footed Marlins offense. The swift second baseman led the Majors with 64 stolen bases. To put into perspective why he was so coveted, consider Miami swiped just 58 bags this past season, which ranked 27th overall in the big leagues.
Heading into the Winter Meetings, the Marlins stated a power bat and a front-line starter were their primary needs. The club remains in the market for both positions, and may be close to finalizing a deal or two for a starter before the Winter Meetings conclude on Thursday.
Some power hitters in consideration are Justin Morneau (Rockies), free agent Michael Morse and Mark Trumbo (D-backs).
The Marlins engaged with the Dodgers about Gordon at the General Managers Meetings in Arizona in mid-November.
A left-handed hitter, Gordon will move into the leadoff spot, allowing Christian Yelich to slide into the No. 2 spot ahead of two-time All-Star Giancarlo Stanton.
In spacious Marlins Park, the team coveted the element of speed to take advantage of the wide gaps. Gordon, who batted .289 with a .326 on-base percentage in 2014, offers little power, hitting two homers while driving in 34 runs. But he did score 92 runs and he played in 148 games.
Yelich paced Miami with 21 stolen bases this past season from the leadoff spot, but he was often hesitant to run. If a base was open, teams would pitch around Stanton. Now, if Gordon runs, Yelich provides a threat. Miami suddenly has a dynamic top three combination.
Gordon and Yelich give a speed threat that will draw comparisons to when Juan Pierre and Luis Castillo formed a potent 1-2 combination atop the lineup of the 2003 World Series championship team.
"We had that in '03, and it was great to watch," Marlins owner Jeffrey Loria said. "We've got good kids, with great character. They fit with what we're trying to do."
The Marlins hoped to have Yelich hitting second in 2014, but those plans changed when second baseman Rafael Furcal was limited to nine total games due to hamstring injuries.
With Yelich and Stanton batting second and third, the team's two best hitters will be back-to-back.
But acquiring Gordon comes at a steep price. The Marlins part with Heaney, who was ranked by MLB.com as Miami's top prospect and later traded by the Dodgers to the Angels. The 23-year-old was the ninth overall pick in the 2012 First-Year Player Draft out of Oklahoma State. In seven big league starts this past season, he was 0-3 with a 5.83 ERA.
Crazy day! Wanna thank the @Marlins for drafting me and giving me an opportunity in the big leagues. Gonna miss fans, teammates, & coaches.

- Andrew Heaney (@Heandog8) December 11, 2014
Hernandez, obtained from the Astros as part of the Jarred Cosart deal at the July 31 non-waiver Trade Deadline, plays second base and outfield. He was primed to compete with Donovan Solano for Miami's second-base job.
Hatcher, a converted catcher, became a dependable setup reliever in '14, posting a 3.38 ERA in 52 appearances.
Barnes, 24, attended high school in Riverside, Calif. A ninth-round pick in 2011, Barnes was the catcher on Double-A Jacksonville's championship team. He also can play second and third base.
Although they gave up a lot, the Marlins felt it was worth it to attain a player with game-changing speed. The son of former big league reliever Tom "Flash" Gordon has Super Two service status, and he is arbitration-eligible for the first time. The earliest he can reach free agency is 2019.
Joe Frisaro is a reporter for MLB.com. He writes a blog, called The Fish Pond. Follow him on Twitter @JoeFrisaro. This story was not subject to the approval of Major League Baseball or its clubs.