MLB.com Columnist
Richard Justice
Astros shore up biggest weakness
Houston adds Neshek, Gregerson to bullpen that struggled in 2014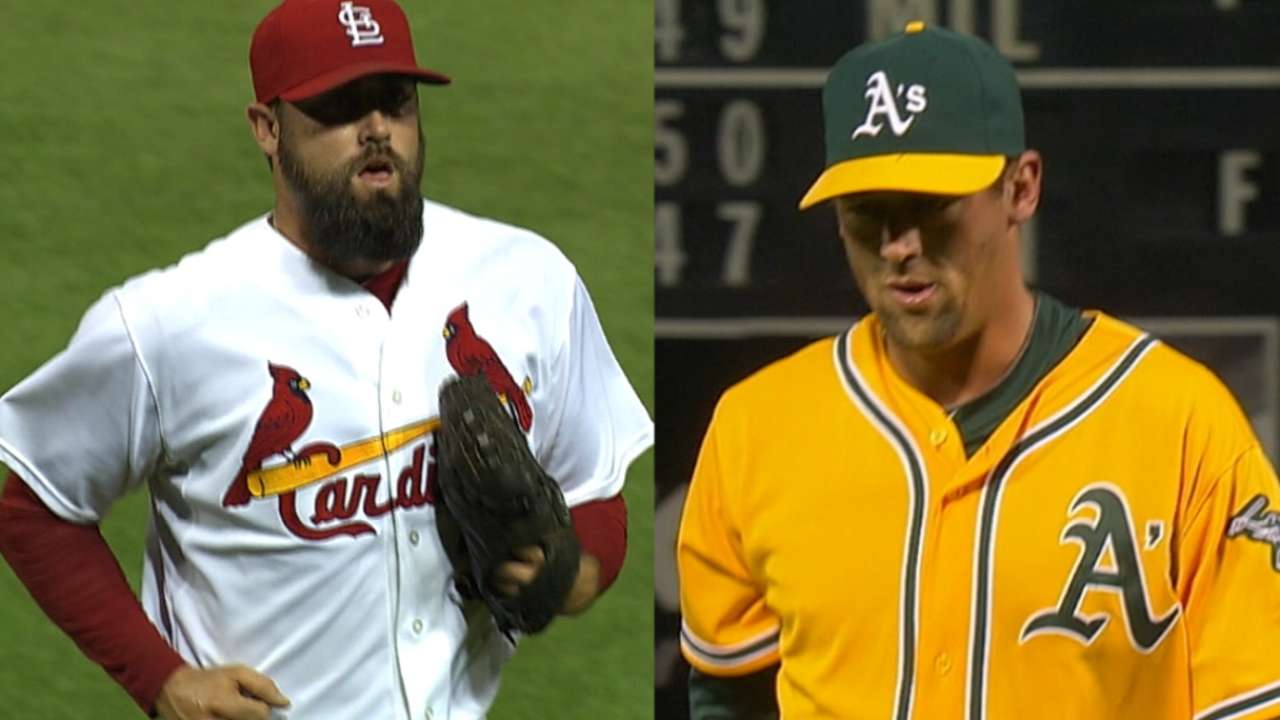 SAN DIEGO -- The Astros didn't just get better on Wednesday in ways that can be weighed and measured. They did, but that's only part of what happened. This was an important day on other levels, too, in the wake of reaching agreements with free-agent relievers Pat Neshek and Luke Gregerson.
When a team regularly lets leads slip away late in games, it gnaws at the confidence, tests the resilience and saps the energy. Those losses sometimes hit so hard that they have the potential to linger in the hearts and minds of players and coaches.
If the next day's game gets close in the eighth or ninth inning, doubts can creep in. Suddenly, everything becomes more difficult. Losing may become a habit.
Which brings us to the Astros.
Their bullpen had baseball's highest ERA last season (4.80), and they were tied with the Rockies for the most blown saves (26). They lost eight games in which they had a lead in the ninth inning and nine in which they were tied.
These defeats were a glaring black hole in a season in which the Astros improved by 19 games and offered a glimpse of a bright and shiny future. As they fast-track their most gifted kids toward the big leagues, the bullpen was where their offseason work had to begin.
General manager Jeff Luhnow still has a long shopping list as he attempts to upgrade his offense and lengthen his rotation. But Houston now at least feels more comfortable about holding onto those leads late in games.
Let's say the Astros had won those eight games in 2015. Forget the nine tie games they lost. If they'd just old onto those eight leads, they would have won 78 times and been flirting with .500.
That's exactly how Houston looks at the 2015 season. In American League batting champ Jose Altuve, young outfielder George Springer and others, the Astros have some interesting parts to build around. They've got a dozen or so highly touted prospects scheduled to arrive over the next two seasons. With the franchise on a steady upward trajectory, they need to make sure they take care of the basics.
In Neshek and Gregerson, Luhnow has added two proven commodities. Between them, they appeared in 143 games, pitched 139 2/3 innings and compiled a 2.00 ERA last season. Both have shown they can handle a variety of roles.
One of the smartest things the Astros have done during this three-year reconstruction project is to use their Major League roster as a sort of revolving door to give players a chance to prove they belong.
From this experiment came nice performances from starters Dallas Keuchel and Collin McHugh. Lost amid the bullpen problems was some nice finds there, too. Right-hander Josh Fields and left-handers Tony Sipp and Kevin Chapman were all productive last season.
"I know we have not had a lot of success with the bullpen, but we have some pitchers in there that are part of our plan," Luhnow said. "We've got arms there that we like."
Veteran Chad Qualls will also be back in a late-inning role, and Luhnow may re-sign veteran Jose Veras as he builds depth. Regardless, the signings of Neshek and Gregerson have given Houston hope of turning its greatest weakness into a strength.
In the end, it's not the end of the building of a competitive franchise, but another important step along the way. The Astros believe a winning record is doable in 2015.
"We're in a tough division, and I'm not going to make any predictions about wins or losses," Luhnow said. "But this team made a big step last year, and it's going to make another step this year. We're not that far away from getting to the point that postseason is in the cards."
Richard Justice is a columnist for MLB.com. Read his blog, Justice4U. This story was not subject to the approval of Major League Baseball or its clubs.