Windy City resurgence? A case for each club
MLB.com columnists Justice, Rogers on why 2015 will be special for Cubs, White Sox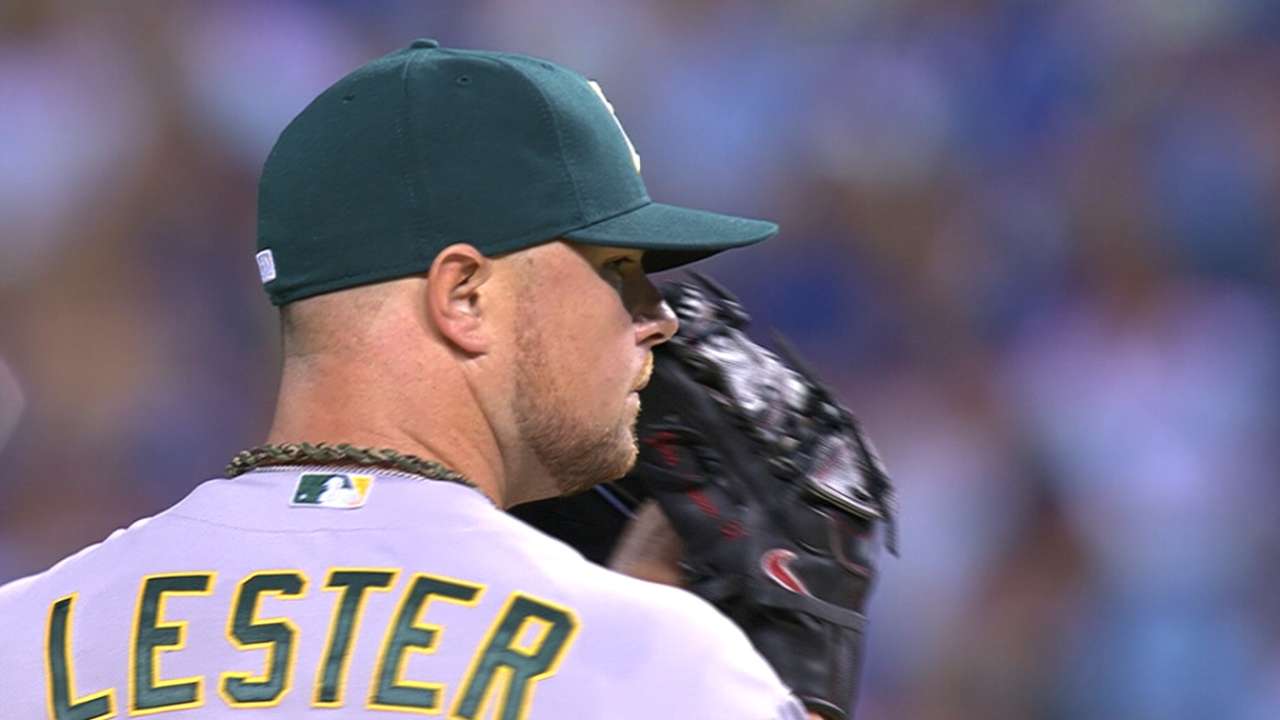 The Cubs and White Sox each won 73 games last season. Each finished 17 games out in their division. But both teams have been quite active this offseason, signing free agents and making trades, and both should be expected to at least make big moves upward next season -- even before either of them make any more deals.
Which Chicago team has improved itself the most this offseason? Columnists Richard Justice and Phil Rogers offer their takes on each.
Justice: The Chicago Cubs might just be the most interesting team in baseball. On a slightly related note, they might also be the best team in Chicago. Suddenly, that's the most fascinating discussion in baseball, as the White Sox and Cubs have swapped headlines -- seemingly day by day -- this offseason.
---
Winter Meetings action
Day 4: Dec. 11
Transaction
Official?
OF Matt Kemp
C Tim Federowicz
Traded to Padres
No
C Yasmani Grandal
RHP Joe Wieland
RHP Zach Eflin
Traded to Dodgers
No
OF Yoenis Cespedes
RHP Alex Wilson
Traded to Tigers
Yes
RHP Rick Porcello
Traded to Red Sox
Yes
RHP Ervin Santana
Four-year deal with Twins
No
LHP Mat Latos
Traded to Marlins
No
RHP Anthony DeSclafani
C Chad Wallach
Traded to Reds
No
RHP Justin Masterson
One-year deal with Red Sox
No
RHP Alfredo Simon
Traded to Tigers
Yes
RHP Jonathon Crawford
IF Eugenio Suarez
Traded to Reds
Yes
LHP Ross Detwiler
Traded to Rangers
No
OF John Mayberry Jr.
One-year deal with Mets
No
RHP Andre Rienzo
Traded to Marlins
Yes
LHP Dan Jennings
Traded to White Sox
Yes
At this point, the Cubs appear to be better. There's a huge unknown factor thanks to all of the kids who will be counted on to produce in 2015. But the kids are all right. At least enough of them should be.
There's every reason to think that 2015 will be the beginning of a special era for the Cubs -- and perhaps for baseball in Chicago. From the hiring of Joe Maddon as manager to the put-a-ribbon-on-it signing of free-agent pitcher Jon Lester, the Cubs have been dramatically reshaped this offseason.
So why should North Siders believe? First, there's Maddon. No manager is better at putting players in positions to succeed. No manager is better at keeping the energy level high and getting players to put team goals ahead of their own.
And then there's that rotation. Lester is a bona fide No. 1, the guy who wants the responsibility to end losing streaks, give the bullpen a break and be at his best when the lights are the brightest.
Also, the signing of Jason Hammel, another free agent, gives Maddon an affordable piece to fit into the rotation. Combined with Jake Arrieta and Kyle Hendricks, the Cubs have a rotation that went 43-29 with a 2.76 ERA in 99 starts last season. Meanwhile, their teams went 58-41 in those 99 starts, and with a boatload of candidates for the fifth spot, the Cubs have a rotation positioned to lead the way.
Catcher Miguel Montero, acquired from the D-backs, is a perfect choice to lead this staff and also to provide offense at a position where it's not the first priority.
After that, it's a matter of Maddon throwing the kids out there and allowing them to compete for playing time. Will third baseman Kris Bryant be the 40-home run threat he's projected to be? First baseman Anthony Rizzo and shortstop Starlin Castro are already on their way to nice careers, and the Cubs intend to find out about Bryant, center fielder Arismendy Alcantara, second baseman Javier Baez, right fielder Jorge Soler and, eventually, a long list of others.
Kids don't come with guarantees. That's why there's some uncertainty. On the other hand, no team in baseball has more young high-ceiling talent. Lester's signing speaks volumes about where the Cubs believe they are. This will be a tremendously exciting season.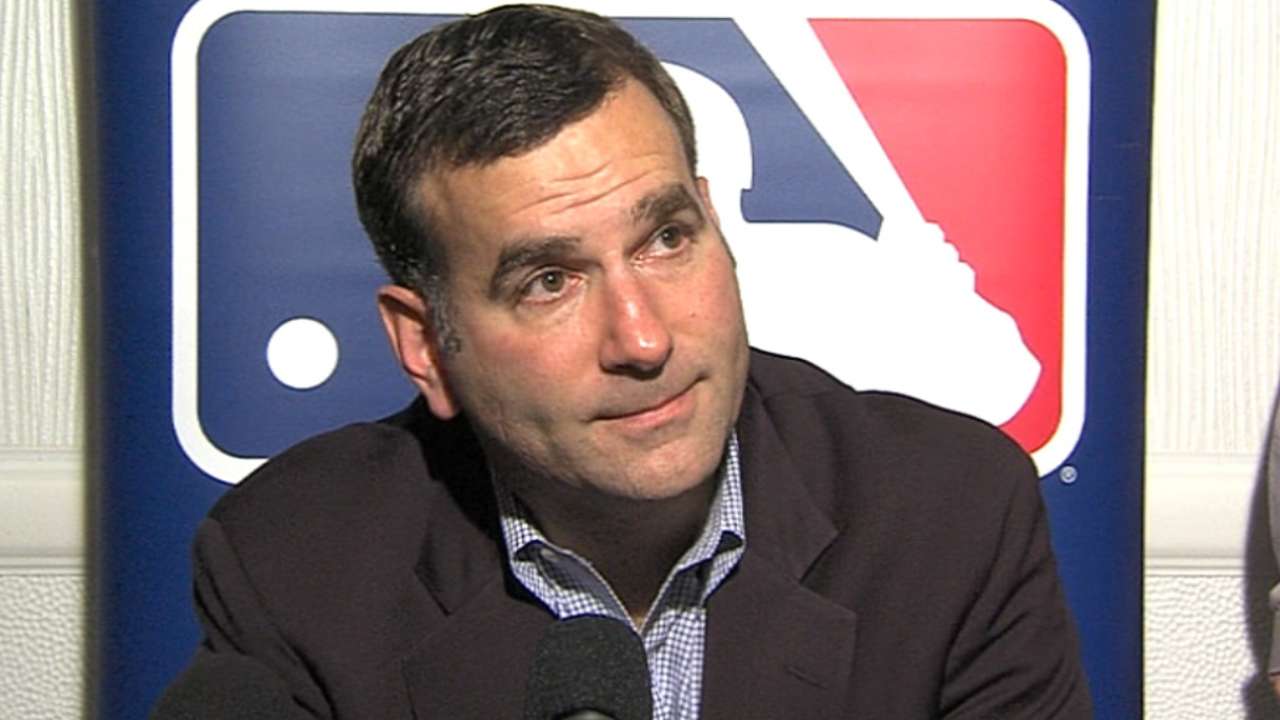 Rogers: General manager Rick Hahn knows all about the scarcity of hitting in the Major Leagues, but he insists some truths remain undeniable. "Pitching rules all,'' he said.
Hahn is right, and that's why the White Sox will win 90-plus games next year while the crosstown Cubs finish in the high-80s. What a summer that would be for Chicago, right?
There's nothing wrong with the Cubs' pitching. Lester joins Arrieta to give Maddon a strong 1-2 combination. But the White Sox are sitting even better after trading for Jeff Samardzija and massively upgrading the bullpen by signing David Robertson and Zach Duke.
Samardzija joins Chris Sale, Jose Quintana and American League Rookie of the Year Award candidate Carlos Rodon to give the White Sox a front four in the rotation that looks unequaled in the AL. At least that's what WAR says, and who among us wants to argue with a computer?
Sale has been one of the top 10 starters in the Majors the last three seasons, and Samardzija and Quintana have emerged to join him on the short list of guys capable of working 200-plus innings with ERAs lower than Chicago's area code -- 312.
According to the fWAR calculations, Sale was the eighth-best starter in the Majors last year, with Quintana ninth and Samardzija 15th. These aren't fossils, either. They'll pitch at ages 26, 26 and 30, respectively, next season.
Rodon, who will be 23, is an X-factor. Scouts project him and his wipeout slider as a highly helpful asset, with manager Robin Ventura and Hahn only having to decide if they want him in the rotation or getting outs in the seventh and eighth inning out of the bullpen.
There are questions about the lineup, sure. But the only one you can ask about Jose Abreu is whether he's going to add an AL MVP Award onto the AL Rookie of the Year Award that he ran away with last season. He's on the short list of the best hitters in the world, and very capable of improving the .317/.383/.581 slash line he put up in 2014.
Adam LaRoche is an upgrade as the left-handed bat next to Abreu. Full healthy seasons by leadoff man Adam Eaton and No. 5 hitter Avisail Garcia could help the White Sox move into the top third of the AL in scoring. That's more than enough support for a rotation like the one that the White Sox will have with Samardzija in the mix.
Richard Justice is a columnist for MLB.com. Read his blog, Justice4U. Phil Rogers is a columnist for MLB.com. This story was not subject to the approval of Major League Baseball or its clubs.