Oh, my! Enberg wins Hall of Fame's Frick Award
Legendary broadcaster has called baseball on either side of storied national career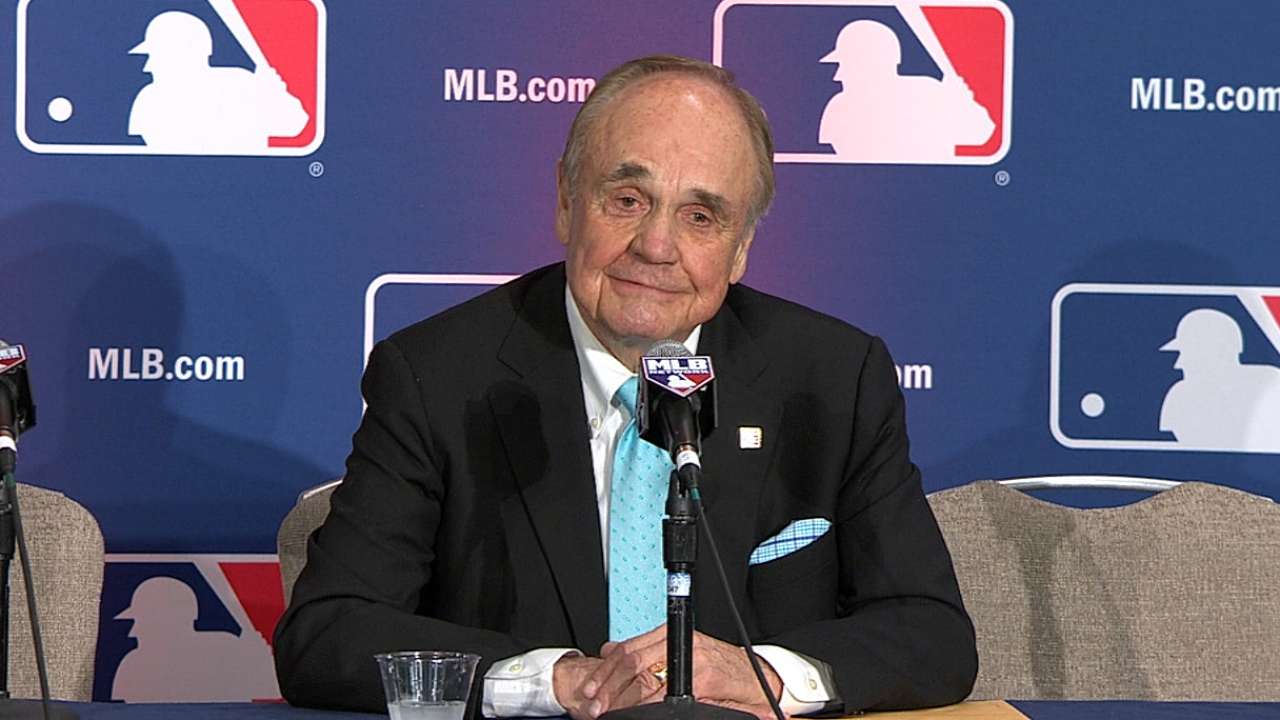 SAN DIEGO -- Dick Enberg, the iconic announcer for NBC and CBS Sports who is currently a television voice of the San Diego Padres, is the winner of the 2015 Ford C. Frick Award, the National Baseball Hall of Fame announced on Wednesday.
"This is the high point of my broadcast life today," said Enberg, his eyes red and choking back tears during a news conference at the Winter Meetings. "It's too good to be true. Especially in light of those who are so qualified to earn this Ford Frick Award. Just to make the final 10, it was such a privilege to be on that same list. How does it get any better than this, huh?"
The other finalists were Richie Ashburn, Billy Berroa, Rene Cardenas, Dizzy Dean, Ernie Johnson Sr., Ralph Kiner, Ned Martin, Joe Nuxhall and Jack Quinlan. The award is presented annually for excellence in baseball broadcasting by the Hall of Fame.
Enberg will be honored during the July 25 awards presentation as part of the Hall of Fame Weekend in Cooperstown, N.Y. The ceremony at Doubleday Field will include the Detroit News' Tom Gage, Tuesday's winner of the J.G. Taylor Spink Award for a meritorious career of baseball writing.
Enberg was the voice of the Angels from 1968-78, spent four decades as a national announcer on a panoply of sports, and has been the lead of the Padres' TV broadcast crew for the past five seasons.
"Dick Enberg's unmistakable voice and remarkable enthusiasm for the national pastime during the living-room era as voice of the California Angels propelled his broadcast career into the national limelight, as his baseball foundation became a launching pad for other sports and national assignments," Hall of Fame president Jeff Idelson said. "In the years since, his assignments with NBC Sports and now the San Diego Padres, his passion for the games -- and for the fans who follow them through his friendly and ardent style -- have made him one of sports' most recognizable voices."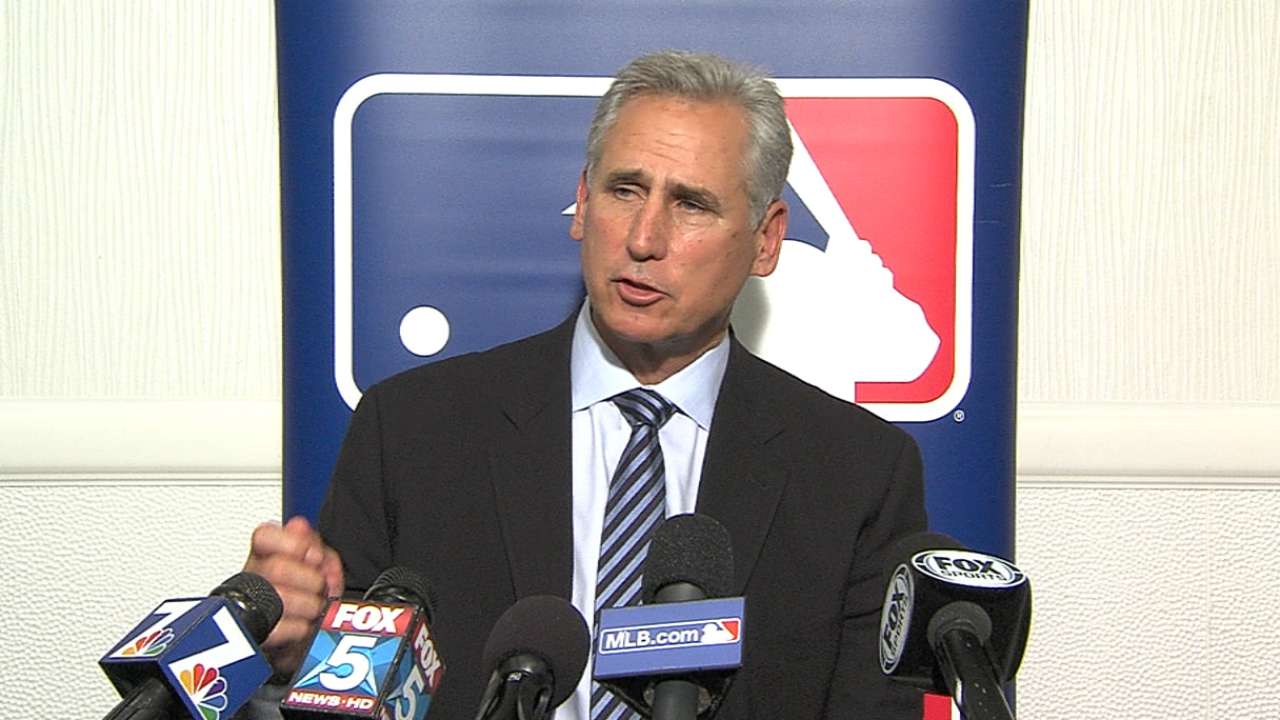 Enberg, who will turn 80 next month, was among three fan selections on the ballot, along with Kiner and Quinlan, determined by an Internet vote earlier this year. The other seven were chosen by a Hall of Fame research committee. Cardenas and Enberg were the only living candidates.
During a career that has spanned six decades and included 14 Emmy Awards, Enberg established himself as one of sports' top play-by-play announcers, with his signature "Oh, my!" call recognized around the world. He said that call came from his mother.
"She used to say it in dismay about something I had done or encountered," Enberg said. "It's a nice Midwestern term, a term of acknowledgment. You'd to go to the marketplace in the Midwest and you hear folks talking, 'Did you hear about the Jones boy? Oh, my, is that right? And how about the game on Saturday? Oh, my.' And so it's been a good friend of mine when I can't think of anything else to say, and certainly this morning, as my wife said, I was blubbering too much to verbalize an 'Oh, my!' It's been that kind of day."
Born and raised in Michigan, Enberg began his career as an undergraduate at Central Michigan and later broadcast both football and basketball games at Indiana University. By the end of the 1960s, Enberg was calling Angels games and games of the NFL's Los Angeles Rams and the UCLA men's basketball team. He joined NBC in 1975, remaining with the network for 25 years while working assignments that included baseball's postseason and World Series as well as Wimbledon, college football and the NFL.
Enberg called the seven-game World Series featuring the Cardinals and the Brewers in 1982, and returned to the Angels in 1985. After moving to CBS in 2000, he covered football, tennis, basketball and golf before joining the Padres to be their television play-by-play voice in 2010.
"A well-deserved honor, no doubt about it," Padres manager Bud Black said. "You look at the history of broadcasters and announcers and Dick's voice, Dick's call of games is legendary. You know his voice, just like you knew Jack Buck's voice and Curt Gowdy, and Pat Summerall and Ernie Harwell -- all the greats. Dick's voice is known. Dick does a great job. He's a Hall of Fame announcer. I think it's awesome. I think it reflects well on San Diego and on the Padres organization to have somebody of that caliber calling our games."
Enberg said that Wednesday morning began with the call from the Hall, telling him he had won the award, beginning an emotional roller-coaster with which he was still coping. After the news conference he was handed a cell phone and told, "Somebody wants to talk you." It was the legendary Dodgers announcer Vin Scully, who is on the committee that votes for the Frick Award.
"Is this the great redhead?" Enberg asked. And then he began to well up again.
"Don't get me started," Enberg said when asked about his emotional state. "People have accused me of crying at a red hat. We go to movies and I start shaking and get teary-eyed and my wife [Barbara], with her tough Polish background, will give me an elbow in the ribs and say, 'Come on, get it together.' You know, I'll be 80 years old next January, in a couple of weeks. And for 80 years I've loved this game as far back as I can remember. To have this as a culmination of my professional life and my love for a sport, it is just too good to be true."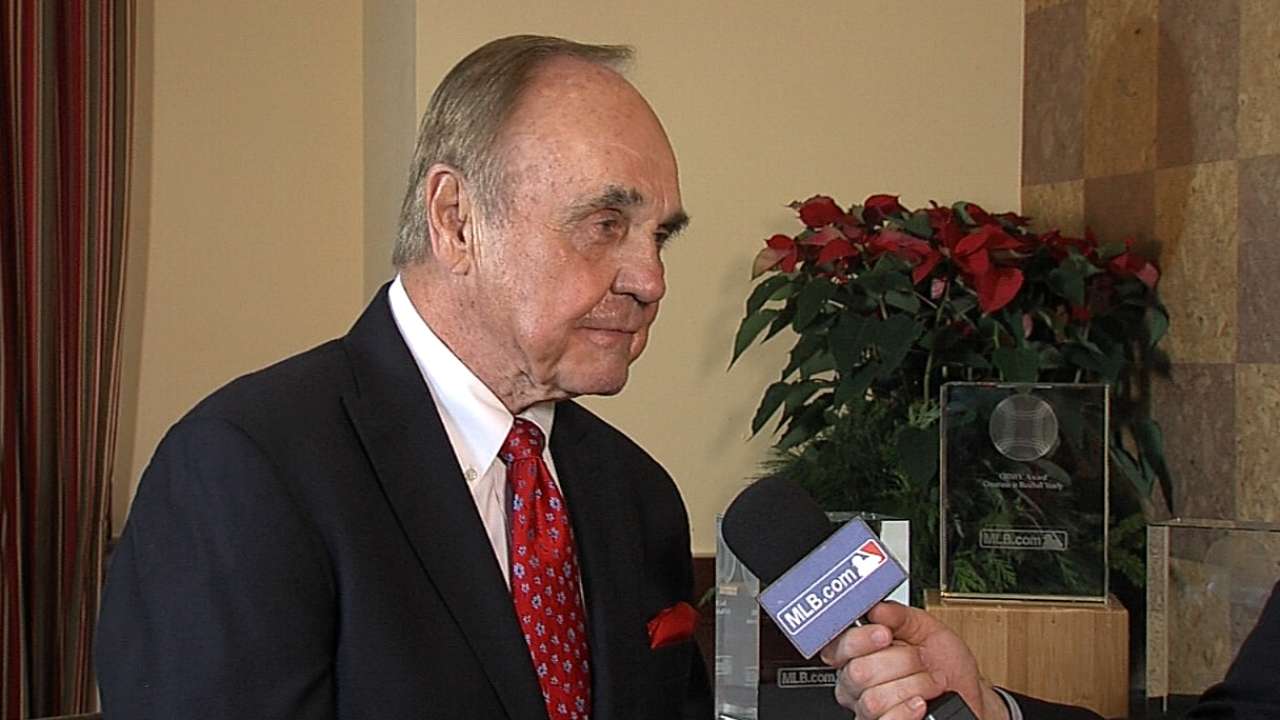 The Frick Award electorate was comprised of the 16 living Frick Award recipients and four broadcast historians/columnists: previous Frick honorees Marty Brennaman, Gene Elston, Joe Garagiola, Jaime Jarrin, Milo Hamilton, Tony Kubek, Denny Matthews, Tim McCarver, Jon Miller, Eric Nadel, Felo Ramirez, Scully, Lon Simmons, Bob Uecker, Dave Van Horne and Bob Wolff, and historians/columnists Bob Costas (NBC/MLB Network), Barry Horn (Dallas Morning News), Ted Patterson (historian) and Curt Smith (historian).
A broadcaster can be considered for the Frick Award after he's called big league games for at least 10 years. Last year's winner was Nadel, the radio voice of the Texas Rangers.
The Ford C. Frick Award is named in memory of the man who was a sportswriter, radio broadcaster, National League president and Major League Baseball's third Commissioner.
"Baseball is the most demanding and most compelling and most intimate game of all the games," Enberg said, "in part because, including Spring Training, you're doing 200 games, 200 exposures. And, because of the pace of the games, there are times when the pitcher doesn't throw the ball and the batter doesn't want to get into the box and the game isn't very interesting [so] you have to call upon humor and history. All of it makes it a more intimate experience between you and your audience."
Barry M. Bloom is a national reporter for MLB.com and writes an MLBlog, Boomskie on Baseball. Follow @boomskie on Twitter. This story was not subject to the approval of Major League Baseball or its clubs.