Astros agree to deals with Gregerson, Neshek
Contracts with two veteran setup men pending physicals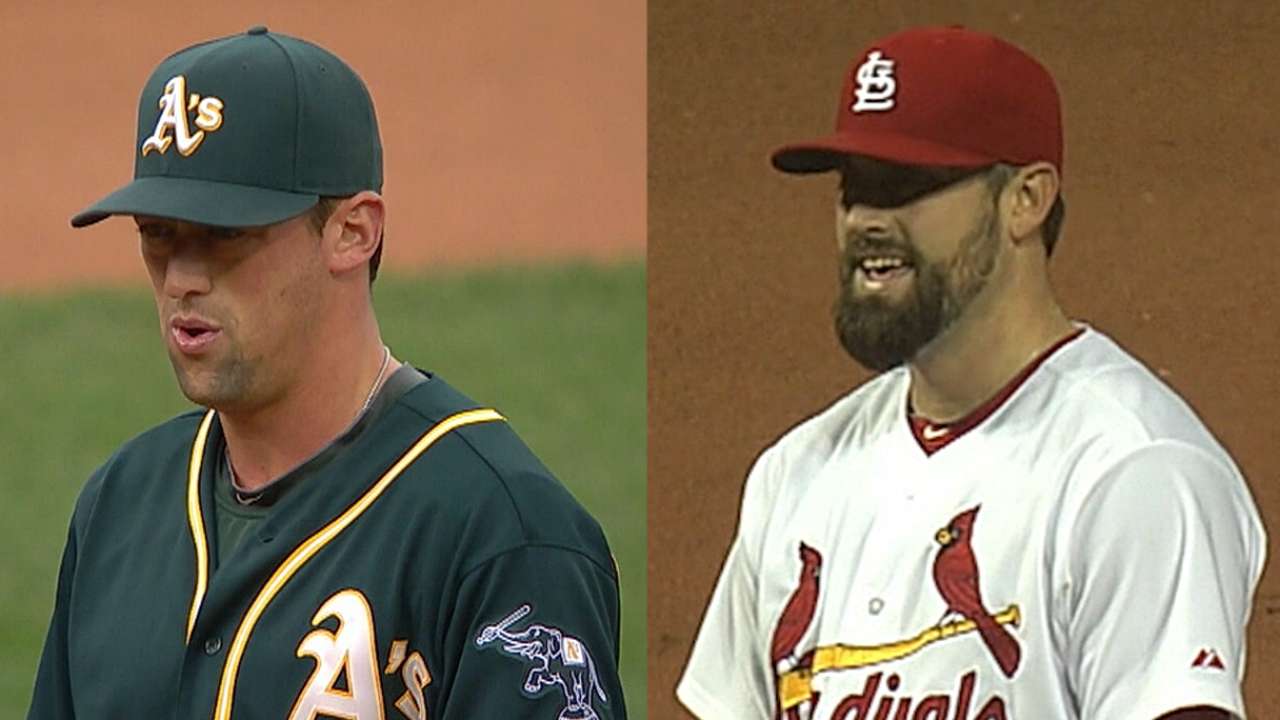 SAN DIEGO -- Astros general manager Jeff Luhnow wouldn't allow himself to talk about the biggest news of Wednesday's Winter Meetings, the acquisitions of relief pitchers Luke Gregerson and Pat Neshek, keeping with his policy of not commenting on specifics until the deals are official.
That should happen by Friday after both right-handed pitchers travel to Houston on Thursday to take a physical that should seal the deals. Gregerson agreed to a three-year deal with $18.5 million, and Neshek agreed to a two-year deal worth $12.5 million with an option.
"We knew that there was a chance we could do more this week, and we felt pretty good about that progress we've made, and there's still a long way to go this offseason," Luhnow said. "We're unlikely to take many hours off. We're going to keep going at it until we feel like we have the roster coming to Spring Training that is going to help us win a lot more ballgames next year."
The signings significantly upgrade a bullpen that's struggled in recent seasons, as Gregerson and Neshek would join veteran Chad Qualls, who served as closer last season, and lefties Tony Sipp and Darin Downs. The Astros came up short in their pursuit of David Robertson and Andrew Miller, but they wound up landing two high-quality arms.
Qualls, Gregerson and Neshek were with the Padres in 2011, along with Astros manager A.J. Hinch, who was in San Diego's front office at the time.
"They mentioned they were looking at Gregerson and were going to sign him, and they wanted me," Neshek said. "I love Gregerson and Qualls… It seems like a fun place. I think this is a team that can compete [in 2015]."
Neshek said he had eight offers of two-year deals and was about to sign with the Pirates when the Astros offered him more money.
"At first, I think they had an offer pretty low and we thought that was done, and they called back later and had a really strong offer," he said. "I was probably seconds away from signing with Pittsburgh. I told my agent [Barry Meister], 'Let's sign with Pittsburgh, let's get it done.' We were on the phone and Houston called. We told them we were going to sign, and they raised the offer."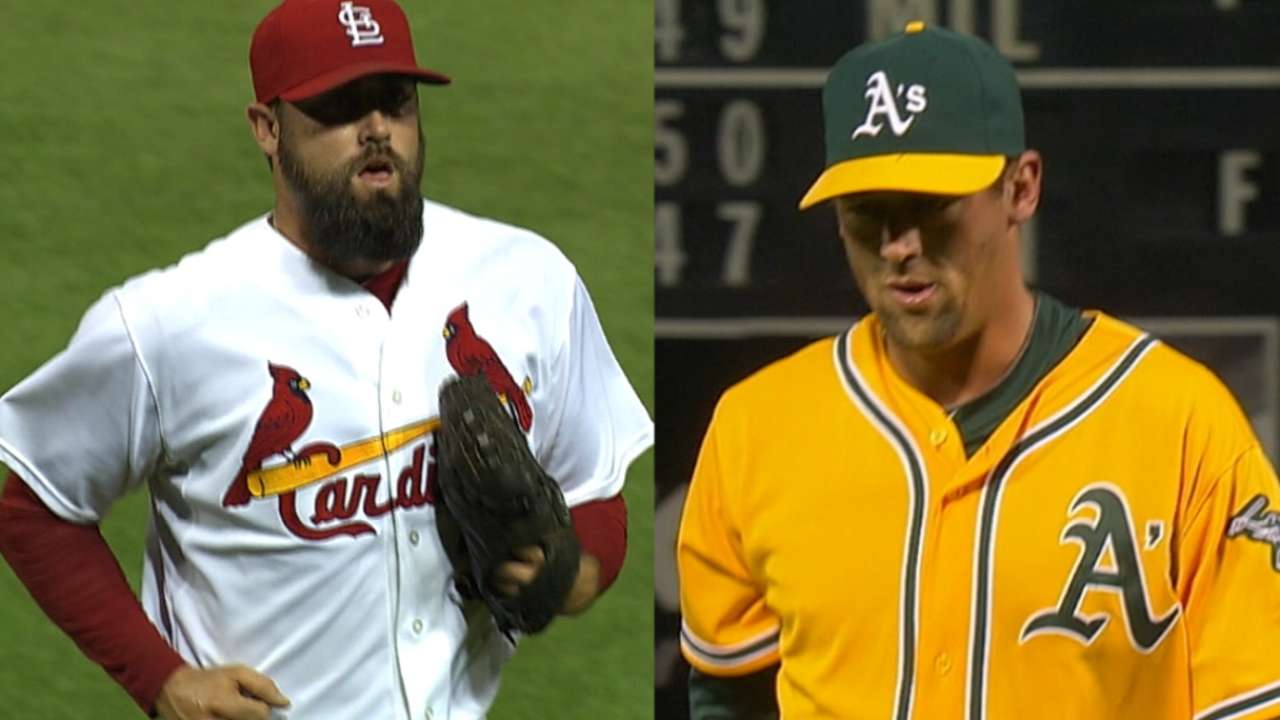 Luhnow said the club has turned its attention to starting pitching and is looking to add a middle-of-the-rotation arm, though nothing is imminent. They will want to upgrade on the left side of the infield, where shortstop Jed Lowrie remains a target.
"The past couple of days, we decided to look at the market a little more closely," Luhnow said of starting pitching. "We've made contact with a couple of players of interest, and also looked at a few opportunities potentially through the trade market. We like our rotation, but feel like there is room for one proven Major League starter right in there, somewhere in the middle of the rotation.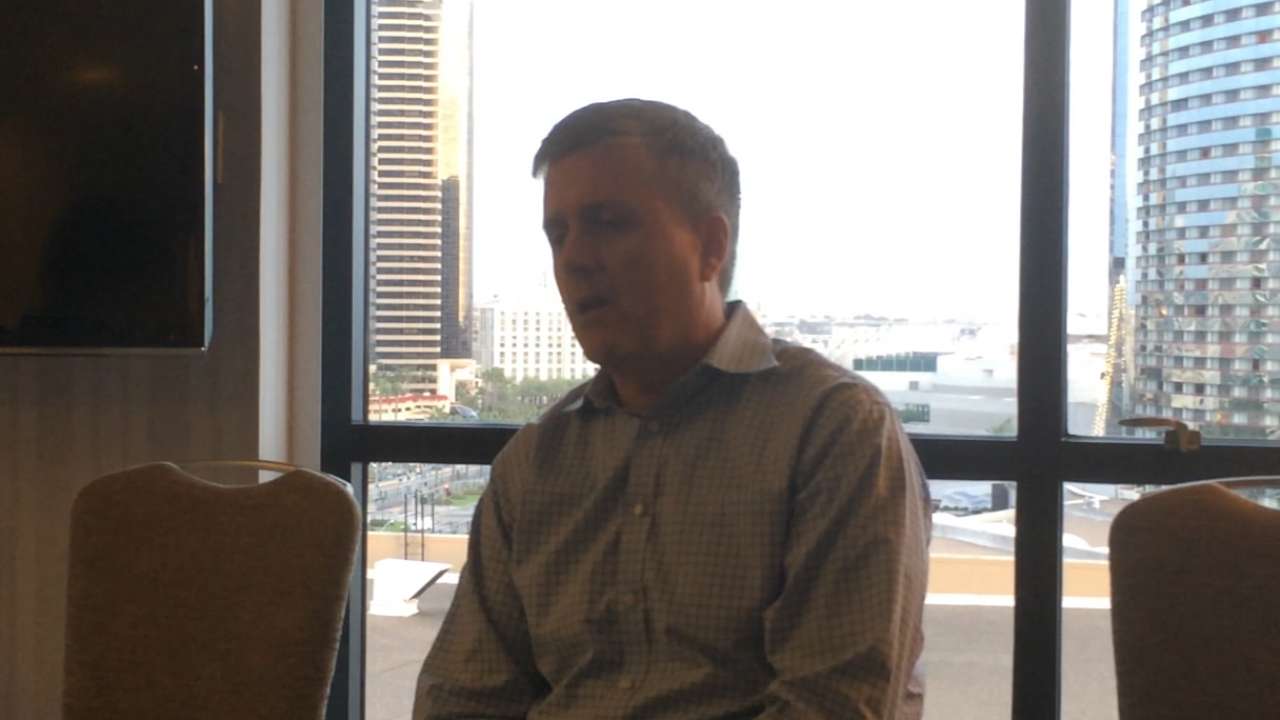 "It's something we're going to explore. We continue to explore options in the infield, and don't know where that's going to go, and we're working hard to get some additional coverage, either as insurance or as a full-time player. Those are the two areas, primarily, that we're focused on."
Gregerson will make $6 million in 2015, $6.25 million in '16 and $6.25 million in '17. The contract also has enough incentives written into it that Gregerson could make as much as $21 million over the three-year span.
Gregerson, 30, has long been one of the most dependable setup men in the game. His ERA has steadily dropped since his first season, 2009, when he went 2-4 with a 3.24 mark in 72 games for San Diego. Last season, his first with the A's after five with the Padres, he went 5-5 with a 2.12 ERA in 72 outings. He has made at least 61 appearances in each of his six big league seasons, and at least 72 in five of them.
Neshek, 34, is coming off an All-Star season with the Cardinals in which he went 7-2 with a 1.87 ERA in 71 games. He struck out 68 batters and walked only nine in 67 1/3 innings, while saving six games.
Neshek, who has an explosive sidearm delivery, began his career with the Twins and underwent Tommy John surgery and missed the 2009 season. He appeared in 25 games for San Diego in 2011, and a combined 59 games for the A's in 2012-13.
Neshek said he didn't care what role he would serve.
"With the Cardinals, I started the year as kind of like a righty specialist and moved into the eighth-inning role, and I would close games when [Trevor] Rosenthal was down," he said. "It doesn't matter. I'm there for support, and that's what good teams have, is guys that can be interchangeable to get outs."
Last season, the Astros' efforts to beef up their bullpen were derailed by injuries. Jesse Crain never got on the field, and Matt Albers worked in only eight games. Qualls was healthy all season, though.
"Any time you look at relief pitching, the ability to not just be available throughout the year, but go back-to-back outings or a couple of days in a row, those are all factors you consider," Luhnow said. "You also consider the different looks out of the bullpen. You don't want everybody to be the sinker-ball, ground-ball guy. I think we already had some different looks with Qualls and [Josh] Fields and Sipp, and you add more different looks to that, which we're hoping to do, it just gives the manager more opportunities to figure out how to get through those important outs at the end of the game."
Brian McTaggart is a reporter for MLB.com and writes an MLBlog, Tag's Lines. Follow @brianmctaggart on Twitter. This story was not subject to the approval of Major League Baseball or its clubs.