MLB.com Columnist
Phil Rogers
Cubs' plan ahead of schedule
Six-year contract with free agent Lester follows additions of Maddon, Montero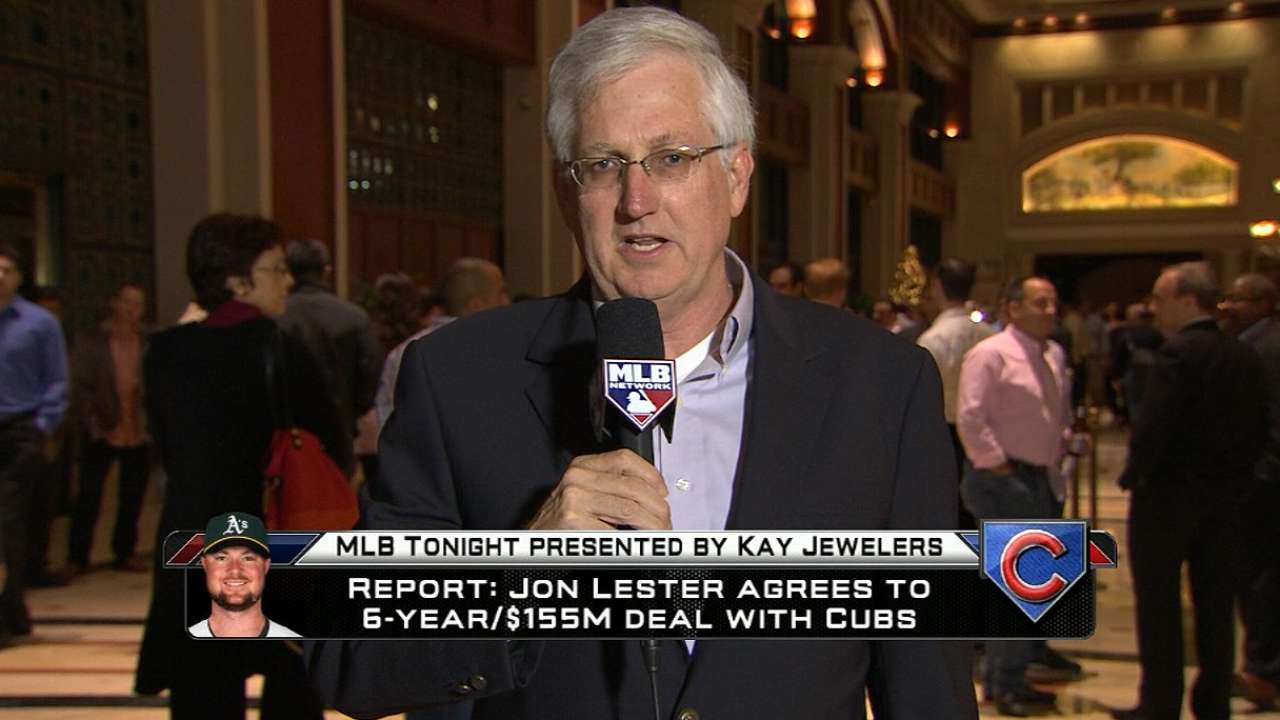 SAN DIEGO -- Theo Epstein has been in Chicago three years, but he hasn't seen the Wrigley Field ivy turn a dark red, at least not with the Cubs still on the field. That generally doesn't happen until October.
Thanks to a deal with an old friend, Jon Lester, foliage season may be returning for Chicago baseball fans, sooner rather than later. The 30-year-old left-hander from Tacoma, Wash., a cancer survivor who has won all three of his World Series starts, rejected the chance to return for a second stint in Boston to agree to a six-year, $155 million deal with the Cubs.
---
Winter Meetings action
Day 4: Dec. 11
Transaction
Official?
OF Matt Kemp
C Tim Federowicz
Traded to Padres
No
C Yasmani Grandal
RHP Joe Wieland
RHP Zach Eflin
Traded to Dodgers
No
OF Yoenis Cespedes
RHP Alex Wilson
Traded to Tigers
Yes
RHP Rick Porcello
Traded to Red Sox
Yes
RHP Ervin Santana
Four-year deal with Twins
No
LHP Mat Latos
Traded to Marlins
No
RHP Anthony DeSclafani
C Chad Wallach
Traded to Reds
No
RHP Justin Masterson
One-year deal with Red Sox
No
RHP Alfredo Simon
Traded to Tigers
Yes
RHP Jonathon Crawford
IF Eugenio Suarez
Traded to Reds
Yes
LHP Ross Detwiler
Traded to Rangers
No
OF John Mayberry Jr.
One-year deal with Mets
No
RHP Andre Rienzo
Traded to Marlins
Yes
LHP Dan Jennings
Traded to White Sox
Yes
This is the second huge development for the franchise in the last six weeks, as it followed Joe Maddon's decision to leave the Tampa Bay Rays for his own five-year deal with the Cubs. It's fair to say the future has arrived for Tom Ricketts' franchise, probably quicker than even Epstein himself believed it could a year ago.
"Probably the best thing about it is it wraps up a lot of things we're trying to get done," Maddon said. "Possibly it accelerates what we are doing a little bit. Obviously he's a unique talent in today's game. For him to choose us is pretty special. It sort of sends out a message to the industry, that he would choose us."
Lester agonized about a trio of highly attractive options before calling Epstein late Tuesday night to say he was turning down the Red Sox and World Series champion Giants to come to Chicago. In the end, the chance to chase baseball's Holy Grail -- the Cubs' first championship since 1908 -- outweighed a return to Boston.
Some reports said the Giants offered more than the Cubs -- as much as $168 million over seven years -- but GM Brian Sabean denied that, saying they never put their best offer on the table. The Red Sox, who last spring wouldn't go past $70 million, reportedly offered $135 million over six years. It wasn't enough to get him to overlook his old team's decision to trade him to Oakland after the unsuccessful attempt at an extension, which seemed a logical reward for him joining David Ortiz in leading the Sox to a World Series victory over St. Louis.
Epstein coveted Lester, but he insisted he was prepared to lose him if another team took the approach that it had to have him at any cost. The last few days have been nervous ones as he waited to see if he'd have to move on to Plan B, which probably would have been a run at free-agent right-hander James Shields.
Even after Lester called the Giants early Tuesday evening to say "No thanks," the Cubs worried that Lester would be persuaded to return to Boston. Maddon said he didn't know whether to be confident or fearful.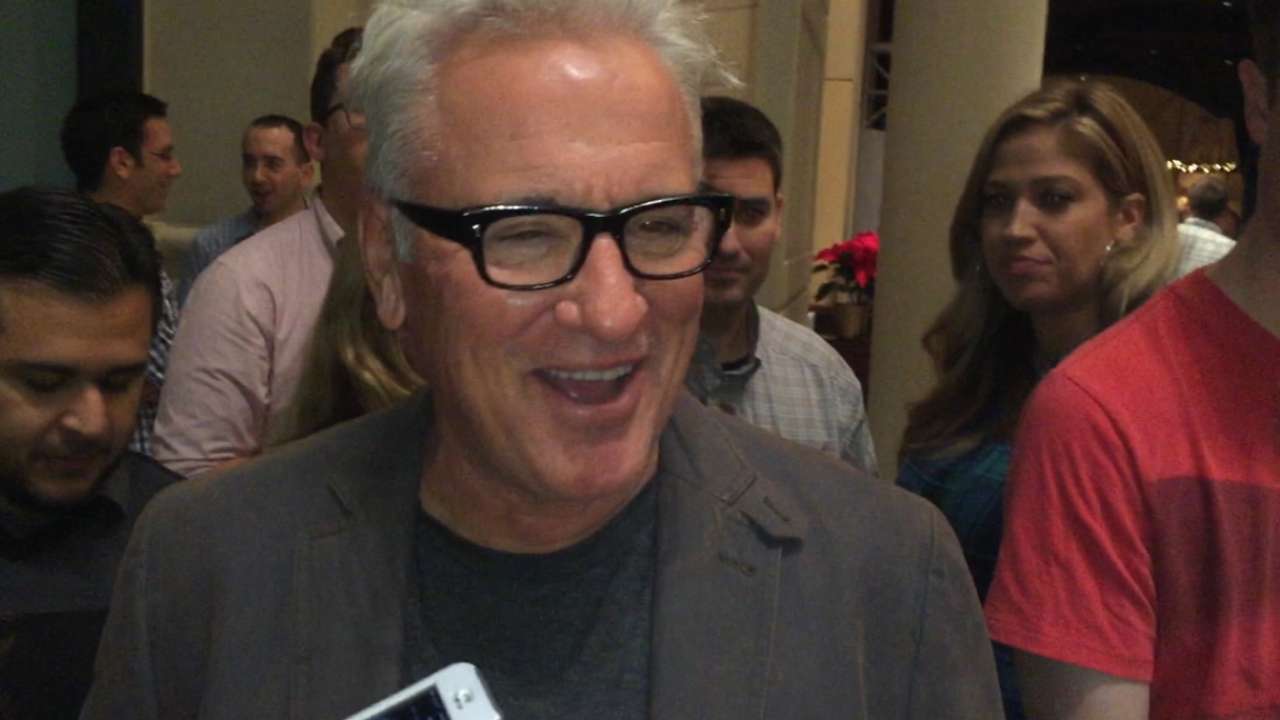 "Everything I knew was it truly was a flip of the coin," Maddon said. "I didn't know what he was thinking, didn't know what the parameters were, what the criteria were. I honestly didn't know. I just went out to dinner and waited for the call from Theo."
When Maddon was hired on Nov. 3, he came to the same conclusion as Lester -- that the Cubs are on the verge of a successful run despite having shot themselves in the foot repeatedly since their last World Series appearance in 1945. They went to the postseason in back-to-back seasons under Lou Piniella not long ago, but they were swept in the National League Division Series both years and will enter 2015 trying to end a run of five consecutive losing seasons.
But Epstein has assembled the best collection of young hitters in baseball, with prospects like Kris Bryant, Javy Baez, Jorge Soler and Addison Russell expected to join Anthony Rizzo and possibly Starlin Castro as core players for years to come. Pitching has been the question, but suddenly that doesn't look too bad, either.
Right-handers Jake Arrieta and Kyle Hendricks, acquired by Epstein in 2012 trades, were the only sure things in the rotation at the end of last season. But the Cubs signed Jason Hammel to a two-year contract on Monday, then closed the Lester deal.
Look at that rotation now. Lester, Arrieta, Hammels and Hendricks were 43-29 with a 2.76 ERA in 99 combined starts a year ago.
"Pretty good," Maddon said. "Solid, man."
Lester has never pitched better than he did in 2014, with his cut fastball developing into a major weapon to complement his 93-mph fastball and slow Bugs Bunny-style curveball. He was 16-11 with a 2.46 ERA in 32 starts between Boston and Oakland, working a career-high 219 2/3 innings.
And Lester will make the others better.
"He's the kind of guy that can rub off, obviously, with the rest of these guys," Maddon said. "I don't want him to think he has to come in and carry anything. He's part of the whole group. He just needs to lead by example, go out there and be yourself and everything else will follow."
There's some obvious risk in signing a pitcher to a contract that will pay Lester an average of $25.8 million through 2020, when he will be 36. He threw his cutter 31 percent of the time last season, and that's a pitch known to be tough on an elbow. But it had to be somewhat reassuring to Cubs' ownership that Epstein knows about as much about Lester as anyone, as they arrived in Boston at about the same time.
Epstein accompanied team president Larry Lucchino in a move from the Padres in 2002, the same year that Lester was selected in the second round of the First-Year Player Draft from Bellarmine High School. Lester was in the Florida State League in 2004 when the Red Sox won their first championship since 1918, but the two celebrated together in '07, when Boston swept Colorado to win its second World Series during Epstein's tenure.
Everything Epstein has done in his three years in Chicago was designed to replicate that experience with another star-crossed franchise. He laid the foundation with young talent and now has hired his leading men.
Let the fun begin.
Phil Rogers is a columnist for MLB.com. This story was not subject to the approval of Major League Baseball or its clubs.