MadBum's delivery in top form at Sportsman of Year event
Giants ace stays humble, jokes with LA's Magic at star-studded festivity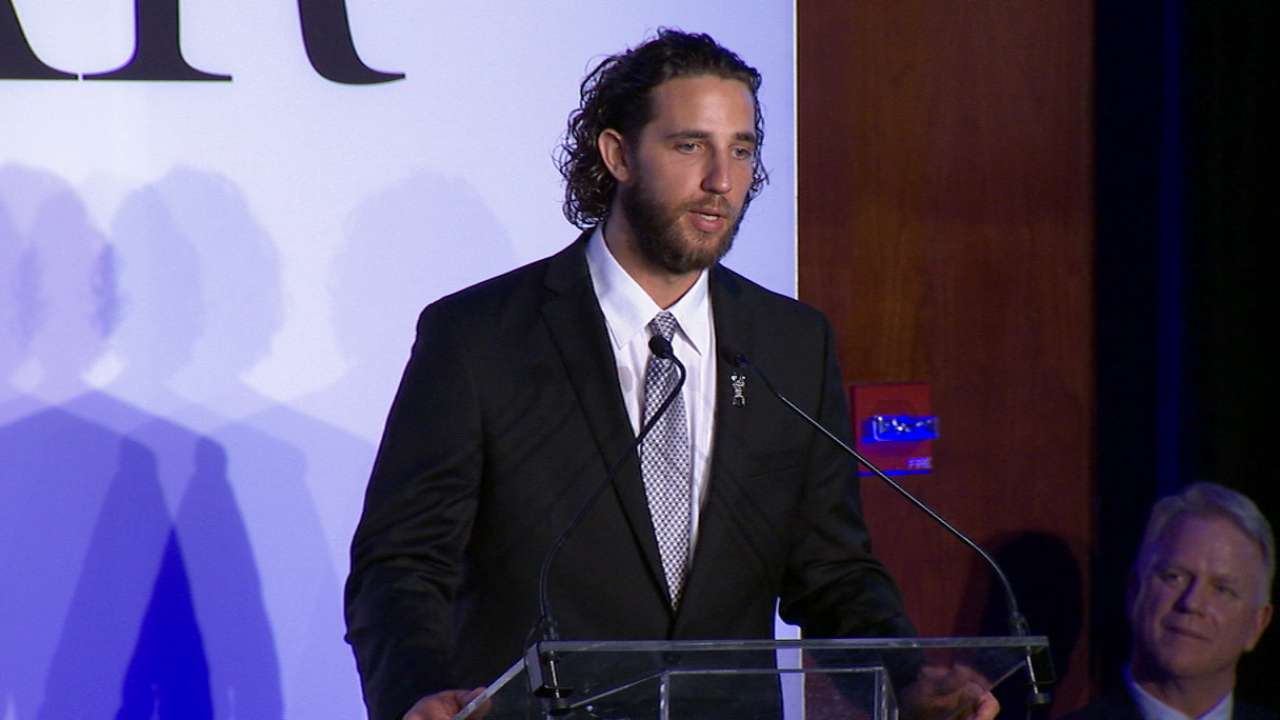 NEW YORK -- Madison Bumgarner just finished a big night in style again.
Concluding a charming and humble acceptance speech after Major League Baseball Commissioner-elect Rob Manfred presented him the 2014 Sports Illustrated Sportsman of the Year Award, the Giants' left-hander and reigning World Series MVP looked at his wife, Ali, who traveled with him to the Chelsea Piers event from their home in Caldwell County in North Carolina's foothills.
"I want to thank my wife," said Bumgarner, 25, resplendent in the first official suit and tie of his life. "There is no way I would have been able to do any of this stuff without her. Thank you so much. I love you, and I'm looking forward to spending the rest of our lives together."
That brought a collective "aww" from a crowd that included former President Bill Clinton, Manfred and NBA Commissioner Adam Silver, as well as the evening's two other key honorees: Dodgers co-owner and NBA legend Magic Johnson, recipient of the Sports Illustrated Legacy Award, and Philadelphia Little League pitcher Mo'ne Davis, who was given the S.I. SportsKid of the Year Award's honorary red jacket.
"In baseball, you get humbled a lot. I've never been more humbled than this." - Madison Bumgarner on #SISportsman pic.twitter.com/dE6t1aLBhD

- Sports Illustrated (@SInow) December 10, 2014
Bumgarner became the 14th representative of MLB (player, duo or team) to earn Sportsman of the Year, and the first since Yankees shortstop Derek Jeter in 2009. Other Major League winners include Dodgers pitchers Johnny Podres (1955), Sandy Koufax ('65) and Orel Hershiser ('88); Hall of Famers Stan Musial ('57), Carl Yastrzemski ('67), Tom Seaver ('69) and Willie Stargell ('79); all-time hits leader Pete Rose ('75); altruistic slugger Dale Murphy ('86); the duos of Mark McGwire/Sammy Sosa ('98) and Curt Schilling/Randy Johnson (2001); and the World Series champion Red Sox ('04).
"Madison Bumgarner represents everything that is good about the national pastime," Manfred said in his presentation. "He represents dedication, teamwork and humility, the values that have always been so huge in our game. His career is truly an amazing story. He's in the big leagues at age 20. In 2010, he threw eight scoreless innings in Game 4 of the World Series. In 2012, he threw seven scoreless innings in another World Series game, and in 2014, he pitched 52 2/3 innings in a postseason. For some guys, that's a good year's work.
"I was fortunate enough to see Madison in Pittsburgh for the Wild Card Game, and it was one of the most dominating performances, certainly, that I have ever seen. Throughout the postseason, his performance linked him with other October legends, like Sandy Koufax, Tom Seaver and Orel Hershiser, all of whom were Sportsman of the Year."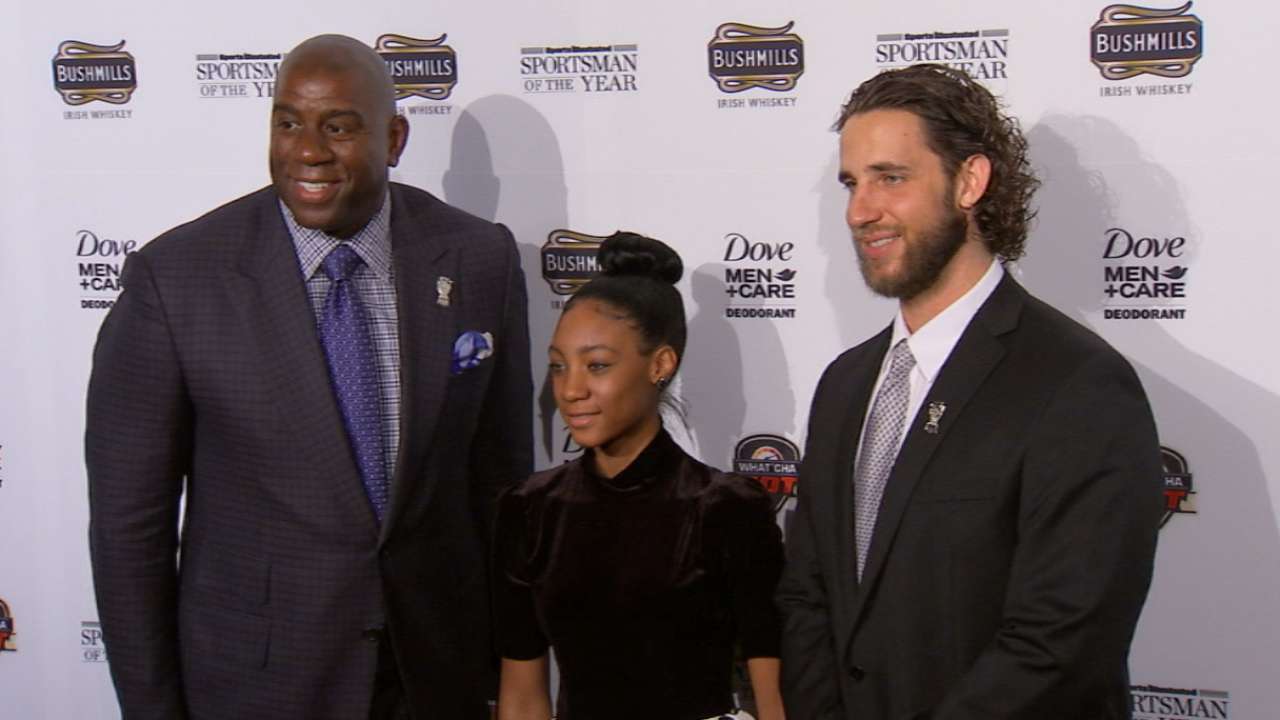 Sports Illustrated staffers said that postseason made Sportsman of the Year an easy decision in 2014. It made for some fun juxtaposition in the ceremony, given that Johnson is owner of the same Dodgers who are rivals for Bumgarner and the Giants in the National League West.
"There's only one other person that I hate, love and respect," Johnson said during his acceptance speech, "and that's Larry Bird. I hated him, I loved him and I respected him, so much that I knew if I made a mistake ...
"Well, I've got the second person right in front of me. I hate him because of the way the Giants beat us, I love him because he's so good, and I respect him because he's such a competitor and his will to win is off the charts. So, Madison, congratulations on being the Sportsman of the Year, and well-deserved. I know you will probably win many more -- just let us win once."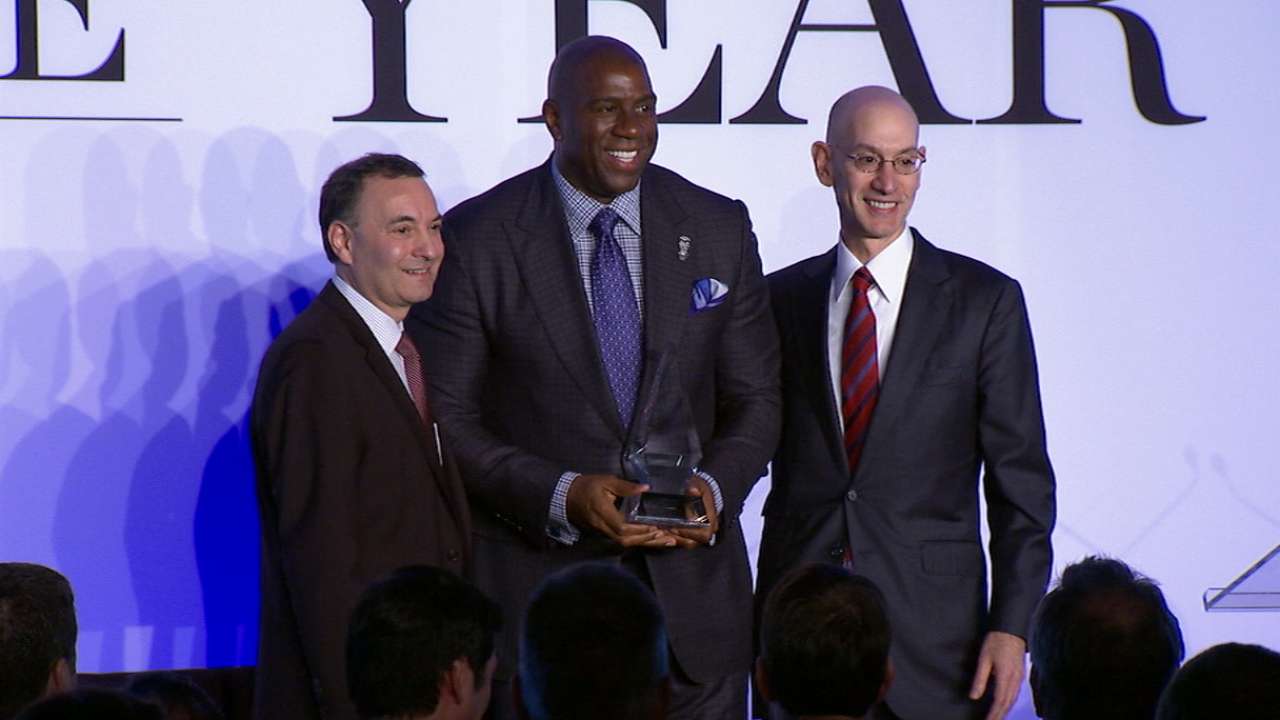 Johnson, who has been on 24 S.I. covers by his count, led the Los Angeles Lakers to five NBA titles after leading Michigan State to the NCAA championship. He retired in 1991 after revealing that he had contracted HIV, and during Tuesday's speech, he said the key moment was when former NBA Commissioner David Stern allowed him to play in the 1992 All-Star Game, after fans voted him in.
"I've been blessed now for 23 years, and I've done everything I was supposed to do in terms of being here and being healthy," Johnson said. "But more than that is to educate the world. ... If Commissioner Stern didn't allow me to play, and the fans didn't vote me in, and Tim Hardaway didn't bow out and let me start in his place, we wouldn't have educated the world about HIV and AIDS. I think that day, the NBA, Commissioner Stern and I were able to educate the whole world that it was OK to talk openly about HIV and AIDS, and it was OK to play against somebody who had HIV. That changed the world, that particular day, that particular game, that particular moment. I'm so blessed."
#MadBum walks the red carpet with @MagicJohnson and @Monedavis11 #SISportsman #SFGiants (via @SInow) pic.twitter.com/725gervv0m

- World Champs (@SFGiants) December 10, 2014
Davis, 13, pitched two shutouts in August, the first one advancing the Philadelphia Taney Dragons All-Star team to the Little League World Series. The second one marked the first time a girl threw a shutout in the tournament's 75-year history. She was on the S.I. cover then, and she found out about this 2014 exclamation mark when she saw the new cover on social media.
"It's just been great," Davis said. "I was excited and shocked at the same time."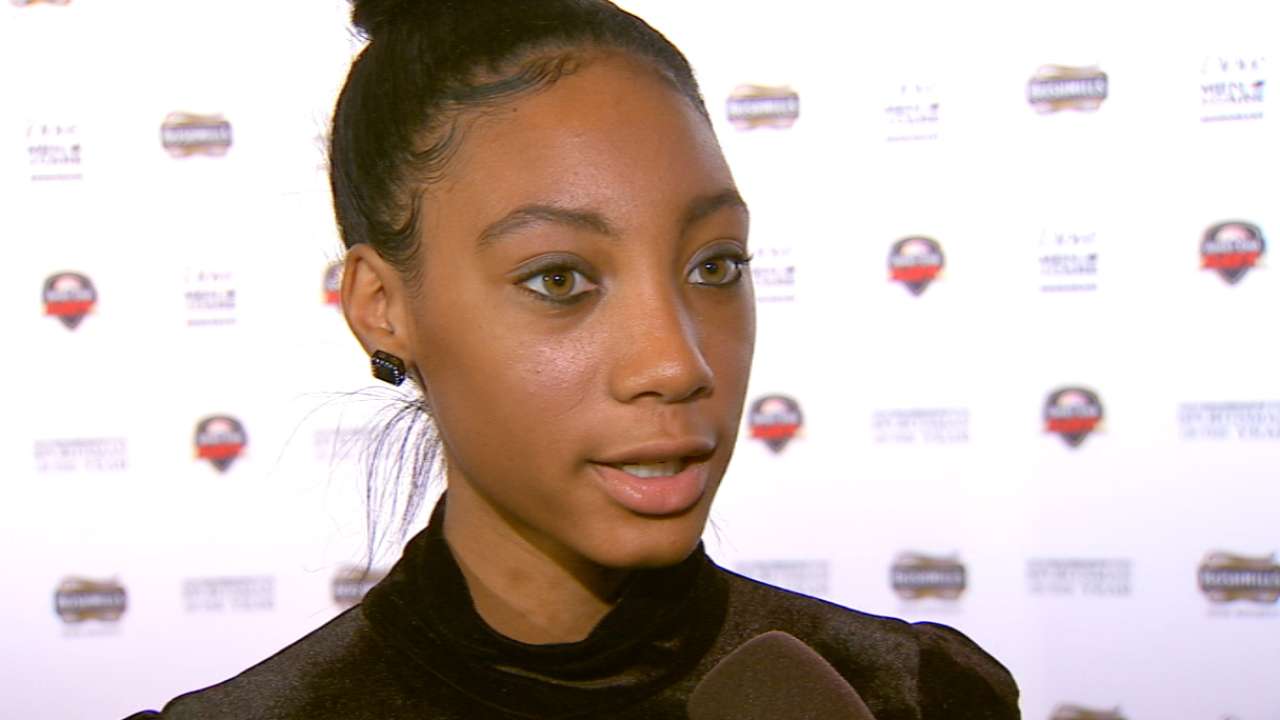 Clinton joked that he developed a habit of watching sports on TV "when Hillary had that traveling job and I was home alone all the time." He said one of his favorite people to watch was Davis.
"I saw Mo'ne Davis pitch several times, and it was awesome," he said. "And now that I have got a granddaughter who so far is in the 95th percentile of size, I'm dreaming about girls on the mound. [Davis] may be a SportsKid of the Year in 2014, but she may be something else altogether in 2015 and '16 and '17. She is a remarkable young woman. I know she was an inspiration to young people everywhere."
One of the highlights of the event was a series of standing ovations for Pete Frates, co-founder of the Ice Bucket Challenge. Frates had been unable to travel to the World Series ceremony where MLB honored his efforts, but he was happily in attendance here with his wife and parents.
"One of the first things I did after I was elected Commissioner was, I took the Ice Bucket Challenge," Manfred said. "It was a great thing for our organization. We were thrilled to have Pete's parents and members of his family with us at the World Series. When I met Pete during the reception earlier, I said to him, 'You've done great work for ALS research. But you also have reminded people of the special relationship between ALS and Major League Baseball, and that reminder will pay dividends for decades to come.'"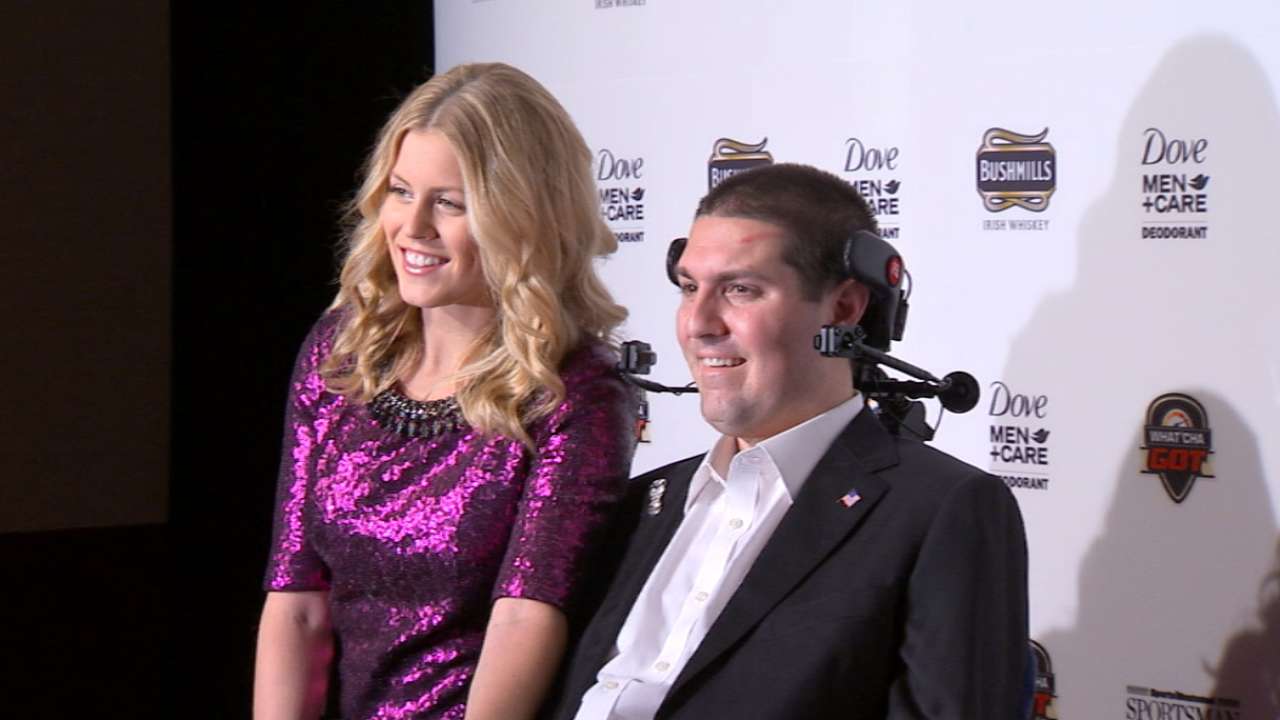 At the end of the event, after giving his speech, Bumgarner was asked whether he truly realized what he had done these past several weeks and how he feels. He cracked: "I keep waiting on the real Sportsman of the Year to walk through the door."
"This is such an honor," he added. "There has been so much stuff happen over the course of the past year. Honestly so much has happened in my short time with the Giants. ... We have been blessed with three championships, and I've been part of some wonderful teams and had some great teammates, some guys who showed me what it's like to be a big league ballplayer. I couldn't ask to be part of a better organization."
He then looked at Johnson right next to him, and they had a good laugh. Until next season, anyway.
Mark Newman is enterprise editor of MLB.com. Read and join other baseball fans on his MLB.com community blog. This story was not subject to the approval of Major League Baseball or its clubs.