Matheny not concerned with lefty-heavy lineup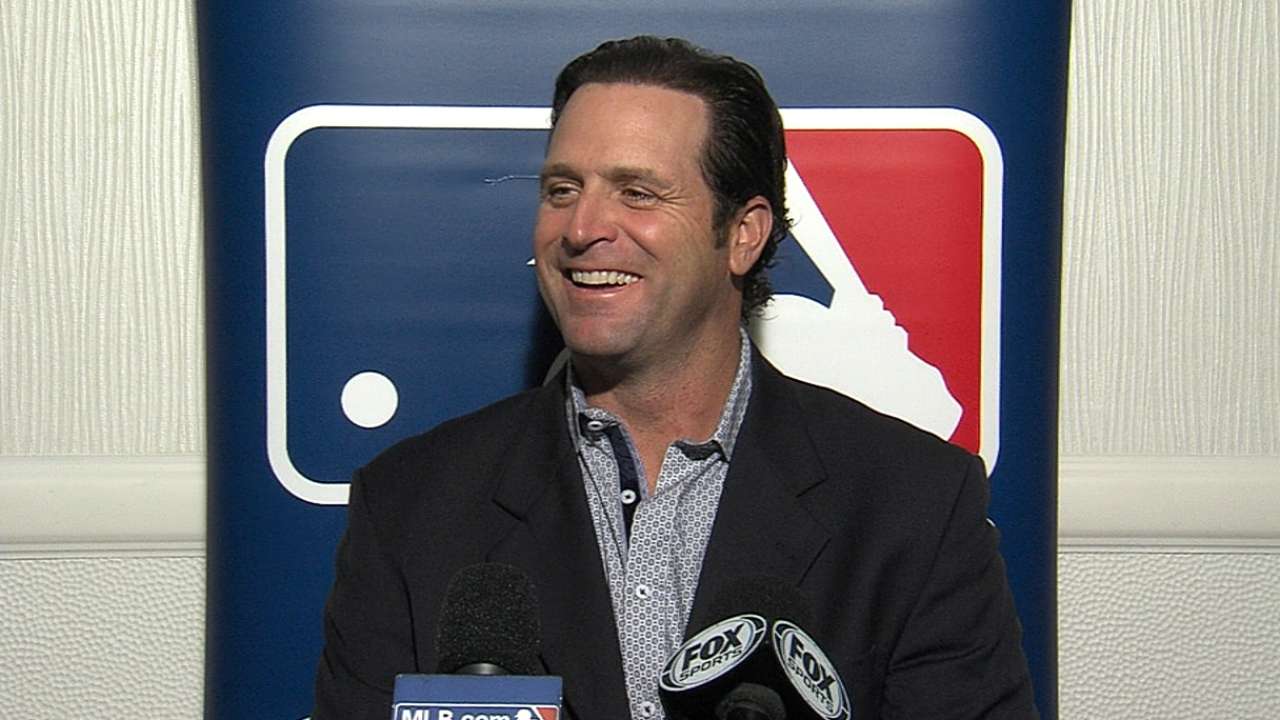 SAN DIEGO -- In a 30-minute session that jumped topics and discussion points with Cardinals manager Mike Matheny on Tuesday, one theme weaved throughout: It was all about the lefties.
From conversations about the team's left-handed-heavy lineup to the need for key position players to improve against left-handed pitching to the dissection of the club's left-handed relief options, the 'L' word became a popular one.
The latter of those topics was especially popular given the Cardinals' recent pullback from the lefty-relief market. What was an item on general manager John Mozeliak's early offseason to-do list has come off that list, even though there never was an addition in that area.
Offseason reports on the improving health of Kevin Siegrist gave the Cardinals reason for restraint, as they have a growing confidence that Siegrist will be ready to step back into a key bullpen role in 2015. With Randy Choate returning as the lefty specialist, and young pitchers Sam Freeman, Marco Gonzales and Tyler Lyons also around as potential help, the Cardinals believe they have sufficient coverage.
"Siegrist, when he's healthy, just about anybody in the league would like to have had him," Matheny said, before adding of Gonzales: "I don't think there would be a disadvantage to having him on our club [as a reliever] if it came down to that was the best alternative option we had. He's at that flexible time of his career."
When it comes to hitting the left-handed pitching of their opponents, Matheny acknowledged that Matt Adams is among those with the most room for improvement. Jason Heyward, a career .221/.301/.349 hitter against lefties, would also fall into that category. As the Cardinals seek a more prolific offense than the one that averaged 3.8 runs per game in 2014, Adams and Heyward arguably stand as the two players with the biggest potential gain to provide more offense.
In order to provide that sort of everyday value, however, the results against lefties must improve. For Adams, his everyday job will depend on it, as the Cardinals have made it no secret that their offseason to-do list still includes finding a right-handed-hitting first baseman.
"I believe he showed it on the big stage last year in October, of being able to get the big hit for us and to be able to drive the ball with power and all the things that we've talked about for a long time still hold true," Matheny said of Adams. "It's just a matter of him being able to improve, because the league knows him better now, and they're going to continue to try to maximize on what they believe are weaknesses that he has."
Heyward and Adams represent two of the projected five left-handed-hitting starting position players; Matt Carpenter, Jon Jay and Kolten Wong round out that group. While several of the Cardinals' position players offer great flexibility in where they can fit into the lineup, Matheny will have to piece together a batting order that doesn't saturate one part of the lineup with too many left-handed bats.
"That's going to be one challenge for how we set ourselves up in that regard," Matheny said. "I like that challenge heading into spring, to put that puzzle together the right way."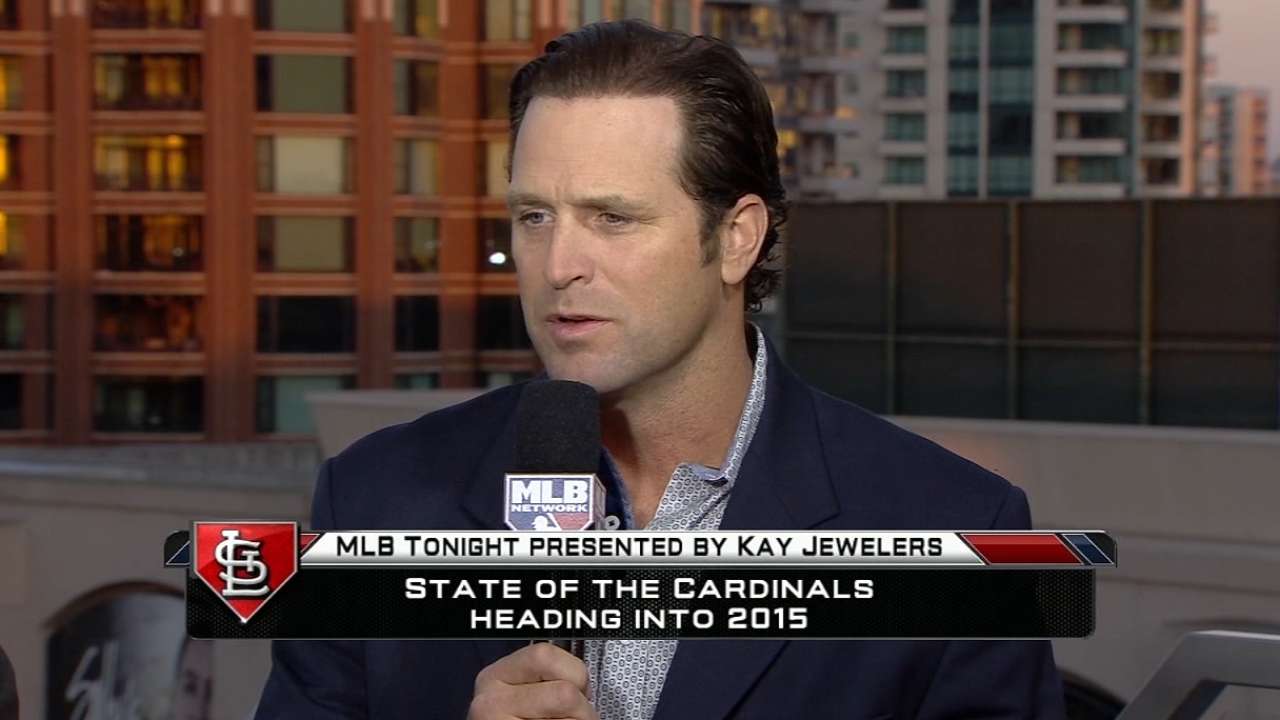 As for other topics to come up during the afternoon media session, here are the highlights:
• A year after his impassioned speech on the topic helped muster support for the elimination of home-plate collisions, Matheny said he expects to address the topic again on Wednesday when managers and GMs gather for a rules meeting. There has been discussion about possible tweaking to the language of Rule 7.13 for clarity purposes.
"The bottom line is we had less violent collisions at the plate and less players injured," Matheny said. "That's really what the goal was. Hopefully, we'll just have a clearer way to get to the point of not having those collisions and still maintain the integrity of the play at the plate."
• Matheny has remained in regular contact with Carlos Martinez throughout the offseason, largely to gauge how the young right-hander is dealing with the death of friend and teammate, Oscar Taveras. Matheny was asked to describe how Martinez has handled the grieving process.
"Everybody handles topics like this in their own individual way, and Carlos has slowly walked through this, something that most people don't have to walk through at that age," Matheny said. "But what I've seen, I've seen him mature, and I know that's a high price to pay for any particular improvement, but Carlos is definitely learning more about himself and his game and his career."
• Matheny acknowledged potential future restraint on how many games Yadier Molina starts behind the plate as way to help the veteran catcher stay injury free while handling the most demanding position.
• Asked about the strength of the National League Central in 2014, Matheny said that he doesn't "see anybody in the Central going anywhere except getting better." The Pirates, who finished second to St. Louis each of the last two seasons, made their Winter Meetings splash on Tuesday by reaching an agreement with Francisco Liriano. They had earlier wooed back A.J. Burnett. The Cubs have a new dynamic manager in Joe Maddon, and are poised to be major players in free agency.
"You're watching every team commit to trying to push the needle forward, and teams you've expected in the past have been good, and we'll watch some teams who maybe have been overlooked," Matheny said. "There are going to be more in that mix. [We] realize that everybody in the Central's going to be shooting for us, and that makes it a good place to be."
Jenifer Langosch is a reporter for MLB.com. Read her blog, By Gosh, It's Langosch, and follow her on Twitter @LangoschMLB.| This story was not subject to the approval of Major League Baseball or its clubs.