MLB.com Columnist
Mike Bauman
Maddon ready to teach 'the Cubs way'
New skipper talks coaching philosophies at Winter Meetings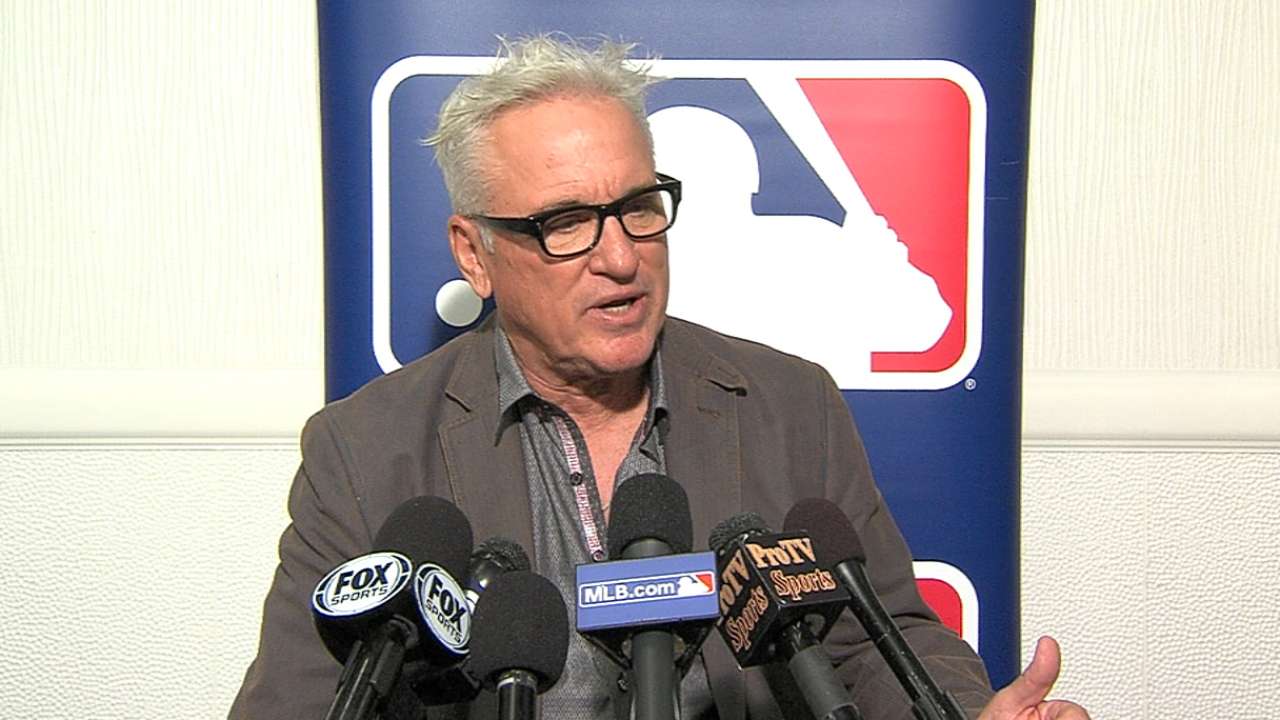 SAN DIEGO -- The Chicago Cubs became a more entertaining team the day that Joe Maddon was hired as manager.
The crucial issue, of course, is not that. The question is whether the Cubs managed by Maddon will become a winning team, a contending team and even a championship team. But it is only early December, and for the moment, it will have to be enough for long-suffering Cubs fans to be entertained by the new skipper.
Maddon made his first appearance as Cubs manager before the Winter Meetings media on Tuesday. It was a well-attended event; at least 50 reporters, 10 cameras and high expectations for this managerial performance.
Maddon did not disappoint. I was going to call this "The Joe Show" but that could be misleading. Maddon is not a show. He is the real deal. He is intelligent, articulate, witty and is not particularly shy about presenting himself in any and all of those categories. But Maddon is very pointedly not a phony. He had a long record with the Tampa Bay Rays of relating successfully to a wide range of baseball players and baseball players' personalities. He is as aware of advanced metrics as any manager in the game, but he also is a humanist.
Maddon was asked early about the pursuit of free-agent pitcher Jon Lester, who later reportedly agreed to a six-year deal with the Cubs worth $155 million. Maddon said he had a pleasant get-acquainted phone call with Lester a couple of weeks ago, in which he found out that Lester likes to hunt and fish. Then Maddon was off and running.
"At that time I didn't know that Davey Martinez was going to be part of our [coaching] staff," Maddon said. "So now if [Lester] were to be with us now that Davey is there, we can line up these hunting trips on the road. As part of the Rays, our guys liked to hunt and fish a lot, like to shoot things. We would set things up on different road trips. Like a couple of years ago [pitcher] Wade Davis shot a black bear in Toronto prior to the playoffs.
"I thought that was outstanding. That gave me even more confidence putting him in a game, like in the seventh or eighth inning, facing a normal right-handed hitter; he shot a black bear, 300-pound black bear. I like when the guys do things like that. [Lester] relayed to me the fact that he likes to hunt and fish. I assured him that I don't, but I respect it."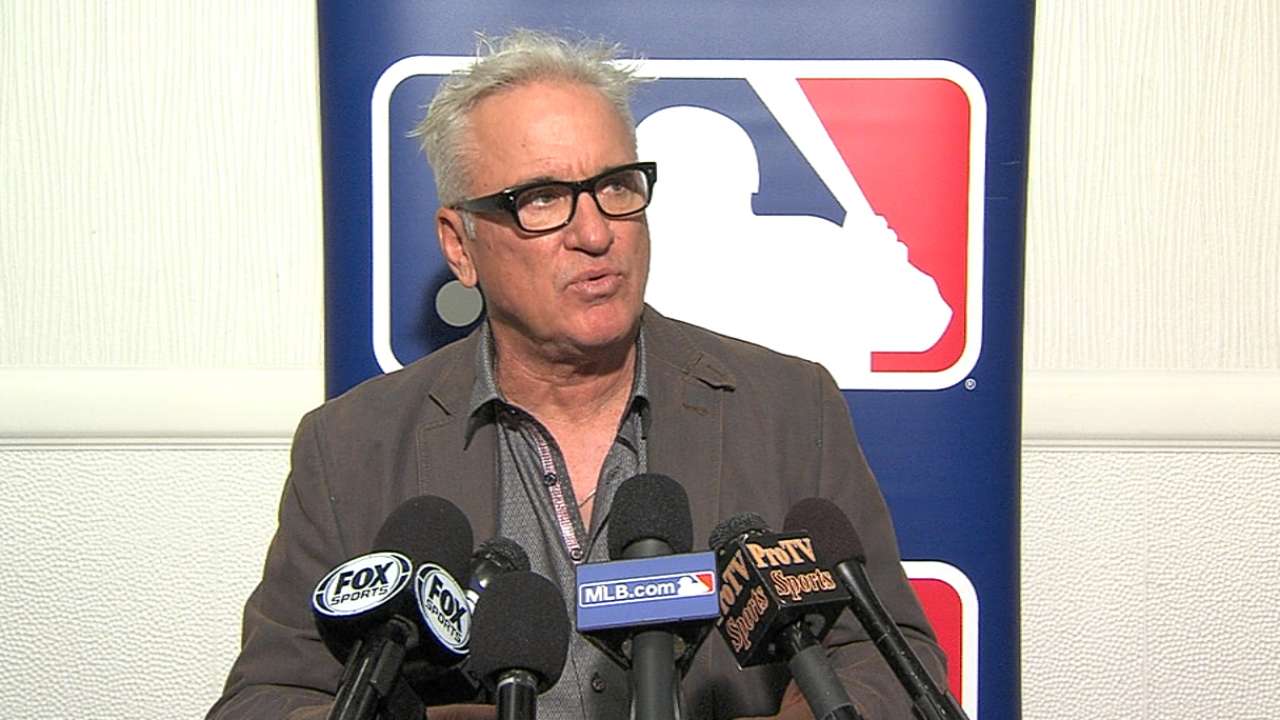 Maddon is at the other end of the franchise spectrum now, far removed from the financially limited Tampa Bay operation, working for the Cubs, who appear to be swimming happily in the expensive end of the free-agent pool. But working with ballplayers, Maddon says, will not fundamentally change for him.
"I think if you carry a simple and clean message to the guys, you have a pretty good chance of getting something back positive in return," Maddon said. "That's what I'm looking for.
"Again, believe me, you look at the Rays in the past from a distance, and everybody assumed complicated or complex or whatever. We were like really simple. I really would hope to bring the same kind of concepts to the Cubs. And I mean that sincerely."
What is the essence of the message?
"Honestly, OK, before it ever gets to that, it's all about me building relationships with you and then you trusting me," Maddon said. "And then we can have an exchange of ideas. That's it. So to distill it, to bring it right down to the bare bones, those are the three things that happen first, before this other stuff makes sense to anybody. Any manager is going to talk about Spring Training and getting the same things done. Everybody wants to say they want to go to the World Series. But what's the process in how to get there?
"The first three steps for me are relationship building, development of trust, and then at that point there, now we could honestly exchange ideas without any pushback or that 'what is he talking about?' thing. That's my main objective when I walk in the door, OK?"
This is Joe Maddon at his life's work. He has all this verbiage, but then at some point you see it in action, and all of a sudden the small-market Rays are in the postseason practically every October, and the manager is being hailed as somebody at the head of his class.
There was a question, naturally enough, about whether Maddon would instruct the young Cubs to watch the established teams closely. The manager immediately showed where his priorities were.
"You know, I'm more into them learning the Cubs way of playing the game," Maddon said. "I mean, listen, I grew up a Cardinal fan, I know there are people that hate me for that. It was a wonderful franchise. Milwaukee, great. Pittsburgh was kind of like my second team back when I was a kid. Cincinnati, great stuff.
"But it's about us. I'm about circling the wagons, and it's about us and the coaching staff and our people teaching our methods to our guys. And we need to teach them the respect. Of course they're going to watch and learn and see. But at the end of the day it's about us developing our methodologies and promoting them into the future. And that's kind of what we did in Tampa Bay, and that's what I'm interested in here."
Nobody comes into the Cubs managerial job talking about how he grew up as a Cardinal fan. Nobody but Joe Maddon, that is. He is one of a kind. The Cubs are happy to have him now, and there is an excellent chance that they will be even happier to have him later.
Mike Bauman is a national columnist for MLB.com. This story was not subject to the approval of Major League Baseball or its clubs.