Tigers maintain course despite rivals' headlines
Starting pitching only getting tougher in AL Central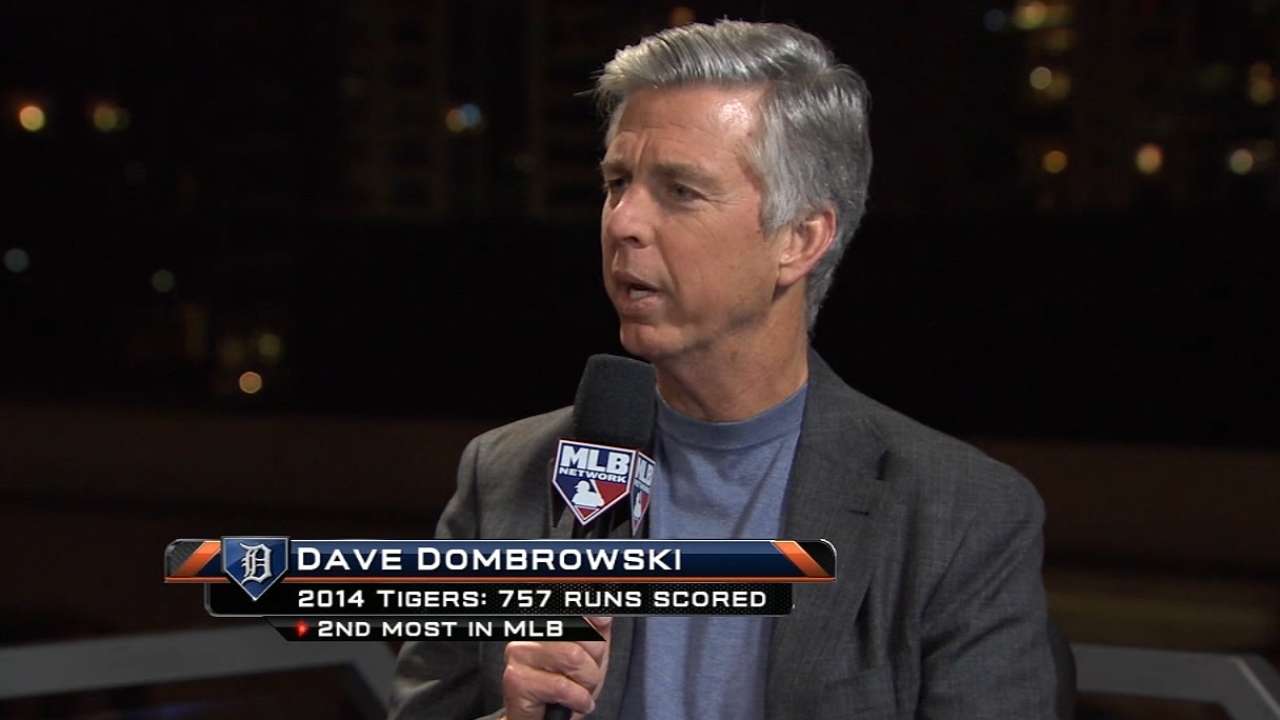 SAN DIEGO -- The Tigers spent last summer's Trade Deadline in what looked like a game of one-upmanship with the A's on which team could make the bigger move for a starting pitcher. That will not be happening at this week's Winter Meetings.
What team president/general manager Dave Dombrowski does foresee after the White Sox trade for All-Star starter Jeff Samardzija and reported signing of closer David Robertson, however, is a heated race for the American League Central.
"It doesn't change our dynamics," Dombrowski said Tuesday from baseball's Winter Meetings, "[but] there's no question that they're better [than last year]. They made some real good moves the last couple of years.
"There's no question they're a better ballclub. But I think what's really apparent is you look and our division is really good. It's a really good division."
Detroit has won the last four American League Central titles, but Kansas City rendered that streak irrelevant in October by advancing from the AL Wild Card Game all the way to the World Series, falling one game short of the world championship the Tigers have struggled to win.
Meanwhile, both teams have been overshadowed this offseason by the Indians and White Sox.
"I know we have a good club," Dombrowski said. "Kansas City was in the World Series. Cleveland was a Wild Card two years ago and just missed this past year. The White Sox are getting better, and the Twins are improved, too. I think right now you just have to realize that the American League Central Division is a good division.
"But it doesn't really change what we're doing because we're trying to be the best club that we possibly can be. Our moves and our needs don't change. Our needs have been the same after we met and we don't change it because of what the White Sox have done. But they're a better club."
Even so, by upgrading their pitching staff, now fronted by Chris Sale and Samardzija, the White Sox have furthered the stockpile of stingy pitching in the division. The AL Central now includes those two, reigning AL Cy Young winner Corey Kluber, former winners David Price and Justin Verlander, former AL ERA champion Anibal Sanchez, AL Rookie of the Year candidate Yordano Ventura, Rick Porcello, Phil Hughes, Danny Duffy and Danny Salazar.
The Tigers spent last offseason trying to diversify their offense to give themselves a better chance to manufacture runs against tough pitching in October. They might need that approach more often from April through September, too.
"It's hard to beat good pitching. So you're just going to see more of it," Dombrowski said. "But they're going to see good pitching from us, too."
Jason Beck is a reporter for MLB.com. Read Beck's Blog and follow him on Twitter @beckjason. This story was not subject to the approval of Major League Baseball or its clubs.