Potential splash coming from Marlins
Club could make several major moves before end of Winter Meetings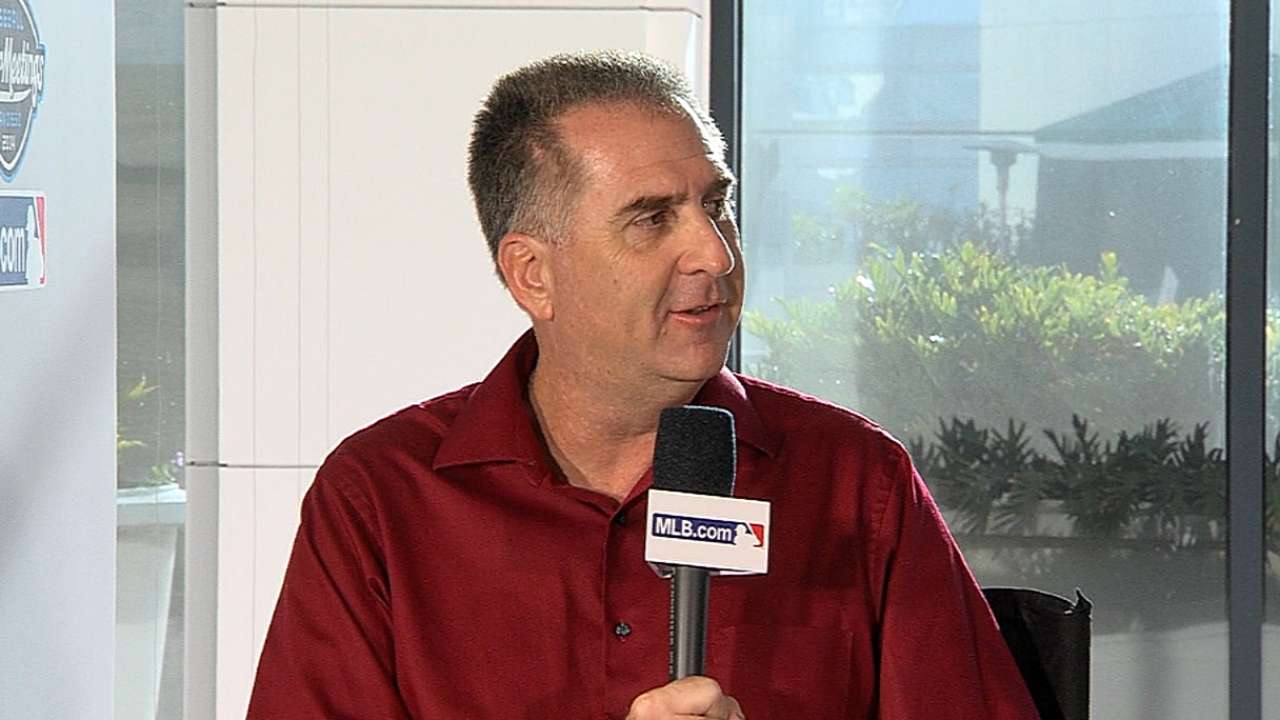 SAN DIEGO -- All the elements are in place for the Marlins to make a huge splash before the Winter Meetings wrap up on Thursday. The club on Tuesday had numerous conversations with multiple teams regarding a power bat, starting pitcher and second baseman.
Heading into the Meetings, the Marlins weren't confident about the available second-base candidates. But the market has changed, and there is a chance the team could leave San Diego filling its three primary needs.
In order to do so, it would cost a tremendous amount of prospects, and perhaps some players off the big league roster. The predicament the front office faces is how to improve short term without setting the franchise back long term.
"If it we do [three moves], it will come at a steep price," president of baseball operations Michael Hill said. "That could happen, but that will be costly.
"In everything we're talking about, it's going to cost us inventory. That's something we've never done, because we've been so protective of it. It's definitely a shift in philosophy, and a desire to win more games than last year. That is our goal. We want to win more games. We understand we're going to have to use some of our inventory in order to access the pieces to allow us to do that."
Hill didn't specifically mention any names, but MLB.com has learned the Marlins have interest in Rockies first baseman Justin Morneau and free-agent first baseman/outfielder Michael Morse, who is a South Florida native. Free-agent third baseman Chase Headley is another possibility, but he isn't the highest priority. Arizona lefty Wade Miley is also on the team's radar.
An unlikely name surfaced late Tuesday afternoon, when it was reported that Dodgers second baseman Dee Gordon could be available. Gordon paced the Majors with 64 stolen bases in 2014.
Entering the Winter Meetings, the Marlins de-emphasized the second-base market, not believing there were many viable options. The club has been prepared to go with Donovan Solano, Enrique Hernandez or Derek Dietrich.
"Not to get into any specifics, we are exploring numerous things," Hill said. "I have said in the past, we like the speed component in our club. I would like more."
The son of former big league reliever Tom "Flash" Gordon, Dee would give the Marlins a leadoff threat similar to Juan Pierre, who set the franchise stolen-base record (65) in 2003.
Christian Yelich has handled the leadoff spot, but he could slide to the second spot in the order if a speedy second baseman is acquired. In spacious Marlins Park, where home runs are hard to come by, Miami would like to improve its overall speed. The Marlins stole just 58 bases in 2014, with Yelich (21) and Stanton (13) being the only ones to reach double digits.
Because he has Super Two status, Gordon is arbitration-eligible for the first time. And the first time he can reach free agency is 2019. Still, there is skepticism the Dodgers would actually move Gordon.
MLB.com has learned a number of teams covet more than Miami's pitching prospects, like Andrew Heaney and Anthony DeSclafani. Teams also have asked about core rotation parts -- All-Star Henderson Alvarez and Jarred Cosart. The Marlins have no interest in moving either player.
The Marlins don't appear to be in the James Shields sweepstakes, mainly because the free-agent right-hander is seeking a deal that could reach $100 million.
"We did reach out to numerous clubs and numerous agents who all fit with what we're hoping to do in terms of upgrading our starting rotation and adding a bat," Hill said. "Now that we've gotten here, we'll continue dialogue. Some things haven't gotten traction, and other things have gotten traction."
Joe Frisaro is a reporter for MLB.com. He writes a blog, called The Fish Pond. Follow him on Twitter @JoeFrisaro. This story was not subject to the approval of Major League Baseball or its clubs.