Jones, Reynolds host more than 300 youngsters at RBI clinic
Orioles CF and MLB Network host give youth in-depth look at hitting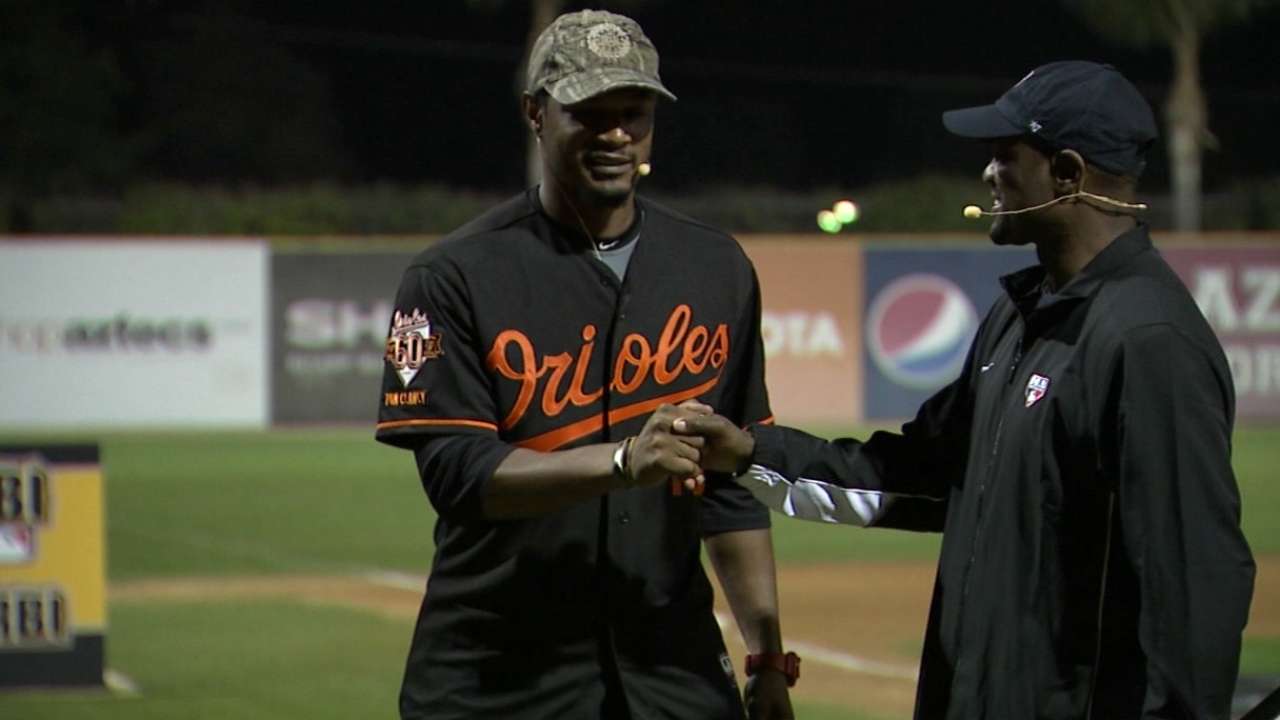 SAN DIEGO -- The field at Tony Gwynn Stadium was abuzz Tuesday night with sounds of more than 300 young ballplayers. As part of a youth clinic put on by Reviving Baseball in Inner Cities (RBI), the kids, aged 6-13, raced through fielding drills in the outfield, took ground balls in the infield and showed off their hitting skills in the batting cages.
As Harold Reynolds and Adam Jones emerged onto the field on the campus of San Diego State University, the same thought ran through their heads:
"This is the way it's supposed to be," said Reynolds, the former Major Leaguer, currently an analyst on MLB Network. "It's about getting kids to play baseball. They're screaming, they're yelling, they're running, and they're having a great time."
"I love seeing that," said Jones, the Orioles' All-Star center fielder. "I love seeing them all broken up, doing drills on different parts of the field. I remember doing that kind of stuff. It's just good to see the growth of baseball and the hunger for baseball is still there."
Tuesday's event featured a three-hour showcase in the afternoon, when 40 RBI participants, aged 14-18, performed in front of both professional scouts and collegiate recruiters. After that, the youngsters took part in a clinic of their own, before being presented with an equipment donation.
Then, it was time for the evening's main event. Reynolds and Jones took the mic at home plate and began an in-depth look at the art of hitting -- from putting on the batting gloves to finding the right bat. The 340 kids from RBI were joined by another couple hundred observers in the stands.
The duo of Jones and Reynolds engaged in friendly banter, too, with Reynolds giving Jones a hard time about the Orioles being swept in the playoffs. To that, Jones, who was swinging off a tee at the time, hit a blooper to the right side, saying, "t would have been a hit if you were playing second."
"[RBI] is great for baseball," Jones said. "You're putting money back into your community. We've got 30 teams that I know love putting money into foreign countries ... and that's good. But they're also putting the money back into America's game."
The RBI program is an initiative of Major League Baseball, designed to give youth from urban communities a chance to play baseball and softball, while encouraging academic achievement. Since its founding in 1989, RBI has served more than two million youngsters.
One of those youngsters, Dean Nevarez, who plays at local Eastlake High School and has committed to play at San Diego State, was on hand for Tuesday's showcase and clinic.
"Especially because [Jones] comes from this area, it's great to see people like that succeed," Nevarez said. "And my TV never comes off MLB Network -- I'm always watching them, they're funny guys. And when they're talking about hitting, I'm always listening."
In total, 40 high school players participated in the showcase, which consisted of an extended batting practice session, while about 15-20 scouts watched from the stands.
"There's certain experiences kids will put down in their lifetime that they won't ever forget, and this is going to be one of them," said Thomas Brasuell, MLB's vice president of community affairs. "Sooner or later -- likely sooner -- we'll see some of these kids in college ball and one or two of these kids will likely go on to pro ball in the Major Leagues. They'll come back, and they'll remember that day."
David James, the senior director of the RBI program, was quick to note the talent on the field at Tony Gwynn Stadium, saying, "These kids really can play." His program's goal is to make sure they have the means to do so.
"To provide this opportunity to underserved kids and underserved communities and bring them out here at no cost -- they get the opportunity to be seen, potentially earn a college scholarship and pursue it all the way up," James said. "These types of events are critically important to growing the game."
Rodney Davis, a member of MLB's scouting bureau, was on hand, watching closely during the high school portion. Davis called the event "valuable to the evaluation process" and praised the efforts of Commissioner Bud Selig and Commissioner-elect Rob Manfred with youth -- specifically through the RBI program.
"The desire to interact with the amateur level just continues to grow," Davis said. "The support of Mr. Selig and Mr. Manfred and David James with RBI has been great. And the synergy that we're creating with amateur players is really special."
Perhaps the most important contribution to youth baseball on the night came in the form of an equipment donation from Pitch In For Baseball, one of RBI's partners. The donation consisted of all the equipment necessary to field eight teams in the San Diego RBI chapter.
"The fundamental premise of our organization is helping kids gain access to the game," said executive director of Pitch In For Baseball, David Rhode. "We feel that equipment shouldn't stand in their way."
Ben Williams, a 13-year-old who arrived at the event early to watch the showcase before participating in the clinic himself, is one of the program's beneficiaries.
"You get to hang out with your friends and have fun with the game that you love," Williams said. "[RBI] is good because you're always getting an opportunity to play more baseball."
AJ Cassavell is a reporter for MLB.com. Follow him on Twitter @ajcassavell. This story was not subject to the approval of Major League Baseball or its clubs.