Gonzalez an option to help fill out Phillies' rotation
Club seeking catching help; Asche to improve versatility in spring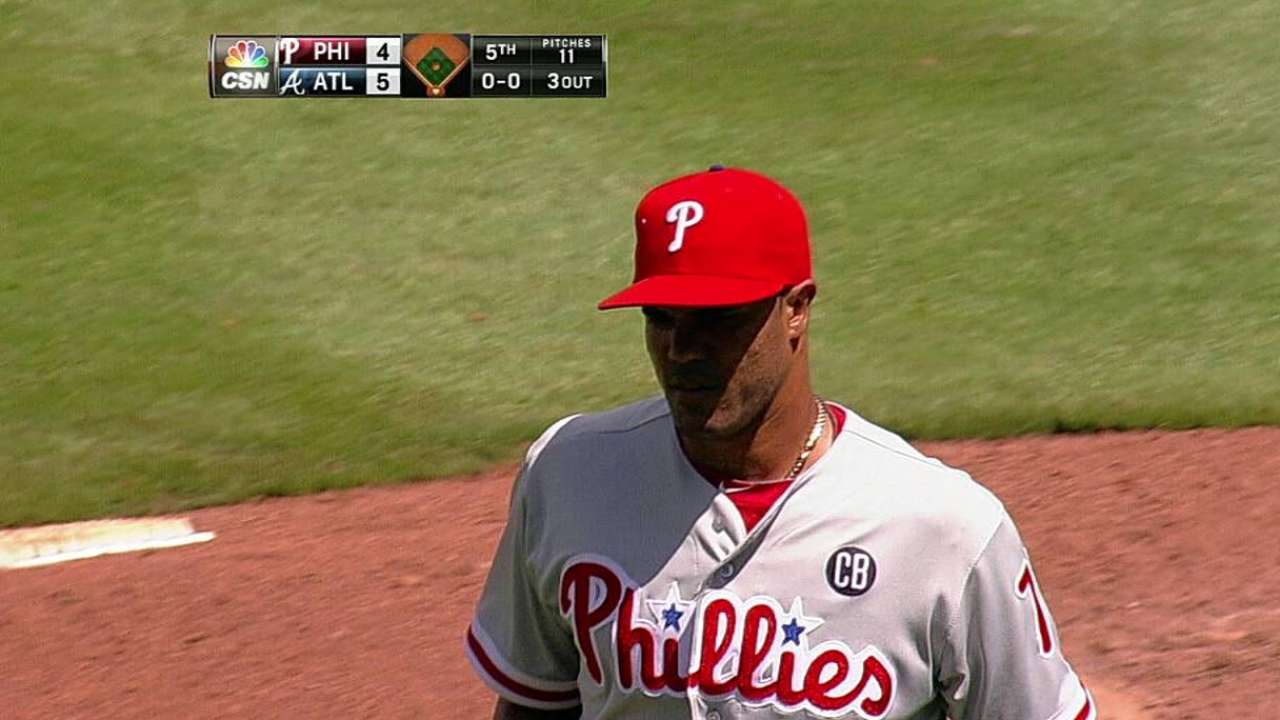 SAN DIEGO -- The Phillies are looking for starting pitching this offseason, a search that becomes increasingly important if they trade Cole Hamels.
One potential option is right-hander Miguel Alfredo Gonzalez. He will compete for a rotation job in Spring Training despite a checkered health history. The Phillies moved him from the rotation to the bullpen last season in the Minor Leagues because they did not think he could hold up physically.
"He was very adamant about wanting to be ready to start for us this year," Phillies general manager Ruben Amaro Jr. said. "He has a very specific program that he's utilized over the years in Cuba. He's working with a personal trainer. He's going to start his throwing program. He's off the mound at the end of this month. He's pretty regimented about how he wants to go about it and we're giving him the space to do that."
At the moment, the Phillies have only three healthy starters: Hamels, David Buchanan and Jerome Williams. Cliff Lee is returning from a strained left elbow, although the Phillies said they expect him to be ready by February.
Phils in market for catcher
SAN DIEGO -- The Phillies are looking for catching help at the Winter Meetings.
Behind starting catcher Carlos Ruiz, who could be traded, the club only has Cameron Rupp, Koyie Hill and John Hester as catchers in the organization with big league experience.
The Phillies have discussed bringing back free agent Wil Nieves, although their interest is uncertain.
Amaro said Minor League catching prospect Tommy Joseph is past his concussion issues, but is still recovering from surgery on his left wrist.
"Right now I'm more concerned about his wrist and making sure his wrist is healthy," Amaro said. "I think that's going to take a little time. I think he's going to start hitting in January. He may be a little bit behind coming into Spring Training. I'm not sure."
Club may snag pair in Rule 5 Draft
SAN DIEGO -- The Phillies could take two players in Thursday's Rule 5 Draft.
They have two spots available on their 40-man roster, and in a season of rebuilding, a Rule 5 pick stands a decent chance of sticking with the team the entire season.
"We will be aggressive in the Rule 5," Amaro said.
The Phillies would love to turn back the clock to keep Ender Inciarte, whom they selected in the 2012 Rule 5 Draft. He opened the 2013 season with the team before being returned to Arizona. He hit .278 with 18 doubles, two triples, four home runs, 27 RBIs, 19 stolen bases and a .677 OPS in 447 plate appearances last season.
"Frustrating," Amaro said. "Listen, we were in a different era at the time. He just really wasn't offensively at that time … we didn't think we were in a position to hold him. We were in a tough position."
Asche to increase versatility in spring
SAN DIEGO -- Phillies manager Ryne Sandberg said Tuesday that Cody Asche could get looks at different positions in Spring Training.
"Possibly, yes," Sandberg said.
Asche could share time at third base with Maikel Franco during the season, although Franco can play some first base. But Sandberg said Asche could get a look at first base and outfield in Spring Training. Second base has been discussed, but there is some debate whether that would work.
"Some versatility with Cody could really help him," Sandberg said.
Chase Utley also could see some time at first base next season.
Todd Zolecki is a reporter for MLB.com. This story was not subject to the approval of Major League Baseball or its clubs.