Weiss on Rockies: 'We've got to take the next step'
With improved pitching, manager says team could contend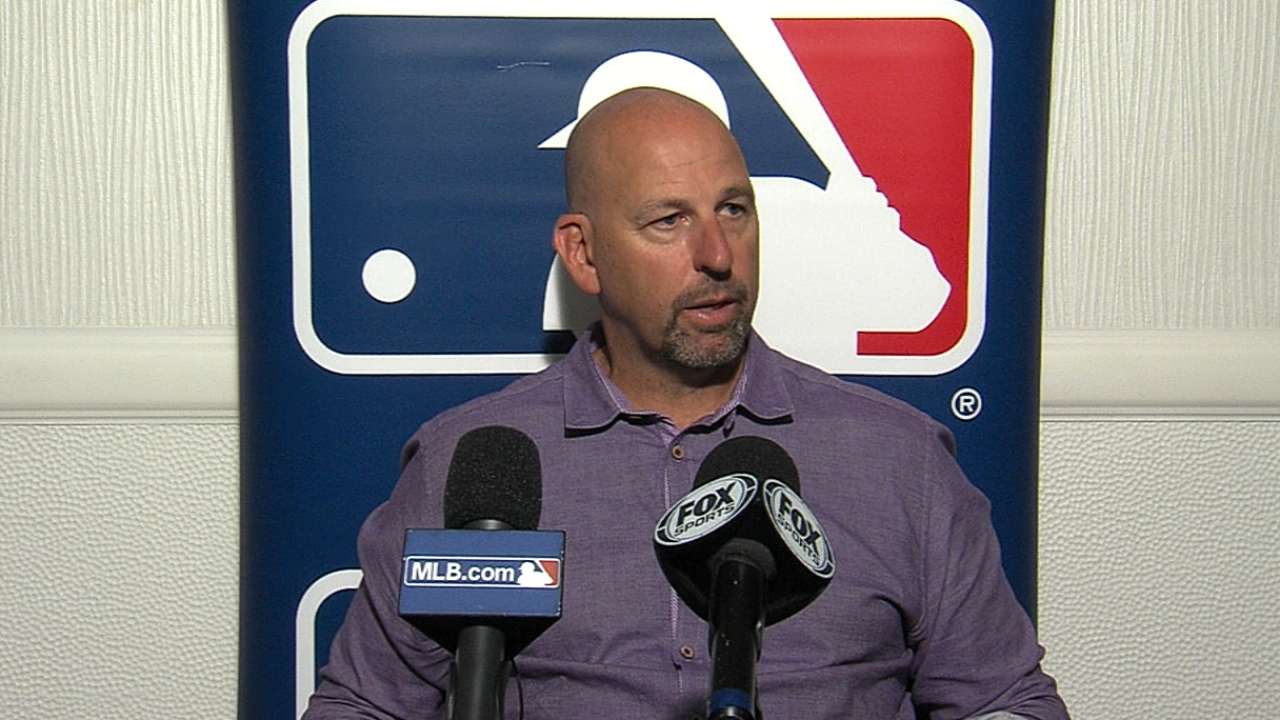 SAN DIEGO -- Walt Weiss hasn't let poor finishes his first two seasons managing the Rockies sway his feeling that his team has the offensive talent to be a contender, provided it improves the pitching. But he also acknowledged that it's time to produce.
"We didn't want to go that rebuilding route because there is enough talent on our club that if we can keep it intact and we keep on the field, we feel like we're in a good position," Weiss said Tuesday during his Winter Meetings availability. "We're addressing the needs we feel we need to address, and hopefully we'll be better in those areas when we get to Scottsdale in the spring."
Weiss has endured records of 74-88 in 2013 and 66-96 in 2014, but debilitating injuries were a factor. The Rockies lost star outfielder Carlos Gonzalez both seasons and star shortstop Troy Tulowitzki last year, plus had multiple pitching injuries. But Weiss said it's time for it all to come together
"It's hard to sit here today and say that, but we're at a point where we've got to turn it around," Weiss. "Yeah, the reality of it is if it doesn't happen this year, yeah, you're probably looking at going a different way at that point. But I think the age of the core of our group is allowing us to stay the course, too. We still have a lot of guys that are in the prime of their careers. So that gives us hope that there is still a lot left in this group."
Reports that the Rockies would trade Tulowitzki for the frontline pitching they need fizzled Tuesday when Mets general manager Sandy Alderson said his club is "comfortable sitting tight right now." The Rockies are listening to offers for all their players -- including Tulowitzki, Gonzalez and first baseman Justin Morneau, the defending National League batting champ -- but have said they don't have to deal. Even if they deal one of them, they expect to have enough offense to contend.
But until the Rockies augment their pitching staff -- which currently consists of lefties Jorge De La Rosa and Tyler Matzek and a bunch of other starters who dealt with injury in 2014 -- including 2013 ace right-hander Jhoulys Chacin (rotator cuff fraying) -- they're chasing happiness as an offensive team in a pitching-dominated era.
Last season, righties Jordan Lyles and Christian Bergman suffered broken left hands in freak incidents, righty prospect Eddie Butler suffered a rotator cuff strain in his Major League debut and 2013 top pick Jon Gray struggled with right biceps tendinitis at the Double-A level in his first full pro season.
But the chase to add to the pitching is not hopeless.
Beyond Tulowitzki, Gonzalez and Morneau, the Rockies have received trade interest in catcher Wilin Rosario and outfielder Drew Stubbs. Teams also approach the Rockies about players they're unlikely to trade, such as third baseman Nolan Arenado and young, productive outfielders Corey Dickerson and Charlie Blackmon.
"A lot of teams like our players," Weiss said. "I guess that's good, because we like them, too. Particularly our position players, and consequently we've had a lot of conversations because people are calling about our offense, and I get that. So we listen. We're not necessarily motivated to initiate as far as moving some of our offensive pieces, but we do listen. It's good to know that people around the industry like your guys.
"But, again, I think you see it every October when you turn on the TV. It comes down to the guys on the mound, and we're getting better there. We've got some good young arms; we've got some good young arms coming. But we've got to take the next step."
Whatever is done to improve the club will be with extensive input from Weiss. New general manager Jeff Bridich, who replaced the two-headed front-office leadership team of Dan O'Dowd and Bill Geivett in October, has given Weiss greater input in the roster-building effort. Bridich was senior player development director in past seasons, so they came into the project familiar with one another.
"Any time there is transition like that, you need to make sure that you get on the same page, you're all up to speed," Weiss said. "It's been a little easier transition for Jeff because he's been around our organization for so long. But it was important for the two of us to get together right away. Right after he got the job, the first couple, three weeks, we spent a lot of time together. I think we needed to."
Thomas Harding is a reporter for MLB.com. Read his blog, Hardball in the Rockies, follow him on Twitter @harding_at_mlb, and like his Facebook page, Thomas Harding and Friends at www.Rockies.com. This story was not subject to the approval of Major League Baseball or its clubs.