On Day 2, Angels set sights on adding infield depth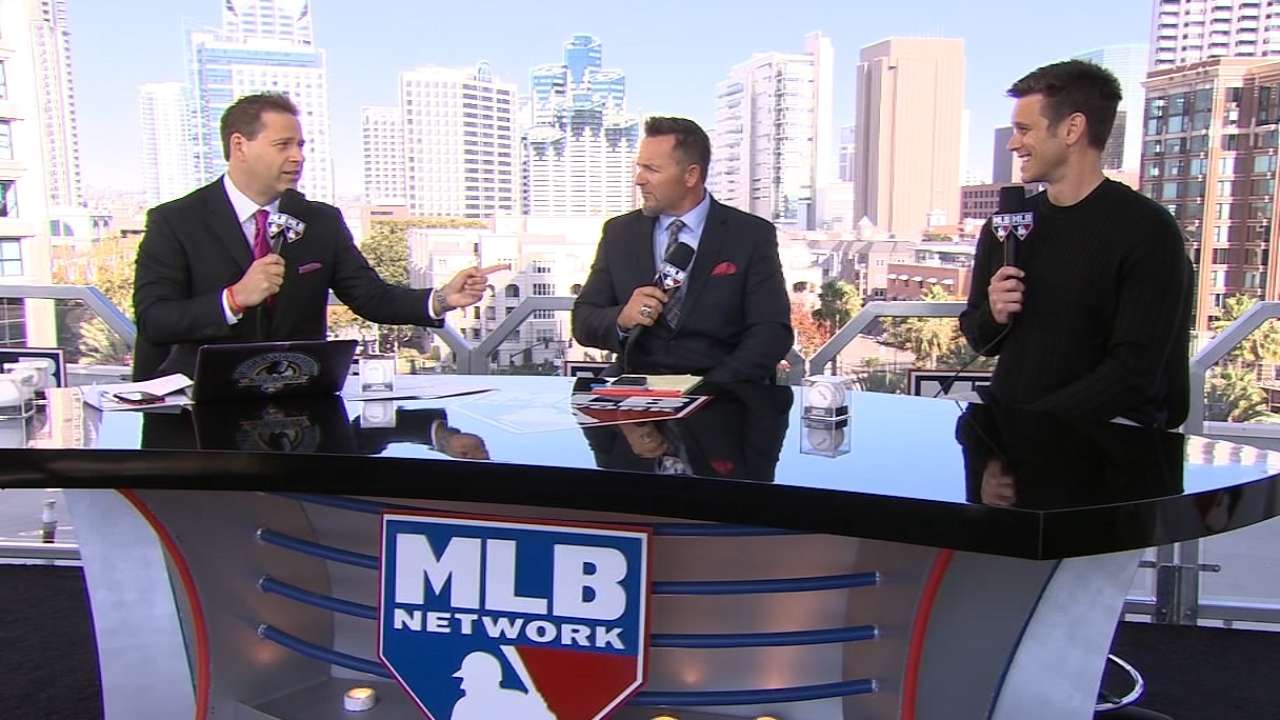 SAN DIEGO -- Cuban middle infielder Roberto Baldoquin recently obtained his visitor's visa from the Dominican Republic, is currently in Miami and will fly to Southern California next week, where he'll undergo physical examinations in hopes of finalizing his $8 million signing bonus before Christmas.
Before then, the Angels may add even more infielders.
While waiting to put a bow on his deal with Baldoquin, Angels general manager Jerry Dipoto continued to have multiple discussions with other teams about acquiring backup infielders on Tuesday, the second full day of the Winter Meetings. Gordon Beckham remains an option to return, but signing him and acquiring an infielder via trade "aren't mutually exclusive," Dipoto said.
With second baseman Howie Kendrick and third baseman David Freese slated for free agency at the end of next season, and shortstop Erick Aybar a free agent after 2016, middle-infield depth has replaced starting-pitching depth as the Angels' top priority.
Baldoquin, who won't turn 21 until May, will get an invite to Major League Spring Training and will start the season at either Class A Advanced Inland Empire or Double-A Arkansas, exclusively playing shortstop.
But the Angels think he can come along quickly.
"We're going to let him tell us when it's time to move," Dipoto said, "but he's a pretty advanced player. He's a confident kid who understands what he is, what he can do."
Dipoto called Baldoquin "a very well-rounded player" who's "a gifted defender with soft hands," "has plenty of arm strength to move around the diamond" and "a very advanced feel in the batter's box." His worst tool is his speed, which Dipoto called "fringe to average," but the Angels see him as "a guy who has a chance to be league-average-plus bat, league-average-plus power with an above-average defender who has a great sense to play the game."
If Dipoto's words don't express how much the Angels like Baldoquin, the money should.
Due to the international signing guidelines -- Baldoquin didn't qualify as a Cuban free agent because he's under 23 and hasn't played in a Cuban professional league for at least five seasons -- the Angels paid a 100-percent tax on the overage of their spending pool, which began at $2,383,700.
That jumped Baldoquin's price to roughly $14 million, with the Angels also unable to sign any player for more than $300,000 in the next two international signing periods.
"It was not like signing a 16-year-old kid that you want to dream on," Dipoto said. "You were looking at a skill set that was essentially polished, and all we had to do was get it in the mid levels of our system and get the experiences of playing against a better caliber of player on a more consistent basis. He did a lot of things that really resonated, like you would see an upper-levels prospect or a young Major Leaguer do, and he does them with confidence."
Now Dipoto would like to find more immediate middle-infield options.
With left-handed power hitter Marc Krauss claimed off waivers on Monday, and catcher Drew Butera acquired from the Dodgers earlier on Tuesday, infield depth stands as the Angels' only remaining need. Dipoto would like to use his excess of right-handed relief in a trade, and would ideally get someone who's capable of taking an everyday job if Freese or Kendrick leaves via free agency.
Can that player be had?
"Potentially," Dipoto said. "I can't promise you that, but I feel like the possibility is there."
Is it a priority?
"Absolutely," Dipoto added. "And honestly, our primary goal is to put ourselves in a situation that, if Howie or Erick or David twists an ankle and is out for a period of time, we have a guy that we feel comfortable with."
Josh Rutledge of the Rockies, Brock Holt of the Red Sox, Eduardo Escobar of the Twins, Marwin Gonzalez of the Astros and Eugenio Suarez of the Tigers are among the names being considered by the Angels, sources said. The Red Sox were initially asking too much for Holt, though.
"To use a football field as a metaphor, I feel like we're in the opponent's territory and now we just have to figure out a way to get in the red zone and put it away," Dipoto said. "There are a number of players that fit our needs that are young, controllable, optionable guys who have Major League experience and can play in the middle of the field, particularly shortstop."
Alden Gonzalez is a reporter for MLB.com. Read his blog, Gonzo and "The Show", and follow him on Twitter @Alden_Gonzalez. This story was not subject to the approval of Major League Baseball or its clubs.