MLB.com Columnist
Tracy Ringolsby
Dipoto welcomes change of pace this winter
Coming off Angels' 98-win season, GM glad to only 'tinker' with roster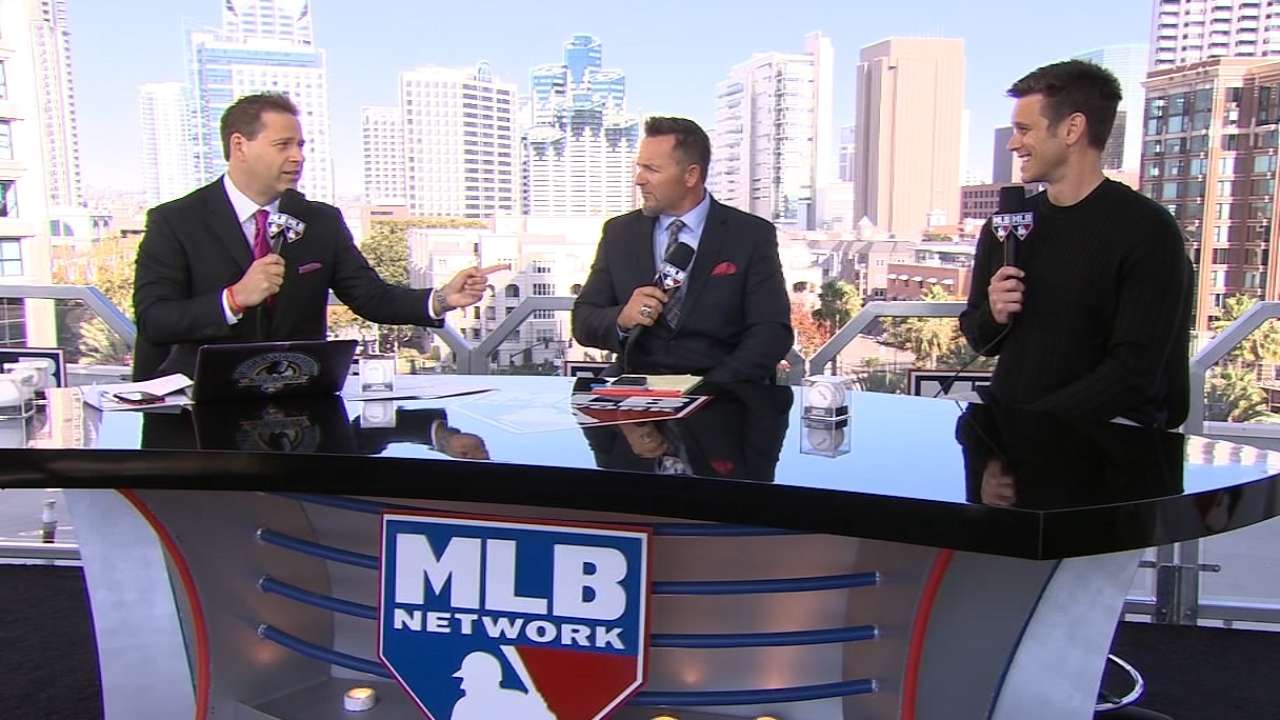 SAN DIEGO -- Angels general manager Jerry Dipoto isn't a headliner this time at the annual Winter Meetings.
After three years on center stage, he's been shuttled off to the side, not making many headlines, but making moves, just the same, that he feels will help the team make that next step toward a World Series championship.
"I'm happy to be in the position to tinker under the hood," Dipoto said. "We're looking for role players to fill out the roster. We feel our everyday team is in good shape."
So, from the free-agent signings of Albert Pujols to a 10-year, $240 million contract and C.J. Wilson to a five-year, $77.5 million deal three offseasons ago, Dipoto is busy this winter adding starting-pitching depth in Nick Tropeano and backup catcher Drew Butera.
Very excited to be with the @Angels and look forward to being a part of a great organization

- Drew Butera (@drewbutera) December 10, 2014
From adding to the Angels' offensive arsenal with the signing of free agent Josh Hamilton to a five-year, $125 million deal two years ago, this winter Dipoto is busy making waiver claims, knowing that as the team with the 30th and final opportunity to pick up a player on waivers he can get away with outrighting the players he claims to the Minor Leagues and not tie up a roster spot.
---
Winter Meetings action
Day 4: Dec. 11
Transaction
Official?
OF Matt Kemp
C Tim Federowicz
Traded to Padres
No
C Yasmani Grandal
RHP Joe Wieland
RHP Zach Eflin
Traded to Dodgers
No
OF Yoenis Cespedes
RHP Alex Wilson
Traded to Tigers
Yes
RHP Rick Porcello
Traded to Red Sox
Yes
RHP Ervin Santana
Four-year deal with Twins
No
LHP Mat Latos
Traded to Marlins
No
RHP Anthony DeSclafani
C Chad Wallach
Traded to Reds
No
RHP Justin Masterson
One-year deal with Red Sox
No
RHP Alfredo Simon
Traded to Tigers
Yes
RHP Jonathon Crawford
IF Eugenio Suarez
Traded to Reds
Yes
LHP Ross Detwiler
Traded to Rangers
No
OF John Mayberry Jr.
One-year deal with Mets
No
RHP Andre Rienzo
Traded to Marlins
Yes
LHP Dan Jennings
Traded to White Sox
Yes
From last year's trade with the Cardinals for third baseman David Freese and reliever Fernando Salas, and a three-team trade that brought left-handers Tyler Skaggs and Hector Santiago to the Angels compared to this year's he's signing Minor League free agent Jeremy McBryde and putting him on the 40-man roster.
This winter's more about the details than the headlines.
It's about building depth, looking for the pieces that can help a team that won 98 regular-season games avoid a Division Series elimination that brought a premature conclusion to the season.
And it's about not getting lax to maintain control of the division. The A's, who claimed a Wild Card spot last season, have sent mixed messages about whether they are ready to start rebuilding this offseason. The Mariners, however, have made it clear they are looking for ways to overtake the Angels, already signing the right-handed bat of Nelson Cruz and being linked to the pursuit of Melky Cabrera.
The Angels have a to-do list this winter, but it's not about plugging holes in the lineup, like the Mariners are hoping to do.
"What we have in place allows us to be creative in creating roster flexibility and depth," Dipoto said. "We are developing a farm system, but that doesn't happen at a snap of your fingers. It's a four-to-six year project."
The Angels, however, aren't in a mood to wait.
That farm system could be ready in another couple of years to help replenish not only roster depth but also key positions, and the Angels' current big league roster is built for now, not down the road.
Center fielder Mike Trout, 23, and right fielder Kole Calhoun, 27, are the only projected members of the starting lineup who are on the front side of 30. Pujols, who will be 35 at the start of Spring Training, is the elder statesman, which underscores the Angels aren't the over-the-hill gang but are climbing the slope.
And Dipoto said he is enjoying "tinkering" this year compared to the challenge of looking to fill major voids.
"No. 1, it is fun to win games, and I'll take 98 wins over 78 wins [in 2013]," said Dipoto.
And even though they haven't added any impact names, the Angels have reason to feel they will have a better talent level in 2015.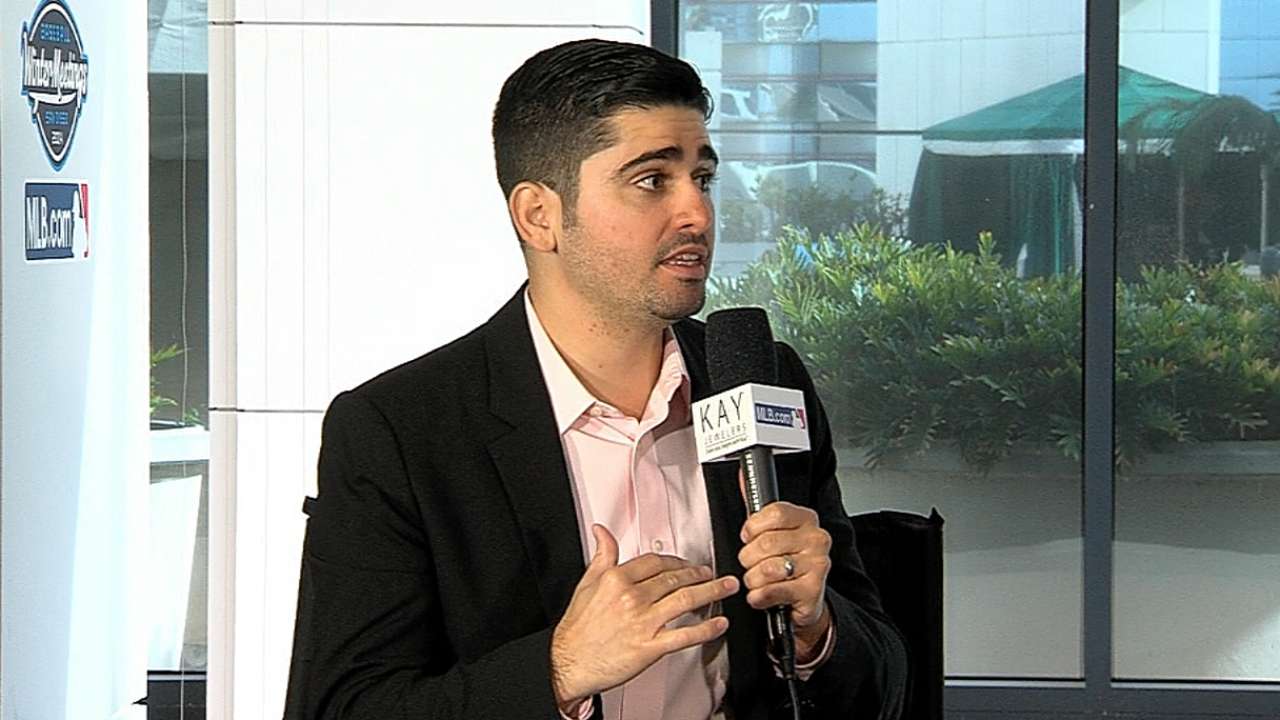 The keys are a healthy Hamilton for the lineup, and Skaggs and Garrett Richards for the rotation. Skaggs' season ended July 31, and Richards went down Aug. 20.
And a bullpen that was enhanced midseason with the acquisition of closer Huston Street from the Padres and onetime closer Jason Grilli from the Pirates to fill a setup need.
Hamilton appeared in only 89 regular-season games last season, and just five in September, with only one of those after Sept. 4. He was in the lineup for the three-game sweep by the Royals in the Division Series, but hadn't seen live pitching in nearly four weeks and was 0-for-13.
"Some of it is our fault," said Dipoto. "He tried to jump into the lineup [in the postseason] and help us out. He didn't really have a chance to prepare."
Hamilton hasn't had the type of seasons the Angels envisioned when they signed him, but he has hit .255 with 31 home runs and 123 RBIs in 240 games. It's not like his five-year run with Texas, where he hit .305 with 142 home runs and 506 RBIs.
"He has not been the Josh Hamilton, Ranger version, with the Angels, but he's still been solid," said Dipoto.
The Angels, they were even better than solid last season.
They weren't, however, good enough to win the second World Series championship in franchise history.
And that is what Dipoto is trying to find a way to accomplish this offseason.
Tracy Ringolsby is a columnist for MLB.com. This story was not subject to the approval of Major League Baseball or its clubs.