LA not dangling Gordon; Kemp deal not close
GM Zaidi says teams interested in all of Dodgers' outfielders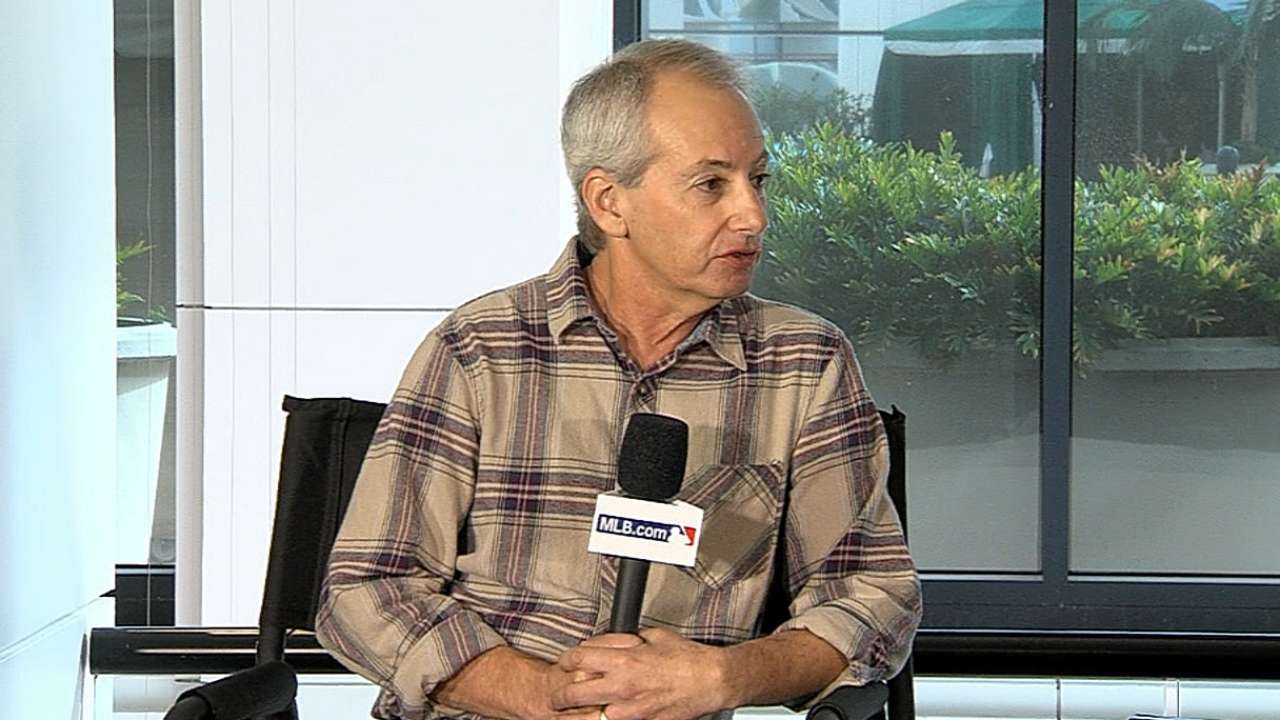 SAN DIEGO -- Dodgers general manager Farhan Zaidi dialed down the rumored immediacy of a Matt Kemp trade at the Winter Meetings on Tuesday, as well as cut down a rumor that the club is shopping All-Star second baseman Dee Gordon.
On the Twitter buzz that the Dodgers and Padres were furiously working on a trade of Kemp for catcher Yasmani Grandal and others, Zaidi said rumors that a deal was close "are not true" and he agreed that it was more wishful thinking on the media's part than reality.
"That's how I would characterize it," he said. "The most I will say is we're getting multiple hits on our outfielders. I think the information that's coming out there may be driven more by what people are hearing in snippets or what people want to believe we're willing to do than what we're actually willing to do."
In fact, Zaidi said the club is getting "multiple hits" on all main outfielders -- which would include Kemp, Andre Ethier, Carl Crawford and, presumably, Scott Van Slyke, Joc Pederson and Yasiel Puig, although there has never been an indication that Puig is available.
He said there is no timetable to a deal and the club wouldn't be disappointed if the outfield jam isn't solved by the end of the Winter Meetings on Thursday.
Zaidi also made clear that Gordon is not on the market, despite a published report that he was.
"He's a cost-controlled, All-Star second baseman that teams would have four more years of control, a tremendous player, and anybody like that, teams ask for," he said. "We're not dangling him. Like I said, he is our second baseman."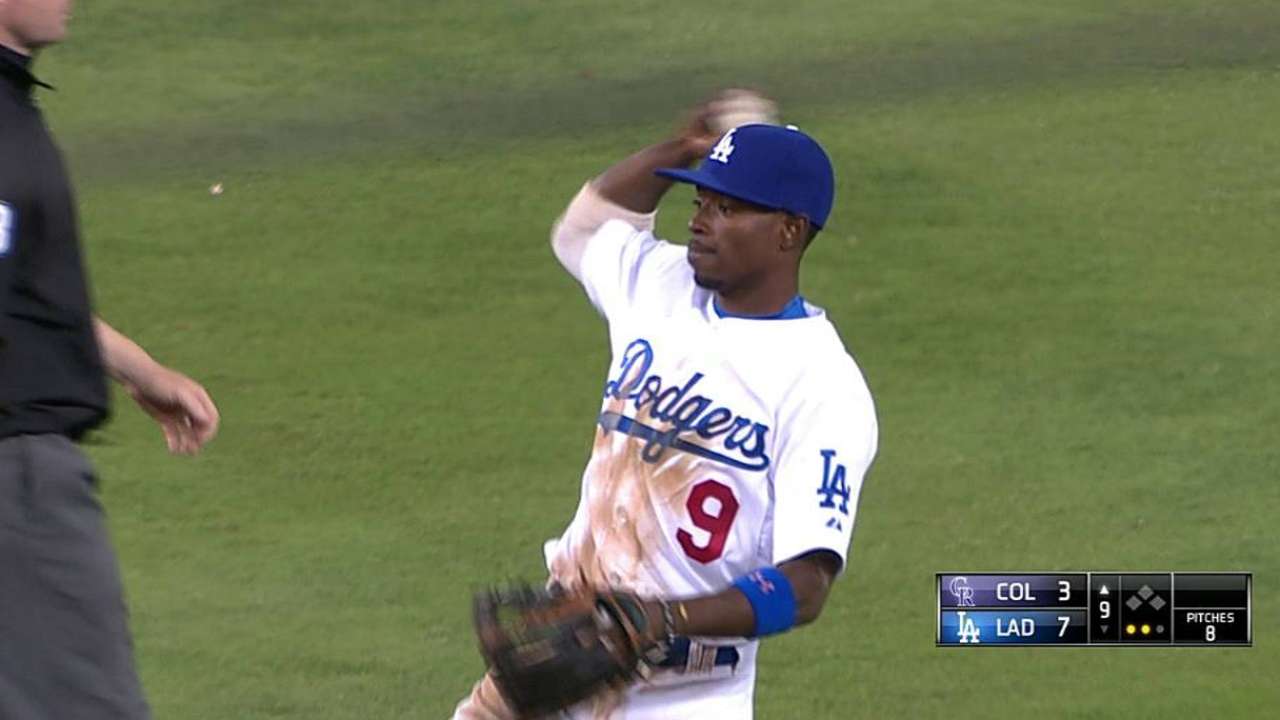 All that said, Zaidi said things were status quo from the day before -- meaning they still had an outfielder glut, still didn't have a starting shortstop, another starting pitcher, more offense behind the plate or another arm to bridge to closer Kenley Jansen. He wouldn't comment on free agent Jon Lester, although Lester has reportedly narrowed down the finalists to the Red Sox and Cubs and apparently the Dodgers never seriously pursued him.
The Dodgers now seem to be leaning toward acquiring a short-term upgrade at shortstop via trade or free-agent signing rather than stick with only internal options Justin Turner and defensive specialists Miguel Rojas and Erisbel Arruebarrena. In the case of the latter, whose offense is a work in progress, Zaidi said:
"With our expectations, the question is, do we have the time to let a guy figure it out?" he said. "You might need offense good enough to be a buffer for a young player. We're continuing to evaluate. The lineup isn't fixed."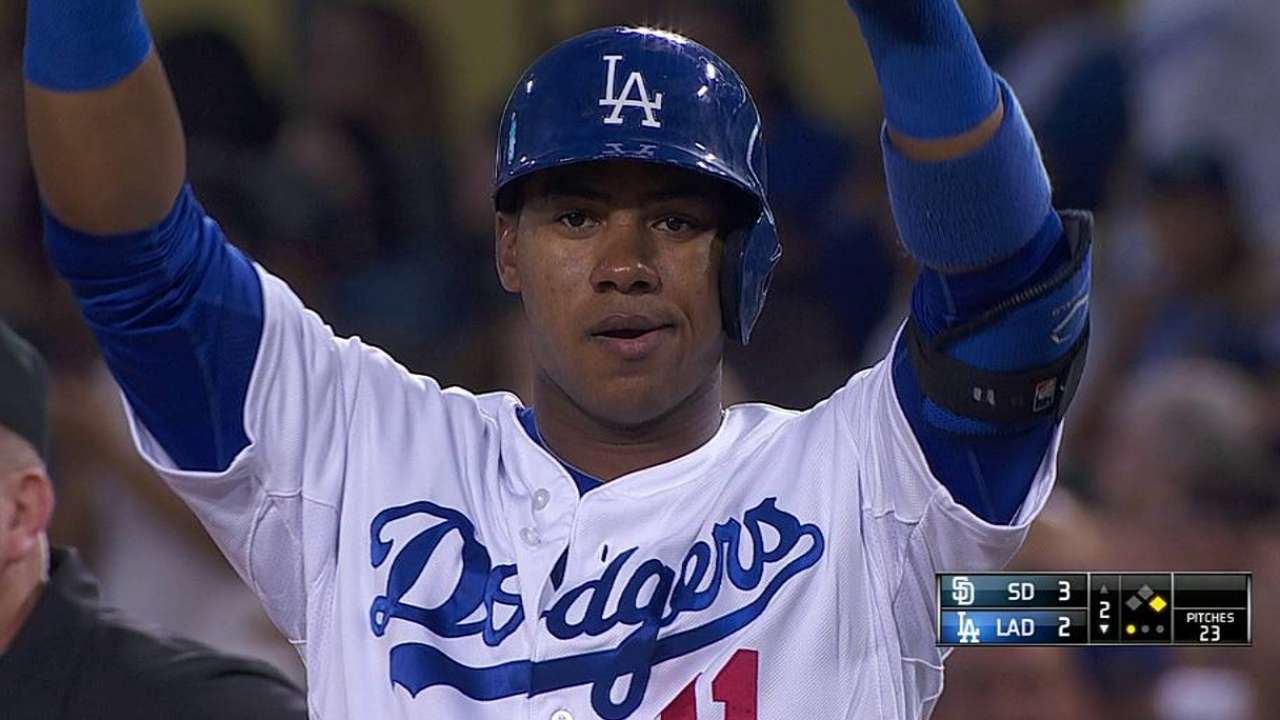 Zaidi said the preference was to not platoon at the position. An outside acquisition would need to have the versatility to step aside whenever top prospect Corey Seager is ready to take over. It probably wouldn't hurt if that acquisition could play third base, as Juan Uribe has one year left on his contract.
Zaidi said the club is willing to include a top prospect "in the right deal," which apparently wasn't the case with Seager, Pederson or Julio Urias at the Trade Deadline this summer.
"We're trying to create a long-term plan," he said. "Those sort of elite prospects are central to that. That doesn't keep teams from asking for that. In the right deal, sure, we would be willing."
Zaidi said the current trade market involves many three-way and four-way trade proposals that might be slowing things down.
Ken Gurnick is a reporter for MLB.com. This story was not subject to the approval of Major League Baseball or its clubs.