Dombrowski: No talks ongoing with Scherzer's camp
Tigers GM adamant club's position has not changed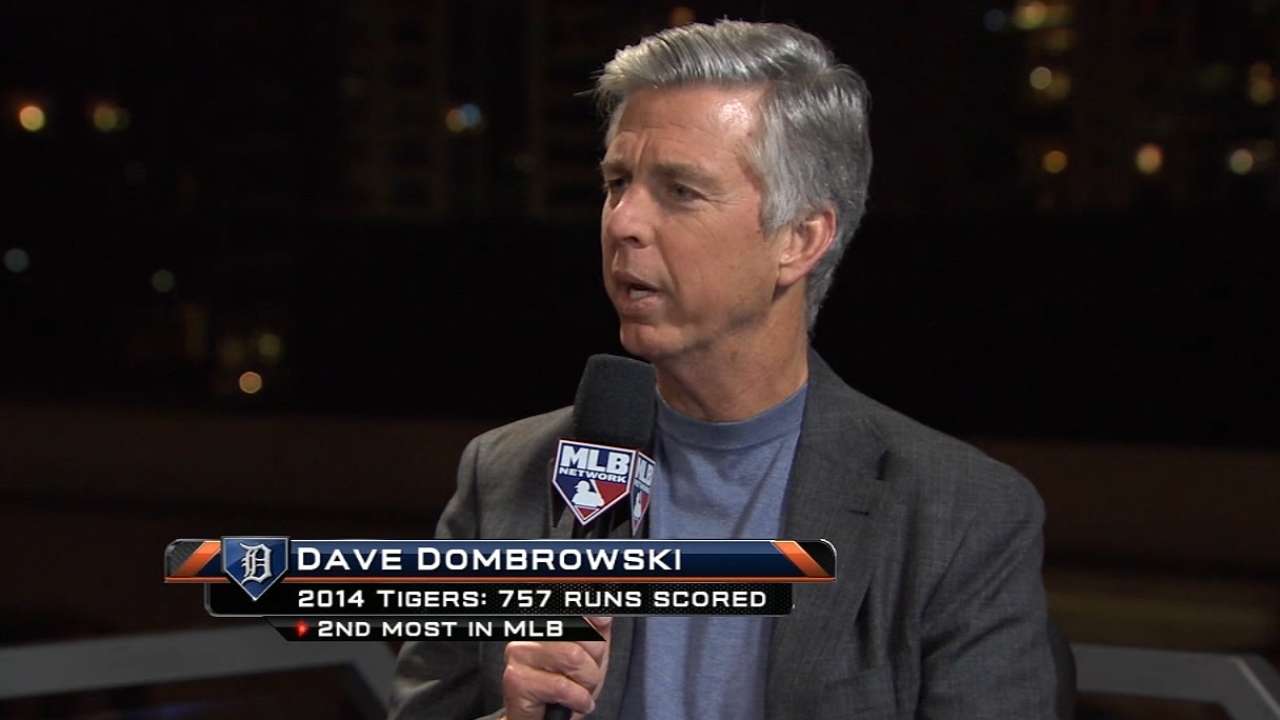 SAN DIEGO -- Maybe at some point this winter, the Tigers will end up re-signing Max Scherzer to a big contract. And if they do, it'll likely be for big money. For now, though, they're in the same spot as they were last week, with no negotiations going on.
"There's not one thing that's changed from the Detroit Tigers' perspective," Dombrowski said Tuesday from baseball's Winter Meetings. "Our situation has not changed. I'm not sure where various rumors start, but our situation has not changed whatsoever."
The rumor he referenced came from ESPN's Buster Olney, who tweeted Tuesday morning that the Tigers' focus was on retaining Scherzer. Moreover, the report followed, they'd be prepared to spend "big, big dollars" to do so.
"I don't know where he got that from. That's not accurate," Dombrowski replied. "I'm not sure where it comes from, how it comes. I know it didn't come from this room, but that's not accurate."
Dombrowski went on to say that "we're really not seeking starting pitching," and that Scherzer's situation won't hold up other needs they're trying to fill.
It doesn't necessarily mean the Tigers are out on Scherzer. Dombrowski has never eliminated the possibility of bringing him back, even while saying his team has five starters that it likes. Any thought that the Tigers might be making progress toward that, however, seems to be premature.
"I can 100 percent guarantee you that our situation has not changed whatsoever," Dombrowski continued. "We've had no further conversations as far as negotiations since Friday, or increase in offers. I can't say that anybody hasn't talked to anybody from their organization or if they've reached out to us, but our situation has not changed at all. We're very happy with our starting staff as we sit here right now."
If things are the same as last week, so is the belief that Scherzer's situation will take a while to play out. With fellow free-agent starter Jon Lester seemingly on the verge of a decision -- Lester reportedly agreed to a six-year, $155 million contract with the Cubs late Tuesday night -- there's every reason for Scherzer and agent Scott Boras to wait for Lester to sign. Beyond setting the market, it would allow teams that lose out on Lester to debate whether to pursue Scherzer.
Dombrowski reiterated last Friday that while the Tigers are open to bringing back Scherzer, their chances of doing so were better in Spring Training, when they had exclusive negotiating rights as opposed to bidding on an open market. The Tigers made an offer in March, reportedly worth six years and $144 million. Scherzer made it clear he wanted to play through the season and revisit negotiations in free agency.
Dombrowski has not answered whether that deal remains on the table.
Fox Sports reported Tuesday evening that Scherzer and Boras are seeking a $200 million contract, a threshold only Clayton Kershaw has crossed among pitchers in Major League history.
Jason Beck is a reporter for MLB.com. Read Beck's Blog and follow him on Twitter @beckjason. This story was not subject to the approval of Major League Baseball or its clubs.