Maddon eager to lead underdog Cubs
New manager curious about how he'll handle abundance of day games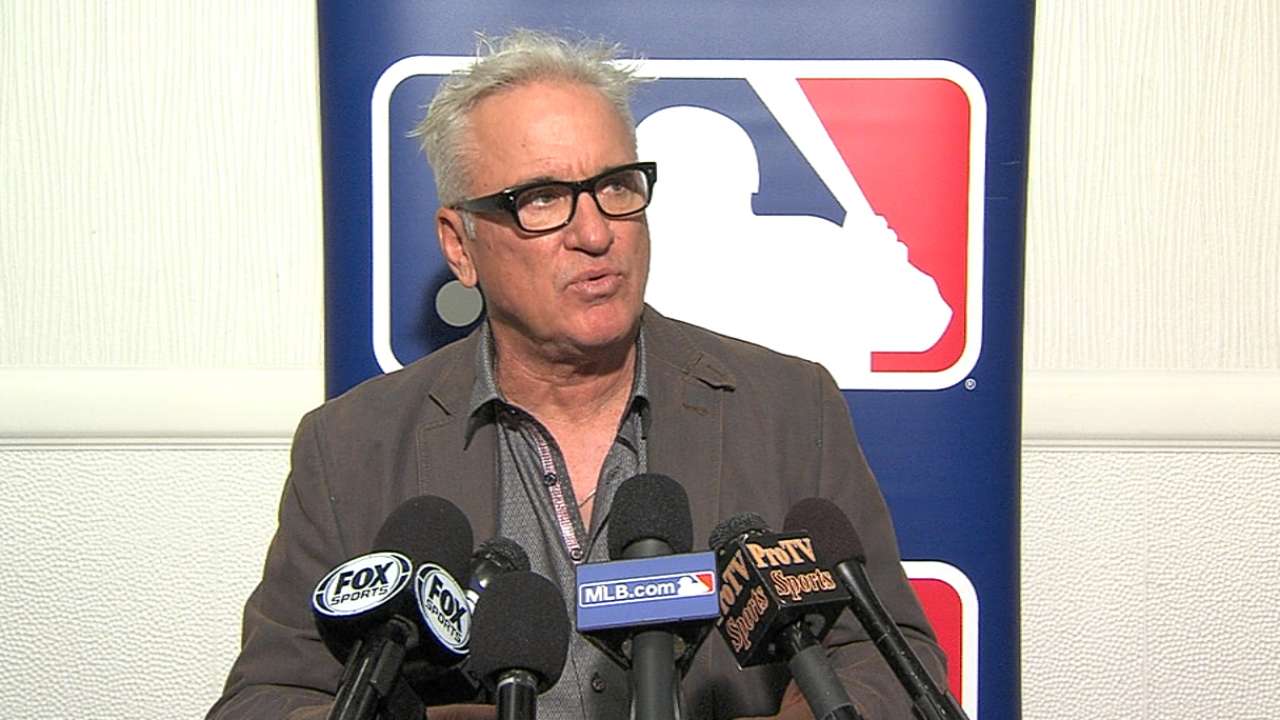 SAN DIEGO -- Joe Maddon was walking around Times Square in New York last month when he saw people inside a restaurant pounding on the windows, trying to get his attention. They were Cubs fans, and they wanted to say hello to the new manager.
Maddon is enjoying the buzz from his new job. He's also learning some things about being a Cub. For example, day games.
"The thing I'm eager and curious about is to figure out this day-game stuff and how to keep people fresh," Maddon said during his media session at the Winter Meetings on Tuesday. "Three o'clock Friday afternoon [start] -- what does that mean? I don't know what that means or feels like over the course of a season."
He's hoping bench coach Dave Martinez, who played for the Cubs, can help him adjust to the strange schedule.
Then, there's the cramped dugout at Wrigley Field. Maddon knows what it's like on the visitors' side, having managed there in August during an Interleague series between the Rays and Cubs.
"For me, to manage a game, I want to be up and out so I can feel everything," Maddon said. "I don't like the feeling of being in a dugout and sequestered and all of a sudden you walk out and something's going on and you feel all this stuff going on from behind."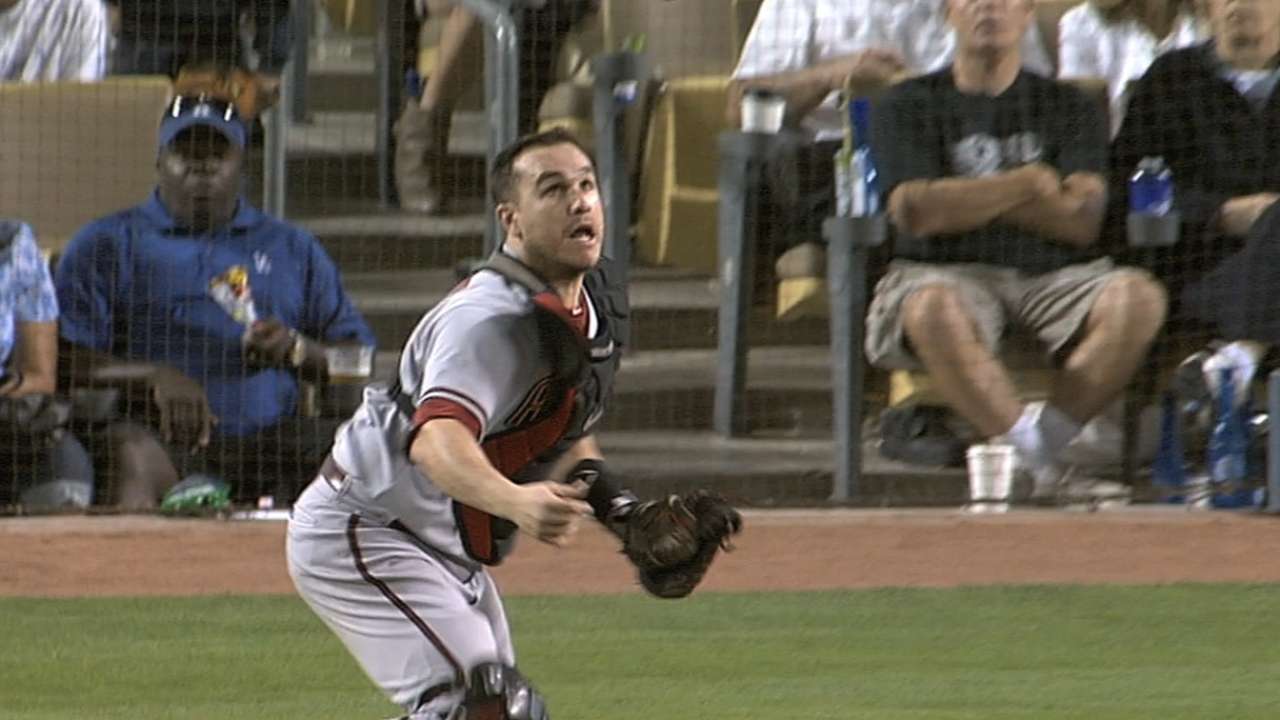 During the August series, he had an ongoing conversation with the Wrigley Field fans during the games and was impressed by the feedback.
Maddon admits to being a Cardinals fan growing up -- "I know the Cubs people are going to hate me for that," he said -- and the Pirates were his second team as a kid.
Now, Maddon's rooting for the underdog Cubs, and feels he's in a similar situation as he was with the Rays.
"Who doesn't love the underdog?" Maddon said. "I still have to believe the Cubs have to be considered somewhat of an underdog not having been in the World Series in such a long time. You like to beat the boys from the big city, there's no question about that, and now you're in the big city.
"From my perspective as a human being growing up, and being in this industry, it's kind of interesting to see what I think from this side, because I don't know what I think," he said. "I do like urban, I love the city, I want to live downtown, I want to meet the people. It goes beyond the actual going to this beautiful ballpark with this wonderful organization. It's also embracing the city and living in the big city."
Maddon still lives in Tampa, where he recently opened an Italian restaurant, Ava. And it's still baseball. If fans are curious to see if Maddon's approach in a small market works in Chicago, well, so is he.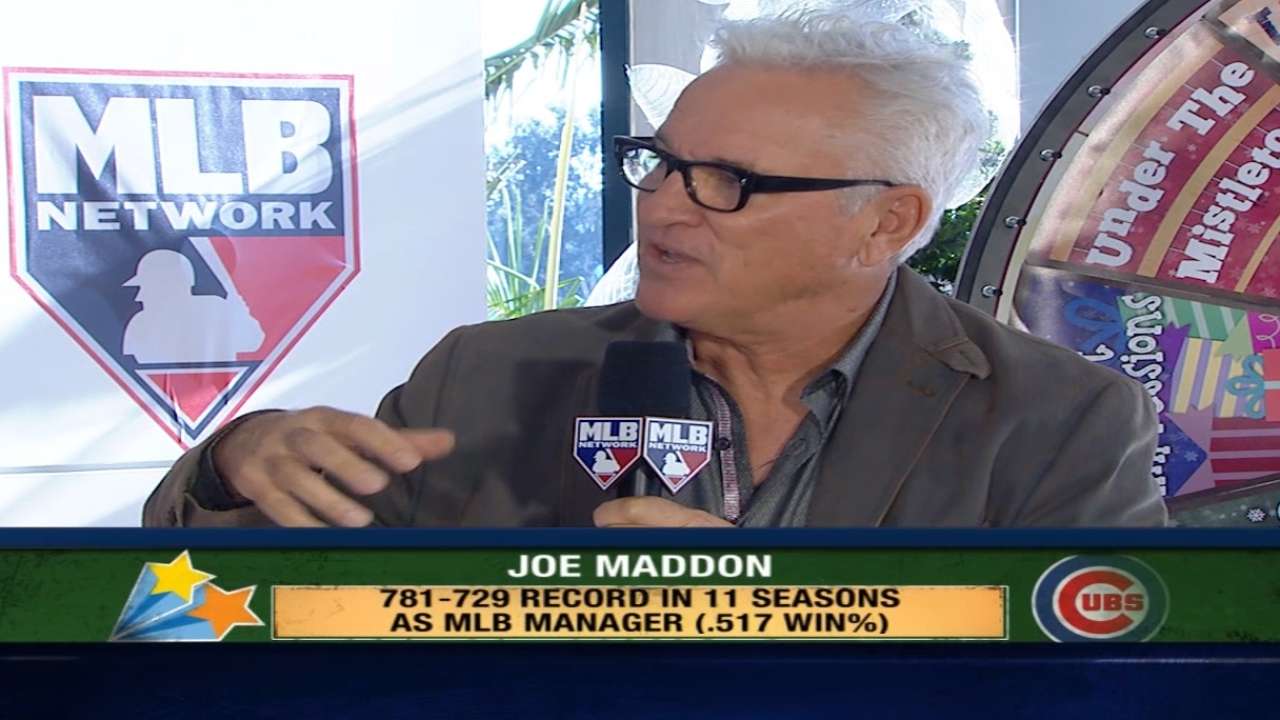 "I know there are going to be bad moments, I know it's going to be tough, I know there will be bad losing streaks," he said. "Everyone will go crazy, and that's cool -- that's what fans are supposed to do. At the end of the day, if we just keep sticking to the program and believe in what we're doing, eventually we'll come out on the other side and there will be a nice run there."
He's been reunited with Theo Epstein and Jed Hoyer, who interviewed Maddon for the Red Sox job prior to the 2004 season. At that time, Maddon bought a new suit at Men's Wearhouse for the occasion. They discussed how he would use the bullpen, relate to the media, use his lineup.
"By the end of the day, I felt I knew them pretty well, and I think they knew me at that time pretty well, too," Maddon said of the two executives. "And it stuck. It stuck that these are guys I could work with and for. Now I'm seeing them again, and it's almost like no time had passed. It's almost like one of those weird moments."
Of course, this time, the interview was done in Maddon's recreational vehicle, Cousin Eddie, in a park near Pensacola, Fla. The three talked for about six hours.
"You know the brightness, you know the passion, the planning -- it was all validated," Maddon said of Epstein and Hoyer, now the Cubs' president of baseball operations and the general manager, respectively.
"What it comes down to is moving from a wonderful situation to another one, and the real reason is because you are aligned and you know you can work together," he said.
Carrie Muskat is a reporter for MLB.com. She writes a blog, Muskat Ramblings, and you can follow her on Twitter @CarrieMuskat. This story was not subject to the approval of Major League Baseball or its clubs.