Choo uses Legos to bond with Korean-American youth
Rangers outfielder thrilled to give back to community during holiday season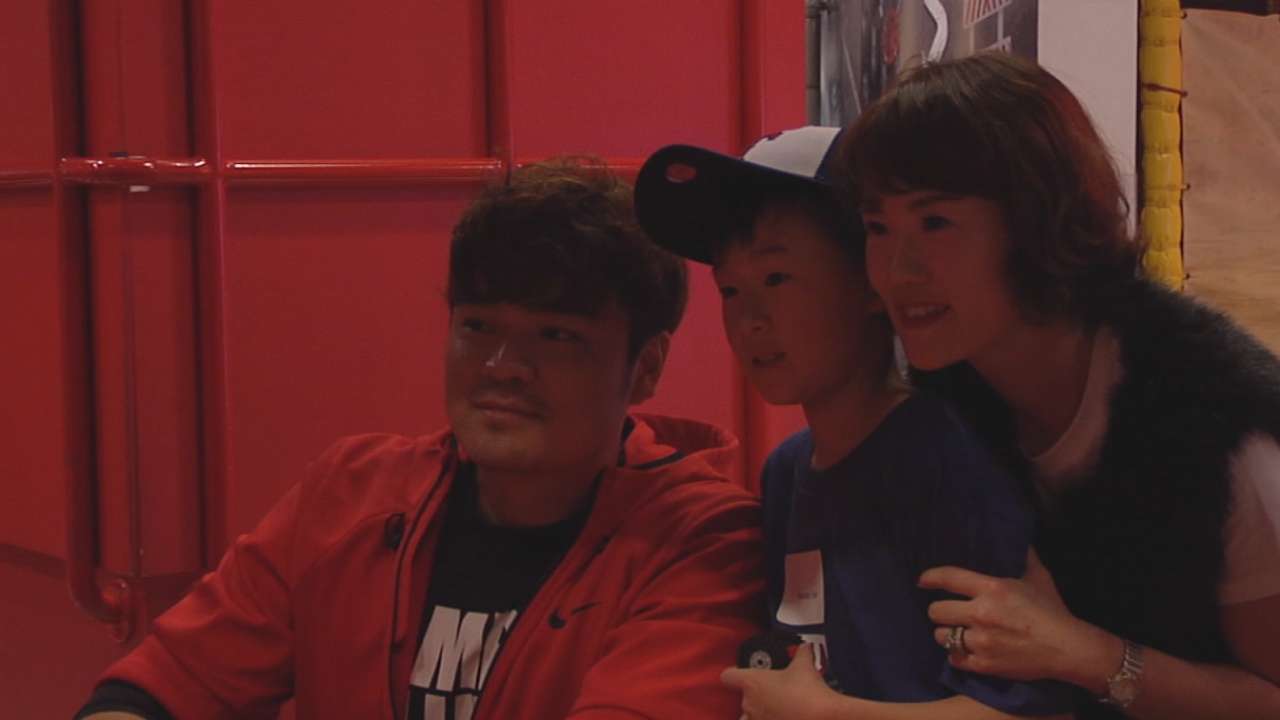 GRAPEVINE, Texas -- A group of Korean youngsters found themselves in Lego heaven Tuesday afternoon at the Legoland Discovery Center at Grapevine Mills Mall.
Oh, Rangers outfielder Shin-Soo Choo was there, too.
Choo, giving back to the Korean community in the Dallas/Fort Worth area, hosted several children for a couple hours at Legoland. The youngsters participated in several activities, including the Factory Show, where they learned how Legos are made, and the Kingdom Quest ride. They had a Lego build hosted by a Master Model Builder and pizza and refreshments.
They also got the rare opportunity to meet Choo, who was there with his wife, Won Mi Ha, and his children: sons Alan and Aiden, and daughter Abigail.
"It was great meeting someone famous," said Nathan Cho, a fourth-grade student from Flower Mound, Texas.
The children -- who were there with parents -- were just as enamored with the Legos as they were with being up close to a professional baseball player.
Choo presented each youngster with an autographed ball, Choo T-shirt and bobblehead, a Rangers backpack and a $25 gift card for the Legoland retail shop.
"I have three kids and I always try to do something to have fun, especially during the offseason," Choo said. "The second thing is my kids like Legos. I try to make everybody happy especially with Christmas coming up soon, and that's why we have this event. Lego helps a lot, so I really appreciate that."
Choo got right in the middle of the action, building race cars out of Legos with the children and watching as they raced the cars on a track. He also posed for photos next to a model of Globe Life Park in Miniland, which showcases several Dallas/Fort Worth landmarks and the skylines of both cities.
Joseph Yoon was among the 20 students from the Korean School Association who got up close to Choo, a moment he won't soon forget.
"I liked talking to him and meeting him," said Yoon, also a fourth-grade student from Flower Mound.
The Korean Amateur Sports Association of Dallas partnered with Choo on the event. Most of the children go to standard U.S. schools but also attend weekend Korean schools that teach language, culture and traditions to younger Korean-Americans.
Choo said it is important for him to give back to the Korean community.
"I was young growing up in Korea, and I didn't make the Major Leagues by myself," Choo said. "My parents helped me and supported me a lot and a lot of people outside [my family] supported me. A lot of Korean people have [supported me]. It's a good time to share with people, especially in the Texas area."
Choo took time off from his busy schedule, which includes rehabbing his left ankle after offseason surgery. He said his rehab is going well.
"I can feel it getting better," Choo said. "I can't wait for the 2015 season. My focus is to stay healthy."
Todd Wills is a contributor to MLB.com. This story was not subject to the approval of Major League Baseball or its clubs.