Blue Jays taking deliberate approach at Meetings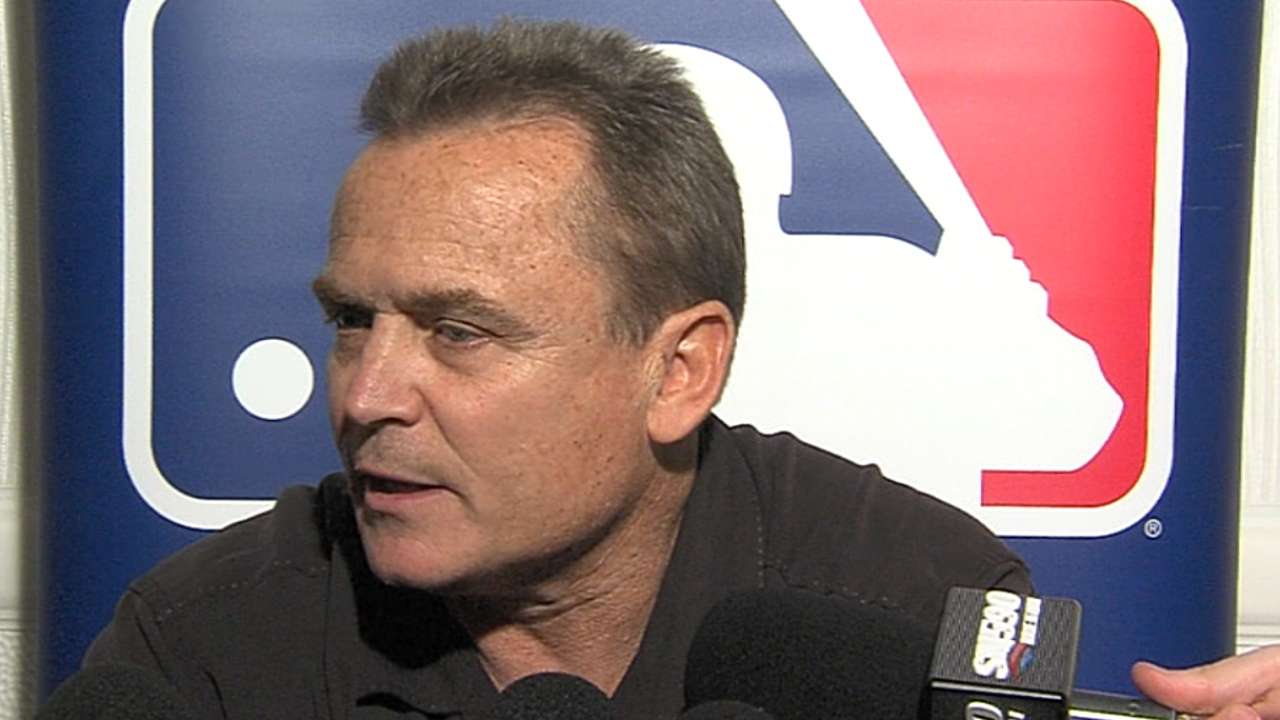 SAN DIEGO -- Blue Jays general manager Alex Anthopoulos arrived at the Winter Meetings earlier this week with the goal of improving his bullpen, and that remained the focus as the annual event hit the midway point on Tuesday.
Toronto has yet to make any major moves while visiting Southern California. The Blue Jays claimed first baseman Chris Colabello off waivers from the Twins and reportedly hired Dane Johnson as the new bullpen coach, but upgrades in the bullpen have been lacking.
That shouldn't be entirely surprising because historically Anthopoulos gets most of his work done either before or after the Meetings. That could be the case again this year as he admitted not much has changed since he arrived in San Diego.
"I think we're at the same place," Anthopoulos told a group of reporters on Tuesday. "You get more information when you're down here, but I don't know that anything has changed from before we left. Maybe some guys have signed or been traded in terms of the landscape, but in terms of what we're trying to do, we're not any closer to doing anything than we were before we left."
The market for relievers was slow to develop but there has been some movement in recent days. Left-hander Andrew Miller signed a four-year contract worth $36 million with the Yankees late last week and the White Sox came to terms with closer David Robertson on Monday night.
That took the top two free-agent relievers off the board, and while there likely was some interest from Toronto, both pitchers got contracts that were well beyond what the Blue Jays were comfortable with. The logical assumption has been that Toronto would focus most of its attention on the second tier of relievers and most of those pitchers are still without contracts.
The list of available options for the Blue Jays is quite long. Pat Neshek and Luke Gregerson have been linked to Toronto over the past couple of weeks, but others such as Francisco Rodriguez, Sergio Romo, Rafael Soriano, Jason Grilli, Kyle Farnsworth and Joba Chamberlain also are on the open market.
The one thing the Blue Jays can offer that a lot of other teams can't is a shot for an incoming reliever to compete for the closer's job. That might be enough to convince some relievers to sign with Toronto, but not necessarily the ones who are looking for long-term deals.
"I do think at the end of the day it comes down to the dollars and the term," Anthopoulos said. "I think if all things are equal, that can help. I think it's actually more valuable if you're doing a shorter-term deal. Someone's looking to re-establish themselves, looking to do a one-year deal, you have that spot available.
"If someone's getting a multiyear commitment at significant dollars, most times it will come down to the contract. If all things are equal, maybe [closing is] something they would choose."
The problem with trying to improve a bullpen is that relievers often are very unpredictable. Anthopoulos has been talking for years about how volatile the position is and he also came to experience that first hand during each of the past two seasons. In 2013, Toronto's bullpen was supposed to be a major weakness and it instead turned into a major strength. This year, it was the opposite.
There are very few relievers in the game that can be trusted on a multiyear contract. That's why a short-term deal would be preferable for the Blue Jays, but the market ultimately will dictate how many years and dollars some of these pitchers will be able to get. Weighing the pros and cons of each move will be one of Anthopoulos' most difficult tasks this offseason.
The Blue Jays use a wide variety of tools to predict how a reliever might perform but no matter what happens the move will always be a gamble.
"You look for some predictive value, scouting reports, analytics and so on but it's probably the most volatile position that there is," Anthopoulos said. "I think that's why some people philosophically are opposed to the length to some of these deals because of the volatility of it. There are some guys that are consistent and those are the ones who normally get paid.
"It certainly makes it very challenging, but all 30 clubs are dealing with the same things and you do your best. You look at the health components, you look at someone's file, you certainly look at the scouting report stuff. You try to put all of those things together, the makeup, the character, how they take care of themselves and also the way they're used can be a big predictor as well. You factor all of those things in but it's certainly not easy."
Gregor Chisholm is a reporter for MLB.com. Read his blog, North of the Border, and follow him on Twitter @gregorMLB. This story was not subject to the approval of Major League Baseball or its clubs.