Rangers willing to part with prospects in 'right deal'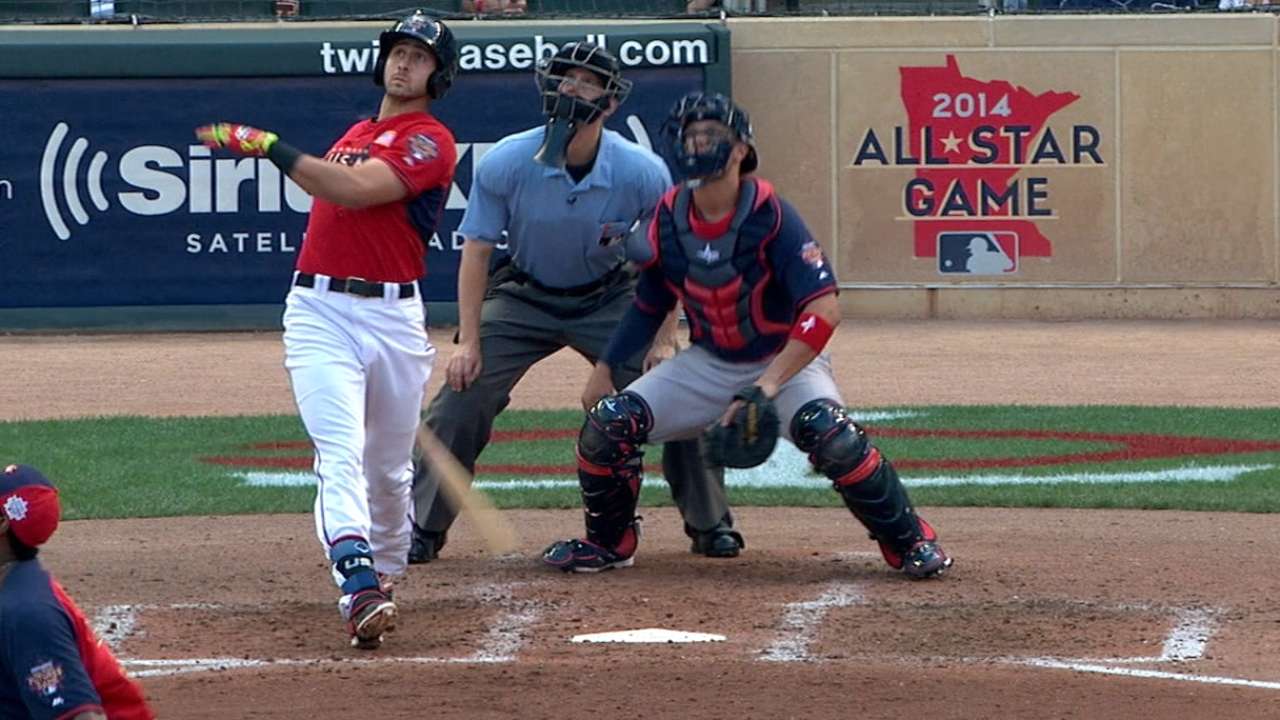 SAN DIEGO -- Jon Daniels said the Rangers' farm system is "deeper" than it has ever been since he became general manager.
"It's deep and also strong at the upper levels," Daniels said. "Those guys are close."
Other clubs have also recognized the strength of the Rangers' system. That's why, as the Rangers explore ways to add starting pitching, they keeping getting asked about third baseman Joey Gallo (Texas' No. 1 prospect, according to MLB.com), catcher Jorge Alfaro (No. 2) and pitcher Alex Gonzalez (No. 5).
The Reds brought up Alfaro when the Rangers talked to them about starting pitchers Mike Leake, Mat Latos and Johnny Cueto. The Braves are enamored with Gonzalez and want him in any deal that would involve catcher/outfielder Evan Gattis.
The Rangers' willingness to put one of those players in a deal could determine whether they can pull off a trade at the Winter Meetings. So far, officials from other clubs suggest the Rangers aren't willing to do so. Daniels suggested that's not necessarily true, but it is clear that it's not high on his priority list.
"It is all about the right fit," Daniels said. "Some guys we are less likely to move than others. It's got to be the right deal. It's got to be the right fit."
Daniels scoffed at the notion he is being too obstinate about trading his top Minor League prospects.
"I laugh, because you're not willing to trade these guys, and then you get criticism, because you trade too many of these guys," Daniels said. "Apparently, we're guilty of both."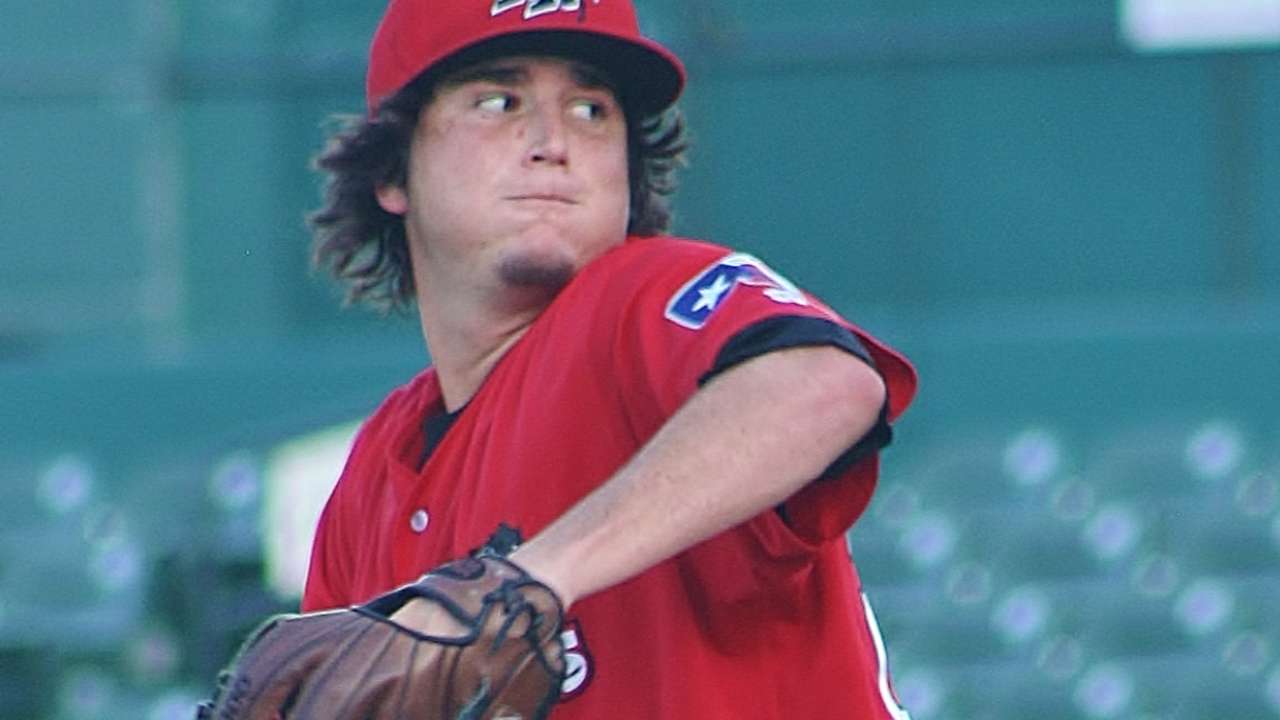 The Rangers also are being asked about pitchers Luke Jackson (No. 3), Jake Thompson (No. 6), Jerad Eickhoff and Alec Asher (no. 13), and outfielders Nick Williams (No. 4), Lewis Brinson (No. 8) and Nomar Mazera (No. 10).
"Our development staff and Minor League coaches have done a great job," Daniels said.
Daniels may be willing to deal prospects, but he remains leery about including them in a deal for one of the many starting pitchers who are available but also can be free agents at the end of the season. Leake, Latos and Cueto are in that group, along with Jordan Zimmermann of the Nationals, Ian Kennedy of the Padres and Yovani Gallardo of the Brewers.
The Rangers have made it clear they prefer pitchers who will be around for at least two years, which is why they have talked to the Padres about Tyson Ross and Andrew Cashner, the D-backs about Wade Miley, and the Mets about Dillon Gee and Jon Niese.
The Rangers have a rotation right now that includes Yu Darvish, Derek Holland and Colby Lewis. That leaves Nick Martinez, Nick Tepesch and Lisalverto Bonilla competing for the last two spots unless the Rangers can land one more starter.
But the Rangers also know that Asher, Eickhoff, Jackson, Thompson and Gonzalez could all be ready to step into a Major League rotation at some point next season.
"We have a number of guys at Double-A or higher that are capable of starting in the big leagues," Daniels said. "You need a number of them, because they are all not going to reach their potential."
It's a strong position, but the Rangers remember what happened last season. Other clubs also understand the importance of stockpiling pitching.
"To the extent you can get quality guys, you'd ideally like to have them stacked from the Major League rotation all the way through [Class] A ball," Indians general manager Chris Antonetti said. "Practically, that's extraordinarily difficult to do. Most teams go through eight or nine starters during the course of a season. Some teams go upwards as high as 15 or 16 starters.
"When you get to that point, there's no way you can plan for it. What happened to the Rangers last year, that's not something you can plan for. When you have that many injuries, that magnitude and the sheer number of them, no matter what you do in an offseason, or even during the course of the season, that's impossible to have that many quality options."
Daniels said he has also made offers to some free-agent pitchers and estimated that 75 percent of his time has been spent pursuing pitching.
"We have made some proposals and gone back and forth with people," Daniels said. "We've probably had more advanced discussions than others, but there are no shades of gray. You either have a deal or you don't."
Daniels said the Rangers would also like to add a veteran reliever to the bullpen, someone who could do what Jason Frasor did the past couple of years.
"We like a lot of those arms, but not everyone is going to do exactly what they are capable of doing," Daniels said. "We feel we can put together a good bullpen with what we have in-house. But it's always good to have competition."
T.R. Sullivan is a reporter for MLB.com. Read his blog, Postcards from Elysian Fields, and follow him on Twitter @Sullivan_Ranger. This story was not subject to the approval of Major League Baseball or its clubs.