Cashman stands by bullpen as Yanks look forward at Meetings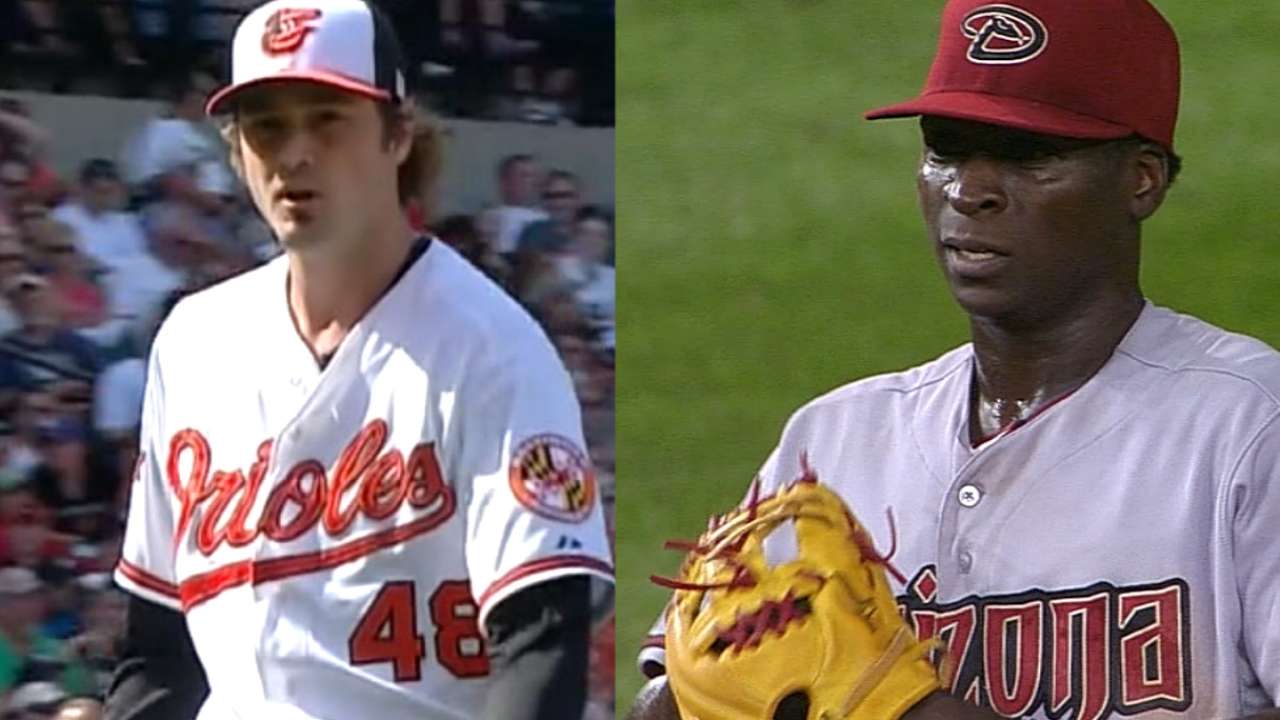 SAN DIEGO -- The Yankees don't mind tossing verbal bouquets in David Robertson's direction, but those kind acknowledgements of past service were all the club decided to offer, choosing instead to march forward with both Andrew Miller and the promise of a future prospect.
Shortly after general manager Brian Cashman informed agent Scott Leventhal that the Yankees would not make a contract offer, Robertson agreed to a four-year, $46 million deal with the White Sox. That will entitle New York to an extra selection between the first and second rounds of next year's First-Year Player Draft.
"The Miller acquisition with the Draft pick was the best route, we think, moving forward, regardless of how great Robertson has been as a setup man and a closer this past year," Cashman said. "It might not be the popular decision, but I think it's the best one."
Robertson secured 39 of 44 save chances this past season with a 3.08 ERA, and the Yankees were willing to have him back on a one-year, $15.3 million deal, hence the qualifying offer. Discussions never got to a stage where longer terms were exchanged between the club and the player.
Nor was it ever a thought to sign both Miller and Robertson, Cashman said. It was curious that the Yankees spent the weekend posturing as though they were still in on the Robertson talks, and Cashman explained that as a final parting gift for the hurler.
"I wanted him to maximize his free-agent value, to be honest," Cashman said. "Not that he needs any help from me, but I felt it was in his interest to have the Yankees still in it."
Yankees executives gave serious thought to the quick rises of left-hander Ian Clarkin and outfielder Aaron Judge, who were scooped up in the 2013 Draft after the team made qualifying offers to Nick Swisher and Rafael Soriano. Clarkin and Judge are now rated as two of the Yanks' better prospects.
"Once we got Miller at a lesser number [four years at $36 million] than it would have cost to retain Robertson, it felt like the smart play would be to take the pick," Cashman said.
Robertson's departure leaves the Yankees with only four remaining players from the '09 World Series club: Brett Gardner, Alex Rodriguez, CC Sabathia and Mark Teixeira. More importantly, it has the Yankees operating for the moment without a set closer.
Miller and All-Star Dellin Betances figure to provide a strong combination in the back end of the bullpen, but they also own just two big league saves between them. Lefty Justin Wilson, acquired from the Pirates last month, presents an additional late-inning option.
It is possible, Cashman said, that the Yankees will pursue another reliever with closing experience. Jason Grilli and Sergio Romo are among the free agents who fit that bill, or the Yanks could make a trade.
One name worth keeping in mind is the Phillies' Jonathan Papelbon -- no great fan favorite in the Bronx -- but he has openly talked about wanting to be traded to a contender. Philadelphia likely would cover part of his $13 million salary for 2015, and yet Papelbon has garnered little trade interest.
"I'm open to things that are workable, but there are a lot of things that we're pursuing," Cashman said. "I'm not in a position to declare or determine if our closer currently exists on this roster. We're interested in collecting as many assets as possible."
On that front, the Yanks arrived at the Winter Meetings prioritizing pitching -- both for the rotation (they did reach out to the Athletics about Jeff Samardzija, but Oakland didn't see a match) and the bullpen.
Asked specifically about getting involved with a big-ticket free agent like Lester, Max Scherzer or James Shields, Cashman said, "It's not in my best interests to say."
They also remain in contact with infielder Chase Headley. Cashman declined to say if the money saved by choosing Miller over Robertson could be used to secure a player like Headley, who is thought to also be fielding interest from the Marlins and Giants.
San Francisco was pausing their pursuit of Headley until getting a final answer from Lester, learning late on Tuesday that they were out. If Lester chooses between the Cubs and Red Sox, that should open up the logjam for Brandon McCarthy and Headley, among others.
"We'd like to do some quality business, when and if it presents itself," Cashman said. "Believe me, we've thrown a lot of ideas, they have yet to be accepted, and I've had a lot of ideas thrown at me that I have yet to accept. That doesn't mean we can't get something done tonight or tomorrow, but no guarantee we get anything done this week either."
Bryan Hoch is a reporter for MLB.com. Follow him on Twitter @bryanhoch and read his MLBlog, Bombers Beat. This story was not subject to the approval of Major League Baseball or its clubs.