Potential deal for Kemp not imminent
Padres open to many scenarios for improving offense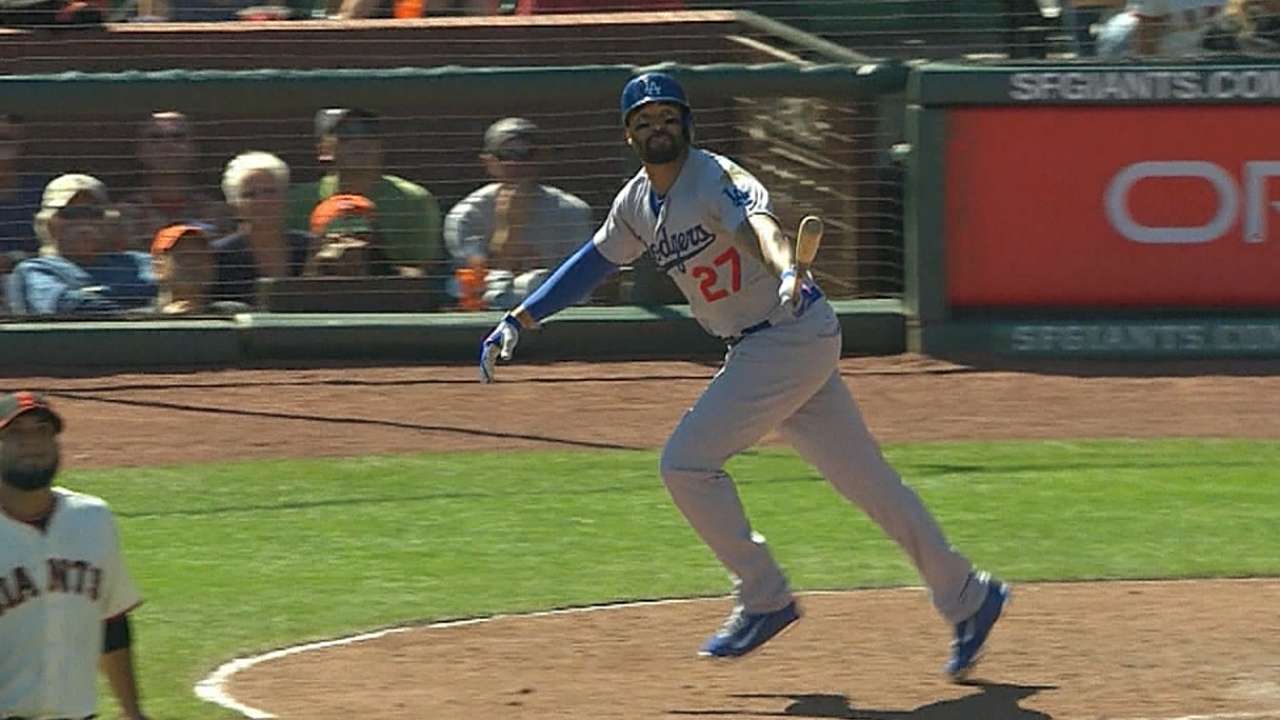 SAN DIEGO -- You can pump the brakes on fitting Matt Kemp for a Padres jersey, as the Dodgers slugger isn't headed to San Diego just yet.
Los Angeles general manager Farhan Zaidi would not characterize a deal with the Padres as "close" and told reporters Tuesday at the Winter Meetings that it was more wishful thinking on the part of the media than reality.
"That's how I would characterize it," Zaidi said. "The most I will say is we're getting multiple hits on our outfielders. I think the information that's coming out there may be driven more by what people are hearing in snippets or what people want to believe we're willing to do than what we're actually willing to do."
That doesn't mean a deal between the Padres and the Dodgers for Kemp is less likely, a baseball source told MLB.com. It just means it wasn't going to happen Tuesday.
San Diego general manager A.J. Preller, tight-lipped as usual, wouldn't budge when pressed for specific negotiations with teams or even agents. He was asked if the team was close to reaching a deal of any sort.
"We're still progressing through conversations. I think it's been a productive 24 hours in getting a better sense of what might be realistic and some other things that we've got to move past that might not work out and go from there with it," Preller said.
An online report earlier Tuesday indicated the Dodgers and Padres were "working hard" to complete a deal with Kemp being the key cog.
If the two sides can reach an agreement, the Dodgers would likely receive catcher Yasmani Grandal and possibly two Minor League players in return.
Right-handed pitcher Zach Eflin, the 33rd overall Draft pick in 2012, might be a consideration. Eflin, a 20-year-old righty, is 17-14 with a 3.41 ERA in his first 50 professional games (49 starts) and would pitch in the Double-A Texas League next season.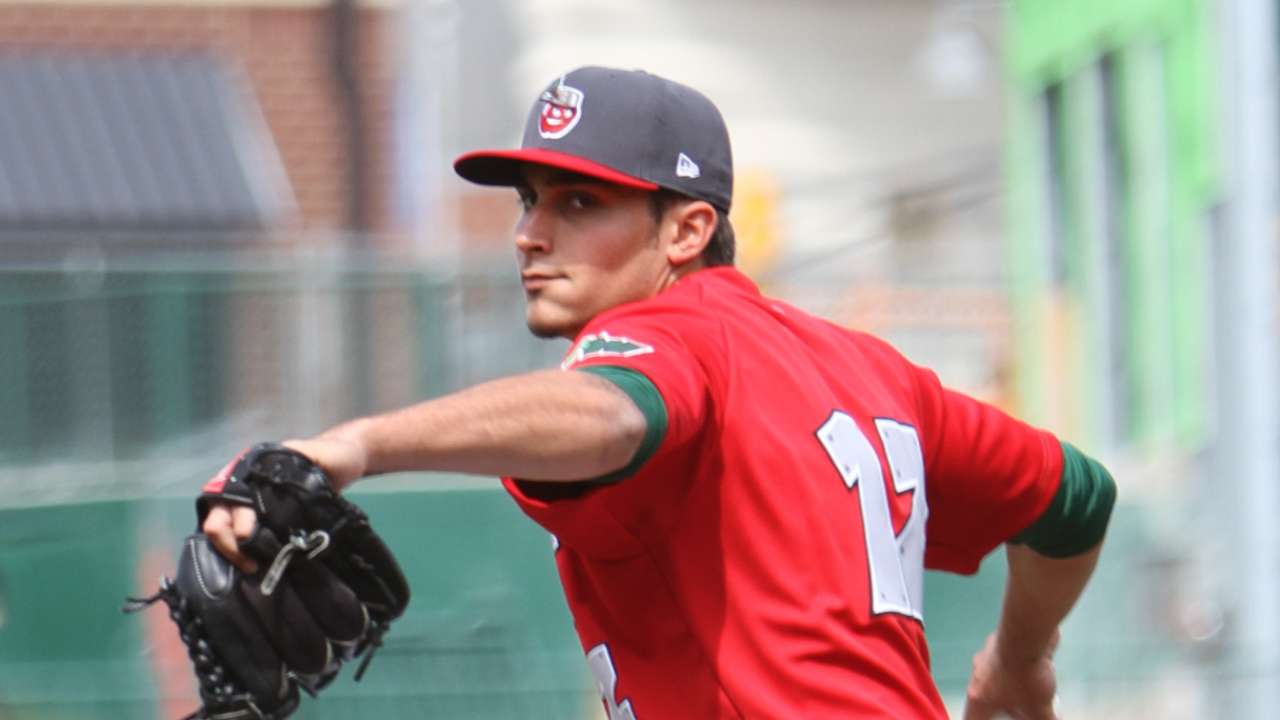 Joe Ross, the younger brother of Padres All-Star pitcher Tyson Ross, could be a consideration as well. Joe Ross, 21, is a right-hander who was the 25th overall player taken in the 2011 Draft. He's posted a 3.90 ERA in his first 62 pro games (60 starts) and would likely be in Double-A San Antonio next season.
Ross is the team's No. 8 prospect, according to MLB.com, while Eflin is rated No. 10.
The Padres might be hesitant in moving 22-year-old Matt Wisler, the team's No. 2 prospect. He is 25-15 with a 3.40 ERA in four seasons in the Minor Leagues and could compete for a spot in the rotation next spring, depending on what the Padres do this winter with the other pitchers in the rotation.
Kemp, who turned 30 in September, is still owed $107 million over the next five years in which he's set to make a shade over $21 million annually through 2019. The Dodgers are said to be willing to take on some of his remaining salary in a potential deal.
From all accounts, it appears the Padres won't pigeonhole themselves during these Winter Meetings in their continual search for offensive upgrades to a roster screaming for short-term and long-term fixes.
Trade away prospects? The Padres, sources say, appear willing to do so, especially since Preller has no Draft history with any of the players in the organization.
Consider a one-year rental? Preller himself said Tuesday that in the right situation he would do so, citing Nelson Cruz's impact on the Orioles, when he hit 40 home runs and returned Draft pick compensation to Baltimore after signing with the Mariners last week.
Swing big and take on a big contract? The Padres are said to be willing to do that as well, as discussions for Kemp have continued in San Diego after gaining steam in recent weeks.
Pull off one of the most momentous trades in club history? That's precisely what the Kemp trade would represent if the Padres and Dodgers were to reach an agreement.
But will that happen?
There is no shortage of interesting ties between the Padres and Dodgers as they relate to Grandal and Kemp.
It was former Padres general manager Josh Byrnes who traded for Grandal as part of a five-player deal in December 2011 with the Reds. Byrnes, dismissed in June, was hired in November as the Dodgers' senior vice president of baseball operations.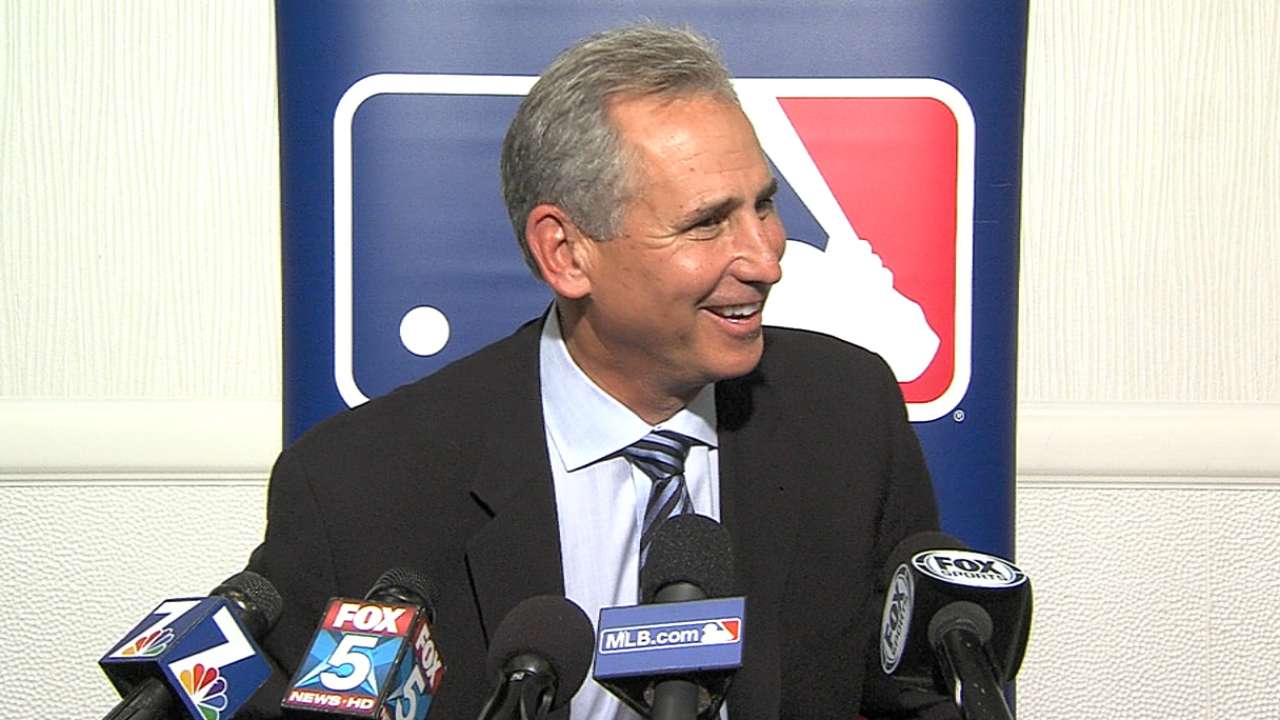 As for Kemp, he was drafted by the Dodgers by then-scouting director Logan White, who was hired in October as the Padres' professional scouting director and senior advisor to Preller.
Preller indicated Monday that the team was looking for "guys in a perfect world would be a fit for us in a long-term-type setting."
That said, Preller sounded receptive to trading for a player who would be entering his walk year -- a free agent after 2015 -- a situation that applies to Braves outfielder Justin Upton.
But if Upton is indeed the chip the Padres go after, they'll have to pay in prospects -- dearly.
"You're going to pay a price to acquire those players," Preller said.
But, as Preller said, the team won't necessarily shy away from such a deal, especially since Upton would surely be given a qualifying offer if the team couldn't reach a contract extension and thus would net a compensatory Draft pick.
"It depends where you see the value," Preller said. "The longer you control quality players, the better it is for your organization. But you look at situations like last year with Nelson Cruz, it was a great value sign for the Orioles. The shorter fit brings value to the team."
The Padres continue to talk to other teams in their pursuit of offense. Preller has cast a very wide net in terms of talks and discussions with teams on a number of trade proposals. They have been linked to Jay Bruce of the Reds and Yoenis Cespedes of the Red Sox in addition to Upton and Kemp.
Corey Brock is a reporter for MLB.com. Keep track of @FollowThePadres on Twitter. This story was not subject to the approval of Major League Baseball or its clubs.