Royals content to play waiting game at Meetings
Moore says club won't force any moves as AL Central foes keep busy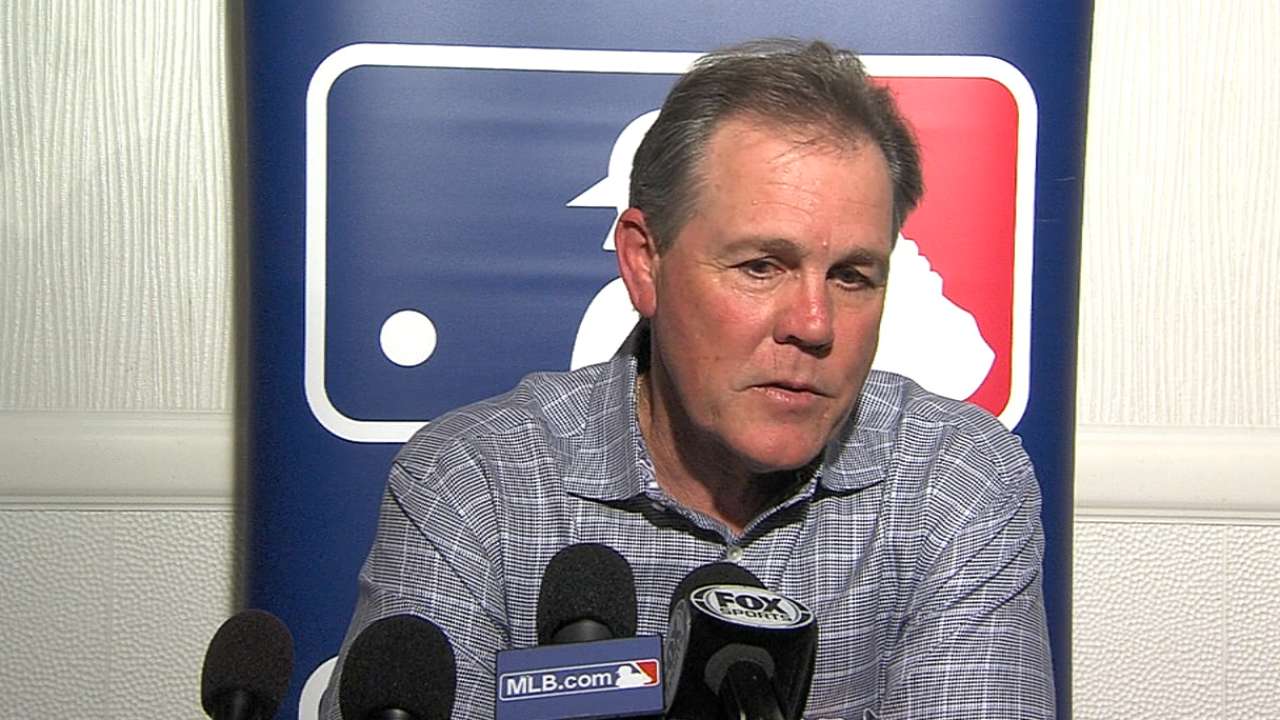 SAN DIEGO -- The Royals' waiting game continued on Tuesday, the second day of the Winter Meetings, and general manager Dayton Moore said once again that he was perfectly fine with talk that could either lead to action or not.
The American League champions have a need in the starting rotation, along with the outfield and in the batting lineup, but what they also need, Moore said, is to "stay away from forcing anything."
So while Moore has been in "a lot of discussions" since arriving here late Sunday afternoon, the Kansas City brass is maintaining its patient stance. Moore seems content, for now, to see how the markets continue to evolve. It wouldn't be surprising if he was willing to wait a little bit longer to see if two of his reported desired targets, former Royals starter Ervin Santana and outfielder Melky Cabrera, are in a price-and-years range that makes sense with how the club operates.
When asked if he felt that the possibility of free-agent pitching headliner Jon Lester's upcoming contract going well over the $150 million mark would create a domino effect for the rest of the available starters, which very much include Santana, Moore said, "Things don't get cheaper."
"But it's just a part of the game. It's supply and demand, as you know. Not everybody's going to get paid. I'm pretty sure about that. So we'll see. It's hard to predict it. I can't blame players for trying to get the best deals that they can. That's what they try to do, and we've got choices to make as well. So we'll see how all this unfolds."
Moore said he had caught wind of some reports of Royals' conversations emanating from these meetings and that one that said they were actively trying to trade second baseman Omar Infante wasn't exactly on the right track.
---
Winter Meetings action
Day 4: Dec. 11
Transaction
Official?
OF Matt Kemp
C Tim Federowicz
Traded to Padres
No
C Yasmani Grandal
RHP Joe Wieland
RHP Zach Eflin
Traded to Dodgers
No
OF Yoenis Cespedes
RHP Alex Wilson
Traded to Tigers
Yes
RHP Rick Porcello
Traded to Red Sox
Yes
RHP Ervin Santana
Four-year deal with Twins
No
LHP Mat Latos
Traded to Marlins
No
RHP Anthony DeSclafani
C Chad Wallach
Traded to Reds
No
RHP Justin Masterson
One-year deal with Red Sox
No
RHP Alfredo Simon
Traded to Tigers
Yes
RHP Jonathon Crawford
IF Eugenio Suarez
Traded to Reds
Yes
LHP Ross Detwiler
Traded to Rangers
No
OF John Mayberry Jr.
One-year deal with Mets
No
RHP Andre Rienzo
Traded to Marlins
Yes
LHP Dan Jennings
Traded to White Sox
Yes
"We don't try to shop any of our players," Moore said. "Everybody knows that we're always open to looking at different ideas that might make sense, but there's nothing to say specifically about Omar. Omar was a key contributor for us last year. At one time was leading our team in RBIs, had a lot of big hits, and really stabilized the middle of our infield, and really helped [shortstop Alcides Escobar] grow as a talent as well. I did read that, but there's not a whole lot to it at this point."
And while two possible pitchers the Royals could have been interested in -- Jason Hammel and Francisco Liriano -- were taken off the board during the Meetings, with Hammel reportedly signing for two years and $20 million with the Cubs on Monday and Liriano reportedly re-upping with Pittsburgh for three years and $39 million on Tuesday, Moore said those moves didn't surprise him or change anything in his approach to possible deals moving forward.
"Sometimes you end up analyzing things too much and it can maybe stall your progress," Moore said. "We're careful not to do that. We just try to keep it very simple, and it's just a matter of where your matchups are and what your fits are.
"So you can only take advantage of the opportunities that you potentially have. And I can't control what the talent is that's available, but we can do our very best to put ourselves in a position to perhaps acquire the players that make sense. And there's an economic analysis that goes ... into that as well. So there's a lot of different things you have to analyze before you acquire a player."
Another San Diego development that could theoretically influence how the Royals proceed here -- or later on this winter -- was the signing of top closer David Robertson by Kansas City's American League Central-rival Chicago White Sox late Monday night.
That move, coupled with the Yankees' earlier acquisition of free agent lefty reliever Andrew Miller, takes the two top relievers off the board, which could lead more teams seeking bullpen help to call Moore about possible trades of his dominant late-innings triumvirate of Kelvin Herrera, Wade Davis and closer Greg Holland.
As of Tuesday afternoon, Moore said he hadn't yet seen much of a spike in interest in those three players.
"I wouldn't say any more than usual," Moore said. "The back end of our bullpen, we're not in a hurry to break those guys up. That's certainly been one of our main strengths -- the consistent strength of our pitching staff, the dominant part of our pitching staff. But if there's something that makes sense, we're open-minded with it. But again, we have to maintain our strengths."
The White Sox landed Robertson on Monday and also traded with Oakland for starter Jeff Samardzija, so the division is getting more intriguing by the hour, it seems. Moore said the Royals would not let the flurry of activity in their own AL Central neighborhood make them reactionary. He said Kansas City would still operate with the same focus and strategy and hopes to take care of its unfinished business at the proper times.
"We've always focused on what we can do," Moore said. "We can only do what we do, and that's how we do business, but at the same time, of course you notice. Everybody has one directive, and that's to try to improve their Major League team and their organization.
"There are a lot of very talented people out there making good decisions, and we'll get our chance to improve our team when the right opportunity comes."
Doug Miller is a reporter for MLB.com. Follow him on Twitter @DougMillerMLB. This story was not subject to the approval of Major League Baseball or its clubs.