Moves made on Day 2 build toward Lester finale
Lefty picks Cubs after they traded for a new catcher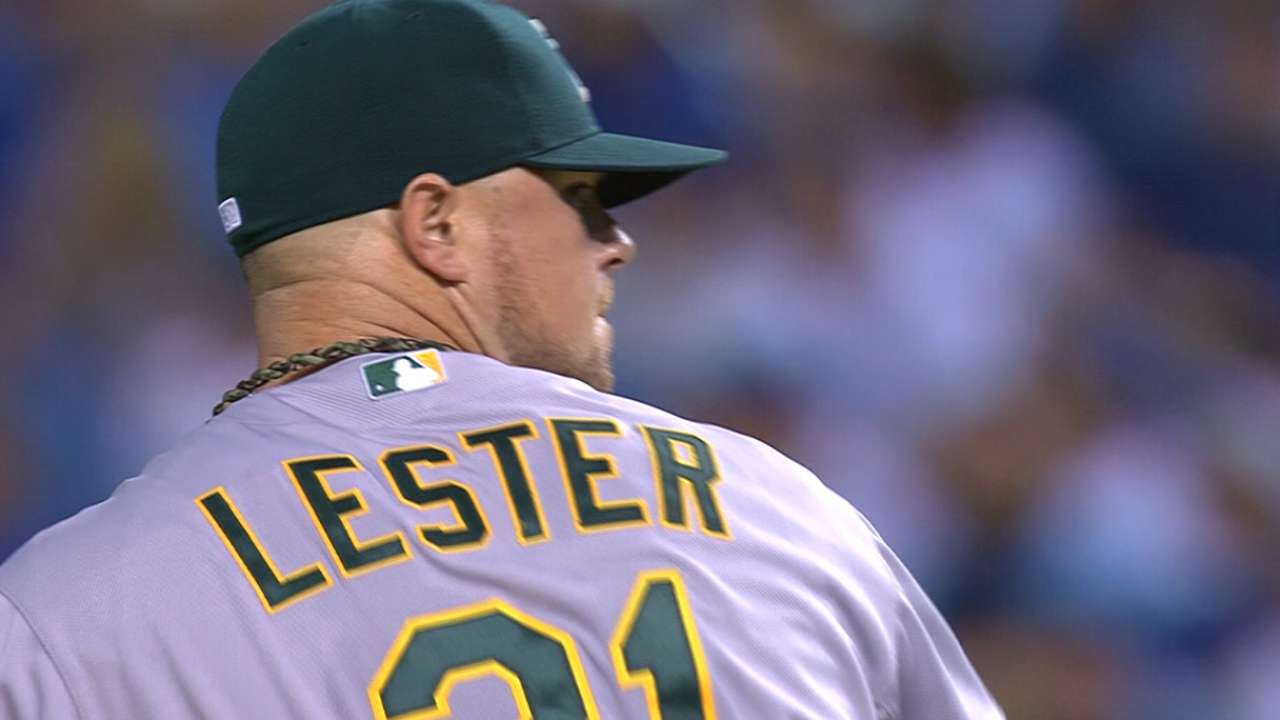 About 2,000 miles by the odometer and some 35 degrees by the thermometer from their Windy City home, two teams that share Chicago addresses but little else are vying for bragging rights at the 2014 Winter Meetings. With the buzz of the annual convention continuing to build bayside in San Diego, the White Sox are making it clear the South Side is home to a contender again, and the Cubs are constructing one themselves on the North Side, especially after getting a big boost from the biggest prize on the market.
Late on Tuesday night on the West Coast -- early on Wednesday morning back East -- Jon Lester made his decision, picking a six-year, $155 million offer from the Cubs over six years and $135 million from the Red Sox. Though the Cubs did not confirm the deal, new manager Joe Maddon discussed his new ace after dinner.
---
Winter Meetings action
Day 4: Dec. 11
Transaction
Official?
OF Matt Kemp
C Tim Federowicz
Traded to Padres
No
C Yasmani Grandal
RHP Joe Wieland
RHP Zach Eflin
Traded to Dodgers
No
OF Yoenis Cespedes
RHP Alex Wilson
Traded to Tigers
Yes
RHP Rick Porcello
Traded to Red Sox
Yes
RHP Ervin Santana
Four-year deal with Twins
No
LHP Mat Latos
Traded to Marlins
No
RHP Anthony DeSclafani
C Chad Wallach
Traded to Reds
No
RHP Justin Masterson
One-year deal with Red Sox
No
RHP Alfredo Simon
Traded to Tigers
Yes
RHP Jonathon Crawford
IF Eugenio Suarez
Traded to Reds
Yes
LHP Ross Detwiler
Traded to Rangers
No
OF John Mayberry Jr.
One-year deal with Mets
No
RHP Andre Rienzo
Traded to Marlins
Yes
LHP Dan Jennings
Traded to White Sox
Yes
"This definitely propels us into Plan A, which is kind of neat," Maddon said after receiving the news in a text message from Cubs president of baseball operations Theo Epstein. "It's a big day for us, moving forward. It really brings a lot of different factors together. It's very exciting."
The addition of Lester capped a busy day for the Cubs, who acquired All-Star catcher Miguel Montero in a trade with the D-backs earlier Tuesday, and their South Side neighbors. The White Sox double-dipped for a top starter, trading for Jeff Samardzija, and a new closer, signing David Robertson. The two Chicago teams are setting the tone of this year's gathering of Major League Baseball's decision-makers, stealing the spotlight until other teams step up to the plate and deliver what they've put into play this week.
Before Lester's decision broke, the biggest news on Tuesday regarding the left-hander came from the Giants, who had been aggressive in their pursuit -- with manager Bruce Bochy, catcher Buster Posey and pitcher Tim Hudson among those making pitches to the pitcher. But Giants assistant general manager Bobby Evans said Lester had advised club officials he would not be signing with them.
"We did not receive a rose," Evans said.
Giants gave signing Lester a sincere effort, making what Evans called "multiple offers"

- Chris Haft/SF Giants (@sfgiantsbeat) December 10, 2014
Other teams might have some catching up to do to make news like the Chicagoland clubs have, but the winds of change are blowing in other cities, too, and some big names are wafting through the lobby and drifting into media reports.
* The Braves continued to reshape their roster, agreeing with free-agent infielder Alberto Callaspo, and they appear to be getting close with Cuban outfielder Dian Toscano.
* The Dodgers still have the possibility of a Matt Kemp trade going, with the Padres remaining the leading suitor according to various reports, but Tuesday also found Dee Gordon on the rumor mill before GM Farhan Zaidi quickly denied that the speedy infielder is being shopped.
* The Reds confirmed that they might move pitching this winter, and sources told MLB.com on Tuesday that fireballing closer Aroldis Chapman could be on the market, with Miami a possible destination but a fit as yet determined.
* The Pirates addressed a hole in their rotation by bringing back a stalwart in lefty Francisco Liriano, signing him to a three-year, $39 million deal, pending a physical.
* The Orioles, who have lost two big bats in Nelson Cruz and Nick Markakis, won't be in on the Braves' Justin Upton but are rumored to be interested in the Phillies' Marlon Byrd.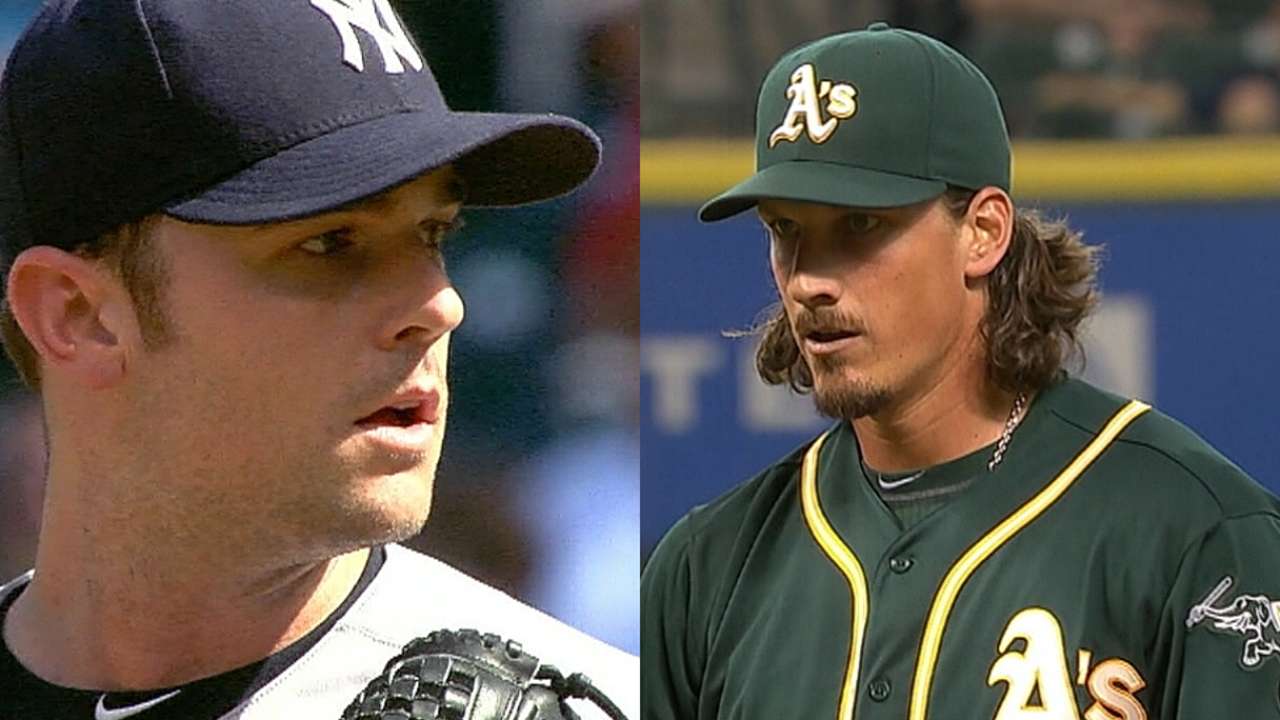 When it comes to done deals, Chicago has been the city with broad shoulders in the lobby and suites of the Meetings' hotel, where the brain trusts for all 30 clubs along with agents and media from all over the country have descended for the four-day festival. The White Sox certainly stepped up big time at the end of the first day and the start of the second, agreeing with free agent Robertson on a four-year deal reported to be worth $46 million late Monday, then completing a trade to bring Samardzija back to his hometown area in a six-player swap. Suddenly, expectations on the South Side are higher, and the pressure to contend is more glaring.
"Hopefully," White Sox manager Robin Ventura said. "That would be fine. I hope so."
The Robertson deal puts one of the league's worst bullpens from last year in a better position. The Samardzija trade brings a player who rooted for the White Sox as a kid, and even though he started his career not that far away with the Cubs, it's clear this is a huge step for the big right-hander known as Shark.
"Just the approach the White Sox had to get me, how it seemed they were really on a tear to put me on their roster," Samardzija said. "That's all you can ask for as a player, for an organization to circle a name on their list saying, 'This is a guy we have to have on this team.'"
#GoodGuysWearBlack pic.twitter.com/KQES6lPoDD

- Chicago White Sox (@whitesox) December 9, 2014
The flip side to the trade was the continuing remaking of the A's, a team that has made it to the postseason the past three years but has gone about the business of sending All-Star after All-Star elsewhere this offseason. Samardzija was the latest (he'd actually been traded to Oakland just before the All-Star Game and went into it as an unaffiliated National League All-Star), and he was heading to Chicago with Michael Ynoa. The A's received another package of prospects and potential Major Leaguers -- infielders Marcus Semien and Rangel Ravelo, right-hander Chris Bassitt and catcher Josh Phegley.
Said Semien, a Bay Area native who figures to get a chance to play in Oakland: "They've obviously made a lot of moves. There's a lot of opportunity out there for young guys, so I'm excited to be a part of this."
The other Chicago trade on Day 2 was the one that brought Montero to town, a left-handed-hitting catcher landing behind the plate at Wrigley Field for a pair of Minor Leaguers. Montero arrives after starting his career with some impressive work behind the plate and at times beside it with Arizona.
Love it !!!! pic.twitter.com/BYfIUAdec9

- miguel montero (@miggymont26) December 10, 2014
And now Montero will be catching pitches starting next February in Spring Training from a certain left-hander who has been the hottest topic so far this Hot Stove season.
John Schlegel is a national reporter for MLB.com. You can follow him on Twitter @JohnSchlegelMLB. This story was not subject to the approval of Major League Baseball or its clubs.