Pace of game may be tested in Minors next
Chief Baseball Officer Torre 'impressed' by results of pitch clock in AFL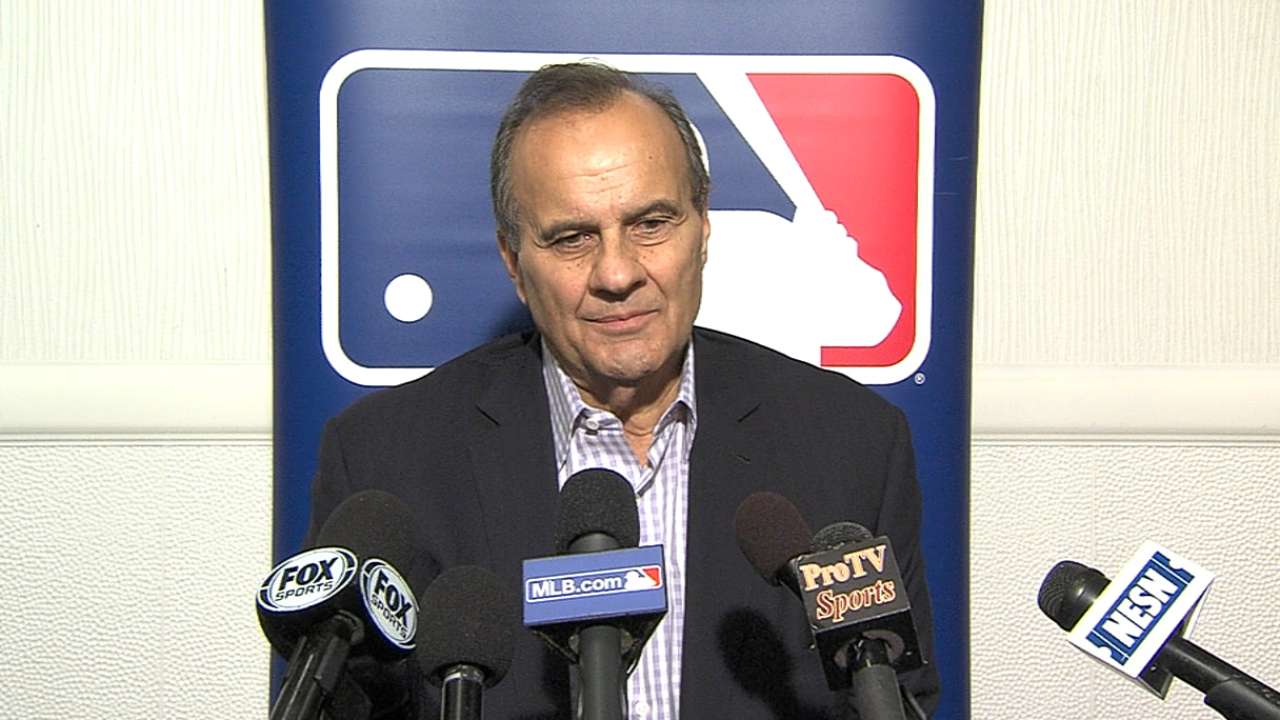 SAN DIEGO -- The next phase in trying to improve the pace of play for Major League games could include testing of some of the proposals, including pitch clocks, in the Minor Leagues.
That possibility came up when Joe Torre, MLB's chief baseball officer, headed a group that met with MiLB president and CEO Pat O'Conner on Tuesday during the second day of the annual Winter Meetings.
"It was part of the discussion," Torre, a former All-Star catcher and manager, said. "It's something that we'd certainly like to see more testing done with, and there is a chance that will happen."
There are already rules governing hitters stepping out of the batter's box and the amount of time pitchers have to deliver the ball to the plate. One of the initiatives calls for stricter enforcement, which is where the clock, which debuted this year in the Arizona Fall League, comes in.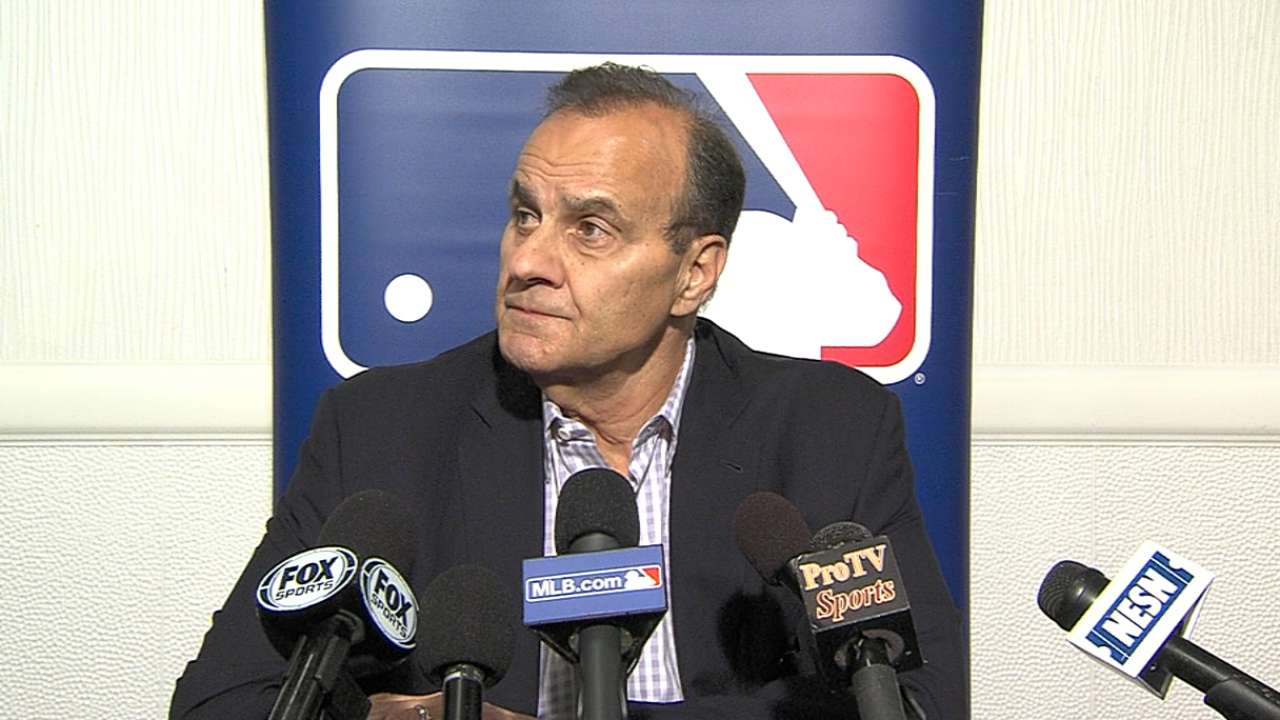 "I was never a proponent of introducing the clock in baseball, but I went out [to the AFL], and I was pretty impressed," Torre said. "[The clock] was there, but it really wasn't intrusive in any way. I thought it was just something that was sort of part of what they were doing. I was very surprised that it really didn't stand out to me, which is good. And yet it got the job done. And if you watched the players play, nobody seemed to be uncomfortable doing it. It just sort of picked the pace up of the game."
At the same time, Torre is sensitive to the fact that the MLB Players Association is almost certain to have questions about a proposal that might lead to a change of routine for big league hitters who are used to stepping out after every pitch. The same goes for a pitcher who has become accustomed to taking as much time as he thinks he needs before throwing the ball.
"The thing about being a player, whether you're a pitcher or a player, is the fact that you become a creature of habit," Torre said. "[Nomar] Garciaparra, if you remember, used to step out of the box and adjust both batting gloves and get back in. It was more of a nervous habit than anything else.
"So we have to make sure we don't try to disrupt what players are used to doing. In talking to the Players Association about it, we're just seeing if there's a way we can speed the game up or the pace of the game without changing habits, because we certainly don't want to get blamed for a guy being uncomfortable doing what he needs to do."
Using the pitch clock at Double-A or Triple-A, then, would have a couple of advantages. Not only would it allow MLB to further test the idea under game conditions, it would give players coming up through the Minors time to acclimate themselves to the new rules.
One proposal that will likely be scrapped is having pitchers issue an intentional walk by simply waving the batter to first rather than throwing four ceremonial non-strikes.
"It was discussed," Torre said. "Of course, then you see [this past] postseason how someone fired one through the back of the screen in trying to walk somebody. There aren't that many intentional walks, and it doesn't take any time to do it. It will probably be brought up again. But, just from our research, it really didn't save any measurable amount of time."
The Replay Committee met on Monday. While no tweaks to the system that was introduced have been announced, Torre indicated again that managers walking out slowly to talk to an umpire while waiting to get a signal from the team's replay analyst about whether to issue a challenge will be addressed.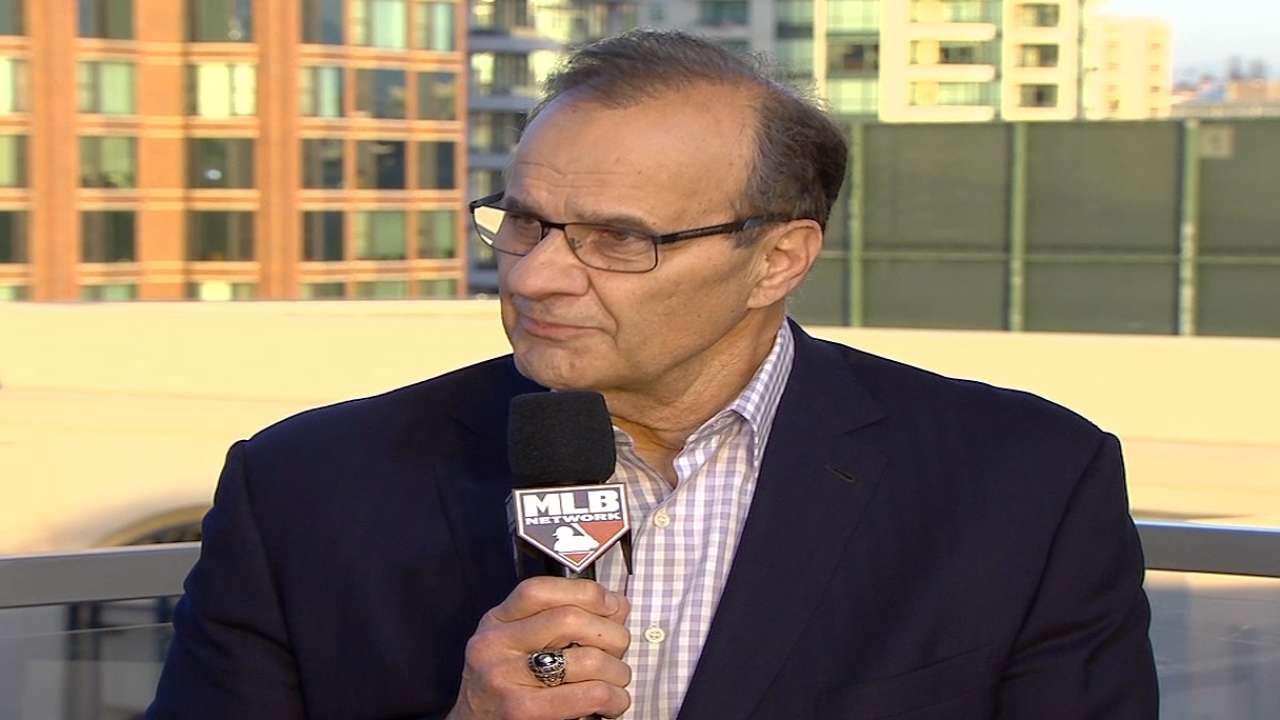 The Rules Committee will meet on Wednesday and, at that time, will solicit input from managers.
"Initially when we talked about rolling out replay, we basically talked about if you go out of the dugout, you can't challenge it," Torre said. "And then I said, 'I hate to take that away from the manager.' But, in thinking that way, I really didn't plan on watching managers meander on out. That looks bad.
"I've talked to a number of managers during the course of this last season -- probably two-thirds of the managers -- and that was something they were uncomfortable with."
Further details on changes governing replay, pace of game and home-plate collisions could emerge as early as Wednesday.
Paul Hagen is a reporter for MLB.com. This story was not subject to the approval of Major League Baseball or its clubs.