Free agent Lester agrees to deal with Cubs
Six-year, $155 million contract would be largest in franchise history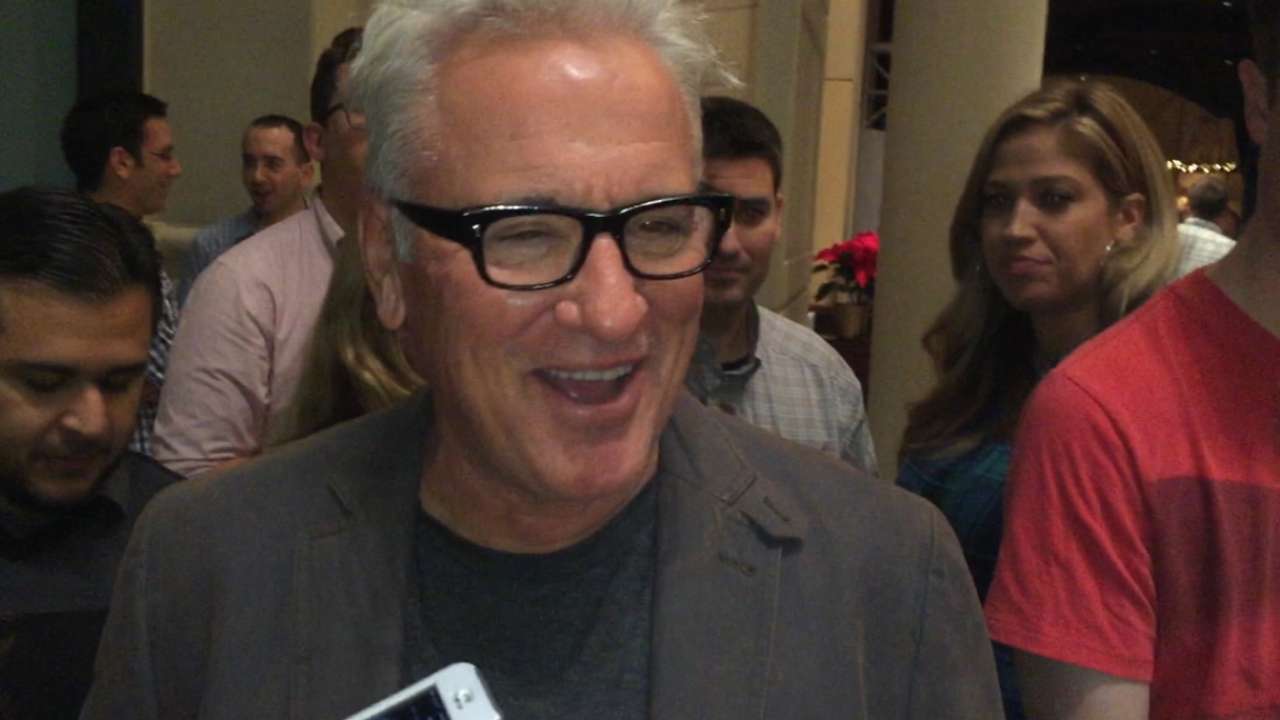 SAN DIEGO -- As far as Joe Maddon is concerned, the Cubs won the lottery by getting Jon Lester. The next step is to win the World Series.
Late Tuesday, Lester picked the Cubs over his former team, the Red Sox, and agreed to a six-year, $155 million contract, the largest in franchise history. The Cubs will officially welcome the left-hander with a news conference on Monday.
FoxSports.com was first to report the deal. While the Cubs did not initially confirm it, new manager Maddon did, holding court in the hotel lobby after dinner in downtown San Diego. Lester tweeted about it Wednesday morning.
"This definitely propels us into Plan A, which is kind of neat," said Maddon, who received a text message from Cubs president of baseball operations Theo Epstein with the news. "It's a big day for us, moving forward. It really brings a lot of different factors together. It's very exciting."
Maddon did his part in the Cubs' recruiting when he talked to Lester in November shortly after he was hired. They discussed hunting, their past battles in the American League East, and how much Maddon respected the pitcher's approach.
"Extremely difficult decision for me and my family but we love the outcome and couldn't be more excited to join the Cubs organization!" Lester tweeted.
Extremely difficult decision for me and my family but we love the outcome and couldn't be more excited to join the Cubs organization! #NVRQT

- Jon Lester (@JLester31) December 10, 2014
Maddon was eager to hear why Lester picked the Cubs.
"It would have a lot to do with the familiarity with Theo and the guys who were there [in Boston]," Maddon said. "I think he sees the potential with the group and the direction we're headed. I want to believe that had a lot to do with it, and I'm curious to see what he says."
Epstein, Cubs general manager Jed Hoyer and Lester all won a World Series with the Red Sox in 2007. Could they do that with the Cubs?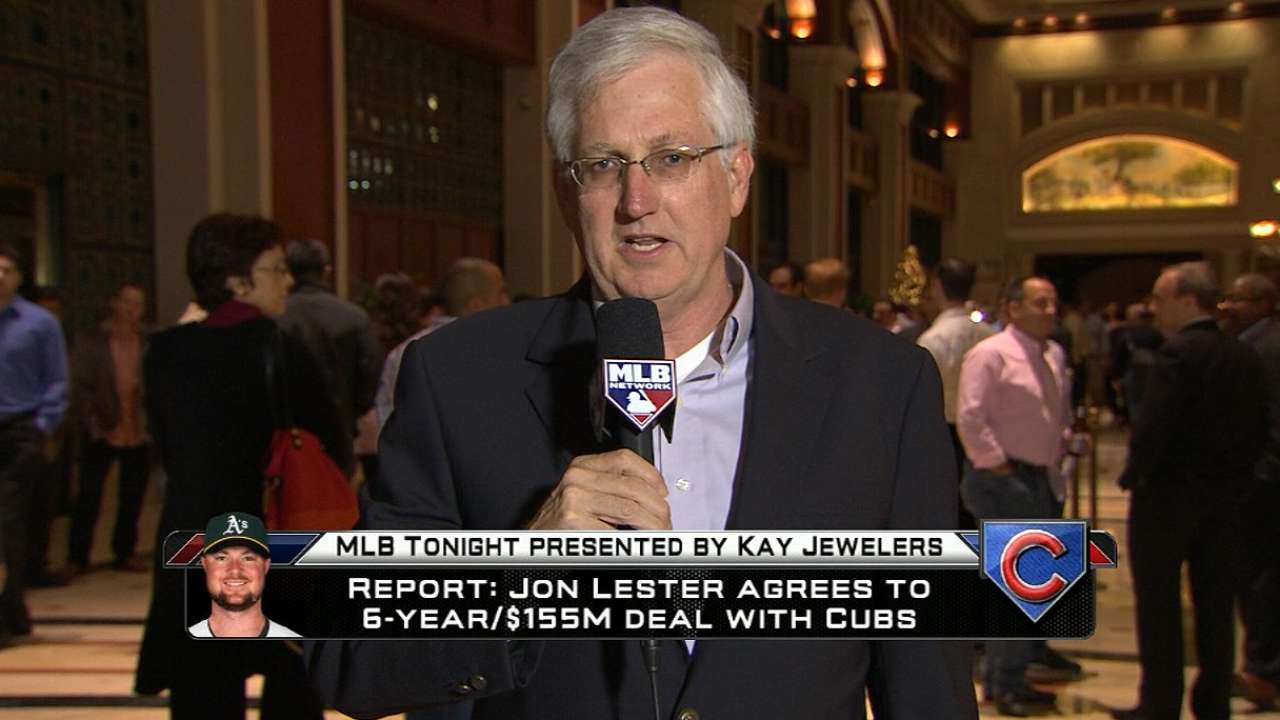 "It definitely makes it more believable to everybody else in that room," Maddon said of the Cubs' players. "I'll stand up and make the same speech regardless, but when you have it backed up by that particular kind of presence, it adds to it. I can't deny any of that. Having people like that in the room definitely helps other guys believe this is possible."
Lester can easily be slotted as the ace in the Cubs' rotation, joining Jake Arrieta, Travis Wood, Tsuyoshi Wada and Kyle Hendricks. The Cubs also have acquired Jason Hammel, although that deal has not been formally announced by the team.
"You combine [the rotation] with the young guys on the field, there's a lot of energy there," Maddon said. "With the young players on the field, now you get some veteran leadership with the pitching staff, getting the bullpen solid makes it even more interesting. The catcher we got today [Miguel Montero] -- it's been a pretty good day."
The Cubs have not had a winning record since 2009, the last time they finished above fifth place in the division. Lester could help change that.
"It definitely sends that message about how Theo and the group feels about this particular group [of players]," Maddon said. "But understand we have a lot of young players who have to grow up and do a good job of nurturing it and making it happen. Having Jon there definitely adds to the flavor and the believability."
It had to be a difficult decision. By picking the Cubs, Lester switches from the AL to the National League and will be joining a young team that still has some developing to do.
"As an opponent, this guy was always at his best when it seemed to matter most," Maddon said of Lester. "The thing I've always garnered from watching him pitch also, normally he got better as the game progressed. You want to get to him early, because if you permit him to settle, he's definitely going to be there in the seventh or eighth innings. You can't have any more respect for a Major League Baseball player than we do for him right now."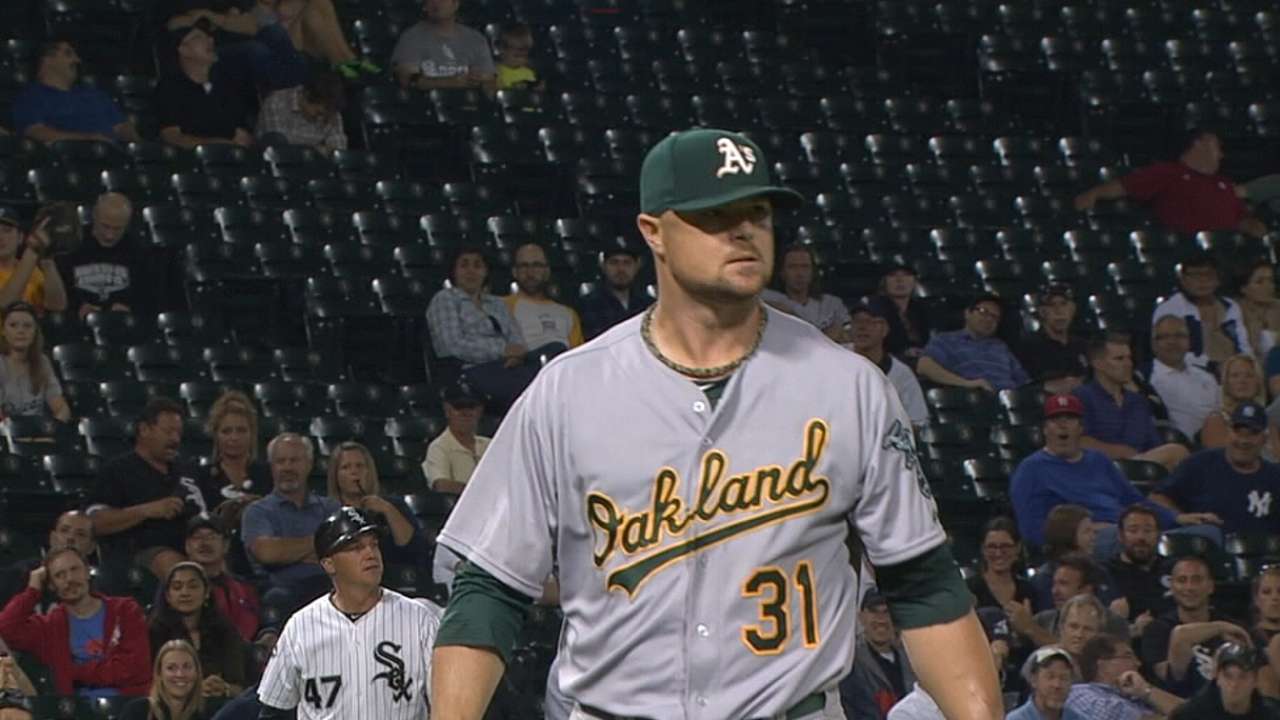 Lester, by the way, does have the edge over Maddon's former team, the Rays, compiling a 13-9 record and a 4.08 ERA in his career.
For Maddon, it's quite a change after being on the outside looking in as the Yankees and Red Sox were big spenders in the AL East and he was trying to win with the Rays.
"It's different," Maddon said. "I have not been on this side since my days with the Angels when I got an email in Italy that we had signed Vladimir Guerrero. ... That's the last time I was involved in this kind of a moment."
And the last time he was this excited?
"Let's see, [it's when] my grandson was born," Maddon said. "Giuseppe was born about a year and a half ago. That was the last time."
The only teams happier than the Cubs with Lester's decision are those in the AL East who thought he might return. The lefty has compiled a 116-67 record overall, including 56-28 against the East.
"Obviously, we know how good of a pitcher he is," Yankees manager Joe Girardi said. "So if he wants to go to the National League, that's OK with all of us -- probably everyone in the American League."
Epstein's only long-term deal since he took over the Cubs was a four-year, $52 million contract he gave Edwin Jackson. Lester's is much longer, and puts him in the upper echelon regarding pitcher salaries, second only to Clayton Kershaw in terms of average annual value. Kershaw signed a seven-year, $215 million extension this year, with an average annual value of $30.7 million.
Lester's deal tops the largest contract the Cubs had given, which was Alfonso Soriano's eight-year, $136 million deal.
"It's not often you get to win the lottery," Maddon said. "We won the baseball lottery so far this year. Now it's up to us to put it into effect. It's all theory right now, and we have to make it real. You need pieces like this to make it real."
Carrie Muskat is a reporter for MLB.com. She writes a blog, Muskat Ramblings, and you can follow her on Twitter @CarrieMuskat. This story was not subject to the approval of Major League Baseball or its clubs.