Girardi maintains confidence in talent-packed 'pen
Yanks' skipper not ready to set relief roles in stone as Meetings play out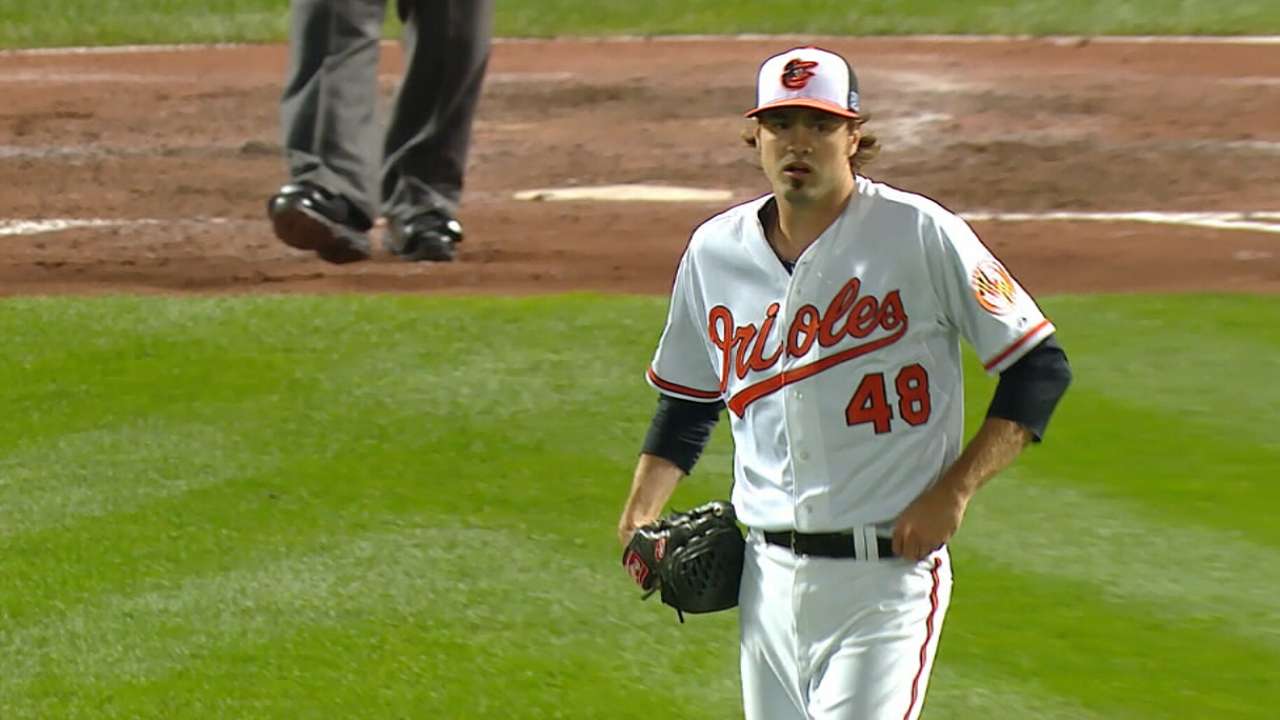 SAN DIEGO -- The small card of available relievers that Joe Girardi hides in his back pocket during games should once again provide a list of strong options in 2015, and the Yankees manager expects that will include someone ready to handle the ninth inning.
Speaking on Tuesday at the Winter Meetings, Girardi said that the Yankees will miss David Robertson, who agreed to a four-year, $46 million deal with the White Sox late on Monday. Still, Girardi believes that his club won't have trouble holding late leads next season.
"We feel that our bullpen is going to be very strong again," Girardi said. "We feel like we have a number of great arms. I'm not really worried about that because of the arms we have down there, and I feel like we'll have a very good bullpen."
The Yanks never made an offer to Robertson, instead opting to sign left-hander Andrew Miller to a four-year, $36 million deal while scooping up a compensation Draft pick from the White Sox for Robertson.
"I'm happy for him because I feel like relievers get one shot at usually the long‑term contract," Girardi said. "And he got that shot and he took full advantage of it. I wish him the best of luck, except against us."
New York also has All-Star Dellin Betances potentially in line to jump into the closer's role, while Girardi mentioned Justin Wilson, Adam Warren and Shawn Kelley as options to help, barring any further acquisitions.
Girardi said that while he'd like his relievers to have an idea of their assignments, they don't necessarily have to be set in stone here in December, or even at the end of Spring Training.
"When we started out this season, Betances was pitching the fifth and sixth inning," Girardi said. "In the end he was pitching sometimes the sixth, seventh inning, so that takes time to get ironed out."
Yankees general manager Brian Cashman arrived at the Winter Meetings on Monday in the market for pitching, both to assist in the rotation and the bullpen, and also an infielder capable of helping at third base.
In analyzing his roster, Girardi acknowledged concern about a starting rotation set to be paced by Masahiro Tanaka, CC Sabathia and Michael Pineda, with Ivan Nova not expected to return from Tommy John surgery until at least May. Having pitching depth will be important, one year after the Yanks used 13 different starters.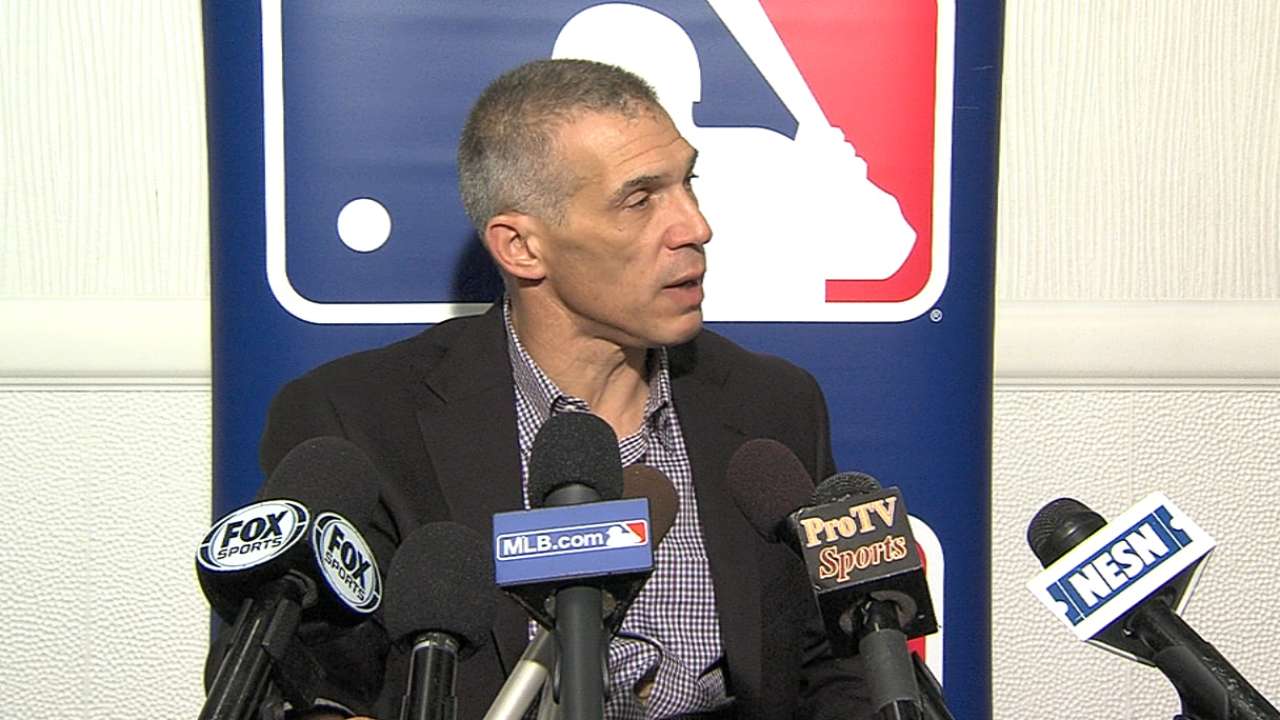 "In the back of your mind, there's some question marks," Girardi said. "Michael Pineda has not thrown 200 innings in a while. CC is coming off his [knee] injury. Yeah, we feel good about it, but until you get into the rigors of the season, you're not really sure exactly what's going to happen."
Girardi said that Tanaka's recovery is going well following two September starts to return from a partially torn right ulnar collateral ligament, and the Yankees are projecting the 25-year-old for a full workload in 2015.
"We're counting on him to make his 32 starts," Girardi said. "That's something we'll have to look at as the season progresses. We have a little bit more experience with him being on a five‑man rotation now than we had before. He seemed to do pretty well.
"He did get hurt, but a lot of times when you talk about guys that have that situation, it's not necessarily one incident; it's over time. But he came back well, his velocity was there, his split was there. So it's just something I think you have to pay attention to."
Girardi mentioned that he has been in touch with infielder Chase Headley, whom the Yanks have interest in re-signing as a free agent, but not right-hander Brandon McCarthy.
He also has received text messages, phone calls and even a few workout video clips from Alex Rodriguez, who could see time at third base, first base or as a designated hitter after sitting out all of 2014 due to suspension.
"I know he's working extremely hard," Girardi said. "We've just got to go through Spring Training and see where he's at. He hasn't played a lot in two years."
Last week's deal to acquire shortstop Didi Gregorius from the D-backs was an exciting offseason move for Girardi, who believes the athletic 24-year-old will have a chance to blossom in New York as he takes over Derek Jeter's old position.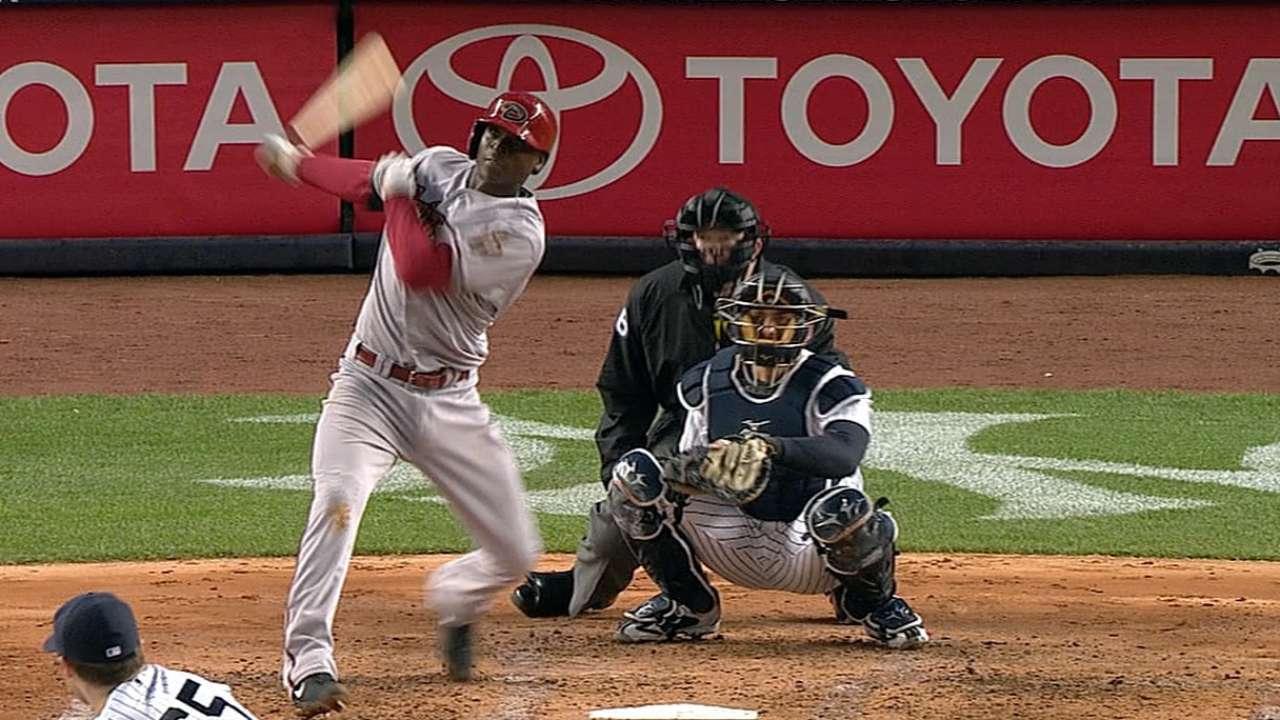 "I think the most important thing for Didi -- and I'll stress it, and I'll have all the coaches stress it and the people around him -- you just need to be yourself," Girardi said. "You don't need to try to be Derek."
Girardi suggested that Gregorius could do worse than to follow the example set by Robertson, who seamlessly assumed the closer's role one year after Mariano Rivera moved from the active roster to Monument Park.
"I think Robertson did a really good job of filling in for a superstar, a legend, a Yankee legend," Girardi said. "He was just himself, and we need to pay attention to that and make sure that Didi [knows], 'Hey, go out and play, just do what you do.'"
Bryan Hoch is a reporter for MLB.com. Follow him on Twitter @bryanhoch and read his MLBlog, Bombers Beat. This story was not subject to the approval of Major League Baseball or its clubs.