Mariners waiting for market to take shape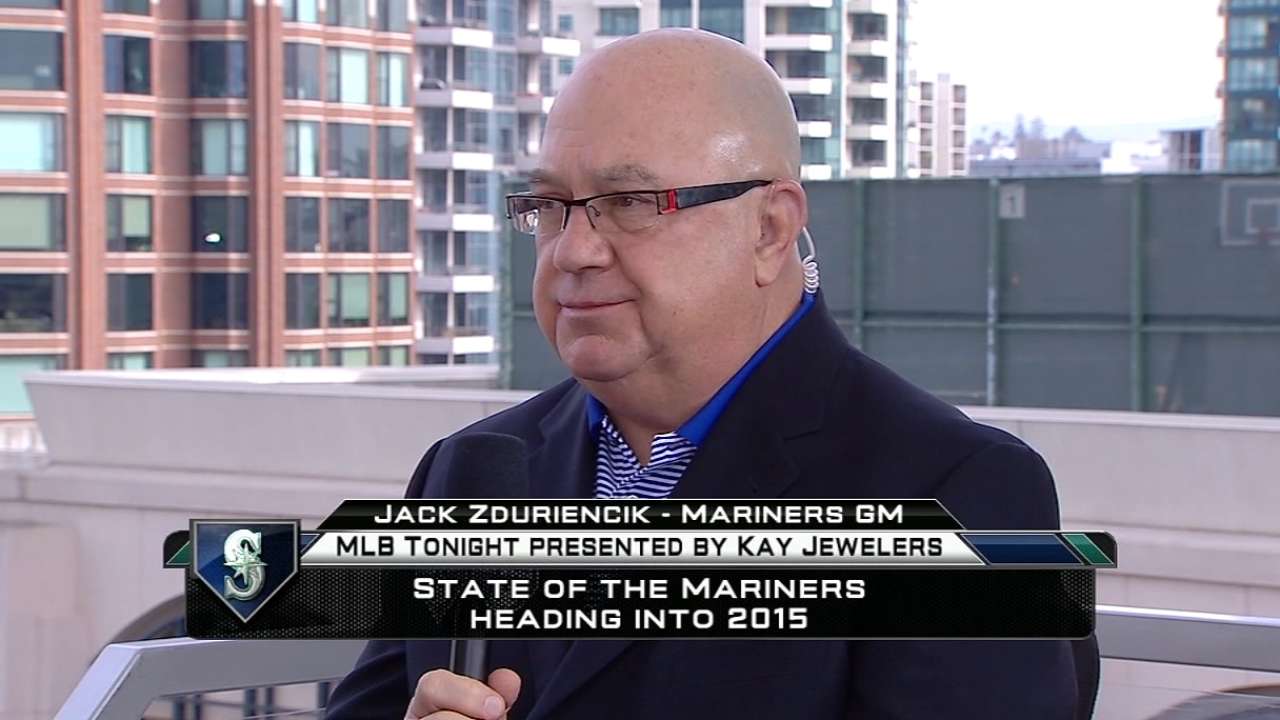 SAN DIEGO -- The Mariners continued looking into their options to land a right fielder on Tuesday, but pitching has been the focus for many teams at the Winter Meetings and Seattle general manager Jack Zduriencik reported little progress in his pursuits.
"We have our discussions going and my sense is it's going to take a little more time on a couple different fronts," Zduriencik said.
Most of the top free-agent hitters are already off the board, so not surprisingly the hot topic at the Winter Meetings centers around when and with whom lefty Jon Lester will sign and how that figures to unlock the doors for other top free-agent arms like Max Scherzer, James Shields and Ervin Santana.
The pitching logjam began to break loose a bit Tuesday as Francisco Liriano agreed to a three-year, $39 million deal with the Pirates. The White Sox have finalized a trade netting them right-hander Jeff Samardzija from the A's and also signed free-agent closer David Robertson to a four-year deal, while the Cubs have inked free agent Jason Hammel.
None of that wheeling and dealing impacts the Mariners, who are largely set with a pitching staff that topped the American League with a 3.17 ERA and returns nearly intact. Zduriencik talked again with several players' agents and executives from other teams, but acknowledged the Mariners could well leave the Winter Meetings without an answer to their remaining outfield need.
Zduriencik feels things have "stalled" a bit at the Meetings, with the few remaining outfielders setting a high bar in terms of demands. The Mariners have been closely linked to free-agent switch-hitter Melky Cabrera, but he's believed to be seeking a deal similar to or even longer than Nelson Cruz's four-year, $57 million contract.
The next group of available outfielders includes Alex Rios, Colby Rasmus and Nori Aoki, but Seattle would prefer a right-handed hitter and only Rios bats from that side in that group. Other right-handed-hitting outfielders include Michael Morse and Chris Denorfia, both of whom have been with Seattle previously, and Jonny Gomes.
Seattle has been linked in trade talks for the Dodgers' Matt Kemp, but appear to have been priced out of that market. The Mariners also appear an unlikely match for outfielders Justin Upton of the Braves or Yoenis Cespedes of the Red Sox, given their reluctance to deal top young pitching prospects for a one-year return. Upton and Cespedes will both be free agents after 2015.
Zduriencik said there are still available outfielders who could help his club, which currently has returning rookies James Jones and Stefen Romero as the top candidates.
"Talent-wise, certainly," he said. "There are also other players that could help us that are maybe not high-profile guys, but guys that could contribute. And the greatest thing would be if some one of our kids [steps up]. But we are going to continue to have these discussions until they exhaust themselves, then we'll go to alternatives if it doesn't work. But we certainly want to touch base with guys we like and think can come in and help us and make a difference."
The Mariners have already pushed their payroll well past last year's final mark of $106.7 million, once arbitration-eligible players are figured in. Zduriencik said there is still available money, though not the kind to put Seattle in the conversation for the premium pitchers on the market.
"I'm comfortable with where we're at," he said of payroll expectations. "We have enough room right now where we can make a reasonable addition. Some of the long-term, high-profile upper-echelon dollars, we're not going to be in that market. It's just not going to happen. But I do think we have room to make a move that will help the club."
The Mariners aren't going to rush into overpaying for Cabrera or one of the other remaining outfielders, however. Zduriencik sounds prepared to let things shake out a little on other fronts as clubs wait to see where the big-money pitchers go before deciding whether to move other assets.
"You come here and see things stall a little," he said. "That's probably an accurate term when this domino effect hasn't happened yet. But there is also the reality of what the market is and what the market is willing to pay and players and agents have to get to the point where they realize that. And why not ask for whatever you want in terms of years and dollars? Why wouldn't you? If you don't get it, you have to readjust.
"It's the same with clubs. When clubs don't get what they want, they have to readjust. So I think there's always this pinnacle like the Winter Meetings where people think it's going to get done, but that isn't always the case."
Jones remains the top in-house right-field candidate after hitting .250 with 27 stolen bases in 108 games last year as a rookie. The Mariners seem to prefer him as a fourth outfielder who can back up all three positions, but the 25-year-old presents some intriguing potential with his speed element.
"If he can make consistent contact and put the ball in play, he has a chance to be a pretty good big league player and can have an impact because of how well he runs," Zduriencik said. "And that plays well defensively, too, and he has a great throwing arm. I look at him like a wild colt that is just harnessing his stuff. You look at where he came from and where he is now and it's just a matter of putting the finishing touches on his game. I hope he can do it."
Greg Johns is a reporter for MLB.com. Follow him on Twitter @GregJohnsMLB as well as his Mariners Musings blog. This story was not subject to the approval of Major League Baseball or its clubs.