Zduriencik praises Montero's offseason workouts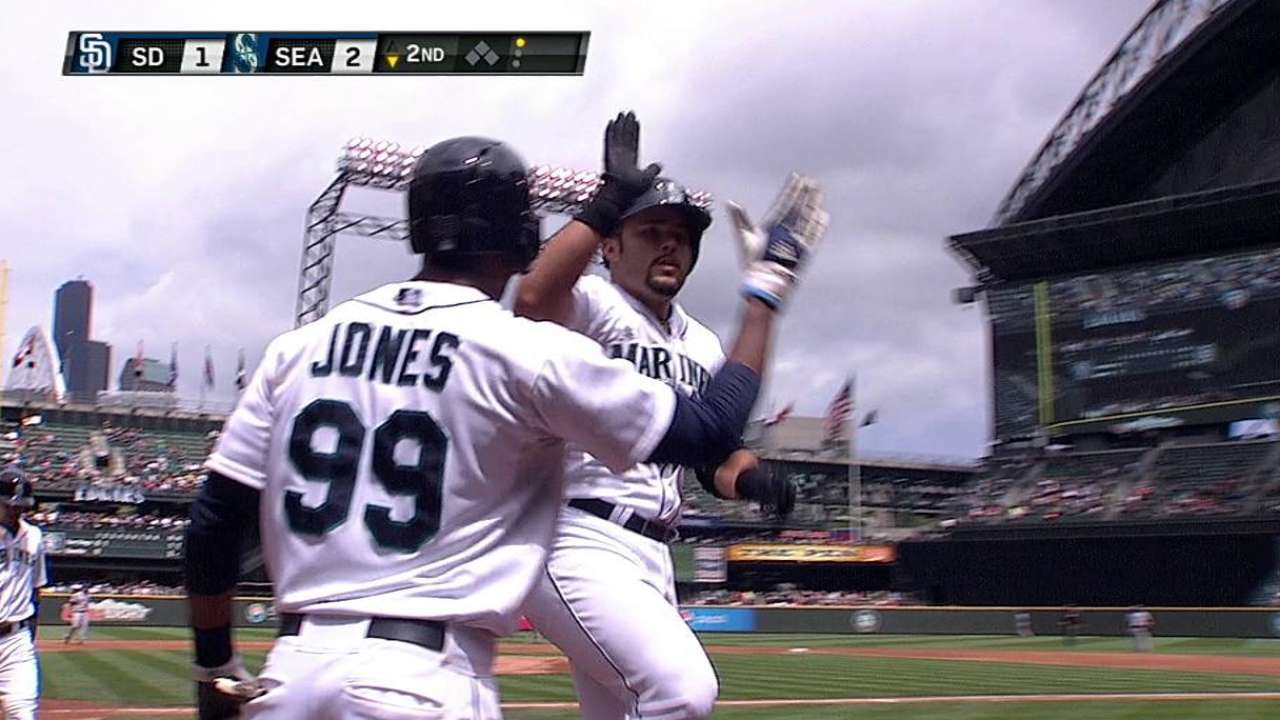 SAN DIEGO -- While Jesus Montero has been the subject of considerable criticism in the past, Mariners general manager Jack Zduriencik was effusive with his praise for the 25-year-old on Tuesday as he talked about the former top prospect's offseason efforts.
Montero, who was sidelined by the team for the final month of the 2014 season following an altercation with a Mariners scout during a Minor League game, is spending the winter in Arizona, working out daily with Mariners strength and conditioning coach James Clifford.
Montero played six games for Seattle in 2014, but otherwise spent the year in Triple-A Tacoma, where he hit .286 with 16 home runs and 74 RBIs while converting to first base. The former Yankees top catching prospect was suspended for 50 games in 2013 in the Biogenesis case and then drew Zduriencik's further ire when he showed up last spring overweight.
But Zduriencik said he's received "very positive reports" about Montero's efforts this offseason.
"We should tip our hat to what he's done," Zduriencik said. "He's worked extremely hard. He's worked a lot of days to the point of absolute exhaustion. It was designed that way, to try to get him in a position where he went above and beyond anything he's ever done before. I think that goal has been accomplished. Everything they've told me about how he's approached this has been extremely positive."
Zduriencik said the Mariners arranged to have a nutritionist meet with Montero and his wife several times over the offseason to work with his diet, and he's been at their Peoria complex every day to work on his conditioning.
"I think mentally he's in a good spot," Zduriencik said. "I think he views himself differently than he probably did a year ago. The process he's been through has been extremely painful, but I also think there are rewards at the end of this thing. I don't think any of us would want more than for Jesus Montero to become a really good citizen and a really nice baseball player, because the skills are there for him to do it."
Zduriencik said Minor League coordinator Chris Gwynn told him Montero was the best hitter in Triple-A at times last year and the club remains intrigued by the potential of the right-handed bat of a youngster who hit .260 with 15 home runs and 62 RBIs in 135 games as a rookie in 2012 while splitting time between catcher and designated hitter.
"But he has to maintain these things," Zduriencik said. "He's had other obstacles in his life that have prevented him from doing it. But he's at a really good place in his life right now. He's really appreciative of what he has and that's a very important element for him to be successful going forward."
Whether Montero has a place still with the Mariners remains to be seen. He'll be invited to Spring Training in February and given the chance to show where he's at, both conditioning-wise and as a player.
"The message I gave him was he has to mentally view himself as a first baseman," Zduriencik said. "He has to say to himself, 'This is where I'm going to play.' If he's a DH someday, that takes care of itself. But he has to commit himself to being an adequate first baseman. He's a big, physical guy. If he could play there, it would be a benefit to everybody."
The Mariners recently signed Nelson Cruz to a four-year, $57 million deal to fill their DH role. Logan Morrison returns as the starting first baseman after a strong finish to 2014 in which he hit .262 with 11 home runs and 38 RBIs in 99 games.
Greg Johns is a reporter for MLB.com. Follow him on Twitter @GregJohnsMLB as well as his Mariners Musings blog. This story was not subject to the approval of Major League Baseball or its clubs.