Showalter doesn't want retooled O's to miss a beat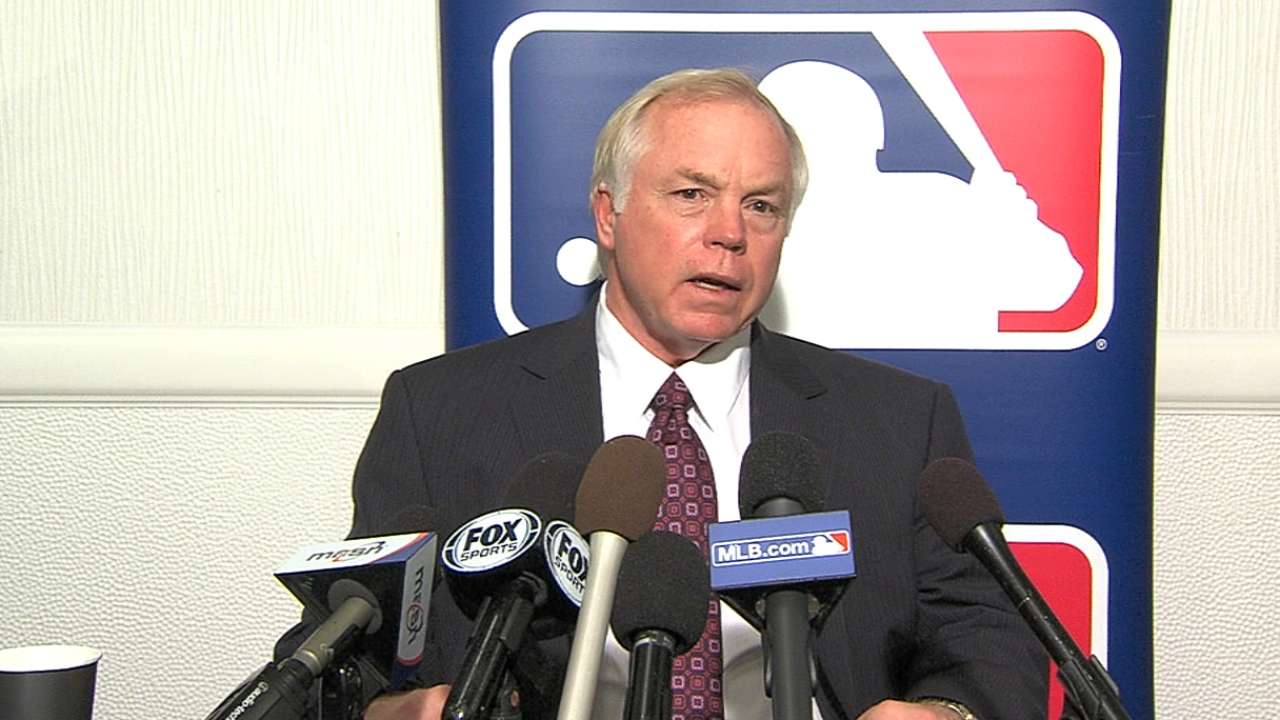 SAN DIEGO -- No matter what the Orioles do in the next few days at the Winter Meetings, manager Buck Showalter conceded Tuesday that it's a tough task to keep the clubhouse chemistry following the departure of two key pieces of the 2014 club: Nelson Cruz and Nick Markakis.
"I think one of my biggest challenges between now and the time we open up is not selling, but making sure our players feel like they have the same morale," Showalter said. "What comes first? Is it winning games or having that? Because there's nothing that takes the morale out of the team more than not playing good baseball or losing a lot of games. Best players in the world, best coaches in the world, best, in some cases, umpires in the world, there's such a fine line. We saw it last year, such a fine line between success and failure. And we've got some work to do."
Showalter, who admitted losing guys like long-time Orioles staple Markakis was particularly tough, touched on a host of topics regarding his club and its quest to contend again in 2015 at his Tuesday media session. And in his trademark cheeky humor, he also poked fun at some of the free spending in the American League East, asking "Have those guys run out of money yet?"
The Orioles have money to spend right now, given the losses of Cruz and Markakis, and Showalter was quick to point out that the organization isn't exactly in dire straits.
"The biggest reason we made a leap last year was our pitching," he said. "And other than Andrew Miller, we haven't really lost anything. Our starting pitching got a lot better, got us deeper in the game, allowed us to keep our bullpen healthy and match up a little bit more. If we do that again we'll have some fun next year."
Showalter is also counting on a good year from Chris Davis, who will serve the last game of his 25-game suspension on Opening Day.
"I think he's in a good mindset," said Showalter, who was with Davis on Saturday. "A lot of things point up with him, some that I won't make note of. But you can probably figure out, as far as what this year means to him, not only as the future for him but also as a teammate and as somebody that he takes very seriously that his teammates and the fans count on. I can't really see anything that would point to something being negative toward Chris having a big year and getting back on the saddle, so to speak, of where he was. I'm expecting him to be solid for us. Whether it be first base, right field, whatever. We've got a lot of options."
Another option in the outfield is Steve Pearce, who Showalter said would be the team's starting right fielder if the season started tomorrow. The Orioles are looking to add another outfielder during the Winter Meetings, as well as relief help and catching depth. Matt Wieters is coming off Tommy John surgery and won't be rushed back, though he remains on schedule in his recovery, along with third baseman Manny Machado.
Showalter isn't tied to a schedule for naming the Orioles' next hitting coach, though he did say he was "closer" on Tuesday. He has three or four strong candidates and is leaning on his existing coaching staff in helping him replace Jim Presley. Having big league experience isn't a prerequisite, either.
"That's why I interviewed [Minor League hitting coordinator] Jeff Manto," Showalter said. " That [experience] stuff lasts about two weeks, and then you want to know how you're going to help them to be a good player and win."
Brittany Ghiroli is a reporter for MLB.com. Read her blog, Britt's Bird Watch, and follow her on Facebook and Twitter @britt_ghiroli. This story was not subject to the approval of Major League Baseball or its clubs.