MLB.com Columnist
Jesse Sanchez
Moncada, Lopez lead cluster of Cuban prospects
Several teams buzzing about shortstop, right-hander at Winter Meetings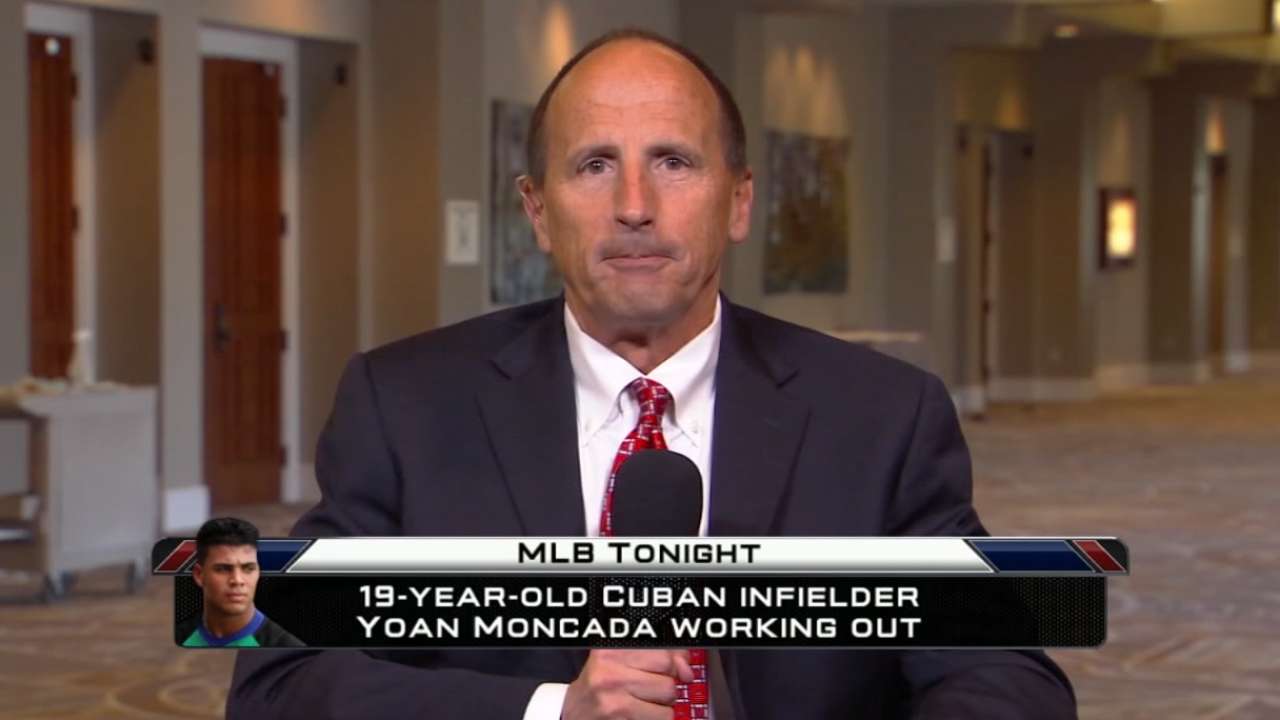 SAN DIEGO -- Yasmany Tomas is no longer available, but Cuban prospects remain a popular topic of discussion at the Winter Meetings.
Switch-hitting middle infielder Yoan Moncada, 19, and right-handed pitcher Yoan Lopez, 21, are among the players generating the most buzz in international circles this week. Both are expected to sign with a team sometime next year.
The Yankees, Dodgers, Red Sox, D-backs and Braves are among the several teams that have scouted the latest group of Cuban players on the scene.
"I think our direction is really to find impactful players to come into our organization, whether that be another young Cuban player coming from the Dominican or becoming a free agent or a top player from Venezuela [or the Dominican Republic], our goal is to find the most impactful players to bring into this organization," said D-backs senior vice president of baseball operations De Jon Watson.
"The primary focus is to try to impact our organization internally and grow our own players. If we're able to do that, I think it's going to impact our big league club in the future. But right now, our focus is to find the best talent that is walking on the planet."
The list of free agents from Cuba who are eligible to sign includes right-handed pitcher Jorge Despaigne, 23, and first baseman Jozzen Cuesta, 25. Left-handed pitcher Misael Siverio, 25, recently signed with the Mariners and outfielder Dian Toscano, 25, is finalizing a deal with the Braves.
---
Winter Meetings action
Day 4: Dec. 11
Transaction
Official?
OF Matt Kemp
C Tim Federowicz
Traded to Padres
No
C Yasmani Grandal
RHP Joe Wieland
RHP Zach Eflin
Traded to Dodgers
No
OF Yoenis Cespedes
RHP Alex Wilson
Traded to Tigers
Yes
RHP Rick Porcello
Traded to Red Sox
Yes
RHP Ervin Santana
Four-year deal with Twins
No
LHP Mat Latos
Traded to Marlins
No
RHP Anthony DeSclafani
C Chad Wallach
Traded to Reds
No
RHP Justin Masterson
One-year deal with Red Sox
No
RHP Alfredo Simon
Traded to Tigers
Yes
RHP Jonathon Crawford
IF Eugenio Suarez
Traded to Reds
Yes
LHP Ross Detwiler
Traded to Rangers
No
OF John Mayberry Jr.
One-year deal with Mets
No
RHP Andre Rienzo
Traded to Marlins
Yes
LHP Dan Jennings
Traded to White Sox
Yes
Second basemen Andy Ibanez, 21, and Hector Olivera are expected to hit the market sometime next year, and there are countless others, such as third baseman Pavel Quesada, 25, in various stages of eligibility documentation.
"We scout Cuban players extensively," Yankees general manager Brian Cashman said.
Moncada remains the most celebrated young prospect to leave Cuba since Jorge Soler, who signed with the Cubs in 2012. Moncada debuted for Cienfuegos in Cuba's Serie Nacional at age 17 and hit .277 during parts of two seasons. He made a name for himself by dominating the 16-and-under and 18-and-under leagues in Cuba.
Moncada, who is staying with his agent in Florida, had a showcase for 60-70 scouts on Nov. 12 and could begin private workouts soon. Teams are expected to scout Moncada and Lopez in several private workouts before making the commitment to sign the players.
Lopez, 21, held a showcase for scouts in the Dominican Republic on Nov. 8 and has begun private workouts for teams. Sources indicate the Yankees, Dodgers, and D-backs are among the teams that have already expressed interest in the 6-foot-4, 190-pound pitcher.
Lopez, who established residency in Haiti and has been declared a free agent by Major League Baseball, must still be cleared by the Office of Foreign Assets Control (OFAC) of the United States Department of the Treasury before he can sign with a team. Moncada, 19, is also awaiting OFAC clearance before he can sign.
Lopez throws a cut-fastball, a change, a curve and a slider, but he is best known for a fastball that hovers in the 93-to-95 mph range. His fastball has been clocked at 100 mph three times since he began working out for teams. Back in Cuba, Lopez played three seasons for Isla de la Juventud in Cuba's Serie Nacional, the island's top league. He sported a 3.12 ERA with 28 strikeouts and 11 walks in 49 innings in his final season before defecting from Cuba.
Because they are under 23 and have not played in a Cuban professional league for at least five seasons, Lopez and Moncada are subject to the international signing guidelines. In accordance with the Collective Bargaining Agreement, each team is allotted a $700,000 base and a bonus pool based on the team's record in 2013 for the international signing period, which started on July 2.
The Yankees, Red Sox and Rays have spent more than 15 percent of their allotted bonus pools and are in the maximum penalty range for the 2014-15 signing period. The penalty includes a 100 percent tax on their pool overage and prohibits them from signing any pool-eligible player for more than $300,000 during the next two signing periods. The Angels are also expected to face the most severe penalty after agreeing to a deal worth $8 million with Cuban infielder Roberto Baldoquin.
"[Scouting's] more difficult, I think, because it's a very pricy market for us and the tax associated with those types of commitments when it gets to a certain level," Cashman said. "You don't really have as good a feel on the makeup and the personal background, which is important in a bigger market. It makes those investments a little bit more risky."
"But we've participated, we haven't been included because the markets have floated in certain categories way high. In most cases, a lot of those teams have benefited from doing their transactions, but we'd like to scout a player, but also get a chance to know the player before we make recommendations at those financial levels. It's harder when you don't have access to get background and stuff like that."
It's impossible to dispute the level of commitment teams are making to players from Cuba.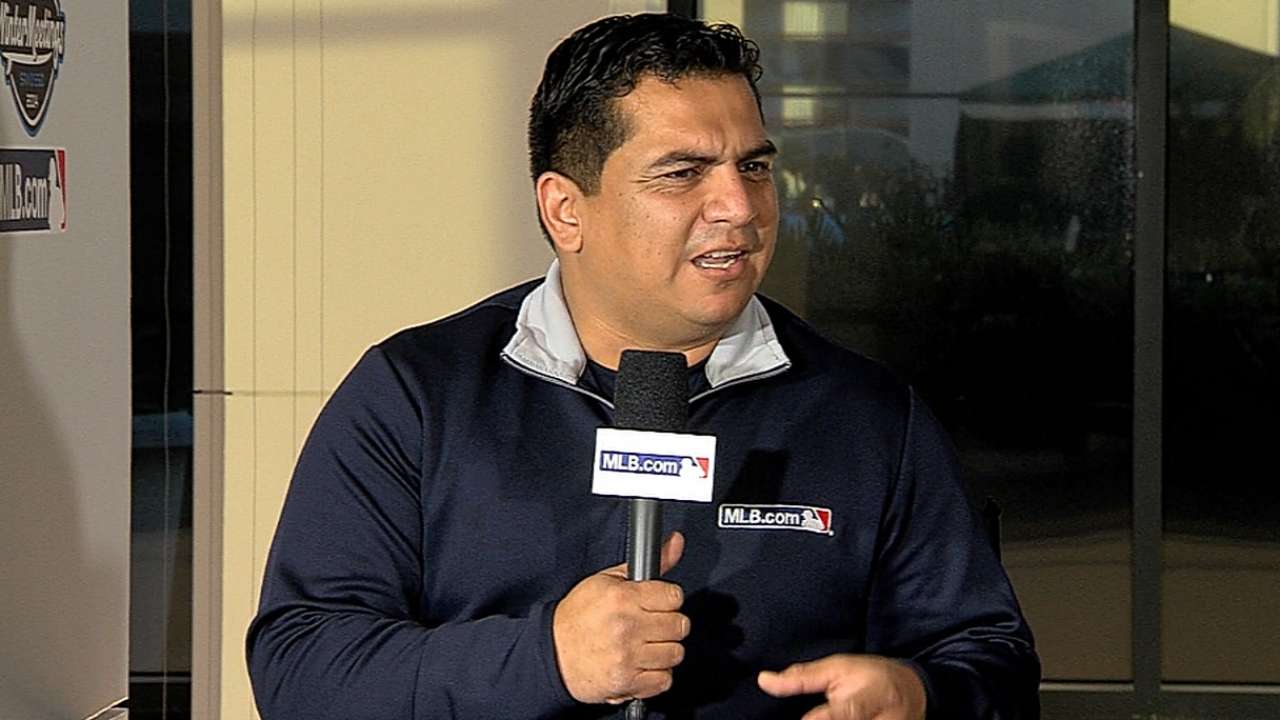 The D-backs announced their six-year, $68.5 million deal with Tomas on Monday. Outfielder Rusney Castillo signed a seven-year, $72 million deal with the Red Sox in August, Jose Abreu signed a six-year, $68 million contract with the White Sox last October and Yasiel Puig inked a seven-year, $42 million deal with the Dodgers in June 2012.
"Recently, Cuban players are re-emerging. You go to the old days with [Tony] Oliva and [Bert] Campaneris, so you know they're playing quality baseball down there," D-backs general manager Dave Stewart said. "But when you make an acquisition, some of the first clubs that did it, and they had success, we all paid attention. So I think it's fair to say that Cuba will now be viewed as Mexico, Puerto Rico, Dominican and Latin America, Venezuela as a source of potential Major League stars."
Jesse Sanchez is a national reporter for MLB.com. Follow him on Twitter @JesseSanchezMLB. Reporter Bryan Hoch contributed to this report. This story was not subject to the approval of Major League Baseball or its clubs.