Attanasio confident Brewers will bounce back
Principal owner continuing to empower general manager Melvin, manager Roenicke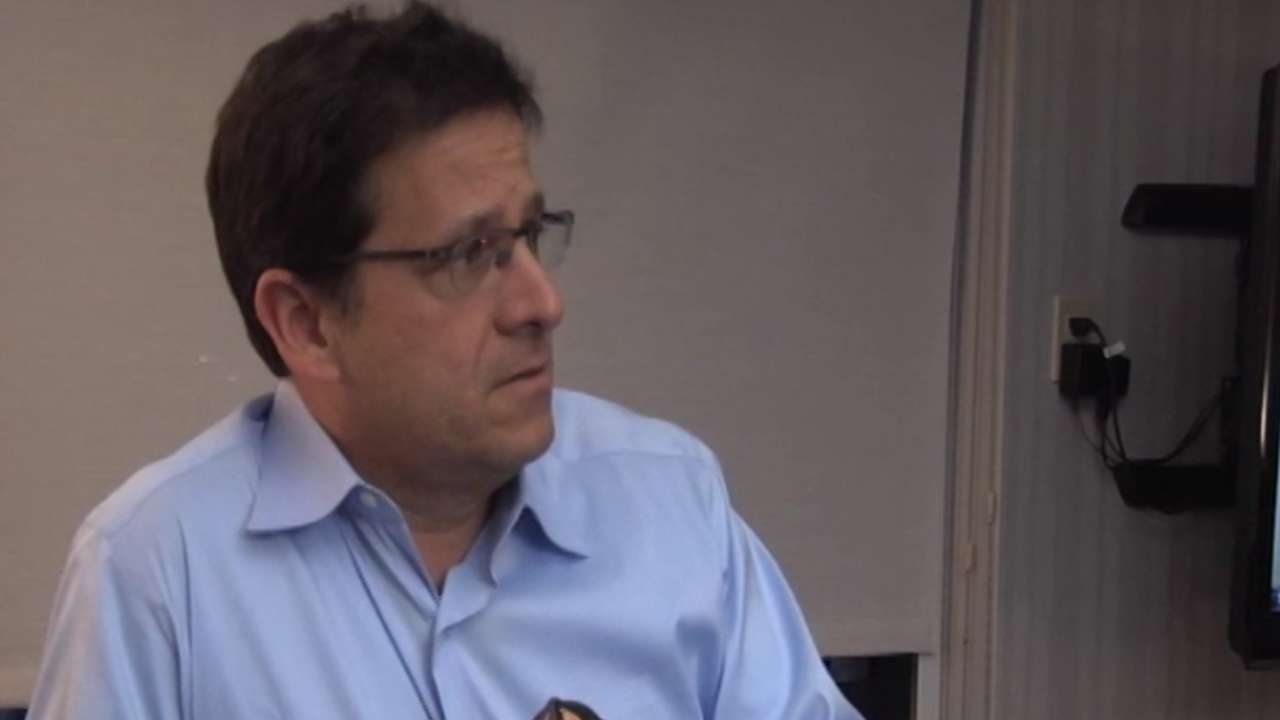 SAN DIEGO -- Before he joined the rest of the Brewers' decision-makers at the Winter Meetings, principal owner Mark Attanasio watched video of his comments during the final weekend of the regular season.
With his team in the final throes of a disappointing stretch run that saw it fall out of contention, Attanasio told reporters, "We have to identify what went wrong, we have to have a good explanation for how we're fixing it, and if we're not making any changes, we'd better have a damn good reason for why."
---
Winter Meetings action
Day 4: Dec. 11
Transaction
Official?
OF Matt Kemp
C Tim Federowicz
Traded to Padres
No
C Yasmani Grandal
RHP Joe Wieland
RHP Zach Eflin
Traded to Dodgers
No
OF Yoenis Cespedes
RHP Alex Wilson
Traded to Tigers
Yes
RHP Rick Porcello
Traded to Red Sox
Yes
RHP Ervin Santana
Four-year deal with Twins
No
LHP Mat Latos
Traded to Marlins
No
RHP Anthony DeSclafani
C Chad Wallach
Traded to Reds
No
RHP Justin Masterson
One-year deal with Red Sox
No
RHP Alfredo Simon
Traded to Tigers
Yes
RHP Jonathon Crawford
IF Eugenio Suarez
Traded to Reds
Yes
LHP Ross Detwiler
Traded to Rangers
No
OF John Mayberry Jr.
One-year deal with Mets
No
RHP Andre Rienzo
Traded to Marlins
Yes
LHP Dan Jennings
Traded to White Sox
Yes
Three months later, there's a new hitting coach (Darnell Coles) and a new first baseman (Adam Lind), but no big changes. Attanasio took a first shot Tuesday at providing the good reason why.
"We're still -- in fact, in the hallway today, I looked at [manager] Ron [Roenicke] and said, 'You know, we still have to know what's going to be different this year. Why is September going to be different now?'
"It's a question we do ask ourselves. We decided we were going to try to make good decisions case by case, and we made them. So we picked up Yovani Gallardo's option. Picked up Aramis Ramirez's option. I think [general manager] Doug Melvin moved quickly to get the first-base situation solved. It was getting frustrating to have no answer there, and frankly, frustrating to have no power left-handed bat.
"But we're still asking ourselves that question. Again, when you have a tough season, sometimes you make moves just to make moves. I think we've seen some teams do that. ... But I don't want Doug and the baseball guys to make moves just to make moves."
Watching the video from September reminded Attanasio how angry he was watching his team go 9-22 down the stretch to become the sixth team since 1969 to spend 150 days in first place and miss the postseason. He called the experience even more painful than the season before, when the Brewers fell out of contention early in the season and then lost Ryan Braun to a season-ending suspension following the All-Star break.
But after meeting with Melvin and Roenicke for a long lunch-and-dinner meeting in October to assess the collapse, Attanasio authorized Roenicke's return for 2015 (the final year of both Roenicke's and Melvin's contracts) and was convinced that September's offensive outage was an isolated event, not a problem that required a total roster rebuild.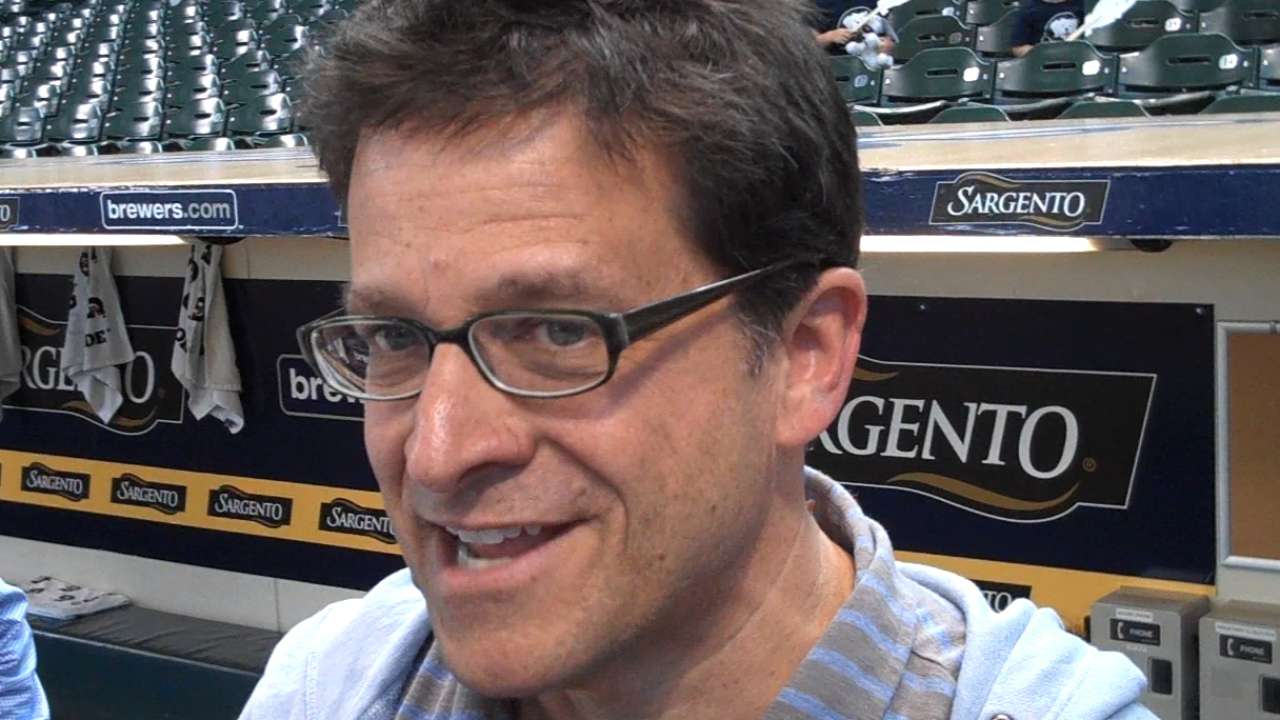 Asked about Melvin's and Roenicke's "lame-duck" contractual status, Attanasio said, "They're both very mature, seasoned executives, so I don't feel we need to address that. As evident from the way we are handling things, Doug has complete authority over what we are doing in baseball, and obviously we made the conscious choice to bring [Roenicke] back. I would argue that conscious choice is a more clear sign of his authority than a lot of rumors [surrounding] somebody who has an option."
So instead of making big changes, the Brewers are shopping for bullpen help and generally looking for upgrades to the roster. A surplus of outfielders and starting pitchers are the most likely sources of depth, but Attanasio said Melvin is under no directive to shed payroll.
This week has been slow. Melvin has exchanged phone calls and texts with fellow GMs to explore the potential for a match (that's how things are done these days, Melvin lamented), but as of Tuesday afternoon had zero face-to-face meetings with any of them, and had not met with any agents regarding Major League players.
"Years ago, you used to meet with 20 ballclubs," Melvin said, suggesting that more of the big free agents must fall before the trade market opens up fully.
So what are they doing in the meantime?
"We're laying groundwork and keeping flexibility in case something is available," Melvin said. "We know that if something happens, we can spring and do it."
Besides pouring over free-agent lists and other teams' rosters, Brewers officials listened to a presentation from new amateur scouting director Ray Montgomery, who is eliminating the "crosschecker" title from his direct reports, has hired longtime Cubs scout Steve Riha and plans to bolster the use of analytics.
Attanasio was in and out of those meetings.
"I forgot what these things are like," Attanasio said. "It's 20 of us sitting around, waiting for something to happen. The good news about where we're at is we have a very full roster and we don't really need to do anything. Sure, we can improve, but we don't really need to do anything. Doug and his group are always looking to get better, so they've had a couple of exploratory things in a couple of areas. But a lot of teams are just waiting to see where things shake out [with a few free agents]."
He added: "Doug could get a call tonight that could change everything."
Adam McCalvy is a reporter for MLB.com. Read his blog, Brew Beat, and follow him on Twitter at @AdamMcCalvy. This story was not subject to the approval of Major League Baseball or its clubs.