Despite moving pieces, Fredi likes makeup of Braves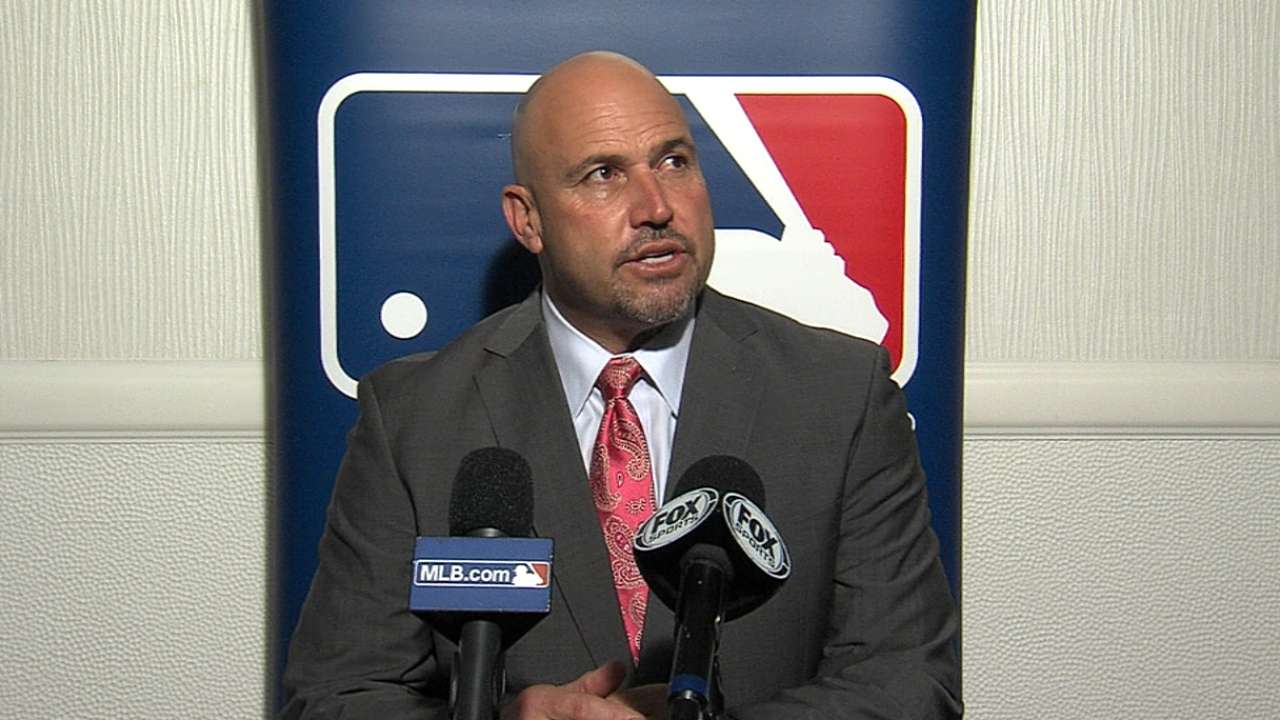 SAN DIEGO -- Braves manager Fredi Gonzalez understands why his club might make some moves that are aimed toward being a consistent postseason contender when SunTrust Park opens in 2017. But while such moves might be in the organization's best long-term interest, this mindset is not necessarily comforting for Gonzalez as he enters the final year of his contract.
Still, the veteran manager has fully supported Braves president of baseball operations John Hart throughout this offseason and maintained a good sense of humor about his future.
---
Winter Meetings action
Day 4: Dec. 11
Transaction
Official?
OF Matt Kemp
C Tim Federowicz
Traded to Padres
No
C Yasmani Grandal
RHP Joe Wieland
RHP Zach Eflin
Traded to Dodgers
No
OF Yoenis Cespedes
RHP Alex Wilson
Traded to Tigers
Yes
RHP Rick Porcello
Traded to Red Sox
Yes
RHP Ervin Santana
Four-year deal with Twins
No
LHP Mat Latos
Traded to Marlins
No
RHP Anthony DeSclafani
C Chad Wallach
Traded to Reds
No
RHP Justin Masterson
One-year deal with Red Sox
No
RHP Alfredo Simon
Traded to Tigers
Yes
RHP Jonathon Crawford
IF Eugenio Suarez
Traded to Reds
Yes
LHP Ross Detwiler
Traded to Rangers
No
OF John Mayberry Jr.
One-year deal with Mets
No
RHP Andre Rienzo
Traded to Marlins
Yes
LHP Dan Jennings
Traded to White Sox
Yes
"The understanding is we've got to try to win, right?" Gonzalez said. "That is the bottom line, and it doesn't matter. In our industry or in my profession, four years down the road or three years down the road, that's a long ways away, you know. ... I might be asking you guys for tickets to that [new] stadium."
While the Braves could still create an immediate impact on their roster by trading Justin Upton or Evan Gattis, each of the moves they have made this winter has been aimed toward strengthening the club for the 2015 season and beyond.
The Braves are still searching for a fifth starter to fill a rotation that was fortified by the Nov. 17 acquisition of Shelby Miller. Gonzalez said he would also like to strengthen his bench with the addition of a veteran pinch-hitter.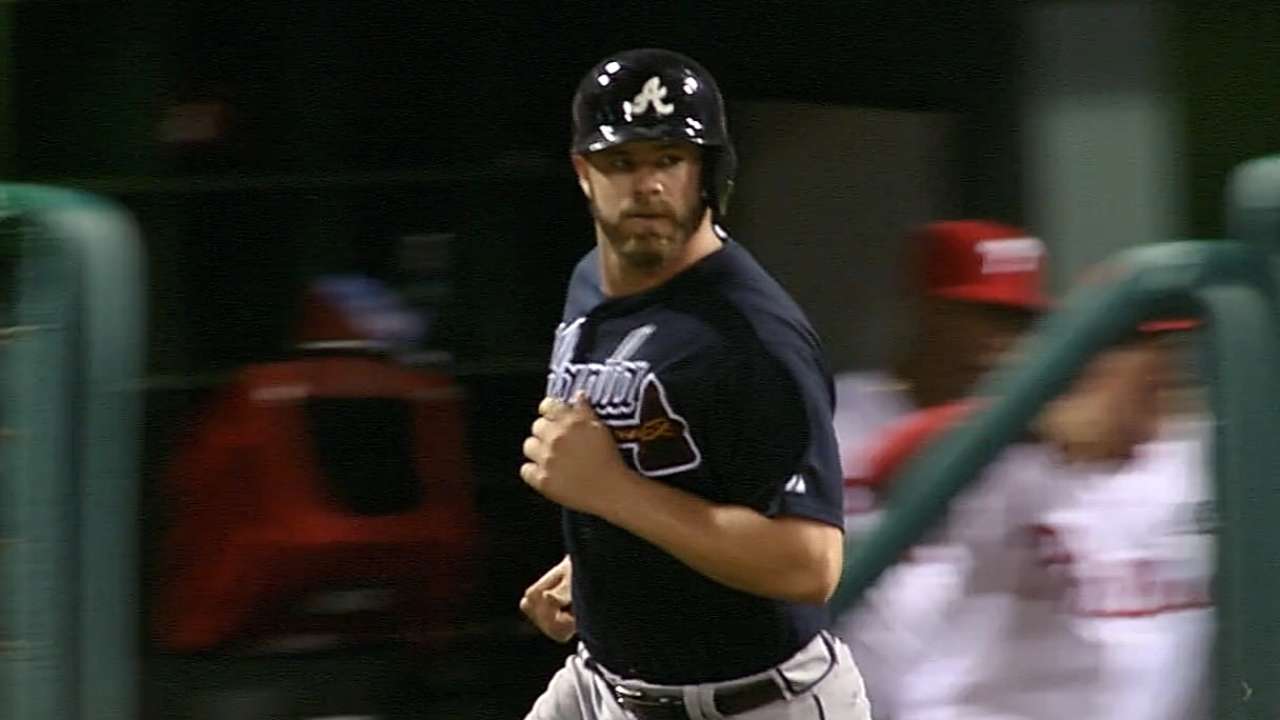 But while it still remains unclear whether Upton and Gattis will return to Atlanta next year, the Braves' roster is starting to take shape. Gonzalez gained a starting second baseman on Tuesday, when Alberto Callaspo agreed to terms on a one-year deal.
Callaspo, who is expected to undergo a physical later this week, will fill the second-base role until top prospect Jose Peraza is deemed ready to make the jump to the Majors. The versatile switch-hitter will also occasionally spell Chris Johnson at third base.
Gonzalez plans to play Peraza on nearly a daily basis throughout Spring Training with the hope of gaining a better understanding of how close he is to being ready. The 20-year-old speedy infielder has played just 44 games above the Class A Advanced level. Thus Gonzalez labeled him "a long shot" to be on the Opening Day roster.
"Andrelton Simmons has won two Gold Gloves, and he joined us [after playing just 44 games at the Double-A level]," Gonzalez said. "Peraza may be one of those guys. If he doesn't break camp with us, he may be a guy you send him down to Double-A, Triple-A, let him play 30, 40 games and then next thing you know he's there."
When Peraza arrives at some point during the 2015 season or in '16, he will serve as the leadoff hitter. But in the meantime, Gonzalez will give that role to right fielder Nick Markakis and have either Callaspo or Simmons fill the two-hole. Markakis would slip into the two-hole when Peraza gets his call to Atlanta.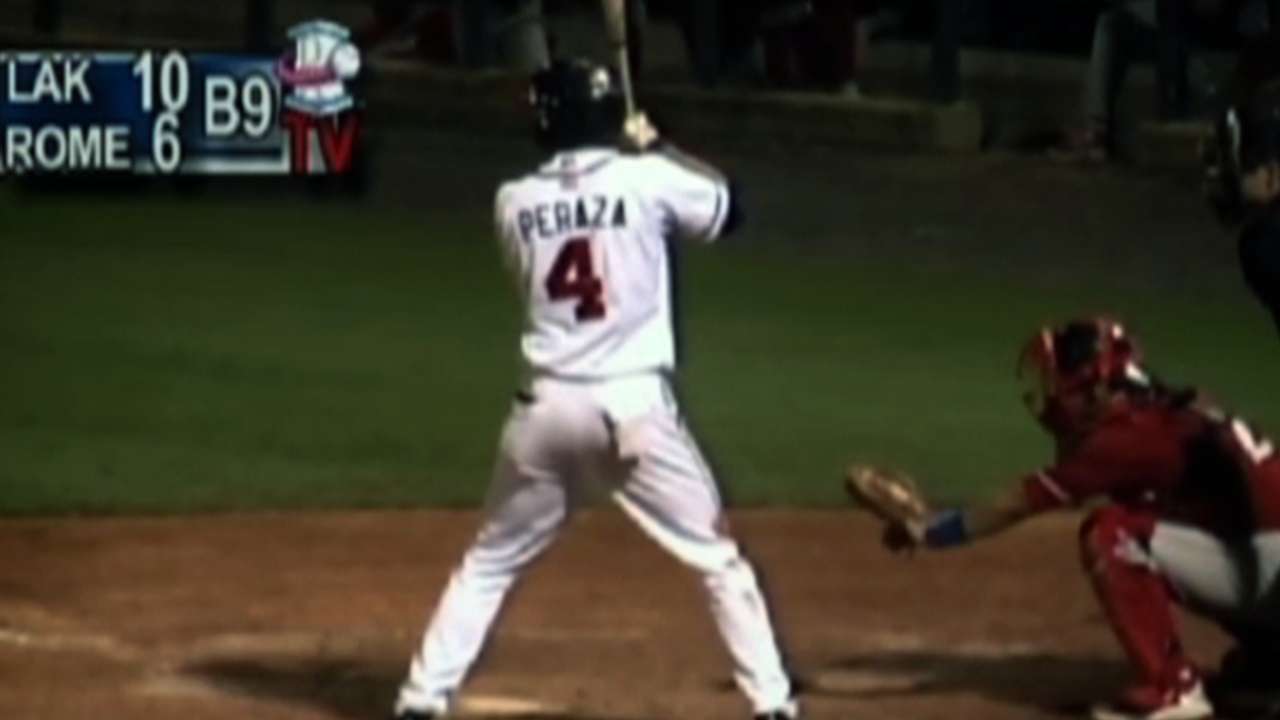 Gonzalez acknowledged that Upton or Gattis might be lost via trade. But he also said that if the season were to start today, he would utilize Gattis as his primary catcher and have Christian Bethancourt as his backup. Bethancourt would serve as the starting catcher if one of the aforementioned right-handed sluggers is traded.
If the Braves trade Upton, they will plan to play Gattis in left field.
Gonzalez has enjoyed working with Hart and assistant general manager John Coppolella through this winter's roster reconstruction process. There has been a focus on acquiring high-character individuals to improve the clubhouse culture and a desire to add contact hitters like Markakis and Callaspo to a lineup that has been filled with free swingers the past two seasons.
" I think [Hart has] been terrific," Gonzalez said. "He really has. He's been able to maneuver some pieces to get money to get other pieces, and still be competitive. I think we have been able, and I think we'll continue to stock up our Minor League systems. So, yeah, I feel if the season started tomorrow and you've got the club that you've got right now, you feel pretty good about it."
Mark Bowman is a reporter for MLB.com. This story was not subject to the approval of Major League Baseball or its clubs.