Reds facing tough decisions at Meetings
GM Jocketty trying to balance payroll concerns with desire to retain Chapman, Cueto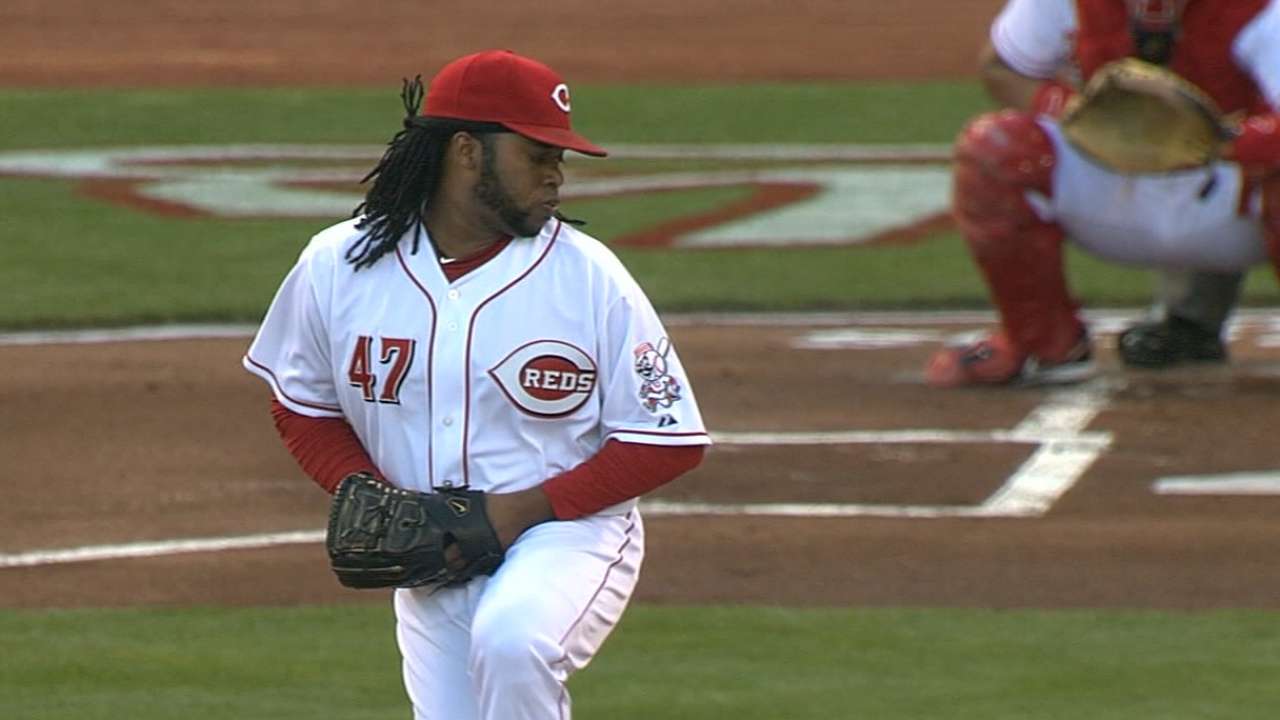 CINCINNATI -- Reds general manager Walt Jocketty is toeing an extremely fine line during the Winter Meetings this week. His club has to move some players to meet payroll, but still wants to contend in 2015.
At the same time, Jocketty isn't outright dismissing overtures from teams that are interested in elite pitchers like rotation ace Johnny Cueto and closer Aroldis Chapman.
---
Winter Meetings action
Day 4: Dec. 11
Transaction
Official?
OF Matt Kemp
C Tim Federowicz
Traded to Padres
No
C Yasmani Grandal
RHP Joe Wieland
RHP Zach Eflin
Traded to Dodgers
No
OF Yoenis Cespedes
RHP Alex Wilson
Traded to Tigers
Yes
RHP Rick Porcello
Traded to Red Sox
Yes
RHP Ervin Santana
Four-year deal with Twins
No
LHP Mat Latos
Traded to Marlins
No
RHP Anthony DeSclafani
C Chad Wallach
Traded to Reds
No
RHP Justin Masterson
One-year deal with Red Sox
No
RHP Alfredo Simon
Traded to Tigers
Yes
RHP Jonathon Crawford
IF Eugenio Suarez
Traded to Reds
Yes
LHP Ross Detwiler
Traded to Rangers
No
OF John Mayberry Jr.
One-year deal with Mets
No
RHP Andre Rienzo
Traded to Marlins
Yes
LHP Dan Jennings
Traded to White Sox
Yes
MLB.com reported earlier Tuesday that the Reds were listening to offers for Chapman. There have been reports, including from Fox Sports, that the Reds were listening to offers for Cueto. Jocketty made it clear he was not shopping either pitcher.
"I don't know where the Chapman stuff came from. I got hit with it," Jocketty said. "I walked into the room today and asked our guys if there was anything on Chapman. I got three texts and a phone call this morning. I'll listen to anything that makes sense. It was not something we initiated."
"Nobody has given us anything, really. They want to know if the rumors are true. It's whatever you want to think. I don't consider, unless we get proposals from clubs, that it's anything legitimate. It's just inquiring."
Jocketty acknowledged the difficulty of trying to win while also being willing to part with players to keep within the budget.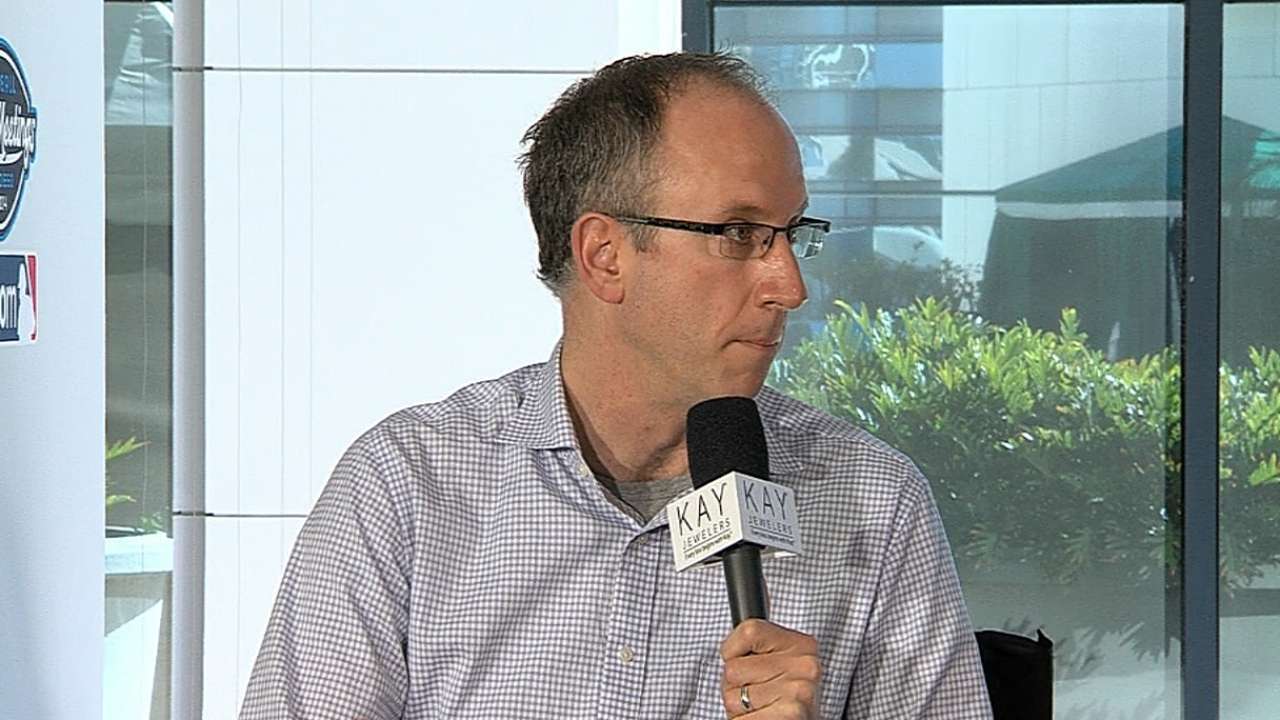 "That's why we haven't done anything. We've tried," Jocketty said. "We thought we were close to a couple of [trades]. In the end, it didn't work out. But you keep trying."
Without disclosing the figure, Jocketty revealed there is a "magic number" where the Reds' payroll has to be before the season starts. He reiterated that there was no intention of giving up on 2015 and looking to the future.
"I would say we have a plan in place that we know what we have to do to get to our payroll number," Jocketty said. "That obviously involves moving players and contracts that put us over. As part of that plan, we're not just moving guys to move guys. We're moving guys to improve the club as well. We're still focused on trying to win and be competitive this year, but at a level of payroll that we have to be at. What it basically means is we have to move a player or two and while doing that, do our best to address our immediate needs."
The Reds have been trying to bolster their offense with a new left fielder, add some right-handed hitting for the bench and make upgrades in the bullpen.
Overall, it was a busy day in the Reds' suite.
"It was mostly agents today, which takes a lot of time," Jocketty said. "I talked to a few clubs by phone but haven't met with any clubs."
The Reds met with Cueto's agent on Tuesday. A 20-game winner last season, Cueto will earn $10 million next season in the option year of his contract and is one of four starters on the team that can be a free agent after the campaign. Cincinnati would like to extend Cueto with a long-term contract if it can be done.
"If it's possible, I'm not sure it will be, I think it's still something we have to take a look at as we explore every possibility," Jocketty said.
Mark Sheldon is a reporter for MLB.com. Read his blog, Mark My Word, and follow him on Twitter @m_sheldon. This story was not subject to the approval of Major League Baseball or its clubs.