Mets hitting snag in search for shortstop upgrade
With trade market dwindling, GM Alderson likely monitoring free agents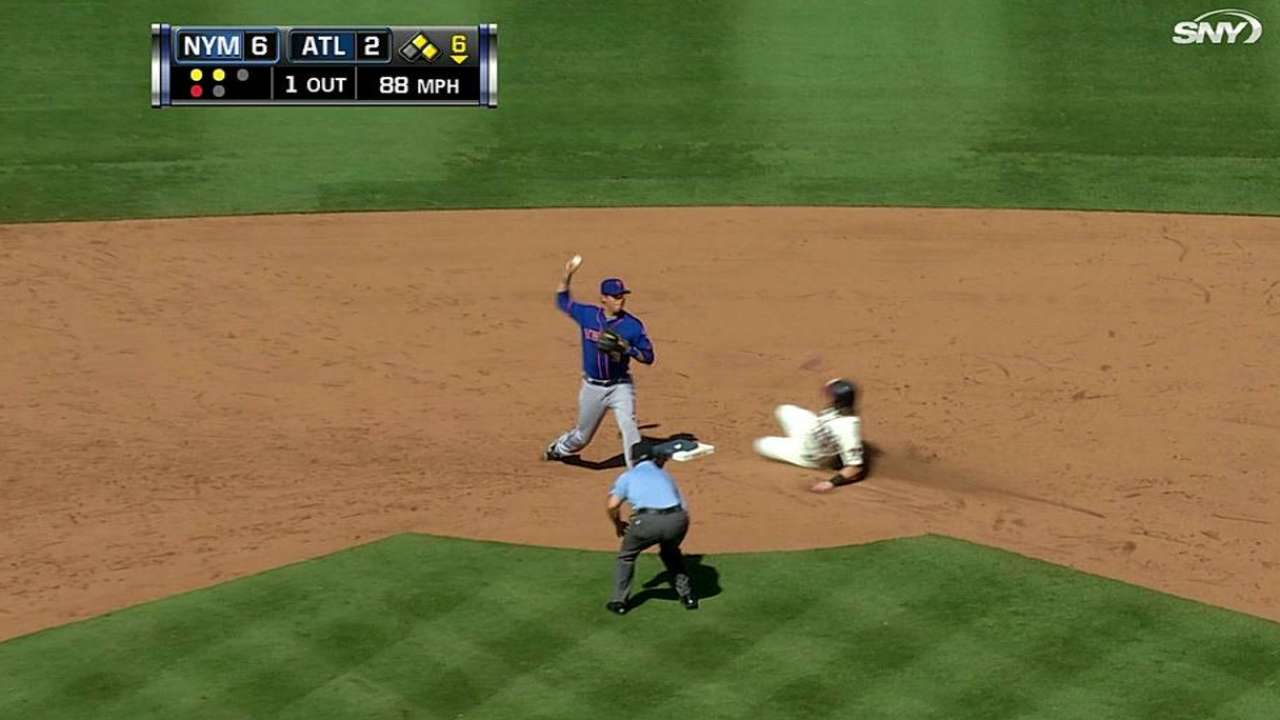 SAN DIEGO -- The Mets' shortstop search has become a process of elimination. Only so many options existed at the start. Now, two days into the Winter Meetings, enough of that pool has dried up to threaten the entire enterprise.
In essence, general manager Sandy Alderson said Tuesday, the trade market has become "increasingly limited." The Mets have identified two or three potential upgrades over Wilmer Flores -- Mariners infielder Brad Miller prime among them, according to a source -- but don't like their chances at completing a deal. That makes the free-agent market their most likely route, though the Mets have yet to "avidly pursue" Jed Lowrie, Stephen Drew or any others in that camp.
---
Winter Meetings action
Day 4: Dec. 11
Transaction
Official?
OF Matt Kemp
C Tim Federowicz
Traded to Padres
No
C Yasmani Grandal
RHP Joe Wieland
RHP Zach Eflin
Traded to Dodgers
No
OF Yoenis Cespedes
RHP Alex Wilson
Traded to Tigers
Yes
RHP Rick Porcello
Traded to Red Sox
Yes
RHP Ervin Santana
Four-year deal with Twins
No
LHP Mat Latos
Traded to Marlins
No
RHP Anthony DeSclafani
C Chad Wallach
Traded to Reds
No
RHP Justin Masterson
One-year deal with Red Sox
No
RHP Alfredo Simon
Traded to Tigers
Yes
RHP Jonathon Crawford
IF Eugenio Suarez
Traded to Reds
Yes
LHP Ross Detwiler
Traded to Rangers
No
OF John Mayberry Jr.
One-year deal with Mets
No
RHP Andre Rienzo
Traded to Marlins
Yes
LHP Dan Jennings
Traded to White Sox
Yes
"We're going to let things play out a little bit on the broad stage, with respect to shortstops," Alderson said. "I don't think that we're persuaded that there's any single solution that we're focused on. Not to say that these players are interchangeable, but from our standpoint, there's not one situation that stands out above all others. So I think we're comfortable sitting tight for the moment."
Perhaps some of that is GM bluster, presenting a bold front in hopes of bending the market to his will. But real limitations do exist.
When the Yankees traded for D-backs shortstop Didi Gregorius last week, they whisked one potential Flores replacement off the market. Tuesday morning, White Sox GM Rick Hahn said he had trouble envisioning a scenario in which Chicago would deal Alexei Ramirez. Alderson limited the pool even further later on Tuesday, saying his team plans to avoid a big-splash type move -- Troy Tulowitzki, for example -- in favor of a modest upgrade.
There is, in other words, only so much the Mets can do. And there is even less they are actually willing to do.
"It's possible," Alderson said, "we will do nothing."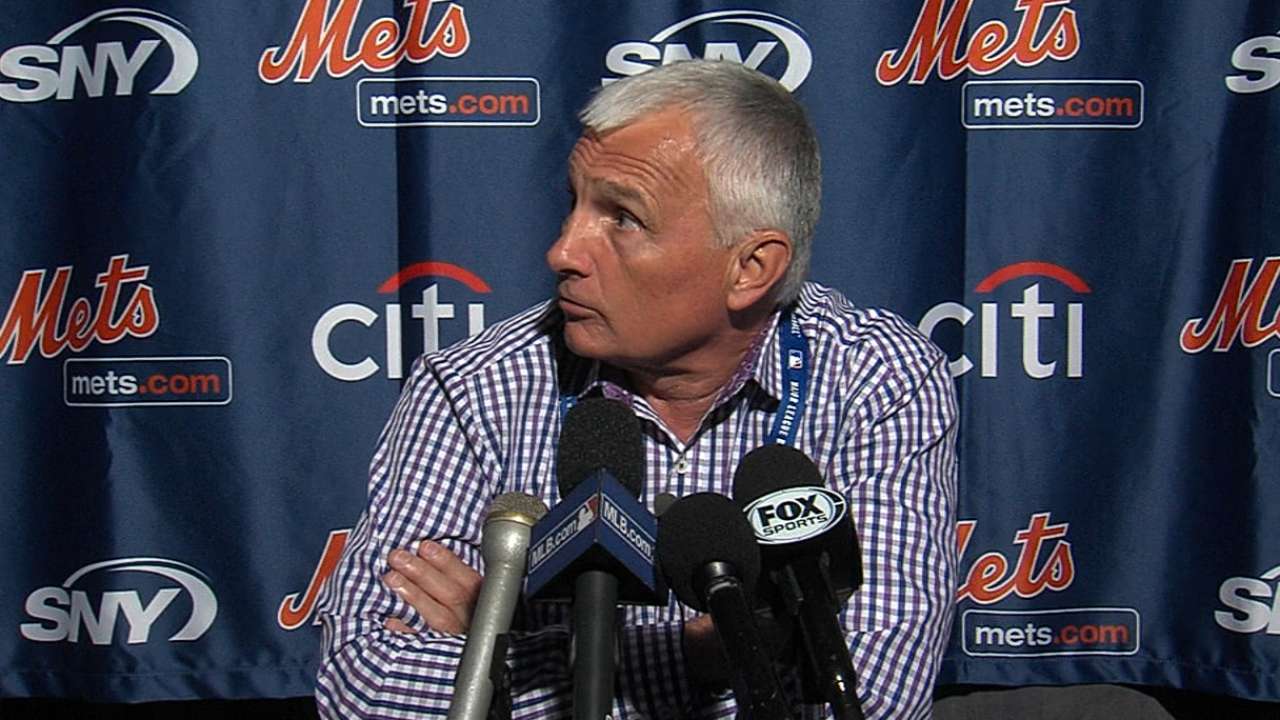 Shortstop is not the only issue facing the Mets at these Winter Meetings; it is simply the most prominent. The team is still in search of a lefty reliever, checking in Tuesday with free agent Craig Breslow, though one source cautioned that it was more talk than substance. The Mets still hope to acquire a right-handed bat for the bench as well, but Alderson does not expect that market to unravel until later in the offseason. And they won't truly know what they can afford at either position until they trade Dillon Gee or another excess starting pitcher.
That leaves shortstop high on their agenda.
Since the offseason began, Alderson has been conditioning fans that Flores may ultimately wind up back at short. Manager Terry Collins on Monday introduced the possibility of trying Ruben Tejada at the position, but Alderson brushed that aside with a laugh and a quip. Realistically, Alderson said, Flores is the guy.
He is below-average defensively and unproven with the bat. But the Mets do like Flores' offensive potential, and believe their pitching is strong enough to withstand the questionable double-play combination of Flores and second baseman Daniel Murphy.
"Defense is important, but so is offense," Alderson said. "We're mindful of the importance of defense ... but given the fact that we think we're going to be better pitching than most, it doesn't really follow that we need to have more defense than most. It's a balance. We're mindful of the traditional 'strong up the middle' and 'play good defense' and so forth, but we need to score some runs, too."
If the Mariners grow serious about dealing Miller or even Chris Taylor, if another potential trade partner rears its head or if a free agent such as Lowrie drops his asking price, the Mets could spring a deal. (They like Lowrie and Drew more than Asdrubal Cabrera, according to a source, because they are wary of Cabrera's defense.) But it could take weeks or even months for those things to happen, if they happen at all.
In the interim, the Mets are looking at Flores.
"I'm reasonably comfortable with that," Alderson said. "I've said that in the past. There's nothing that caused me to change that view."
Anthony DiComo is a reporter for MLB.com. Follow him on Twitter @AnthonyDicomo. This story was not subject to the approval of Major League Baseball or its clubs.