Sandberg eager to see what second full season brings
With Phillies in rebuilding phase, manager interested in makeup of '15 roster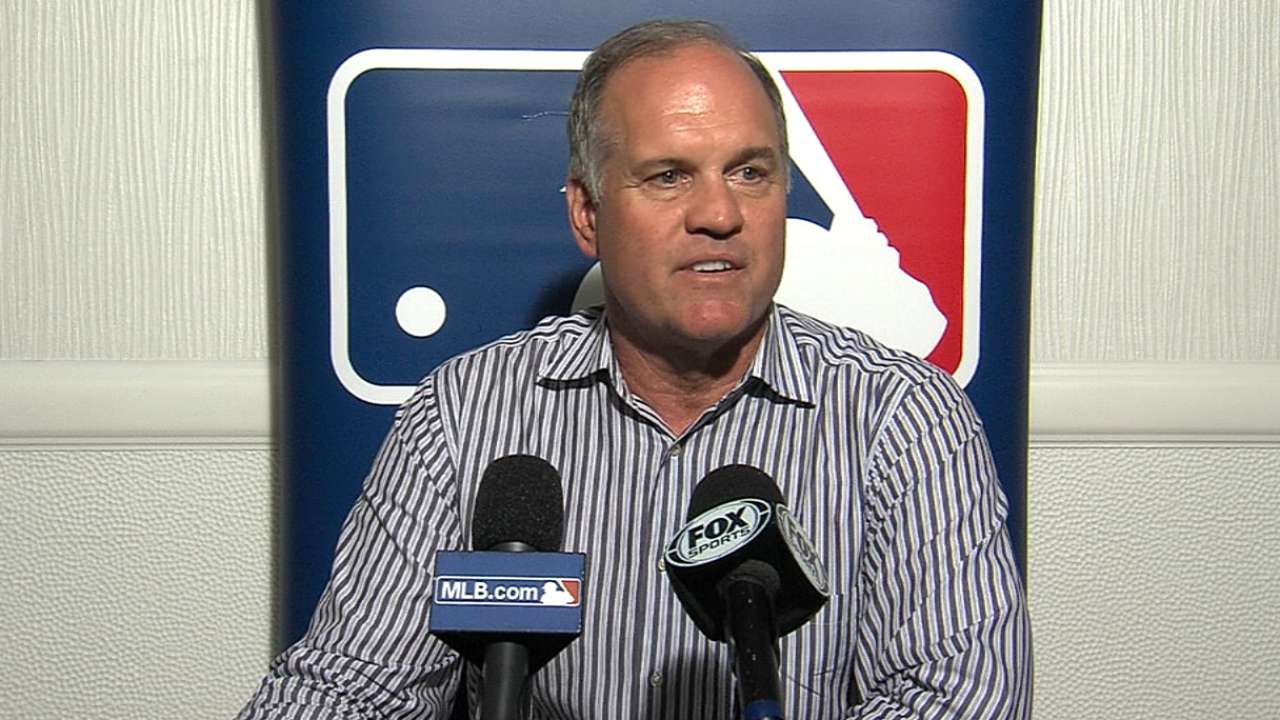 SAN DIEGO -- Ryne Sandberg is restless.
He uttered the word "anxious" a few times Tuesday afternoon at the Manchester Grand Hyatt, where Major League Baseball is holding its Winter Meetings. He is entering his second full season as Phillies manager and the team is in the beginning stages of a massive rebuild.
He is waiting like everybody else to see who exactly will be in the Phillies' clubhouse in Spring Training.
"The goal of the organization is to get younger," Sandberg said. "That is what this winter is all about."
---
Winter Meetings action
Day 4: Dec. 11
Transaction
Official?
OF Matt Kemp
C Tim Federowicz
Traded to Padres
No
C Yasmani Grandal
RHP Joe Wieland
RHP Zach Eflin
Traded to Dodgers
No
OF Yoenis Cespedes
RHP Alex Wilson
Traded to Tigers
Yes
RHP Rick Porcello
Traded to Red Sox
Yes
RHP Ervin Santana
Four-year deal with Twins
No
LHP Mat Latos
Traded to Marlins
No
RHP Anthony DeSclafani
C Chad Wallach
Traded to Reds
No
RHP Justin Masterson
One-year deal with Red Sox
No
RHP Alfredo Simon
Traded to Tigers
Yes
RHP Jonathon Crawford
IF Eugenio Suarez
Traded to Reds
Yes
LHP Ross Detwiler
Traded to Rangers
No
OF John Mayberry Jr.
One-year deal with Mets
No
RHP Andre Rienzo
Traded to Marlins
Yes
LHP Dan Jennings
Traded to White Sox
Yes
But there is another reason to be anxious. Managers are frequent casualties in rebuilds. Sandberg is signed through 2016 with a club option for '17, but Phillies interim president Pat Gillick said the Phillies are unlikely to contend until '17 at the earliest.
"Well, you know, he said probably might not contend," Sandberg said.
But is he concerned he will be allowed to see the rebuild to completion?
"Well, I'd say after last year that this is the necessary thing to do is to get young and get more athletic," he said, not exactly answering the question. "I think that helps in defense. That helps in scoring runs. It also starts to form a new core group. So with that being necessary and being a part of that, I'm excited about that possibility of seeing that started."
But Phillies general manager Ruben Amaro Jr. said the expectations for Sandberg have changed now that the team is not trying to win a championship next season.
"If we don't have the type of talent on the field that we expect to be a contending team, we don't necessarily expect the manager to make that team a contending team," he said. "We expect that manager and the coaching staff to do the best they can to continue to develop those players and make them better. I think that's a fair ask of them."
The Phillies have been quiet this offseason. Amaro said Monday he is optimistic the team will make significant changes to its roster. FOXsports.com reported the Phillies and Orioles met Tuesday to discuss Phillies right fielder Marlon Byrd, who is one of a handful of veterans the organization would like to trade.
Orioles executive vice president of baseball operations Dan Duquette denied interest in Braves outfielder Justin Upton on Monday, when speculation surfaced about him. Asked separately about Byrd on Tuesday, Duquette did not deny interest, saying they have discussed trades with multiple teams.
One source confirmed the Phillies and Orioles discussed Byrd, but said Byrd might not be on Baltimore's front burner.
Still, Sandberg said he expects changes to come.
"I'd be a little bit surprised," he said, asked if he would be disappointed to open Spring Training with the same roster that finished last in the National League East. "I'm just basing that on a lot of the conversations that Ruben is having with clubs about our players."
If some of those available veterans return, Sandberg might have to reduce their playing time for younger players, which could be an issue. Sources said last season that players were frustrated at times with how he communicated with them.
Sandberg also could face difficulties with veterans who return in their current roles but are unhappy about being part of a rebuilding process.
"I think that's all a challenge in a process like this and the possibilities," Sandberg said. "I think you look at each individual and make a judgment there on who would be on board and who would be good influences on young players. I think there is a lot to be said about that and the strategy there."
Sandberg, like everybody else, is waiting to see the Phillies' offseason strategy unfold with actual roster moves. He is looking forward to getting back to work.
"I'd say overall I learned a lot and I experienced a lot," he said about his first full season. "There were a lot of situations that came up that I experienced, and I think all in all, we stayed together as a group and the guys came to the ballpark every day, got their work in and they played hard between the white lines. So you live and learn, and I learned a lot. There would be adjustments that I'd make going forward in the things that I've learned."
Todd Zolecki is a reporter for MLB.com. This story was not subject to the approval of Major League Baseball or its clubs.