BBWAA recommends expanding HOF ballot to 12 players
Hall's board of directors must approve any change to voting process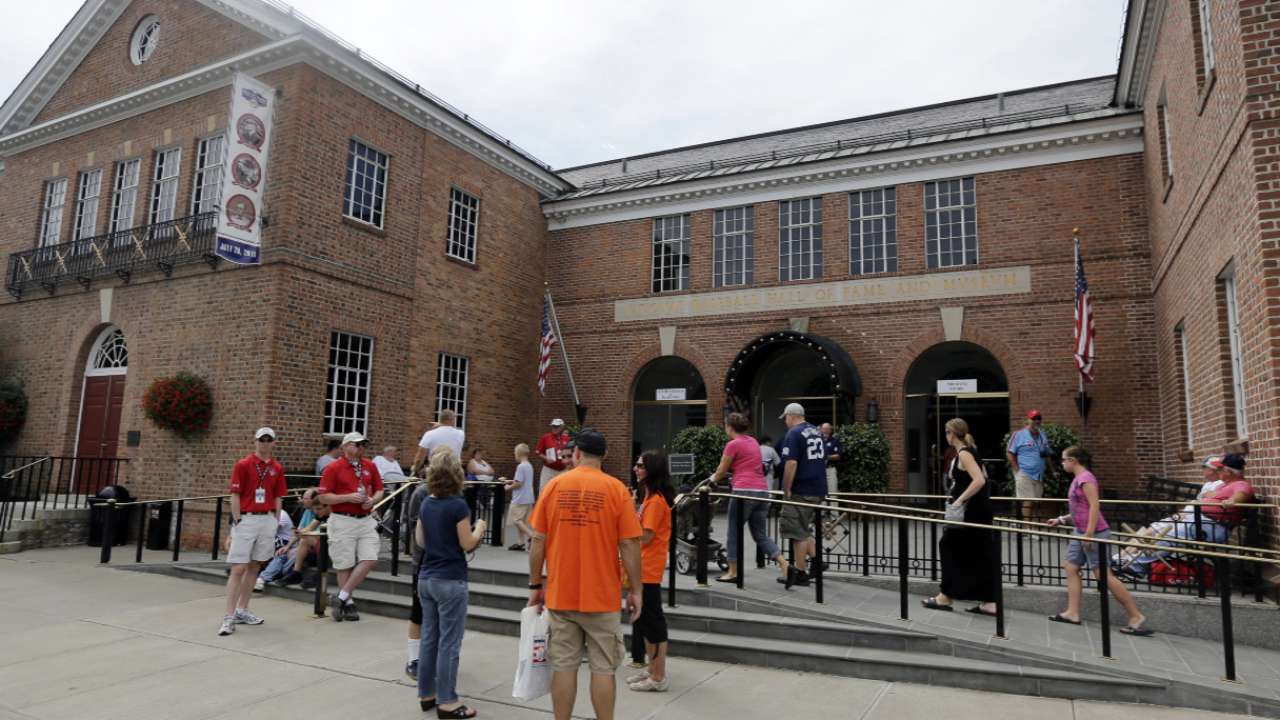 SAN DIEGO -- The Baseball Writers' Association of America on Tuesday voted to recommend an expansion of its annual Hall of Fame ballot from 10 players to 12, effective with next year's ballot.
The recommendation must be approved by the Hall's board of directors, which earlier this year changed the rules regarding the election of players on the BBWAA ballot, shortening the time of eligibility from 15 years to a maximum of 10 years, beginning five years after retirement.
The BBWAA decision came as a result of a yearlong study by a committee within the organization charged with reviewing the voting process. Members of the BBWAA have said that this era -- with a high number of eligible Hall of Fame candidates along with uncertainty among the electorate regarding players whose careers are potentially associated with performance-enhancing drugs - has a logjam on the ballot.
This year's ballot, released on Nov. 22 and being considered this month by about 550 eligible voters with at least 10 years of consecutive membership in the BBWAA, includes first-timers Randy Johnson, Pedro Martinez, John Smoltz and Gary Sheffield, along with holdovers Craig Biggio, Mike Piazza, Jeff Bagwell, Barry Bonds, Roger Clemens, Mark McGwire, Sammy Sosa, Tim Raines and Lee Smith.
Inclusive of this year, voters historically have been able to vote for as many as 10 candidates. If the recommendation is approved, they will be able to vote for a maximum of 12. Voters also can file signed, blank ballots, which count against the 75 percent anyone needs to be elected to the Hall.
The Hall last summer decided to grandfather in the three players currently on the ballot for remaining in the eligibility category from 11-15 -- Smith (13th year), Alan Trammell (14th) and Don Mattingly (15th and final year). All three will get their full 15 years.
Of the 115 players elected to the Hall of Fame by the BBWAA, 102 were voted in within their first 10 years on the ballot, while only 13 needed those extra five years. Most recently, Jim Rice attained the Hall in his 15th year in 2009 and Bert Blyleven in his 14th year in '11.
Barry M. Bloom is a national reporter for MLB.com and writes an MLBlog, Boomskie on Baseball. Follow @boomskie on Twitter. This story was not subject to the approval of Major League Baseball or its clubs.