Detroit News' Gage wins Spink Award
BBWAA narrowly votes Tigers beat writer for honor ahead of Bisher, Shaughnessy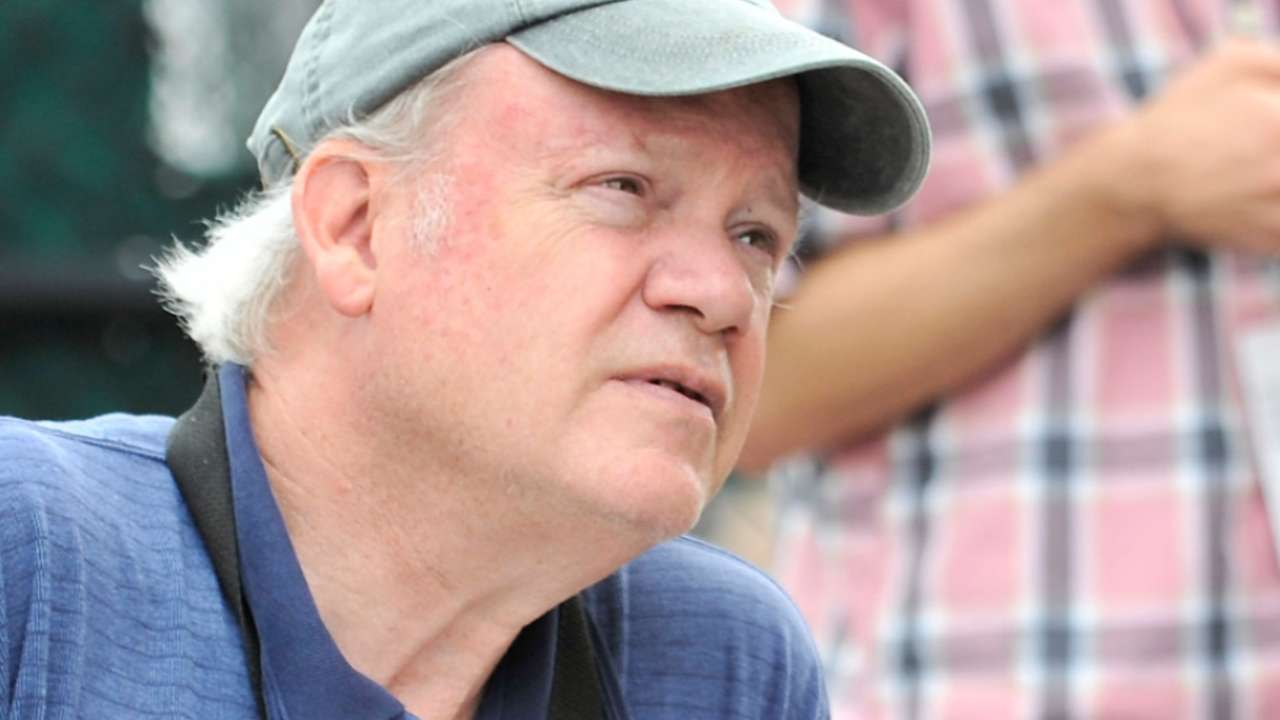 SAN DIEGO -- Tom Gage, the longtime Tigers beat writer for the Detroit News, was named the winner of the J.G. Taylor Spink Award on Tuesday after the annual balloting among eligible members of the Baseball Writers' Association of America.
The Spink is awarded for a meritorious career in baseball writing. Gage will receive the award in Cooperstown, N.Y., on July 25 during next year's Hall of Fame induction weekend.
The ceremony at Doubleday Field will include the winner of the Ford C. Frick Award for baseball broadcasting, scheduled to be revealed Wednesday.
The Hall of Fame induction ceremony will be held behind the Clark Sports Center on July 26 and will include any players selected by eligible members of the BBWAA, which is conducting its vote on the Players Ballot this month. The results of that election will be announced in New York on Jan. 6. Randy Johnson, Pedro Martinez, John Smoltz and Craig Biggio are the most prominent names on that ballot. The Golden Era Committee, considering candidates whose careers were prominent from 1947-72, didn't elect anyone from its 10-person ballot on Monday.
In the closest vote in the history of the Spink Award, Gage had votes on 167 of the record 463 ballots cast, late columnist Furman Bisher of the Atlanta Journal-Constitution had 161 votes and Dan Shaughnessy, a columnist for the Boston Globe, had 134 votes. There was one blank ballot. The six-vote margin between Gage and Bisher and the 33-vote margin between the three candidates was the slimmest in history.
Roger Angell, a senior editor at The New Yorker magazine and a longtime spinner of feature-length baseball yarns, was voted the winner last year. Bisher also finished second to Angell in 2013, with 115 votes.
Only BBWAA members with 10 years or more experience and who are eligible to vote for the Hall of Fame are among the voters for the Spink Award.
The group has voted for the award annually since 1962, honoring more than one writer in some years. Gage is the 66th winner, among them legends such as Grantland Rice, Damon Runyon, Ring Lardner, Red Smith and Shirley Povich. Other previous honorees include a pair of MLB.com writers: Tracy Ringolsby, who won the award in 2005 when he worked for the now-defunct Rocky Mountain News in Denver, and Paul Hagen, who won the award two years ago and covered the Phillies and was a national baseball writer for the Philadelphia Daily News.
Gage has covered more than 5,000 games in 54 ballparks. He has been the traveling beat writer for the Detroit News, covering the Tigers for 36 years.
Barry M. Bloom is a national reporter for MLB.com and writes an MLBlog, Boomskie on Baseball. Follow @boomskie on Twitter. This story was not subject to the approval of Major League Baseball or its clubs.