Braves agree to deal with infielder Callaspo
One-year, $3 million contract is pending physical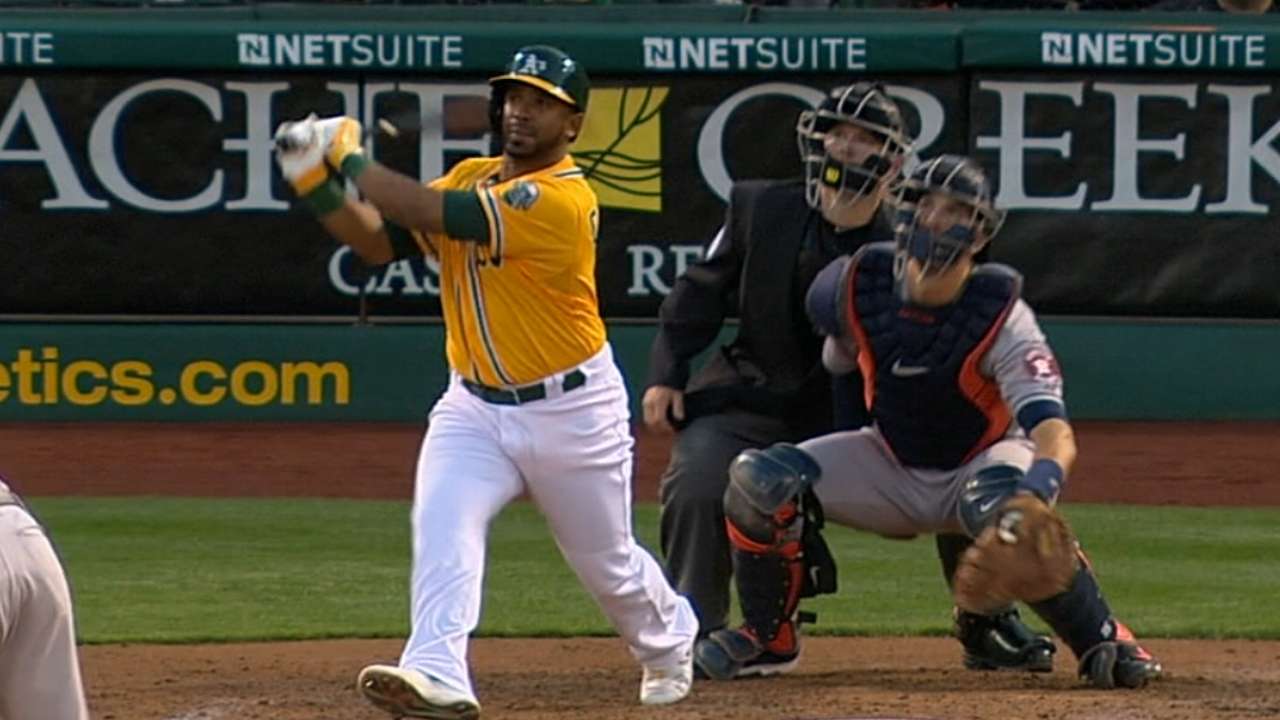 SAN DIEGO -- As the Braves evaluated players who could bridge the gap until top prospect Jose Peraza is deemed ready to serve as Atlanta's second baseman, they were initially hesitant to pursue Alberto Callaspo because he has battled weight issues the past two years.
But after learning Callaspo had already hired a personal trainer in the Dominican Republic, the Braves altered their mindset and opted to sign him to a one-year deal that is worth approximately $3 million. The deal will not be officially completed until the 31-year-old infielder completes a physical in Atlanta later this week.
"When we had our conversations with our scouts before [November's] General Managers Meetings, he was a guy everybody said, 'If he was in shape, we really like this guy,'" Braves president of baseball operations John Hart said. "Well, he had already addressed it. I think with this player there are some bounce-back possibilities."
Callaspo will serve as Atlanta's starting second baseman until Peraza is deemed Major League-ready, a status that he could potentially gain after spending at least a couple more months in the Minors. The switch-hitting Callaspo will also occasionally spell Chris Johnson at third base, the position he has primarily manned throughout his Major League career.
"He can fill a variety of roles," Hart said. "It's a good fit for us. He's a switch-hitter and a contact bat."
Having notched the four highest strikeout totals in franchise history each of the past four seasons, the Braves have focused on acquiring contact hitters like Callaspo, who has compiled an 11.16 plate appearances-to-strikeout ratio over 996 career games. Just four other players -- Juan Pierre, Placido Polanco, Jeff Keppinger and Carlos Lee have compiled a better PA/K mark while totaling at least 3,000 plate appearances during this same span (dating back to 2006).
Callaspo batted .275 with a .719 OPS in the 733 games he played through the end of the 2012 season. But in 263 games over the past two seasons, he has batted .242 with a .645 OPS.
The Braves are hoping the one-year deal helps motivate Callaspo, whose recent struggles support the belief that he has not been in great shape the past two years.
When Callaspo traveled to California a few weeks before Spring Training in 2013, the Angels were so alarmed by the weight that he had gained during the offseason that they forced him to immediately begin a strict training program. Callaspo hit .252 with a .671 OPS before being traded to the A's on July 30, 2013.
Callaspo batted .270 with a .759 OPS in 50 games with Oakland during the 2009 season. But as he batted .223 with a career-worst .580 OPS in 127 games with the A's in 2014, scouts and baseball executives once again started believing he was too heavy.
"We liked him because we had good reports on him coming into this past year," Hart said. "We thought he got heavy. We didn't think he was in great shape during the course of the year. When we had our first meeting with him weeks ago, he had already hired a personal trainer. He had already lost seven or eight pounds, and his goal was to lose 20 pounds."
If Callaspo reaches his goal, he might gain the mobility necessary to improve his range. He has been recognized as a player who has good hands. But he has produced a -9.0 UZR/150 and been credited with -28 Defensive Runs Saved during his 295 appearances at second base.
"This is not [a deal] that everyone is going to get excited about," Hart said. "But these are the kinds of players that help you win. They do little things for you."
Mark Bowman is a reporter for MLB.com. This story was not subject to the approval of Major League Baseball or its clubs.