MLB.com Columnist
Phil Rogers
Lester keeping Hot Stove at simmer
Suspense about lefty's landing spot building at Winter Meetings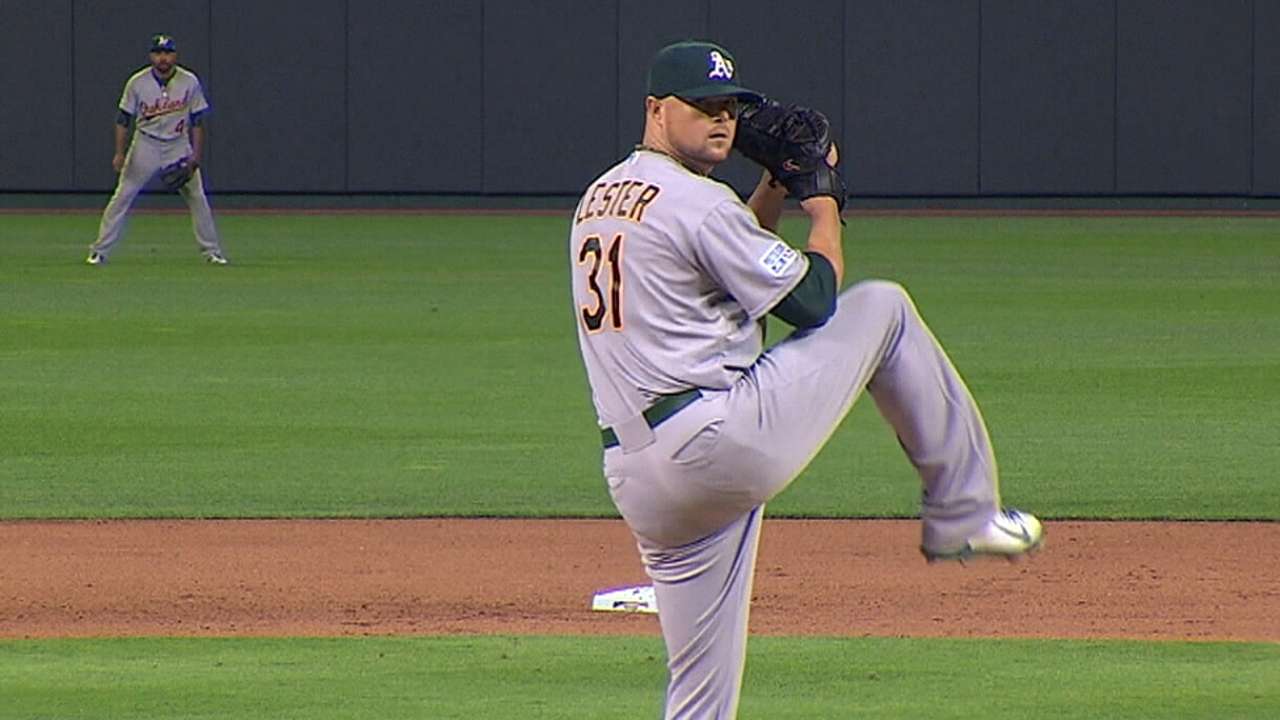 SAN DIEGO -- Jon Lester isn't the type of guy who likes to let someone down.
You can tell that by watching how hard he works on every pitch he throws, whether he's in a head-to-head no-hitter duel with Chris Sale in April or matched up against a fifth starter in June. You can certainly tell by how much he sweats and bleeds in October, and when things go badly -- as they did at Kauffman Stadium in the American League Wild Card Game -- it crushes him.
There was probably nothing that Lester wanted more this offseason than to get a mulligan with the A's, who sent Yoenis Cespedes to Boston to get him at the July 31 Trade Deadline. But since that wasn't going to happen, certainly not on a long-term contract, Lester opened himself up to every other option, including a return to Boston.
The World Series parades in 2007 and '13 will always be treasured memories, as they should be. Ditto the way Terry Francona hung with him day in and day out as he battled non-Hodgkin's lymphoma in 2006. Fenway Park was where Lester fulfilled his boyhood fantasies, and that erases a lot of memories of difficult negotiations and minor disappointments.
---
Winter Meetings action
Day 4: Dec. 11
Transaction
Official?
OF Matt Kemp
C Tim Federowicz
Traded to Padres
No
C Yasmani Grandal
RHP Joe Wieland
RHP Zach Eflin
Traded to Dodgers
No
OF Yoenis Cespedes
RHP Alex Wilson
Traded to Tigers
Yes
RHP Rick Porcello
Traded to Red Sox
Yes
RHP Ervin Santana
Four-year deal with Twins
No
LHP Mat Latos
Traded to Marlins
No
RHP Anthony DeSclafani
C Chad Wallach
Traded to Reds
No
RHP Justin Masterson
One-year deal with Red Sox
No
RHP Alfredo Simon
Traded to Tigers
Yes
RHP Jonathon Crawford
IF Eugenio Suarez
Traded to Reds
Yes
LHP Ross Detwiler
Traded to Rangers
No
OF John Mayberry Jr.
One-year deal with Mets
No
RHP Andre Rienzo
Traded to Marlins
Yes
LHP Dan Jennings
Traded to White Sox
Yes
It's no surprise that Lester has been coveted by the Cubs. Can't you imagine Theo Epstein, his old boss, whispering to him that as much fun as it was to win the World Series in '07, he should have been there with the Idiots in '04?
Winning for the first time in 86 years, coming back from a 3-0 deficit against the Yankees in the AL Championship Series, now that was some fun. You should have been there for that. Oh, yeah, one other thing -- come to Chicago and we'll do that at Wrigley Field, where the wait for a championship has been even longer. Your family would love it in the summer.
The Cubs, of course, are just one of the non-Boston options that Lester has on the table.
The Giants rolled out the human touch/baseball genius of Bruce Bochy in their recruiting efforts, which haven't been hurt by winning three of the last five World Series. There may not be a more comfortable, safer park at this point in time than AT&T Park, as you'd guess Buster Posey mentioned when he called Lester to talk about the Giants' interest.
The Braves -- who have remained oddly quiet about Lester since meeting with him before Thanksgiving -- showed Lester their plans for a new ballpark in Cobb County, about 45 minutes from the Peachtree City, Ga., home where he moved his family about the time he picked up the first of his two World Series rings. The Dodgers have tried to keep their involvement a guessing game, but the belief is they have reached out to Lester with their best pitch and maybe a crazy offer, and it shouldn't be a surprise if other teams have quietly been involved, too.
The Cardinals? The Yankees? The Nationals?
"You have to be aggressive if you hope to get something done in this current landscape," Epstein said last Friday. "A lot of teams have money. Good players are at a premium. There is more demand than there is supply for elite players, no doubt about that."
For Lester, it would seem to be essentially all over but the decision. Is he going to take the offer that brings the most creature comforts? It's hard to see how anyone could top what he's being offered in San Francisco. Is he going to join Epstein in chasing baseball's Holy Grail? Or is he going to take the path less chosen and return to his original team, setting aside the trade that displaced him last July and the lingering awkwardness from the Red Sox's willingness to allow him to reach free agency in the first place?
Whatever challenge Lester accepts, those teams that do not land him will probably hop right into the bidding for the two best arms still on the market, Max Scherzer and James Shields. Or they might get on the phone with Ruben Amaro Jr. to see if they can get Cole Hamels to head their rotation.
White Sox GM Rick Hahn says he wanted to get the Jeff Samardzija deal closed before the top free-agent arms started to sign. Once Lester, Scherzer and Shields are going, the trade activity around baseball will become really interesting. But that's still down the road.
For the moment, the Hot Stove is all about the Lester Watch. So what's it going to be, Mr. Lester?
Phil Rogers is a columnist for MLB.com. This story was not subject to the approval of Major League Baseball or its clubs.